A corrugated metal fence is a fence comprises of corrugated metal panels enclosed to the posts with a
frame made of wood or metal. People develop some corrugated metal fence ideas and use them as
their properties' border, be it commercial, agricultural, or residential ones.
The ideas revolve around the ranged designs: modern, architectural, industrial, rustic, and others. The
versatility in designs might be the reason why people adore corrugated metal fences so much. Besides,
this type of fence offers extraordinary privacy.
This article will show you a collection of corrugated metal fence ideas; how people usually use it and
what other materials involved if there is any.
Before the ideas, here go the pros and cons of the corrugated metal fence usage to help you decide
wisely.
Pros
1. Corrugated metal fences have unlimited ways to build. From the involvement of other materials
to the finishing selection, the possibilities are countless.
2. You do not need to treat and stain this particular fence periodically. In other words, you will get
a functional and attractive fence even after years by low maintenance.
3. It is lightweight, thus easy to install.
4. Corrugated metal panels are very affordable. Each panel of 8×4 ft is purchasable from USD10.
5. With proper care and treatment, it can last long up to 25–30 years for an entry-level product,
30–40 years for mid-range option, and 50–75 years for the thickest panel in the group.
Cons
1. You need to be extra careful in holding and installing since corrugated metal mostly has sharp
edges.
2. It is available for purchase only for the panels, whereas you need to make or order the
framework and posts separately. It means more jobs are on the list.
3. You have to make sure that installing some particular corrugated metal fence is permissible
since each jurisdiction applies different regulations for this type of fencing.
4. It produces echo if loud sounds happen nearby. Thus, adding sound panels for a patio or porch
structure set is advisable.
After knowing the pros and cons, it is time for you to view the designs of a corrugated metal fence. The
list is as follows.
1. Aluminum Frame with Wood

You will see the involvement of wood material in numerous corrugated fence designs here. The main
reason is none other than the wood tone's ability to complement the metallic color. Speaking of which,
here is your first example.
This fence's design accommodates corrugated metal in three-fourth of its full portion, while the rest
one-fourth is there for the wood material. It is a pleasant combination since the sole usage of
corrugated metal creates monotonousness while too much wood blurs the existence of the main
material.
On top of that, the aluminum frame completes the set. With only neutral and natural wood tones, this
fence is compatible with the moss green wall paint.
2. Dark Wooden Post

Here is your example number two of wood material involvement. Using wide horizontal panels of
corrugated metal, this fence relies on the dark wooden posts to stand strong. No frame used might be
because the homeowner wants to feature the true character of corrugated metal.
Blue panel and brown post add tones in the middle of the green yard. Meanwhile, the plant type choice
also affects the whole scene.
3. Full and Half Combination

This design gives you an idea of how to border everything differently. While the full-length side borders
the private area from the public eyes, the half-length side marks two different spaces under personal
possession.
In a case where you want to separate two different areas, let's say the parking space and front yard, for
example, this half-length fence could come in handy.
4. Gabion and Corrugated Iron

A gabion wall is one of a kind. It is inexpensive yet attractive. Gabion wall barely needs any
maintenance, easy to install and last long. Not many people stack numerous stones vertically and retain
them with wires like shown in the picture.
When combines with a white corrugated metal fence, you could see some elegance they result in. It is
not a compulsory indeed, but this combination fence is necessary for a contemporary house.
Despite the advantages, the downsides of the gabion wall are it only fits spacious areas and looks too
industrial for some people who prefer natural style more.
Notwithstanding, outsmart the filling material to lessen the strong industrial vibe. For example, you
could pick the good-looking stones as the outer and less expensive ones to backfill the wall.
5. Galvanized Panels

It is similar to the previous number one. Using the three-fourth and one-fourth dividing portion, the
metal and wood materials make a good combination. The difference lies in the metal. Your previous one
does not use galvanized corrugated metal, whereas this fence does.
Galvanized panels have a coating of zinc protective layer that makes it more durable, economical, and
virtually maintenance-free. Under any climate, galvanized panels work wonder since it is weatherproof
and rustproof.
However, be wise in choosing the best material as galvanized panels also have downsides. They usually
are available for purchase with no substrate warranty. If any part of the panel comes in exposure, red
rust could form on the surface.
The red rust cannot stop once it happens, and you will have to replace the entire panels with spending
extra budget since there is no warranty offered.
6. Medium Sized Panels

Claimed to offer extraordinary privacy, corrugated fence also gives suffocated feel somehow, especially
if you use it to surround the house. Therefore, medium-sized panels are in the option. You could make it
less confining by applying them.
7. Recycled Hardwood Timber

Using recycled material is the best thing to do to participate in go-green campaign. You could create
less-waste environment as well. Follow the movement by applying recycled hardwood to be a part of
your fence.
Together with corrugated metal fence, the recycled hardwood creates rustic nuance in your yard.
Choose the unfinished ones; they will bring out their true characters as time goes by.
8. Steel Frame and Metal Posts

This design combines the main corrugated metal panel with a steel fence frame and metal posts. The
usage of the set is to keep the panels intact. You will get not only a strong and durable fence by using
these materials but also sleek and stylish entrance.
9. Trendy Metal and Cedarwood

You could see a contrasting effect created by the orange cedarwood and the sleek corrugated panel.
While the former brings a natural approach, the latter shows an artificial trend.
10. Wood Slats and Translucent Panels

A combination of two contrasting materials is in high demand nowadays. People keep inventing how to
use the best quality material but spend as low budget as possible at the same time.
To make use of the affordable wood material at its highest potential, this fence owner combines it with
the cheaper translucent metal panels. By doing so, saving costs and creating a unique design is on the
benefits list.
11. Horizontal Panel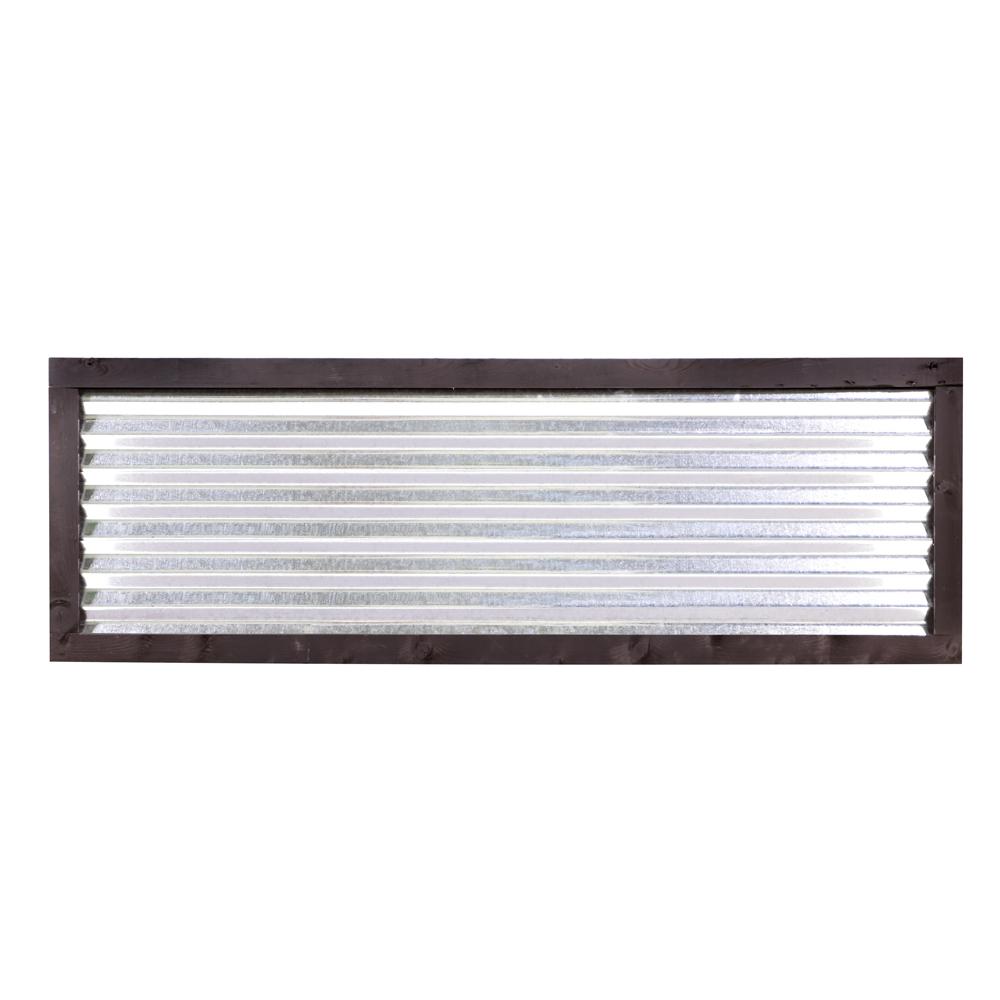 In previous examples, you have seen several fence designs using horizontal panel. Though most fences
use vertical panels, horizontal ones are an interesting choice. All you need to do consider is the width of
the panels to get a pleasing outcome.
Usually, horizontal panels are in the top list for modern fences. Thus, if you want to go for a
contemporary style, pick a horizontal corrugated metal fence.
12. Orange Ribbed Panel

Included in one of the five designs for corrugated metal fence, the orange ribbed panel has its fans. It is
because it establishes a clean and contemporary look to the whole fence scale. It is perfect for people
who want to have the rusty look but prefer to avoid any corrosiveness.
13. Painted Ribbed Panel
To have them finished or unfinished is a matter of preference in corrugated metal fencing. Coating your
panels with vibrant painting will bring more color, whereas letting them be as they are originally will add
unique character.
However, when you decide to have the colored metal ones, you need to know that the paint is only on
one side unless you bulk purchase them.
14. Perforated Panel

Among the multiple choices, there is this panel called a perforated corrugated fence. It is the latest and
the most fascinating product on the market of the metal panel today. Many designers and architects are
happy with this item's invention.
It comes in various selections of materials (aluminum, plain steel, stainless steel), finishing (galvanized,
pre-galvanized, powder-coated, pre-painted), as well as hole patterns and styles you could combine.
Thus, the possibilities are limitless.
15. Rusted Corrugated Panel

For some people, the rusted look is eccentrically gorgeous, especially if it happens to corrugated metal
fence. It is no wonder why corroded fence is in the market for trade. They even purposefully rust the
looking-fine fence!
If you are one of the rusted-look fans and want to have a corrosive fence but do not want to spend extra
budget for it, here is how. Firstly, make sure the fence you have is the non-galvanized one since it does
not resist to corrosion.
After that, spray the fence with swimming pool muriatic acid. Follow the step with any kind of hydrogen
peroxide next. Keep on spraying until you achieved the desired color. Lastly, seal the metal to avoid
further rusting.
16. Classic Inviting Entrance

This dark entrance makes the exterior of the house it borders outstanding. The topper design of every
post is so classical that it reminds you of the houses back from such an era. With full-height panels, this
fence offers complete privacy you want from no other type.
17. Inexpensive Traditional
In terms of consistency, this house has what every perfectionist wants. From the exterior of the house to
the fence upfront, both elements mentioned are consistent in textures. Whether the homeowner
adjusts the exterior with the fence or vice versa, the wavy textures sure make a statement.
It is not just that. The neutral tone selection and wood material involvement also determine the style.
18. Luxurious Dark Grey

Grey is the most common color found in corrugated metal fence and roof. Nonetheless, many people
prefer light grey than the darker one. Besides being their safest bet, light grey is also easier to mix and
match with other colors.
Well, we dare to say it is before they know that dark grey could be luxurious. This picture above tells us
about it visually. With dark brown wooden posts, which exude a similar vibe, the deep color corrugated metal fence has all the luxe.
19. Modern Wood Alike

To border an apartment or some building similar to shared property, corrugated metal could be the top
choice because it is simpler than any other type of fencing. It could accommodate almost everyone's
preference.
Adjusted to the building style, this corrugated metal fence feels so modern with brownish-orange
staining. People from afar sometimes mistook it with a wooden fence because of the shade. It might be
a way of having cedarwood lookalike affordably.
20. Rustic Corrugated Tin
As stated before, some people find rusted corrugated metal beautiful. Its usage not limited only to
border the warehousing or old building anymore though we commonly see it. Dwellers in the residential
area also use it as their private barrier to bringing up rustic style.
Rusted panels are available for purchase on both the online and offline market. However, the corrosive
level sometimes does not meet some people's expectation, thus they purposefully rust the panels themselves.
21. Simple and Stylish

Get creative with your corrugated metal if the usual feels too monotonous. When people ordinarily
install only vertical or horizontal panels, you could have them ordered in a way as shown in the picture.
By giving that simple treatment, you will have a stylish corrugated metal fence.
It is like a woven kind of fence not owned by just anyone.
Now you know that corrugated metal fence ideas vary widely. You may adopt one of the designs
collected here or invent your kind by combining two or more materials in the process. Who knows, your
invention might inspire many people in the future.