A garden fence is a practical way to keep critters away and gives structure to an outdoor space. A fence can be used creatively, not just for the purpose of keeping animals out but also as design element that adds personality and style when stuck outdoors!
Logs Garden Wire Fence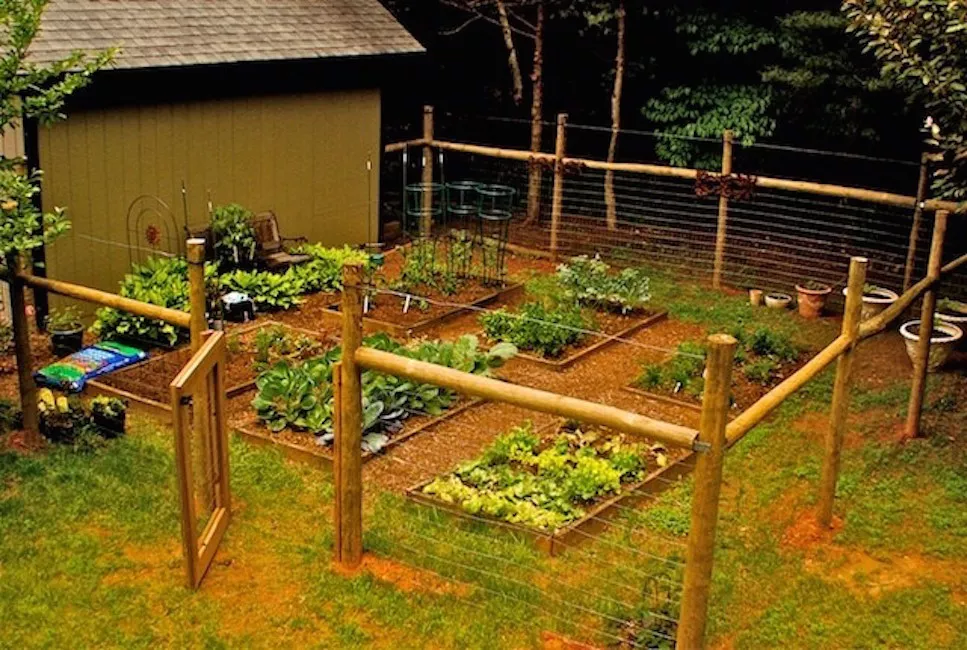 Your garden will flourish when you enclose it with this simple yet rustic fence. This option includes wire and logs for a more natural feel, but still has the height to keep your plants safe from intruders without being too imposing.
Modern Gabion Backyard Fence
Gabion walls have been around for centuries and are one of the most durable backyard fence materials you can find. They look nice on their own, but if you want to make them really stand out, choose stones that will produce a lovely color contrast.
Rustic Garden Fence
This rustic fence is a great way to add some personality and whimsy into any garden. The plants, colors, and textures of this backyard are all taken care of by the use of reclaimed wood pieces arranged vertically in different heights for privacy but also adding an earthy feel that many coastal people enjoy as it reminds them so much like driftwood from their beautiful surroundings.
Basic Garden Fence
A basic garden fence needs to be capable of standing the test of time and weather. With a structured slat design on either side, wire in between allowing for flexibility with height adjustment depending on your preference or need. A simple yet effective solution that can also look good if you give it some love!
Striking Backyard Fence Material
You are not limited to only function when it comes to a fence. Your beautiful backyard can be enhanced with the addition of your own personal touch that is uniquely yours. The natural grain of wood has been treated and accentuated by sealer for an artistic effect on both sides.
Recycled Garden Pallet Fence
The wooden pallet can be transformed into a chic DIY garden fence. For pennies, or even free if you search hard enough, these recycled materials are perfect for creating an elegant backyard boundary. This example features modern design with the use of reclaimed wood and provides homeowners with options on how to paint their new fencing depending on what looks best in your yard's landscape!
Classic Veggie Garden Fence
For a classic, rustic look with the added bonus of protection and an extra layer to contain your garden produce, consider building one or more wooden slat fences. They're easy enough for anyone who has access to basic tools like a nail gun, post hole digger and other supplies can easily build themselves.
Modern Pallet Backyard Fence
Add country charm to your backyard with a rustic pallet fence. Let the natural wood tones frame all of the colors in your garden, making it feel more welcoming and charming than ever before!
Backyard Lattice Fence
Looking for a way to soften the lines of your backyard, but still keep it safe? This lattice fence installation will do just that. Quaint and lovely are only two words used by satisfied customers to describe this fencing system. You can also use wood-patterned iron or steel fences if you're looking for something more durable with long lasting beauty, perfect!