Bamboos are one of the common materials used to make a fence. Many types of bamboos will suit your style well. So, check out some 25 bamboo fence ideas that will add privacy and aesthetics to your backyard, garden, and front yard.
1. Bamboo Fence Ideas with Lighting
It is clear that lighting plays an important role in illuminating the backyard. The designs of lights can also improve the landscaping, just like this backyard.
Bamboo fence in a pale-yellow finish tops the retaining wall of this backyard, offering the ultimate privacy that you have longing.
Some LED lights and garden lampposts stand right next to the fence, which shed some light on it and creates a dramatic backdrop.
2. Staggered Bamboo Fence for Flower Bed
If you happen to have some bamboo leftover, do not throw them away in the trashcan as you can use them to make a small fence for your flowerbed.
Just look at this small bamboo fence. Although the heights of the bamboos are different, they can still make a good fence.  The diversity makes the fence look unique.
3. DIY Bamboo Fence Ideas
It is always great to do a DIY project because it allows you to get what you need. If you cannot find the best ready-made bamboo rolls and panels at store that meet your requirement, why not make one yourself?
These bamboo fences have proven that a DIY project can be fun, simple, yet efficient.
You only need to make four holes on two bamboo posts, insert four smaller bamboos to the holes, set the bamboo posts, then get some smaller bamboos and tie them to the horizontal ones.
4. Bamboo Fence Ideas on a Budget
Making a bamboo fence does not have to cost you a fortune, especially if you use it as a temporary fence for your vegetable garden.
You can go with the simple design ─ the vertical arrangement. However, it is a dime a dozen, right? Being less expensive does not have to hinder you from getting a unique fence. You only need to explore your creativity.
In this backyard, the arrangement of the bamboos is quite different. Instead of driving some bamboos into the soil vertically, try leaning them a bit so you can get several Xs. Secure the Xs with rope or wire.
5. Simple Bamboo Fence Ideas
This is the most simple and common bamboo fence installation that you might have come across countless times. All you need to do is just lining up some bamboo vertically, and drive nails to secure them to the horizontal ones.
Unlike many other bamboo fencings, this bamboo fence is simplicity at its finest. The bamboos do not come in a stained finish that will make them look elegant. They remain in their original finish, which makes them look natural.
6. Bamboo Fencing Rolls on Wooden Planks
The fence in your backyard has gone through many things – the hot glaring sun and the intense rain. No wonder it is fading and becoming less attractive. You might want to replace it, but it is too much trouble. You can do this trick, instead.
Get bamboo rolls to cover the existing fence, and then secure them by driving nails to the fence. Now you have a new fence without breaking a sweat. Although it is not new, it still does in a pinch.
7. Bamboo Panels on Plastered Wall
Many people use plastered walls to make a permanent fence. It works like a charm. However, it can be rather dull somehow. Therefore, you need something to amp it up. Try topping your plastered wall in the backyard with bamboo panels.
The plastered wall in this backyard is not that tall, which allows inquisitive neighbors to watch what you are doing.
To achieve your privacy, some bamboo panels on the plastered wall are your greatest bet. They will not only give you privacy but also improve your backyard landscaping.
8. Small Bamboo Fence for Aesthetic
Bamboo fences are not only for privacy purposes. In some gardens, bamboo fences have been a part of the landscaping, just like this one.
The small bamboos make a subtle privacy screen. Just install it in your patio, deck, or near the pond with a cherry tree or hydrangeas to create an epic Zen garden.
9. Bamboo Fence with Different Height
Why do you have to stick to a certain pattern if you can do more? This fence features different heights and patterns that can enrich the look of your backyard, especially if there are only a few plants in it.
Dark brown frames contrast with the small yellow bamboos immensely, making the fence look bolder. The bamboos come in vertical arrangement while the centerpiece lies in diagonal arrangement that forms a chevron pattern.
10. Contemporary Bamboo Fence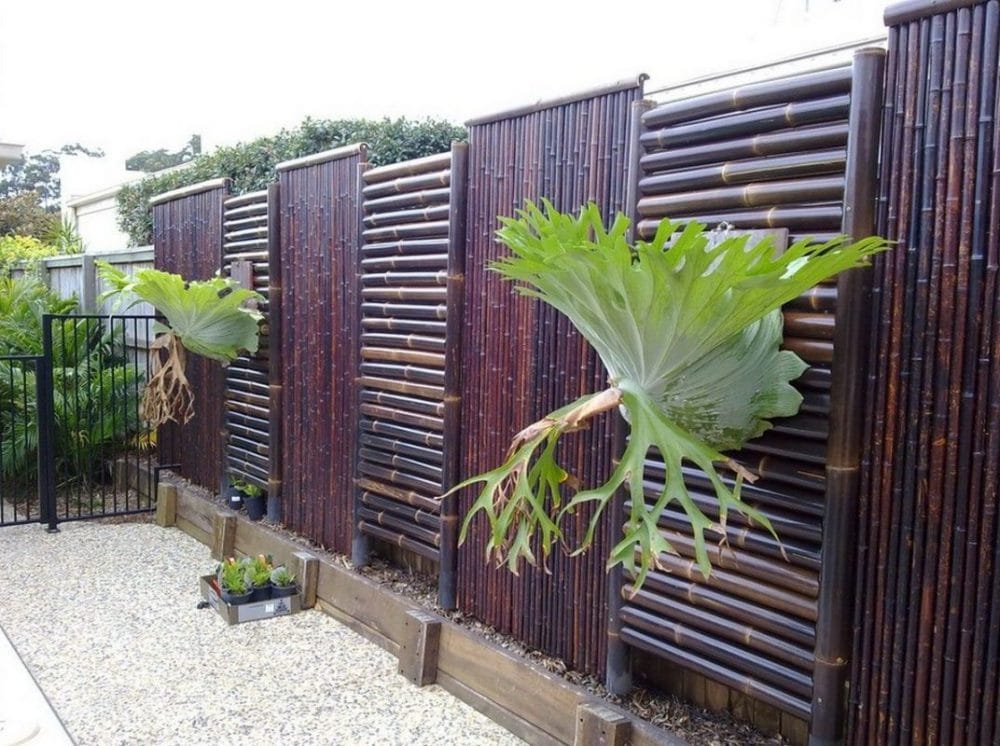 The sleek design of this bamboo fence denotes contemporary style nicely. The stained finish gives it a darker look, which makes it bolder.
The smaller bamboos stand vertically to hold any peeping Tom at bay. The larger ones lie horizontally between two bamboo frames to enrich the look while holding some plants.
11. Japanese Style Bamboo Fence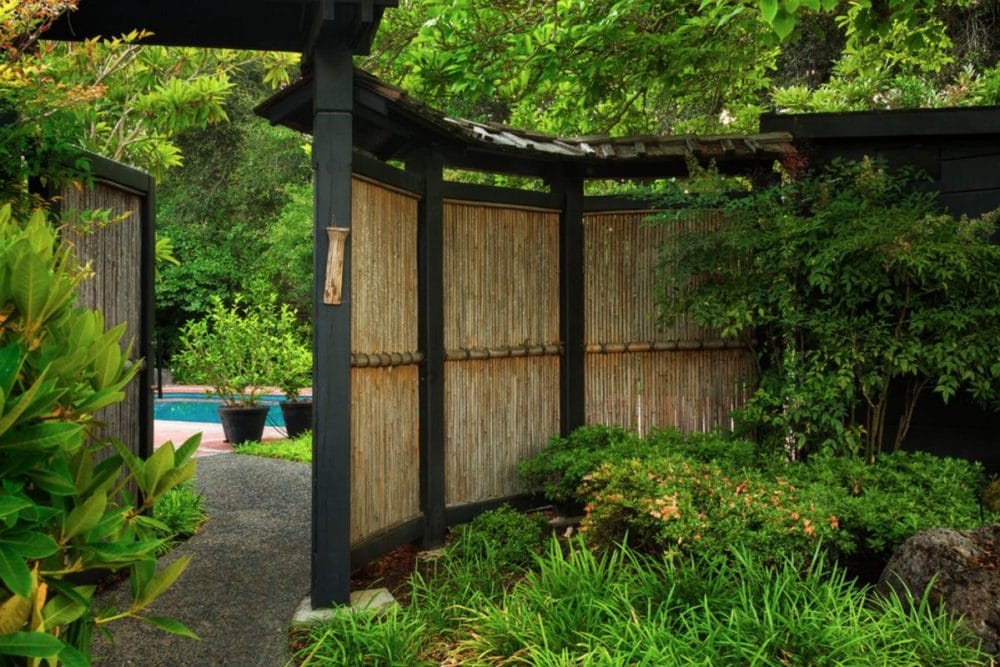 Bamboo fencings have always been a part of Zen garden charm, just like what you can see here.
This fence might remind you of the traditional sauna. It looks great with black frames and a slate roof on top. Bamboo panels fill in the frames, blocking the view of any nosy eye.
12. Growing Bamboo Fence
Why do you have to struggle with carpentry stuff if you are not an avid carpenter? If gardening is your forte, try this idea instead.
Instead of making some bamboo posts and driving nails to install the bamboo fence, try growing bamboos in your backyard. Bamboos are fast-growing plants.
Once you grow them properly, they will offer you a dramatic fence and privacy screen that make you awe.
13. Short Bamboo Fence Ideas for Flower Border
Everyone loves flowers. Who doesn't? No wonder many homeowners fill their garden with various kinds of flowers. To define the flowerbed, you need to add flower border, which can be in the form of stones, pavers, or even bamboos.
This short bamboo fence makes a nice flower border. It anchors the flowerbed well without overwhelming it. Besides, making this bamboo fence is merely a breeze. You just need to drive them into the soil and weave ropes to them.
14. Bamboo Fence around an Above-Ground Pool
Relaxing in an above-ground pool is a great idea. Nevertheless, the height of the pool can be risky as your kids, or even you, can get an accident due to slipping and falling. For this reason, installing a fence is your safe bet.
This above-ground pool is the fusion of traditional and modern look. Bamboo fencing standing on the deck brings in the traditional flair to the space while the glass fence makes the pool look modern.
15. Bamboo Fence around an Inground Pool
Every pool-either an above-ground pool or an inground pool – needs fences for theultimate privacy.
This inground pool features bamboo and wooden-plank fences. Greenery with large leaves decorates the bamboo fencing, accentuating the tropical flair immensely.
16. Cover the Flaws
As time goes by, you can eventually find flaws in your fence, which makes you think you need to do something with it.
The truth is you do not need to replace your existing fence. All you need to do is something that can conceal the flaws and make the fence look as good as new, like bamboo rolls.
Just unroll the bamboo rolls, attach them to your existing fence using nails, and you are done. It is just a piece of cake, isn't it?
17. Sydney Opera House in the Backyard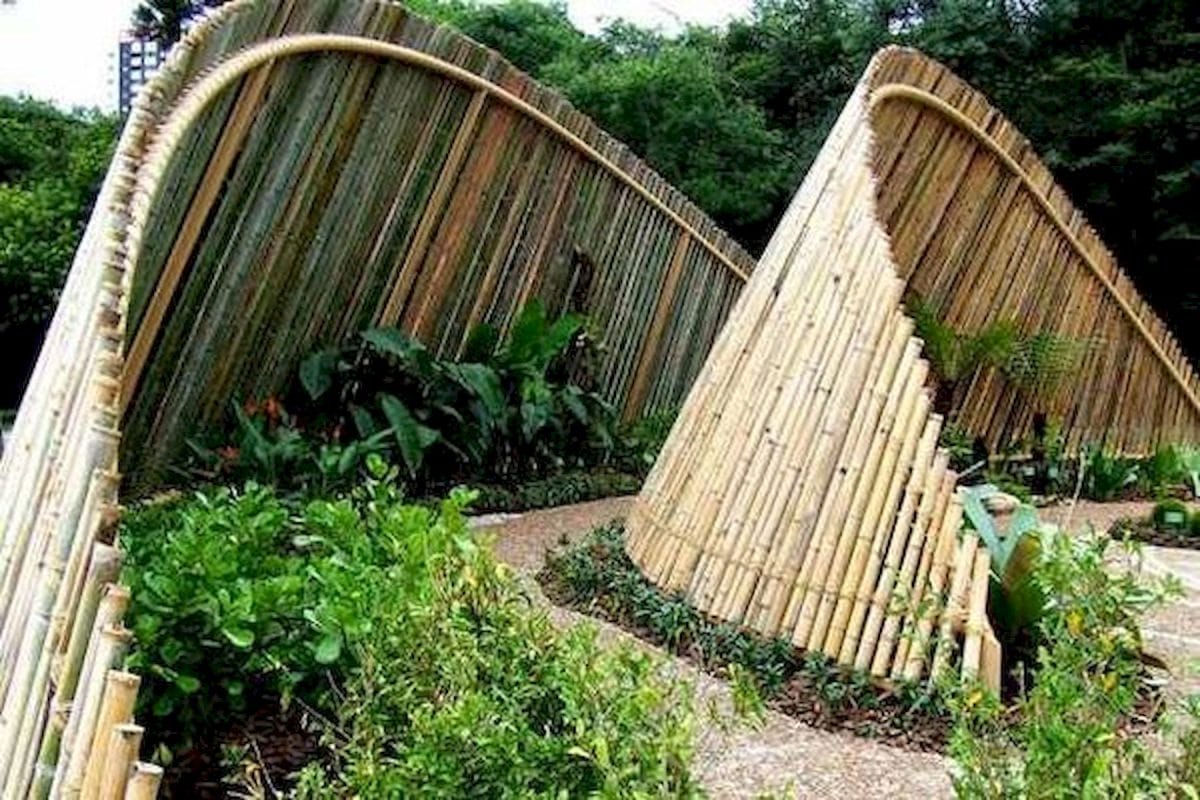 You do not have to splurge on plane tickets and fancy hotels to go to the Sydney Opera House because you can find your opera house right in your backyard.
It is not the real one, though. It is just two bamboo fences looking like the Sydney Opera House.
These fences provide shades for the plants and prevent wind from causing severe damage to the plants. However, the design of the fences makes them become an instagrammable spot.
18. Bamboo Fence Ideas on the Cheap
If you adore the traditional charm of a bamboo fence, but you cannot afford a stylish bamboo panel, you can always make one yourself.
This bamboo fence is extremely easy to make. Even if carpentry is not your thing, this foolproof bamboo fence will make you feel like a pro.
You only need to get some bamboos, sand them down to remove any splinters, apply any finish you like, and then begin to assemble the bamboos.
Drive the bamboos vertically to the soil. Then add two longer bamboos that lie horizontally on the vertical ones. Secure the horizontal bamboos by driving nails to the vertical ones. Reinforce it by tying those using ropes.
19. Bamboo Privacy Screen
Some people like spending time on the balcony or porch. However, it will not be fun anymore when the sun is too bright or your neighbors keep looking at you. For this reason, you will need a fence that serves double duty as a privacy screen.
This bamboo fence will do the trick. It will alleviate the glaring sun without completely blocking it so that you can still get some light.
20. Bamboo rolls on Glass Fence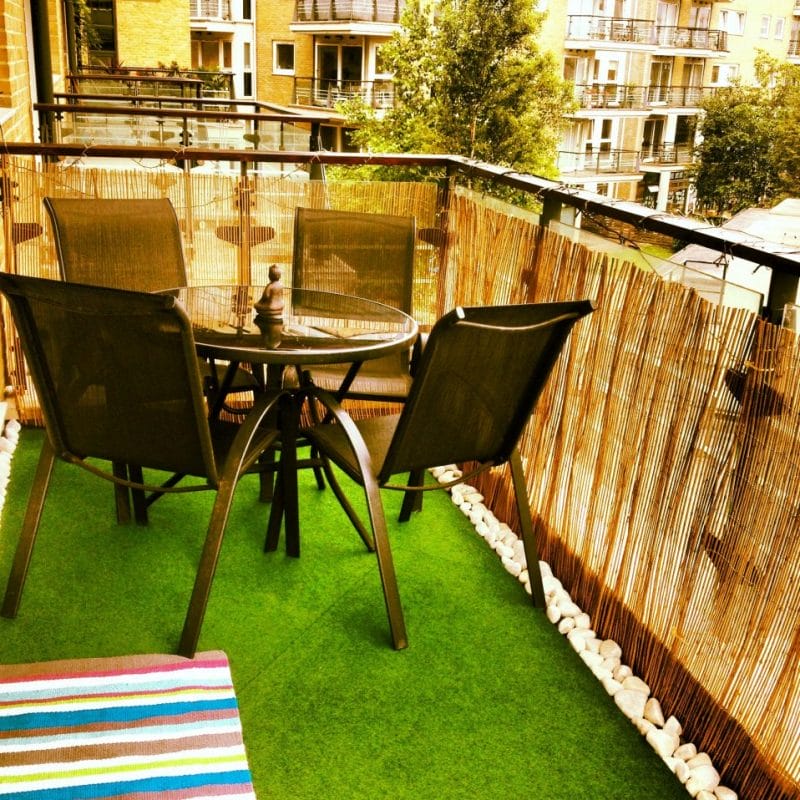 The good thing about bamboo rolls is it is quite versatile. You can hang it to make a privacy screen, or use it to cover any existing fence, just like this one.
Glass fence in this balcony ensures your safety while bringing modern flair into the space. However, its transparency allows passersby to see you. Therefore, you need to cover it with bamboo rolls.
The bamboo rolls will not only blur the view but also add a textural element to this balcony.
21. Elegant Temporary Bamboo Fence
People use temporary fence for various kinds of purposes. One of which is to conceal something that you do not want other people to see it.
These bamboo panels are the perfect choice for a temporary fence. The stained finish with black matte frames will not only block the view but also add the touch of elegance to any space.
22. Easy Bamboo Fence Ideas
If you are into Zen garden, you should try this bamboo fence. This bamboo fence is so easy that you can make it yourself.
You will need some bamboos and ropes. Simply tie two bamboos to the ones that lie horizontally. Arrange the bamboos in a zigzag pattern.
23. Bamboo Fence for Extra Safety
The ultimate goal of making a fence is to enhance the safety of your home. Some fences come in meticulous designs that allow them to keep the thief at bay. Bamboo fences can do the same.
It turns out that a bamboo fence is not only for aesthetic and for privacy purposes. It can add safety to your home. If you sharpen the top of the fence, thieves and even wild animals will find it hard to sneak in.
24. Living Bamboo Fence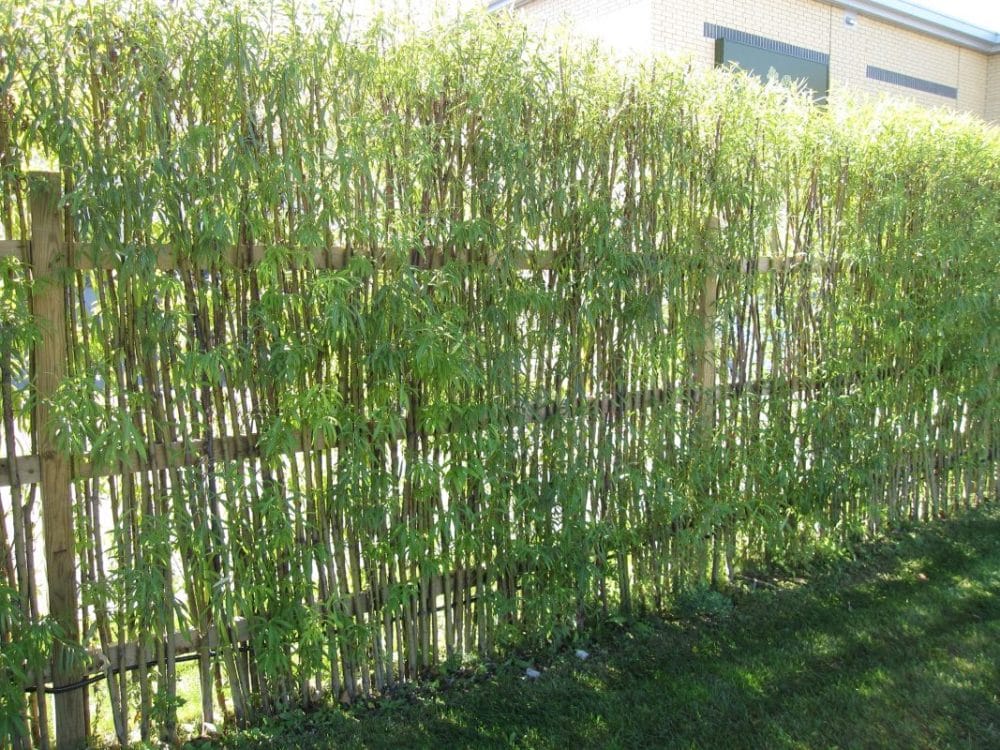 These living bamboos make a great fence and privacy screen. All you need to is planting them in your backyard and let them do the rest. You may also need to trim the fence regularly to make it look neat and organized.
25. Add Vines to Bamboo Fence
Some bamboo fences can look dull, especially if they come in yellow or beige finish. To jazz the fence up, you can try incorporating climbing plants like ivy, jasmines, or roses into the fence.
Let the plants grow and dangle from the top of the fence. Once they reach the other edge of the fence, you will see a dramatic backdrop that you can use to take pictures.
You can do many things with bamboo. Either adding privacy or improving the backyard landscaping, these bamboo fence ideas will work like a charm.