Nowadays, many people tend to search the horse fence ideas while surfing on the internet. Talk about this, who knows that it will relate to the horse riding and the need for the ranch.
Horse riding itself has become one of the most popular sports. Not surprisingly, many people now rent horses or even buy horses to do their hobbies.
Horse riding is the kind of sport that needs special care, especially for the feasibility of the horse. In addition to providing a large enough grass field so that horses can run freely, you also need to give a safe environment.
No wonder so many people have decided to put up fences around grass fields and lodges. However, who would have thought if the horse fence also added plus value to the decoration. No wonder, some people sometimes will focus and pay attention to the design or material of the fence.
Well, for those of you who are still confused in choosing the right horse fence, better if you check to the following 21+ horse fence ideas that are interesting and unique!
1. Classic Horse Fence Ideas with the Craftsman Style
The first horse fence idea that you can try is the classic one. Try to use the wooden fences which become one of the most widely chosen and used styles for a long time. Moreover, wood is one material that can last for a long time.
No wonder if many people tend to use the wooden horse fences because it can save maintenance costs. Besides, a simple artisan-style will also reinforce the classic impression on your horse fence. The right wood used for this horse fence idea is pine wood.
2. Horse Fence Ideas in Wooden Crossbuck Style
Another horse fence idea that you can try is a wooden crossbuck style. This crossbuck style not only used for your house fence but also very suitable for horse fence.
Moreover, this style also makes the field look more beautiful and attractive. You can make the wooden using pine or cedarwood. However, some people also paint the wooden horse fence to make it look more colorful and not monotonous.
3. Natural Cedar Horse Fence Ideas
It will be different for those who like simplicity. This horse fence idea will be the right choice. The use of cedarwood arranged in the style of three rails is not only eco-friendly but also has a distinctive aroma that can avoid insects.
To keep the fence looks natural, do not paint the fence. You can use a varnish to make the fence last longer or leave it alone without covering cedarwood with other materials.
4. The Running Wagon Wheels Horse Fence Ideas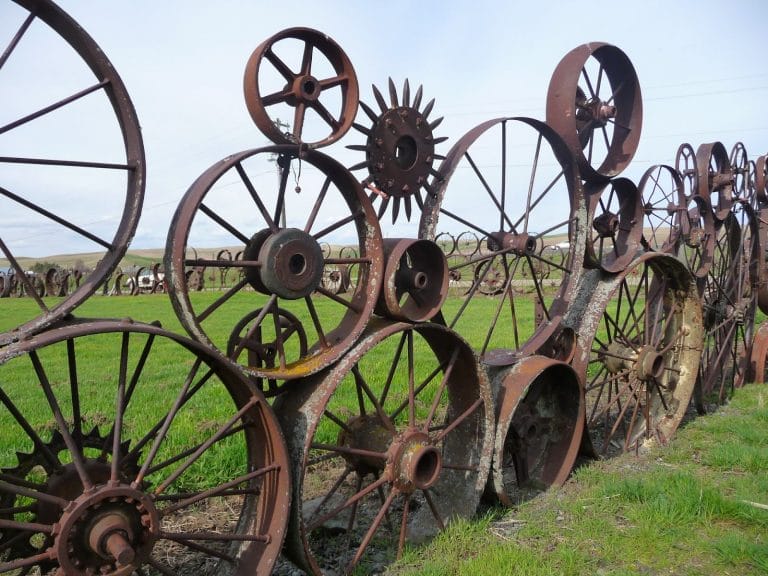 Are you bored with the mainstream wooden horse fences? Just relax; you can solve this by using other materials or things that are around. One of them is the use of horse carriage or wagon wheels that are not used.
Simply by arranging the horse carriage or wagon wheels as tall as a horse fence in general, you can get a horse fence that looks unique and fancy.
How does the endurance of this new style horse fence? Horse fence ideas that use rims from a former horse-drawn carriage or wagon are certain to have enough strength and long-lasting. Since the wheel's material is steel, it will not easily damage and bent.
5. Woven Wooden Horse Fence Ideas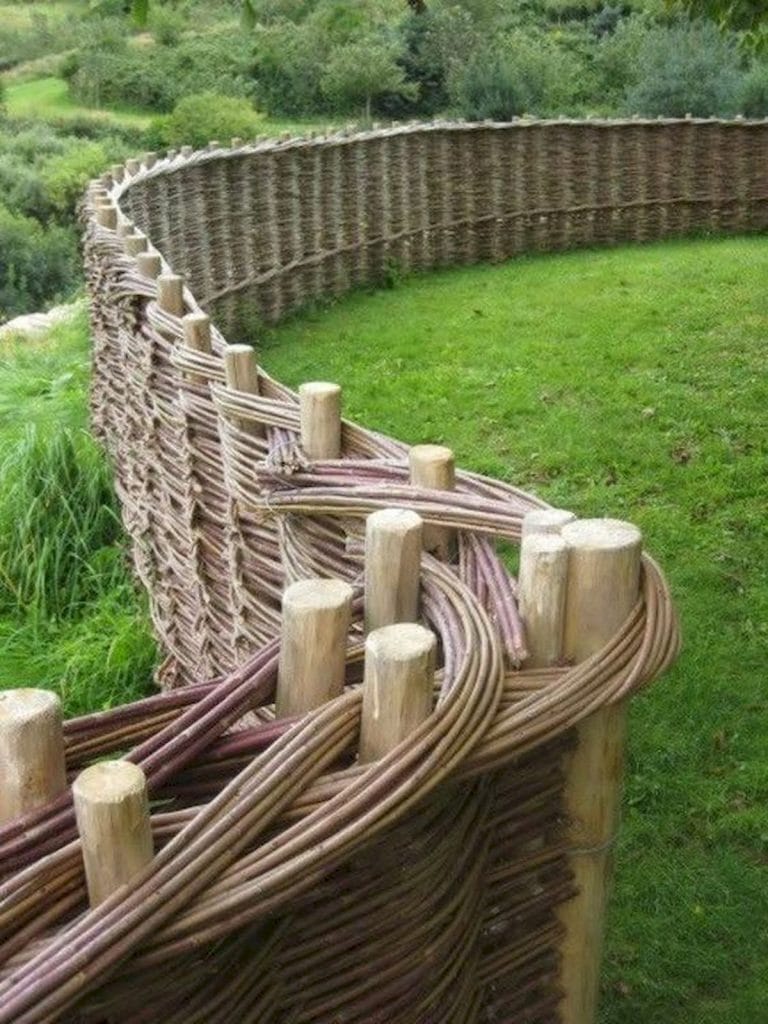 There are many choices available for creating interesting and different horse fences. One of the unique horse fence ideas is this woven style.
You only need to combine two types of wood to make this horse fence. However, choose a small fine wood for woven material. To make this horse fence strong and sturdy, do not forget to combine several small fine pieces of wood in one plait.
Fasten using two long logs to hold and squeeze the webbing so that it does not collapse.
6. Simple Stone and Wood Horse Fence Ideas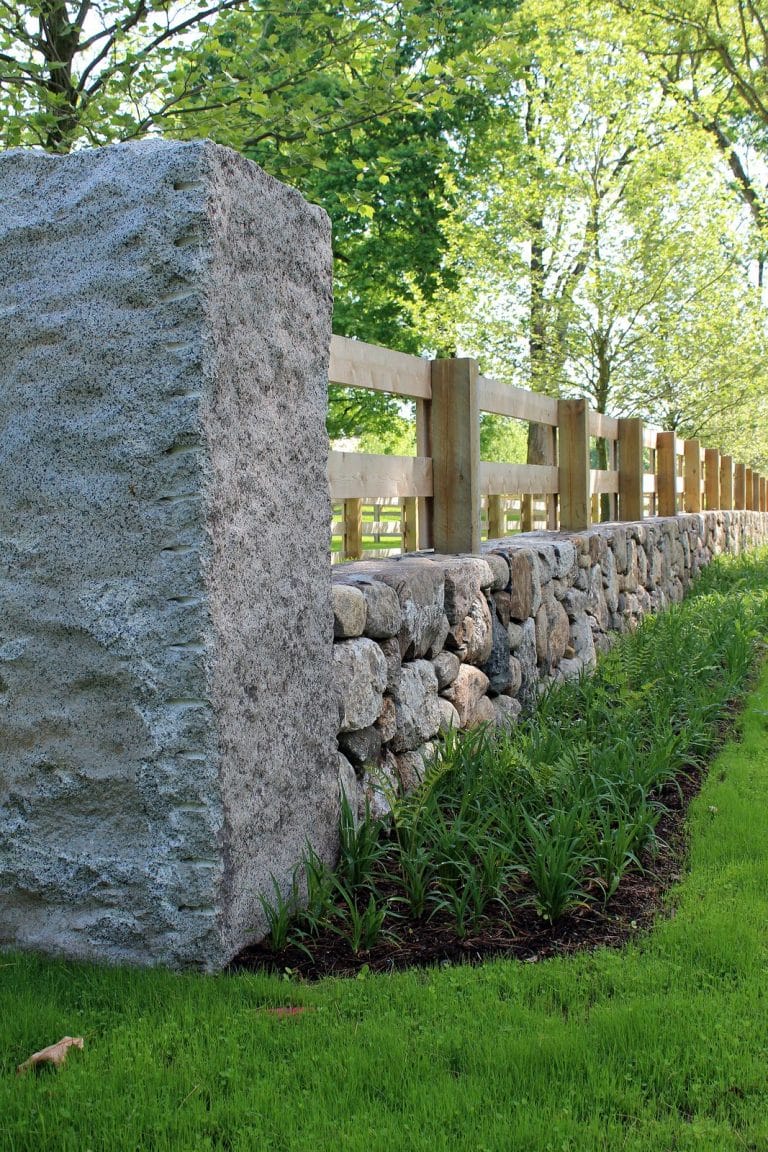 You can also work around this by combining natural materials such as stones. Make a stonewall as high as half the height of a horse fence in general.
Next, install a wooden horse fence in a minimalist style. You can choose a wooden horse fence that has an artisan-style or even a simple style with three rails.
7. Hog Wire Horse Fence Ideas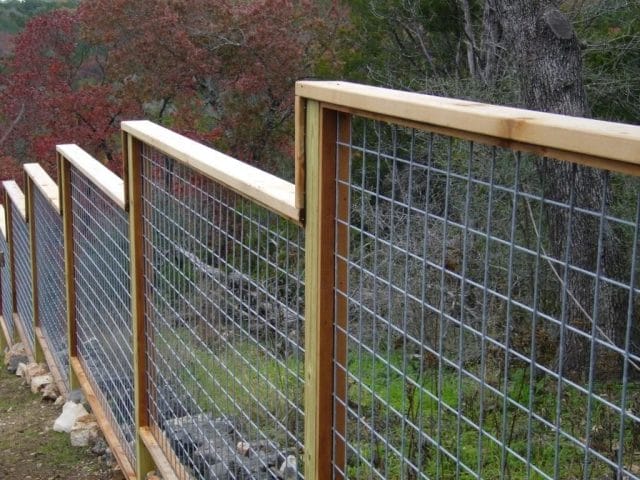 The type of horse fence that is also widely chosen is the hog wire fence. Some people often name this type of fence as the livestock panels. At first glance, this type of horse fence does not look as strong as a metal fence or wooden fence.
However, this type of fence is also effective for keeping horses in the cage area and field. So that the fence does not easily collapse, you should choose the wood that is hard and strong enough.
Besides, use the strong wire such as the galvalume wire. You can also put this type of fence on the hilly surfaces.
8. The Pine Tree and Hog Wire Fence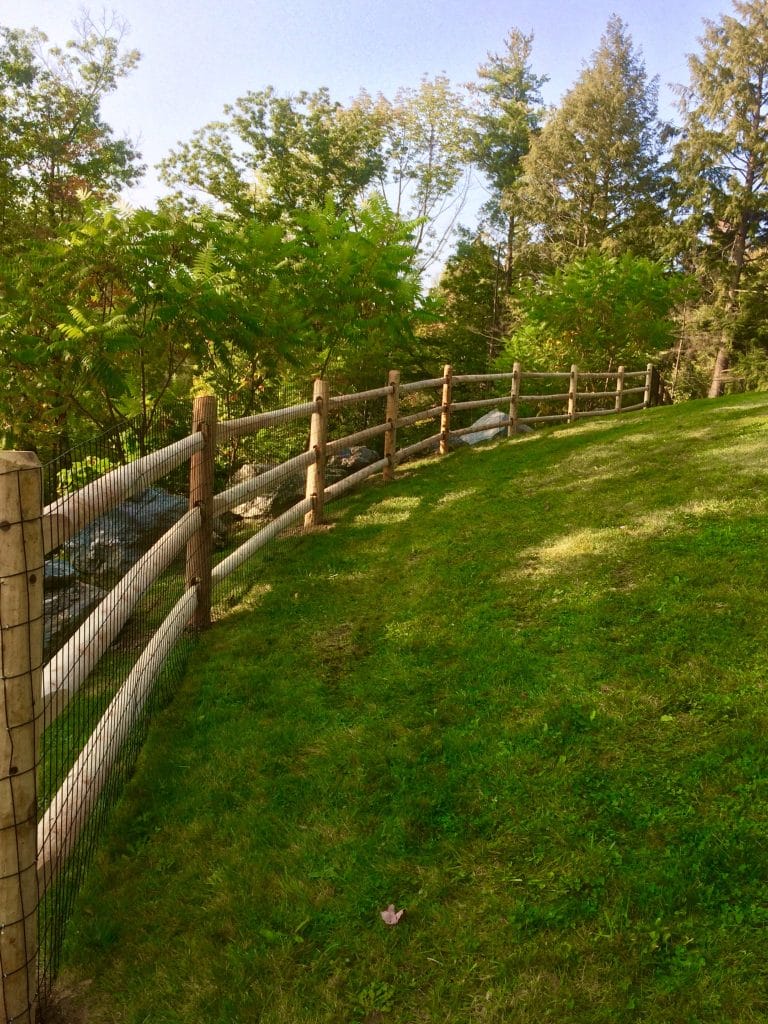 This horse fence idea is very suitable for those of you who want to have a natural, rustic, but still stylish sturdy horse fence style. Do you want to create your horse fence? You can use the available chunks or trunks in your warehouse.
Cut the trunk according to the standard size of the horse fence. Make three rails resemble a frame. Next, install the hog wire panels. This horse fence idea is very suitable for those of you who want to have a natural, rustic, but still stylish sturdy horse fence style.
9. Flowery Horse Fence Ideas
You can also make horse fences like in fairytale stories. Install wooden horse fences that are not polished or painted. Use the three rails fence style. Next, plant flowers under and around the fence.
10. Easy and Affordable Horse Fence Ideas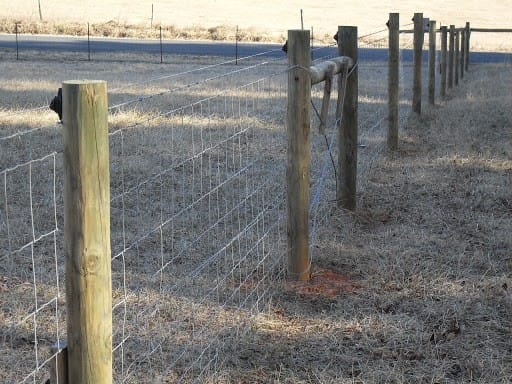 Do you not have a lot of money to make a wooden horse fence? This horse fence idea can be the answer. Only by installing hog wires on a log, you have a sturdy and simple horse fence.
11. The Four Rails Horse Fence Ideas
For those who are interested in a high horse fence style, you can try this four rails fence. You only need to choose the type of wood that is strong enough and hard. This fence style is also quite cheap, especially for ranch, which has a large size.
12. Black Horse fence ideas
For you, who want to have a ranch with a touch of luxury, this horse fence style can be an appropriate reference. You can use real black wood or use another wood and paint it black.
Besides, you can combine the black horse fence ideas with a minimalist design. For example, with a simple three rails fence style and adds a classic impression.
13. The Snake Horse Fence Ideas
Besides the few horse fence ideas above, there is a unique style. It is the snake horse fence made in the direction of zigzag. Some people often mention this type of fence as the zigzag fence.
The other benefit is you just only need to use natural tree trunks that have not been polished and arranged horizontally. This style will make the ranch area look more different and unique.
14. The Vertical Log Fence
Do you want to have a ranch that looks sturdy like a castle's gate? You can choose this vertical log fence. Just by using a wooden trunk, you can create a strong horse fence. Some people also created this fence by sharpening the end of the log.
15. The Rustic Fence Ideas
As you know, rustic style puts forward a natural impression. Not surprisingly, in this rustic horse fence style, many people tend to use newly cut logs or ordinary wooden boards without polish. Besides, do not use a complicated style of arrangement of logs or wooden boards.
The arrangement style like two or three rails is a very appropriate choice. You can also combine it by installing a wire fence.
16. Half Log Horse Fence Ideas
Unlike a log fence that uses a whole log, you can cut the log vertically into two parts to create this kind of fences. You can arrange them vertically or horizontally. There are no certain rules to make this fence, you can create or apply several styles in this horse fence idea.
Starting from the usual arrangements of logs like the rails to the jackleg style.
17. The Buck and Rail Fence
Buck and rail fence is one of the fence styles with a three-dimensional impression or looks like a triangle. The shape of letter A is the main cause of why this horse fence looks like an elongated triangle.
In addition, the design of this horse fence idea has so many benefits. Especially, to prevent the animals, even the small one from the outside to get and push in the ranch, such as deer.
18. Diamond Rail Fence
Do you want to have a fence that seems exclusive and modern? Then the diamond rail fence is the answer. Diamond rail fence has a similar design to rail fence in general. However, the pole and log parts used have a shape that resembles a diamond.
Usually, ranch owners will also paint this fence in white to emphasize the impression of luxury. However, it is a commons thing that this style uses the unvarnished and no-paint wood.
19. The Jack Leg Horse Fence
The jackleg fence, also known as buck fence, is also the choice of many people to make a fence. This design is a traditional fence design consisting of three rails. The three rails have a unique arrangement. You can put on one side and one rub rail on the other side.
The horse fence design also gives an elegant impression. You can use this horse fence idea in both wet and dry land or areas.
20. The Decorative Fence
Besides using wood, you can also order metal horse fences. The advantage of this metal horse fence is, of course, stronger and there is no need to replace it every few years. You can also order metal horse fences with attractive designs.
An example is by putting horse engraving, mascot, or any other decorations on the fence. No wonder this type of horse fence is relatively more expensive compared to other horse fences.
21. No Climb Horse Fence
With fences equipped with rails, horses can usually still jump or step on the rail. Unfortunately, it is not included in this type of horse fence. The reason why many people tend to use this type of horse fence idea is to prevent the horse from inside the ranch jump or rush over the area.
No wonder if this type of horse fence uses the tight arrangement of board, planks, or even wires. Not only using wood as a fence frame, but it also turns out some ranch owners choose to use galvalume to reduce the cost of repairs that are done regularly.
22. The Vinyl Picket Fence
This design also makes the ranch look classic, especially if you paint the fence in white. Many people tend to choose the vinyl picket fence because it is very easy to install compared to the metal or wood fence.
Nevertheless, it turns out that this fence has a quite expensive price. However, the price is also following its durability, which possibly lasts for the next 20 to 30 years.
You can use some of the horse fence ideas above as a reference to beautify your stall and horse field. Nevertheless, build the horse fence by general standards to support the security and effectiveness of the fence.
Besides, do not forget to check regularly to prevent things that are not desirable. Especially for those who choose to use wooden horse fences that are more weathered after use in years.
However, it also applies to a metal horse fence, which is prone to rust. Also, make sure that the horse fence idea is proportionate with the available budget.