Using the fence to hide Air Conditioner unit is a great way to turn an eyesore into a curb appeal. Well, an outdoor air conditioner (AC) unit can affect the beauty of your outdoor area. It makes space looks a bit uglier, especially when there is a garden nearby.
If you want to get rid of that view, you do not have to move it away. You can just dress it with something that would add curb appeal. There are many ways to cover the outdoor AC unit. Here are 21 ideas of fence to hide air conditioner.
1. Simple One-Sided Contemporary Fence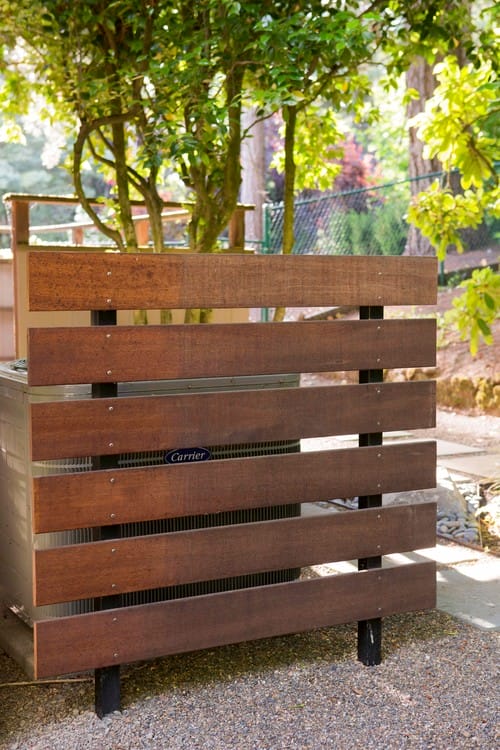 Using only one fence to cover the Air Conditioner unit is the simplest way you could ever think. Many people choose this to get rid of that eyesore. The fence you see in the picture has a contemporary design that matches the surrounding outdoor area.
Covering all the sides of the AC unit is optional. As you can see, it is only one fence is needed in this outdoor space. That is enough to hide the eyesore and add curb appeal to the area.
2. All Machinery in One Cage

This well-ventilated structure covers the propane tank. You might see a structure near a swimming pool. They use This structure to cover the AC unit. It is perfect for a house with a swimming pool. Just have all the machinery accessible in one place.
Besides machinery, you might be able to keep all the outdoor stuff like garden tools inside the structure. Furthermore, you can choose to modify the structure to fit the size needed for the air conditioner unit only.
3. Hiding the AC with Simple Trellis

If you have the AC unit in the middle of a garden, adding a fence might not support the garden's beauty. How about dressing it up with the big element of the garden? A vegetation screen or trellis is something you need to be the background of your beautiful small garden.
Using the screen to cover up the entire AC unit is a clever idea. It is also a good budget alternative to dress up the entire garden space. Choose the plants you want to integrate with the trellis, such as beans. Such plants can climb or grow vertically.
4. Low Fence Covering for Savvy landscape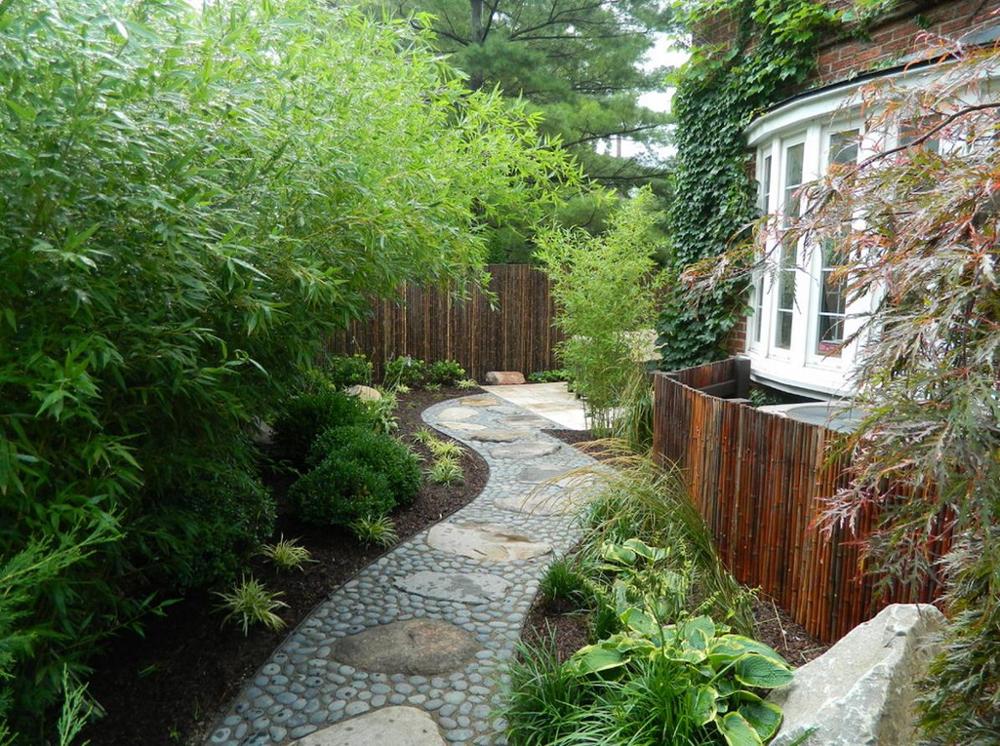 Check out this beautiful landscape design. It would not be so beautiful if you see an AC unit in the picture. Well, it is because the designer knows how to hide the unit seamlessly. Even a big air conditioner unit will not be a problem for this perceptive landscape design.
That low fence covers the big AC unit perfectly. It makes the unit is hardly noticeable from this point of view. If you look carefully, you can still see the unit but your eyes have already drawn down the path. The fence is just being a fantastic background for the lush vegetation.
5. Easy DIY Cover Fence
Many people would think an outdoor AC unit would ruin the aesthetic of the space. Well, this DIY idea would help you out with that. This simple cover for the AC unit looks so easy to make. The idea comes from a famous blogger.
You do not need to be a professional woodworker to make this cover fence. You can make build it yourself using some simple stuff. It does not even need nails to make. You just need some heavy- duty adhesive to attach the cedar wood planks.
6. Small "House" AC unit Cover

If you are looking for a little bit catchier idea, you can choose to make the cover or fence as part of your garden's theme. As you can see in the picture, the design of the cover is just like a small house. It is such an interesting way to hide the ugly AC unit.
This small AC "house" adds character to the entire garden you have. Many people would not notice that there is an AC unit inside the structure. What they know is just the decorative small house in the middle of the garden.
7. Lattice AC Unit Cover

This type of fence or cover for the AC unit is quite popular in many houses. It is because of the interesting look. Besides, the structure and design support the garden system. Even though there are holes all over the structure, it is not that easy to find out what is inside.
Therefore, the AC unit will remain unseen. It is a great focal point for your garden by the house. You can even plant climbing plants to grow all over the lattice screen. The fence will become one with the entire garden.
8. AC Unit Fence with Potted Plants
Placing a couple of potted plants in front of the fence would add more curb appeal. Besides, the reclaimed wood material fence is already looking good.
The rustic charm that it has can make a nice focal point for your outdoor space. Adding potted plants is a practical option instead of setting up a garden.
9. Smart AC Unit Cover

This fence is being smart just because of the structural system. As you can see, this screen is solid on one side. Another side is the spaced gate for access and airflow. It is like giving the AC unit its room. The fence is high in this smart structure even though the unit is a lot smaller.
This screen has a thoughtful design. The spaced gate is a necessary addition to let the airflow well with the unit. However, building this cover will require professionals to help. It would cost much more money too but it is worth it.
10. Simple Modern Screen to Hide Stuff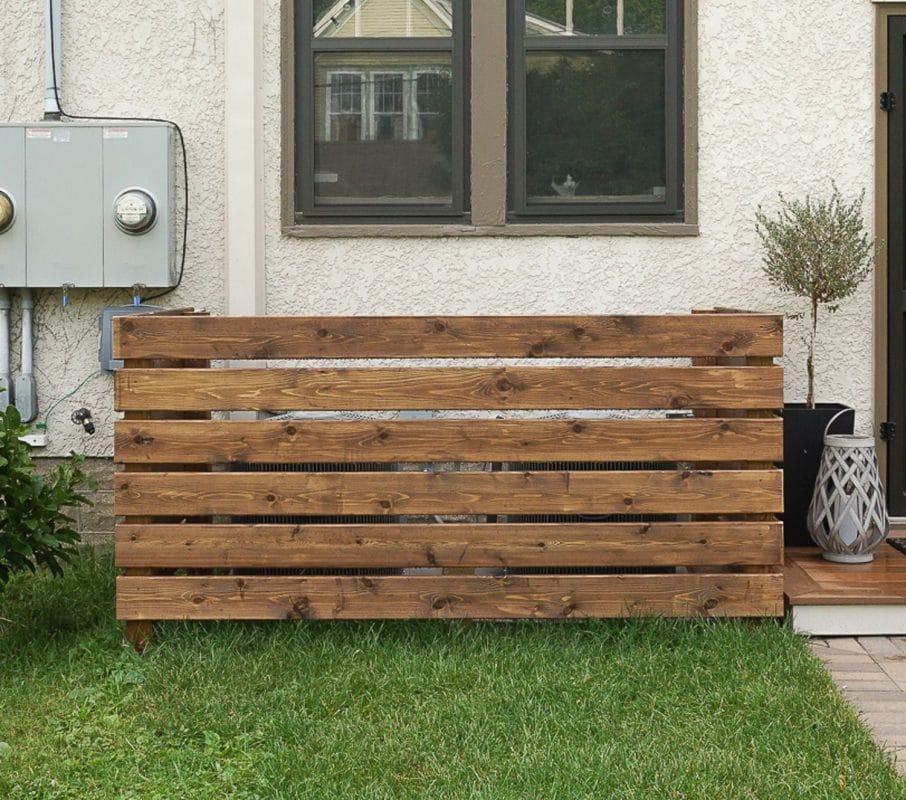 If you want something simple and looking for any kind of backyard, aim to build this screen by yourself. The key to having an ideal screen to hide the AC unit is without interfering with the efficiency of the machine itself.
This modern screen fence to hide the air conditioner unit is something you can build from scratch. You will need some basic woodworking skills to pull this. Besides hiding the unit, you can have this to keep the trash bin away from sight.
11. Decorative Wood Garden Structure
This structure can be one of the most decorative ways to hide an AC unit. You can just see how interesting this structure is. It camouflages the unit aesthetically. You do not even think that there is a machine inside that decorative structure.
This small artistic house adds interest to the outdoor space. You can place it in the middle of your backyard garden as the main element. If you can build it by yourself, you have to plan to make the structure accessible for service.
12. Hiding the Unit with Paver Wall

Without wooden material, you can still hide the AC unit seamlessly. For those of you who do not want to deal with woodwork and plants, you may want to hide the AC unit with a paver wall. It would still make a good fence to cover the AC unit.
Gather some patio pavers and arrange all of them to cover the unit neatly. It looks like a fortress for the Air conditioner machine.
13. Vinyl Privacy Screen for Outdoor

This screen looks so attractive for your outdoor space. It would cover the AC unit easily. This vinyl privacy screen is very useful to hide other unsightly things in your outdoor area such as trash bins, or propane tank machine for the pool.
You can buy this screen in Wayfair. It is very easy to install. You do not need to dig holes or pouring concrete to keep it steady. Just insert the staked posts into the ground and you are ready. It is made of stainless steel and PVC.
14. Deluxe Premium Privacy Screen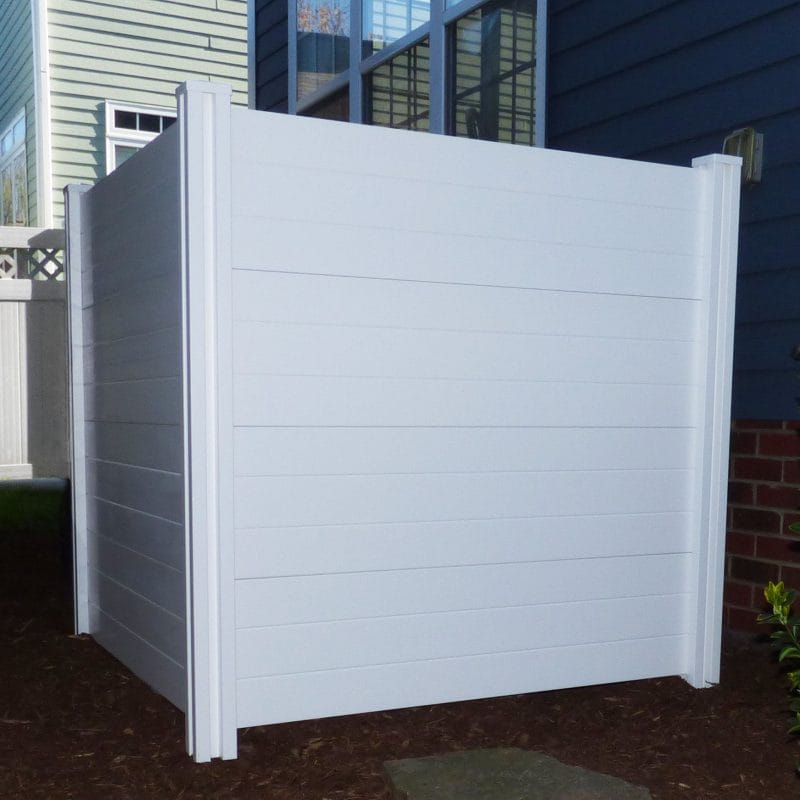 This modern privacy screen is made of Vinyl and Polyvinyl Chloride. You can buy this product from Wayfair. Unlike the previous one, this one will cover the unsightly things entirely. You will not be able to what is behind the screen. It looks like a wooden box from distance.
What makes this screen is better than many other vinyl screens is the material quality. This one is using PVC vinyl in premium quality.
15. Huntersville Fence Design for AC Units

This fence cover is available at Wayfair. You should buy two pieces of this fence. If you buy one piece, you will only get two privacy screens in the package. Some people might think it is not enough to cover the unit entirely. Three screens are the minimum amount to hide the unit.
This fence is in "On Sale" status on Wayfair. You can get two pieces of the screen for only 83.99
dollars.
16. Folding Screen for Garden

To manage the aesthetic of the garden design, you need to hide all the unsightly things around the garden. You can use this folding screen to cover all the things that would bother the beauty and nature of the garden.
Having the screen in your garden will define the outdoor living space you have in the house. This screen has four panels and five posts. You can arrange the screen according to your need. It would also make a perfect background for the garden.
17. Basic Fence with Premade Panels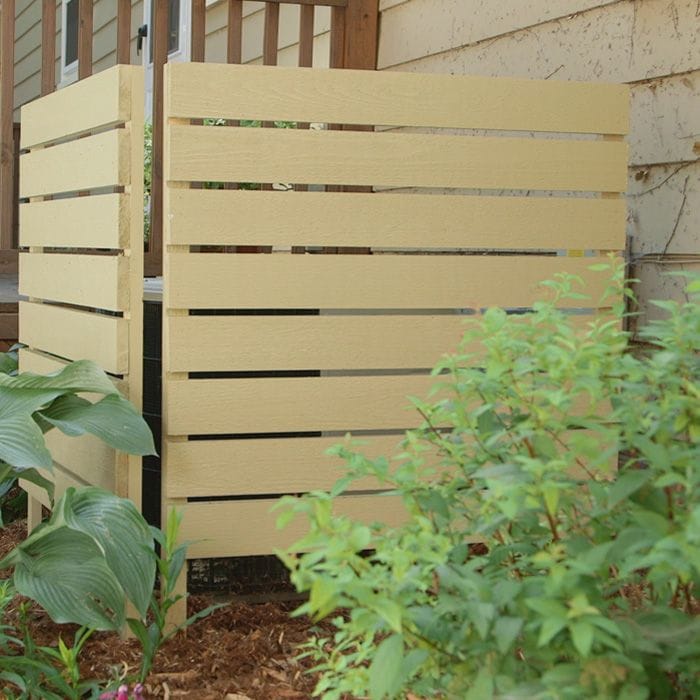 Hiding the unsightly features of the house would elevate the quality of the house design one level above ordinary. These panels would form a cover to remove the unsightly things away from sight. If you are using premade panels, you can make this element easy to remove.
This fencing is one of the seven simple curb appeal ideas you should have for your house.
18. Clear Redwood Structure
Look at this beautiful structure. It is a great way to hide your Air Conditioner unit. It covers the entire unit like a box. Therefore, you have to make sure that you can open the structure by removing the top cover for easy access.
The redwood material is the highlight of this idea. As you see, it stands in between pebbled grounds that give all the attention to the structure.
19. Shabby Chic Shutter Screen

If you love to have an eye-catching structure to cover your AC unit, consider this shabby chic shutter screen. Gather some old shutters and paint them to your desired color. You can also leave it to its original rustic look.
Then, you will have a screen with an amazing rustic charm. The old shutters are quite high for an AC unit covering. It might be noticeable that you want to hide something behind. Therefore, you have to be clever enough to decorate your surroundings.
20. AC Unit Cover for Balcony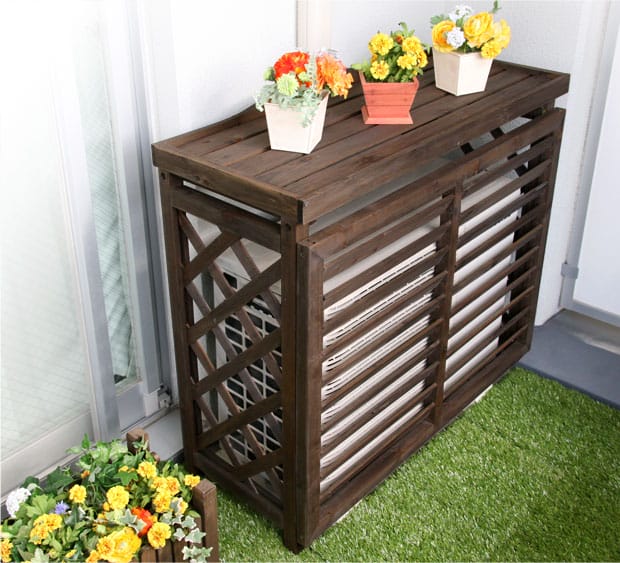 This is an ideal idea of a fence to hide the air conditioner unit that you might find on a balcony. An AC unit can be something that ruins a complete design of a balcony.
The elements in the space should all be in harmony and connected. Having machinery in the middle of it can be a problem. This fence idea is something to consider. As you can see, it covers the unit with a simple decorative fence that has a flower top.
21. Decorative Iron Structure

Just by seeing it, you know that this structure does not hide the AC unit. The iron structure makes the unit more noticeable. However, this decorative iron structure has a top space where you can fill with other decorative items.
With many decorative items around the structure, the unit is not noticeable anymore. As you can see, the AC unit is not something that you see clearly. However, it blends with the white wall seamlessly as more items added.
Conclusion
Overall, finding the right fence to hide the air conditioner unit is not as hard as you think. It depends on how you want the nearby space to be. With wood, steel, or PVC vinyl material, there will not be a problem as long as it functions well as it is.