Besides designed fences, painted ones are also an option nowadays. It is because painted fences are much cheaper, and you could do the whole process by yourself. The ideas are also limitless. You are about to find 23 fence painting ideas on this page.
If you feel fence painting is interesting and are in the middle of looking for some inspirations about it, this article will be of any help. The following list contains examples of fence painting on several materials, with numerous designs, and plentiful of colors. Let us check these out!
1. Colorful Painted Fence Posts
The fence painting process is fun. Therefore, you should involve some little helpers who see the world from the fun side: your kids! It would be perfect if your fence made of individual posts because you could color each of them differently.
However, any fence would do as fine. Just try to use as many bright tones as possible. A mix of white, purple, red, blue, yellow, orange, and green is more than enough, we believe. If possible, invite your next-door kids as well. Let us not just paint the fence but also create a memory.
2. Dedicated to Your Pet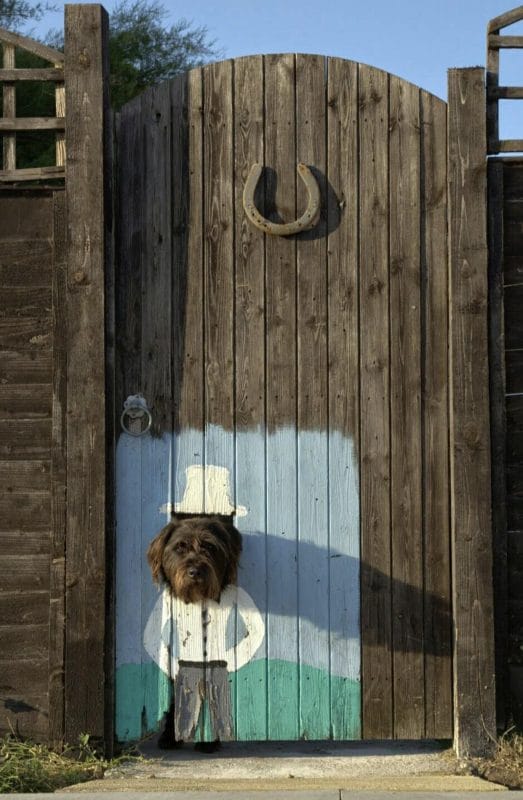 Poking your nose in someone else's matter is a bad habit. However, if anyone – or anything – does the nose-poking job cutely like this little muse here, we bet everyone will find it funny.
To make it even funnier, you need to paint a person figure where the dog hole becomes the head part. When your cute beast sticks its head through the hole, voila, a cute little person is waiting for you home.
3. Digging Dogs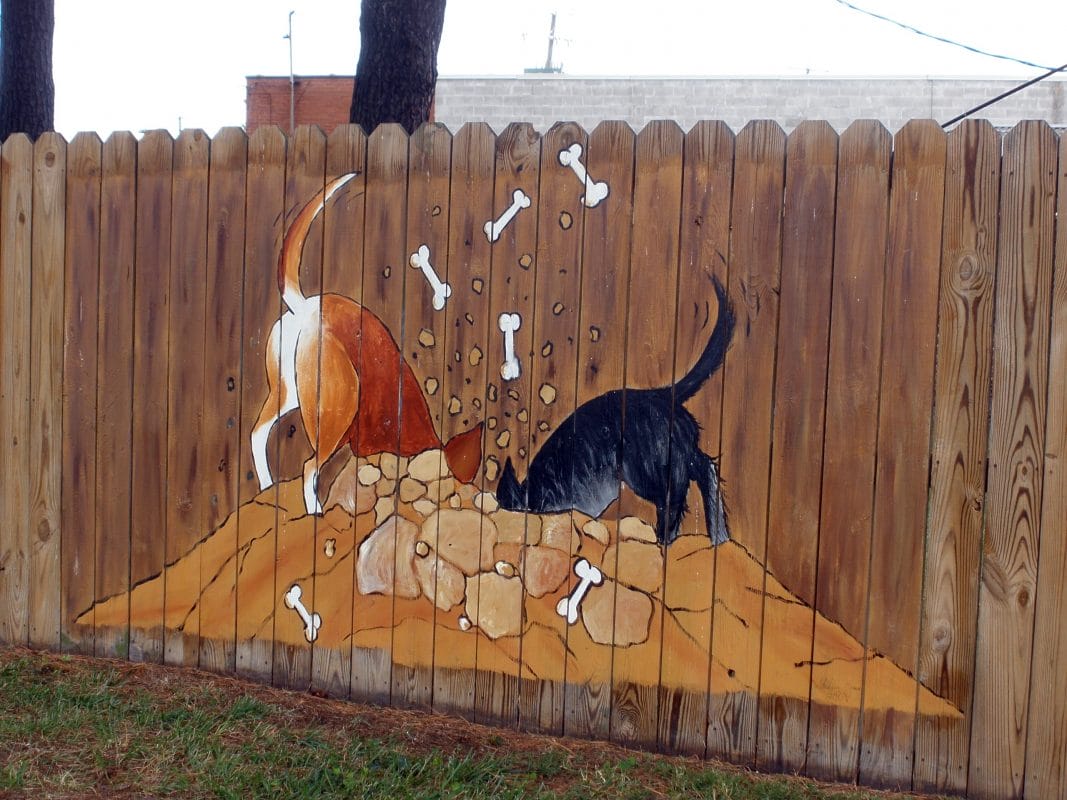 Portraying this image in a real-life, we guess it is common to find your pets digging the nicely managed yard. Scolding the cute beasts will not do you any favor, so why don't you make it a funny memory to remember?
On a naturally stained wooden fence, sketch the scene you want to recall permanently. To make it lively after that, give some color as close to the real situation as possible. Only then, the scenic moment will last longer.
4. Flowers and Butterfly Fence Painting Ideas
The best time of the year will be summertime for four-season countries and dry season for tropical states if we talk about doing outdoor activities. The sun shines longer during the days when you get to see summer views, like dancing butterflies around flowers.
You could have such a view permanently by putting it on the backyard fence. Let the background painted in a dark tone and the main elements in bright colors. By doing so, you make the scene as
attractive as it can be.
5. Hobbes and Calving Fence Art
Picking Hobbes and Calvin to feature on the mural is due to this reason: it portrays a scene of best friends playing in the backyard. It is not an obligation, of course; you could choose other characters in a scene portraying a similar idea.
Nobita and Doraemon, Elsa and Anna of Frozen, or Spongebob Squarepants and Patrick Star could be the perfect example.
6. Oasis for Fence Painting Ideas
After a long and hard day, you might want to enjoy the solemn resting moment at home. Well, let us upgrade the moment by painting a nice place you want to go on the backyard fence. Lean your back, straighten your feet in a reclining chair, and take a good look at this oasis-like view.
It will be perfect to end your day like that. If it is not an oasis or a beach, paint yourself something similar under the idea of a dream holiday destination.
7. Repeating Stenciled Patterns
If painting colorfully is not your thing, stencil patterns could be an alternative. For this particular pattern, you have to prepare 1" foam paintbrushes, 24"x36" printable, 3 exterior paint colors, chalk, fine-grit sanding block, level, old cloth, painter's tape, pencil, ruler, and an optional latex glove.
The paint colors used are black, gray, mint green, and white.
Firstly, prepare printable and tape it on the fence. Secondly, transfer the design with a pencil and a ruler. Painting and sanding will be the next and final steps. The purpose of sanding the mural is to obtain a weathered gorgeous look. Voila, you have your patterned fence!
8. Silhouette Fence Painting Ideas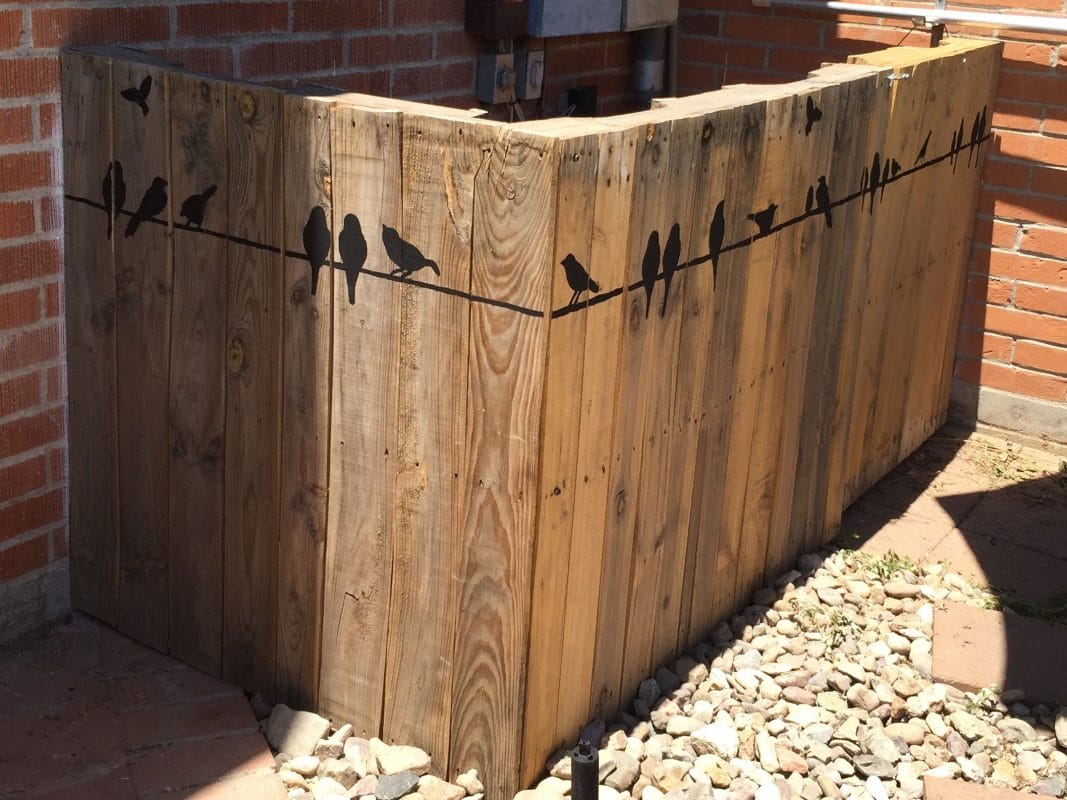 Yeah, we know it is not a fence, but the idea of painting a silhouette is out of the box. You could apply it to the fence, nonetheless. It does not need much effort since it is so simple and minimal.
Another silhouette drawing like the images of your kids is worth trying also. Everyone would love to have that on his/her wooden fence.
9. Sunflower Mural on Wooden Fence
When you cannot grow your sunflowers, having them in another form, like a mural, for example, is a nice idea.
After painting the base with the light brown tone, sketch some big sunflowers with a few leaves. Then, combine yellow-orange shades to color the petals and green to paint the leaves part. You could do both sides of the fence so that the view is not only for you to enjoy but also for passersby.
10. Tree Painting
What makes a style differs in each case. For this fence, the painting design has to be the determining factor. The tree painting looks so contemporary that it makes the whole yard flooded with modernism. Not to mention, the nearby metal furniture also supports the idea.
Black is there according to the painter's or homeowner's preference. You could always replace the color with something more preferable. Alternatively, have the stem and branches parts painted black, while the leaves in other contrasting tones.
11. Wild Garden Life
Homeowners and dwellers with kids should execute this colorful idea. On a white base picket fence, sketch some wild garden life, the works of bee, for example. Applying only bright tones, including yellow, green, pink, blue, and orange is the key here.
An idea for you: involve your kids also to splash some paint on the fence. By doing it, you could get not only a fence but also memory, stronger parents-children bond, and well-spent quality time.
12. Uplifting Picture and Quote for Fence Painting Ideas
We have already had an example that pictured flowers and butterfly, now how about upgrading it a little bit into some kind of graffiti? You could do it by involving more contrasting colors and a line of a motivational quote.
Keeping flowers and a butterfly drawn on the mural is you trying to stay true to the garden view theme. Other lines you could quote onto it are:
Do not just exist, live.
Create your sunshine.
Every moment matters.
Be fearlessly authentic.
See the good.
13. The array of Colors Picket Fence
Your front garden will be different with several single tones painted on the fence all at once. While white for picket fence is classic, more hues are daring. Pick pastel tones to obtain absolute beauty and calming nuance.
Notwithstanding, do not forget to adjust the color choice with the main nuance of your garden or house exterior.
14. Black Fence Painting Ideas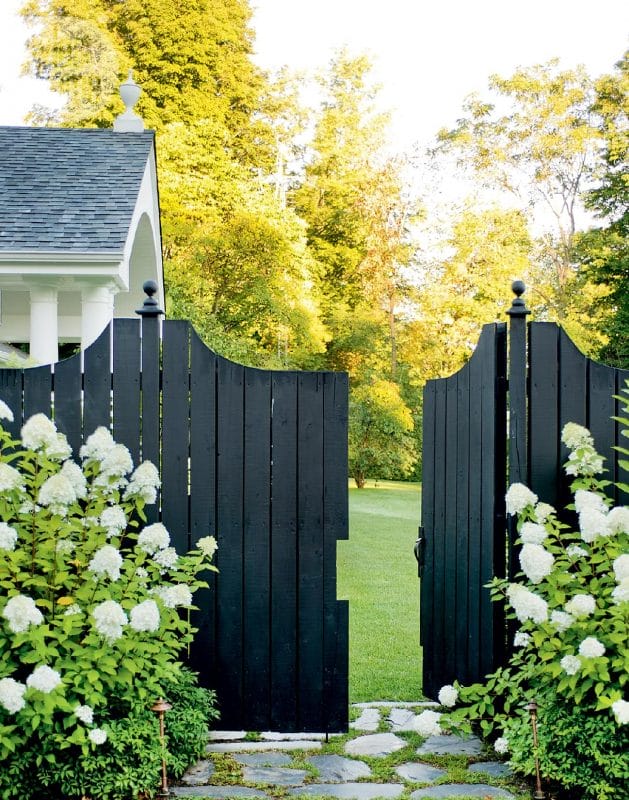 Here comes a neutral paint color. For a possible bright and colorful garden, black would fit in as fine as you wonder it to be. Well, look at the example above. Black color would do an amazing job to make your plants stand out. It is also a recommendation if you like to bring up a modern feel in the yard.
For this house, the black fence is a perfect choice because it matches the roof tile of the same color.
15. Blue Fence Painting Ideas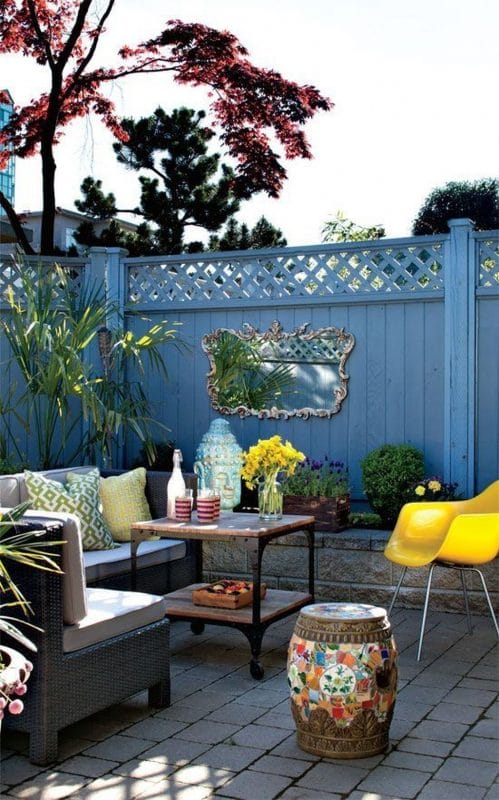 Unlike the neutral tones that would fit in a colorful environment, blue shade is on the contrary: it would complete the set of neutral-toned or soft-toned scenes. The above picture gives a visual explanation of the idea.
It is like matching blue jeans to any colored pair of clothes. You have no difficulty in pairing blue jeans with anything, right? Well, so does this blue fence.
16. Bright Yellow Fence Painting Ideas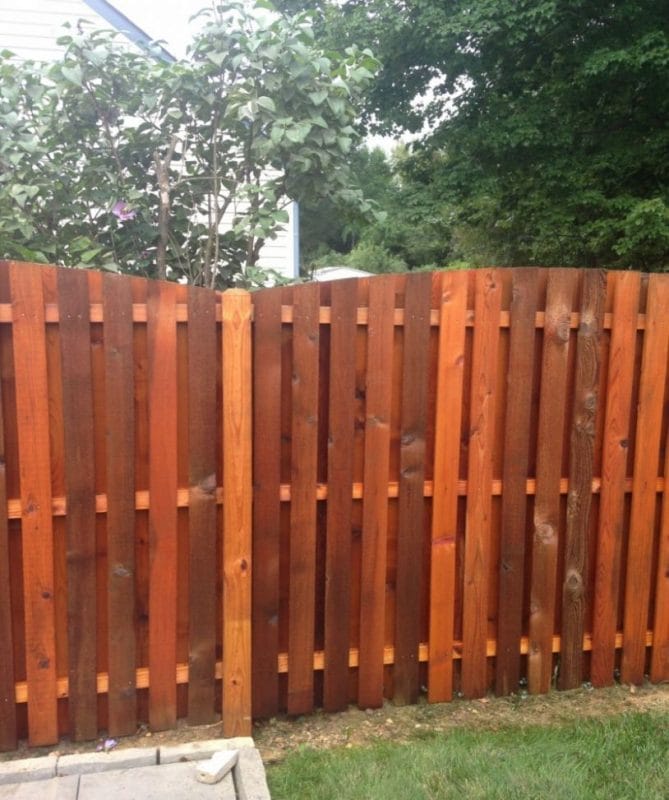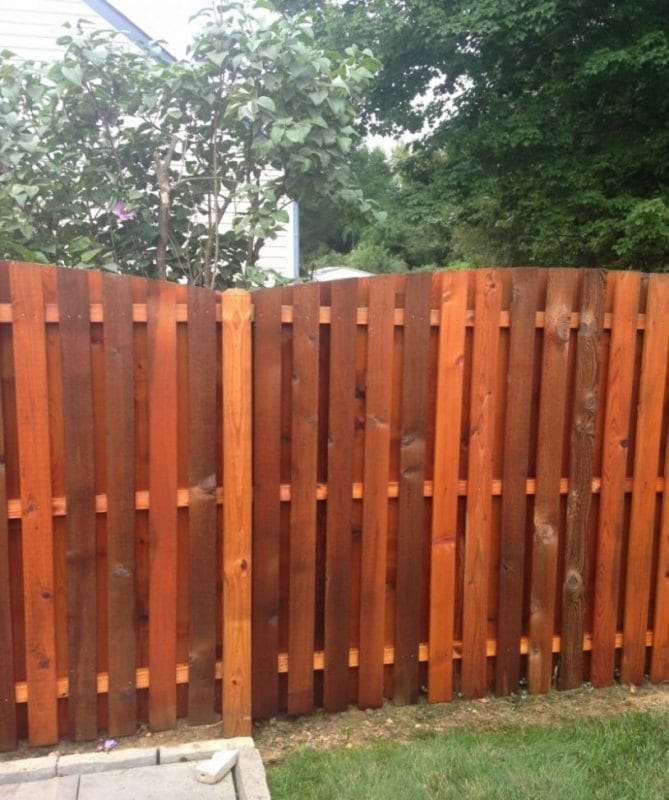 Go for a yellow-colored fence if you want it to be an attention drawer. This hue is perfect for the clean-cut yard, where there are no bright-colored flowers, plants, and tress. With this tone, your fence will look stand out and make passersby double-check at a quick first glance.
17. Natural Wood Stain
If you feel like colors mentioned on this page are too risky to have for a fence, your safest bet is here: natural wood stain. Stains come in various shades without leaving the true appearance if applied. Opt for it to have a rustic and natural look in the yard.
Nonetheless, to avoid your fence appears too 'orange', which commonly makes the shading plan tilts in the wrong direction, consider using more lighter tones than darker ones.
18. On-Trend Grey Fence Painting Ideas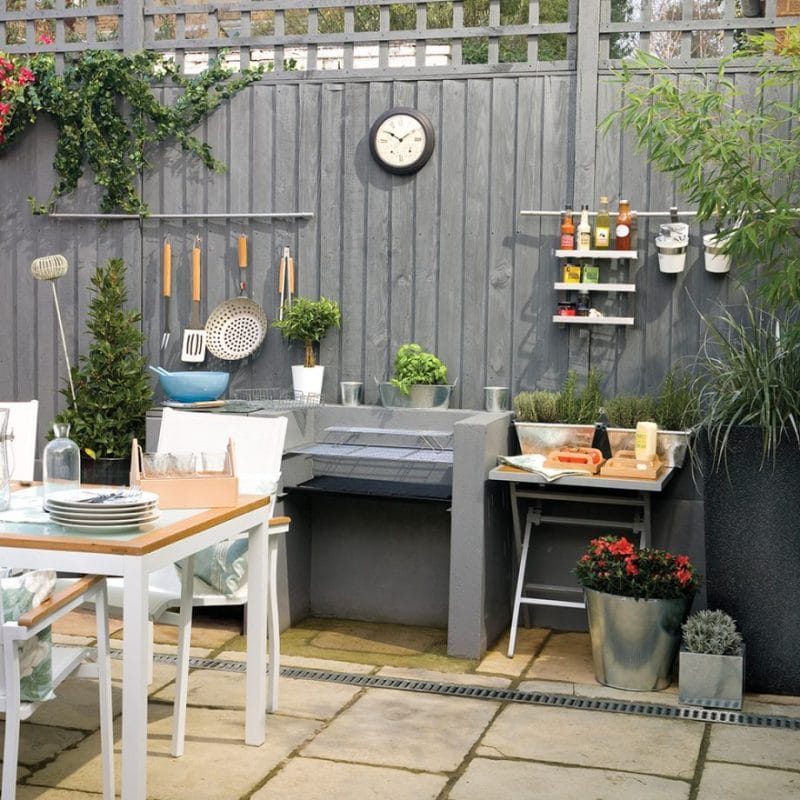 Pictured above is an outdoor kitchen with a trending grey fence. The homeowner makes it as if the fence is also a part of the cooking area by making it be the holders of the kitchen bits and bobs. During the nice-weather months, how great it is to cook directly under the sun?
However, pay attention to this: do not just paint your fence in a current and trendy color if is not concerning your exterior. Luckily, one example you have here says otherwise. The grey permanent counter, metallic buckets, and the earthy color of flooring, all relate to the grey fence.
Not to mention, the neutral-toned dining set gives contrasting nuance, completing the whole scale outdoor kitchen.
19. Pale-Wood Finished Garden Fence
In this garden, a contemporary feel spreads throughout the area due to the fence finished in pale wood. Not to mention, the wooden deck, which has the same finishing as the fence, also strengthens the feel. Arrange only green plants surround the garden to keep the consistency.
An outdoor mirror, though not common, will help you make the current space appears more spacious than it is by reflecting the area in front of it.
20. Red Picket Fence
It seems everybody imagines his/her dream house to have a white picket fence in front of it. However, that particular type of fence only matches a traditional vibe and cannot develop any other feels. Thus, consider painting the classic white to red. Such an approach could affect your whole exterior differently, stylishly, and grandly.
21. Two-Toned Panel to Make a Statement
When you are neither a fan of fences with mural paintings nor monotonous single tones, go for two-toned fence. At least, that was what creative director from a famous brand paint advised. Marianne Shillingford further said to keep the bottom part of the fence in a darker color.
By doing so, you could highlight the bright colored furniture in front of the fence and pop the floral arrangements. In the toning process, use masking tape to divide the upper and bottom fence part.
22. White Fence Painting Ideas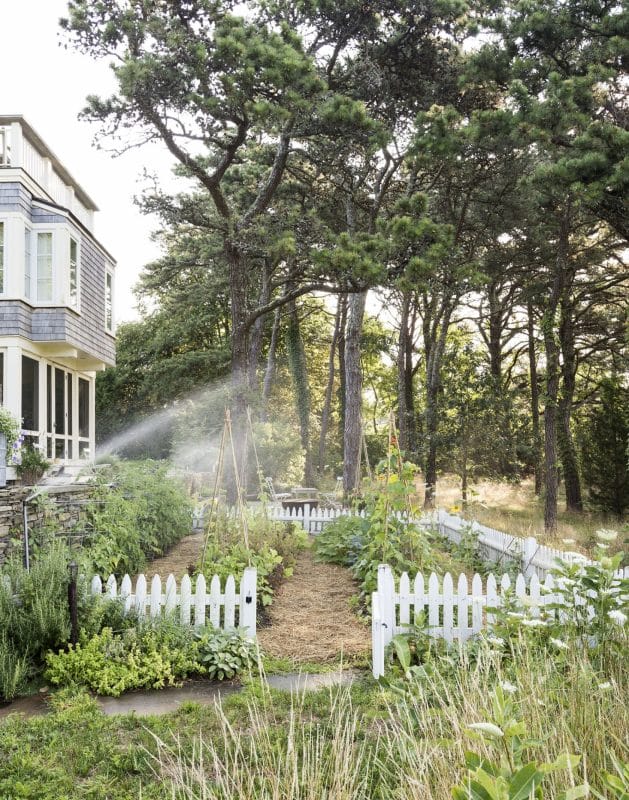 White is the most popular color to have for fencing. The reason behind its popularity is because white is versatile, neutral, and simple. You will not ever go wrong by picking white, but of course, the choice is for those who like to go along with the mainstream.
White fencing is perfect for houses with traditional style and classic curb appeal. In a garden full of colorful flowers, a white fence will let them pop.
23. Willow Shade Fence Painting Ideas
Growing willow to be a garden fence is in the options nowadays. Though doing it need time and effort, the result worth the hardship. In case you, of all people, do not have the luxury to grow the real willow, consider painting its shade into your fence, instead.
They do not do the same wonder, of course, but willow shaded fence is much cheaper, needs low maintenance and a lot are easier to have.
The list of fence painting ideas will grow longer and longer if we continue this. Now, it is time for you to decide which one is the best for your fence. Whether involving many colors or sticking to single tones, do not forget to consider its relation to your exterior house design and yard.