All breeders must relate to the fencing problem: how to let the livestock roam free without disturbing or getting disturbed. It is especially a matter for chickens, which known for their habit of exploring a wide range of areas. Depart from the matter, you will find some chicken fence ideas here.
If you are a breeder yourself, a chicken fence will bring you benefits undoubtedly.
You will find what kind of benefits it offers while reading this page, but at the very least, chicken fence could save you from the trouble of the dug up small plants, munched leaves, and scratched mulch created by these free-spirited little creatures.
However, deciding what types of fence you should install could somehow be a problem unless you know the determined factors involved. It depends on the arrangement of your birds' housing, the coop types you use, geographical location, and the predators if existed.
This article will give you some ideas of chicken fencing based on its functions (keep out predators and keep in chickens) and ones from garden fence. Let us check these out!
Chicken Fence for Keeping out Predators
To keep out predators, you could put away the aesthetical thing and pay more attention to the building material as well as the installation instead. Because of that, you might spend an extra budget for having solid material and extra effort to install it securely.
1. Electric Net Chicken Fence Ideas
As it comes in various sorts of sizes, shapes, and prices, electric net fencing is the best one in the group.
It is portable and prefabricated, thus easy to install and reinstall anywhere you see fit. Its ability to electrify makes it ideal to shoo away coyotes and foxes type of predators.
This type of fencing is the most suitable to have for those who want to fertilize new garden plots and rotate free-range areas, such as urban breeders and homesteaders.
The downsides of electric net fencing are:
It needs regular maintenance because the net gradually form gaps which allow large predators
to jump over easily,
It does not tolerate any power outages since it relies on continuous electricity, and
You have to spend more on electric bills unless you use a solar-powered one.
However, it is still the best type among the others if you look from how effective it works.
2. Hardware Cloth
Hardware cloth type of fencing is the most expensive one in the category. Because of that, applying it inside and around the coop will be the best method in cost-saving. Another way is to install a layer of 0.5 inches of hardware cloth mesh on any coop windows by tracing the pane.
You could also use it to tighten any gaps bigger than an inch existed on the entire coop.
Though the price is the highest, some breeders still prefer hardware cloth than any other type of fencing in terms of proofing their chickens from predators. Installing it will make the entire run to be as safe as a shut coop. Need not to lock up the chickens every night anymore.
3. Wood Chicken Fence
Unlike the two former types of fencing, the wood ones are versatile. Aside from to do its original job of fencing, wood fence could also beautify your backyard garden as decoration. Many breeders commonly use the pallet types of wood as seen in the picture since they could find it almost everywhere affordably.
The height you set will determine its usefulness. Taller fence will keep out particular animals, like raccoons, dogs, and foxes, as long as there are no large gaps or holes made to squeeze through.
Meanwhile, shorter fence may be of no use because the chickens it should contain could easily jump over it.
The downsides of the wood fence are:
You will need professional help in the installation process, thus it costs you extra;
It requires particular maintenance, like staining, if you see it as a part of garden decoration; and
You could not rearrange it easily once installed.
Nevertheless, wood fencing is the best option if you intend to make the chicken coop as an element of
your backyard landscape permanently.
4. Chain-Link Chicken Fence Ideas
You could see the usage of chain-link fence everywhere since people not purposefully make it be a chicken fence. However, usually many breeders, especially those who live in close neighborhood or suburban areas, make use of it to guard their poultries against trespassing into the nearby houses.
Endowed with magical power, chain-link fencing could protect the chickens from disturbing your neighbors' treasured flowerbeds and mulched gardens. It costs a lot, so you should use it at its optimal potential: to be your lawn's as well as your chickens' barrier.
Fence for Keeping in Chickens
Different from the previous types of fence, you will need a lot simpler and more affordable ones to keep in chickens. It is because it works only to border the chickens from the outside world, as simple as that. You would not need a high and strong fence for the matter.
However, several things, like the fence's sturdiness and durability, might concern you. Believe us, chickens will not consider those a problem.
5. Hog Fencing
At first glance, it is natural to think that hog wire could not be as effective as the other types in keeping tiny and young chicks in because of its large openings. It also could not keep out small predators, like snakes, weasels, rats, and mice.
Notwithstanding, hog wire could properly confine adult chickens in an area, especially in the afternoon. It is semi-permanent – not easy to rearrange once installed – thus works wonder as a part of the backyard landscape.
Hog fencing comes with a higher price than plastic or other chicken wire, yet the effectiveness worth it. Combine with metal or natural wood as the posts to tighten hog fencing.
6. Chicken Wire Fence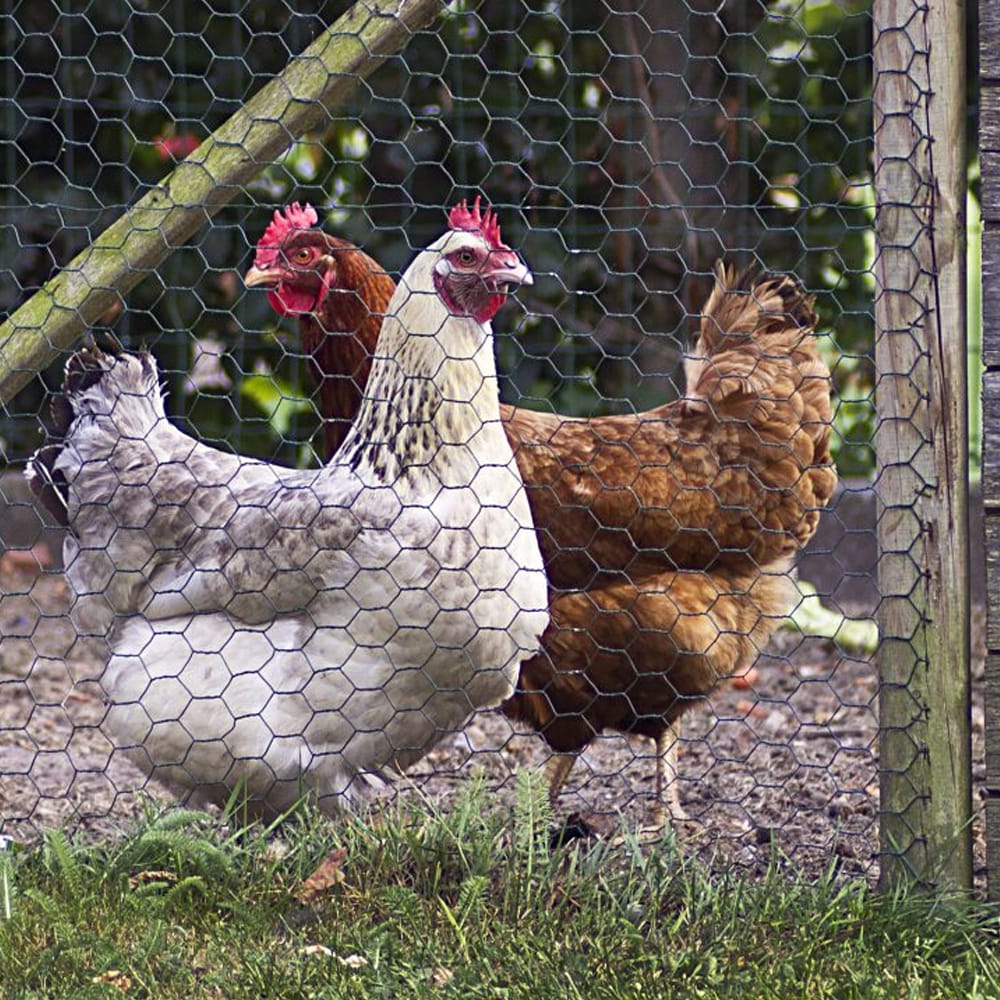 To keep in chickens only, the chicken wire could do the job finely. You could find this type of fence at an affordable price and install it easily on top of that. People also use it to keep out critters by making hoops out of it over garden beds.
It goes best with metal posts, which is common to use for supporting the wire. For the installation, it does not require any hardware or difficult tools, so you could do the process yourself.
On the metal posts, there are hooks to hang the chicken wire mesh. Using a rubber mallet, hammer the set down into the soil after that. With a metal post system, you could move it easily once installed.
Garden Fence as Chicken Fence
The ideas of garden fence to use as the chicken fence are limitless because we speak about the variations of materials, styles, designs, colors, patterns, and heights here.
Some may assume that the garden fence is ineffective as it favors beauty, but it is perfect to involve in your backyard landscape plan.
7. Green Plastic Garden Fence
As it has many uses, a garden fence made of plastic is popular to use as a chicken fence also. You could find it easily at an affordable price in both online and offline garden-supply stores. It is lightweight and flexible. You could adjust the width and length by trimming it according to your needs.
Plastic garden fence is effective to keep your poultries in, yet not so much in keeping out predators. Strong predators are not the only ones that could break their way in by tearing the gaps, but rodents also could do that by biting the mesh.
Therefore, this type of fence is only ideal to be a barrier between your flocks and the other side of the world in the close neighborhood.
8. Forest Garden Fence Rail
As it forms an interesting pattern, this fence types win in both aesthetic and function. While it keeps your chickens, this fence could also do the job of decorating your garden. It looks sturdy enough to shut out big predators.
If you install it securely, no predators could find a way in. Lessen the gaps to make sure that even young chicks stay in place.
9. Steel Garden Fence
Steel is the most recommended material for outdoor use since it is commonly weatherproof and not corrosive. Garden fence made of steel is a nice option to have, especially to mark two different areas.
In this case, having a steel garden fence to be the barrier of your chicken run and another area is an elegant move.
10. Scrolled Metal Garden Fence
What makes the style varies in each case. In the picture above, the building material and the design brings vintage sense for the garden fence. As a chicken fence, it surely adds a classy element to the whole scale of the run. While it keeps the adult chickens in, this type of fence also pleases the eyes.
11. Recycled Plastic Garden Fence
Try to be as eco-friendly as possible with this garden fence made from recycled plastic. The maker involves a land full of plastic bottles in the making process, creates a less-waste environment. It is a breakthrough movement in fencing.
If you use it to be the barrier for your poultries, it is not two birds you could kill with a stone, but three! It keeps your chickens in, border the garden, and saves the earth, congrats!
12. Iron Garden Fence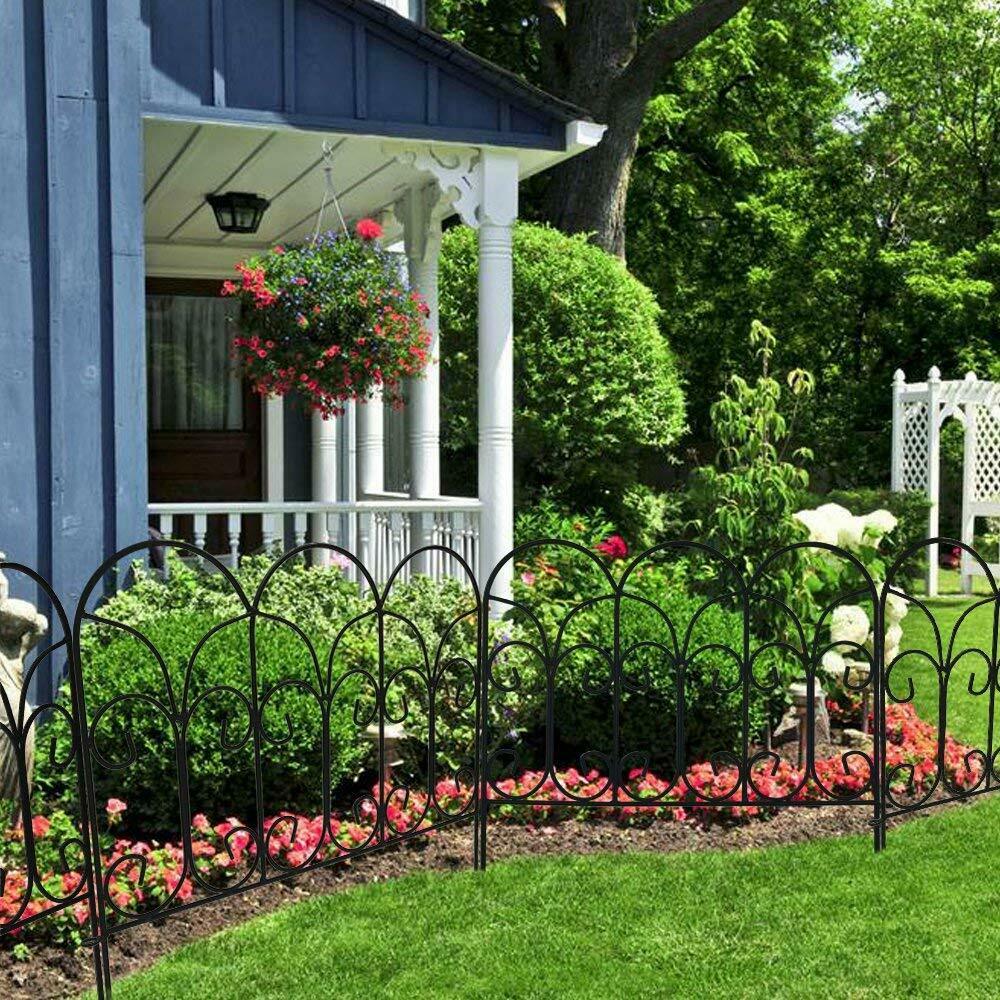 The use of iron in fencing is very common. Iron is very popular because people can find it everywhere almost without difficulty. Pick the rustproof one to be your chicken fence. By doing so, you will have an effective and durable fence in the chicken run.
13. Artificial Green Screen
This one is a lovely idea. If you want to have it, combine a supportive fencing system you already have, like simple posts, handrails, or panels, with a roll of artificial ivy leaf hedge. Compared to the real living hedge, the artificial one does not need time and continuous care to grow.
It could somehow hide the mess your flocks create inside the run. The ones available on the online store even have UV protection technology on the leaves; so that the color will remain as it is originally.
14. White Picket Fence
This is another common and traditional garden fence. You could make use of it also to be a chicken fence by lessening the gaps between any two planks of wood. To add country and rustic feel, you should use reclaimed wood.
15. Sliced Wood Fence
There is no end when speaking about how versatile wood material is. On this page only, we have already mentioned wood to be a chicken fence twice. Well, we will make this the third time.
Everyone who loves simplicity must love this. With enough distance between two sliced planks of wood, it could work wonder to confine your flocks.
16. Combination Garden Fence
After fifteen examples, are you still confused to take just one idea to execute? Try to combine several of them, breeders! The picture above shows you a fence made of three materials: stone, metal, and wood. As a chicken fence, it is natural, sturdy, and versatile. There, you have the complete set!
Other Chicken Fences
17. Modern Black Fence
As a vegetable garden fence, it functions to keep out chickens. In cases where you do vegetables growing next to chicken breeding, this type of fence functions precisely. To install it, you only need chicken wire and the supporting posts. The perfect height will be two-third of your height.
18. Branch Fencing
If you are into natural beauty, this branch fencing will be a great idea. Just set it a little bit higher than the one you see in the picture to prevent your chickens from jumping over the border.
19. Rustic Tire Fence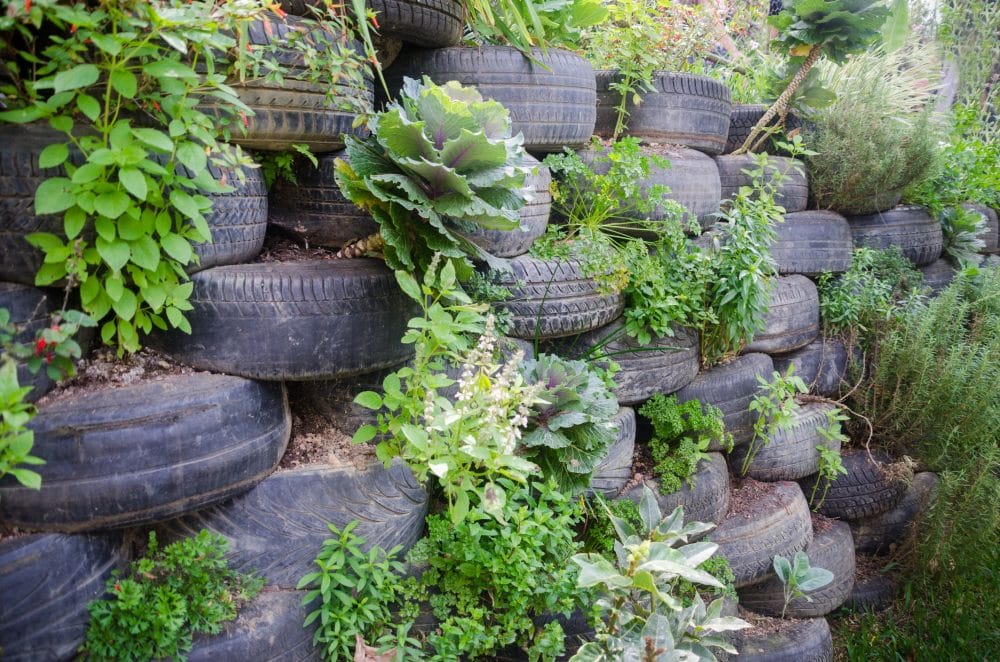 This is very uncommon in fencing, especially for chickens. However, if you want to go rustic, unique, and eco-friendly at the same time, try upcycling tire wastes into chicken fence. Collect many unused tires and stack them up in a way they will not fall off easily.
Let the wild plants grow in between the gaps or grow them intentionally to lessen the nuance of junk.
20. Patterned Log Fencing
Another idea to border your chicken is to try a patterned fence. It is not a mainstream thing, but not a bad idea. Depending on the pattern, you could both keep in your flocks and save them from predators. Any material could do fine but go for logs to create natural fencing.
That wraps the chicken fence ideas we have got for you. It is time for you to decide. Do not forget to consider your budget and needs for the run to get the best chicken fence.