Aboveground pools allow you to have fun instantly. However, it can be harmful if your kids sneak out and try to swim without your consent. For this reason, you need 24 above ground pool fence ideas that offer you the ultimate safety.
1. PVC Pipe and Lattice Above-Ground Pool Fence Ideas
Kids love swimming. Therefore, installing an aboveground pool in the backyard is a good choice. However, the height of the pool can be harmful to your kids, especially when they are dangling from the edge of the pool.
This PVC and lattice fence can help you keep your kids safe. Besides, it is cheap and easy to install. You just need some PVC pipes as the posts and lattice panels. Assemble and install them around the edge of the pool, and you are good to go.
2. Pallet Pool Fence
Pallet wood is extremely versatile as you can turn it into anything, including a sturdy fence for your aboveground pool.
This pool, for example, looks great with a pallet fence that matches the deck immensely. The homeowner might have added some planks to put in the pallet.
If you want to adopt this idea, make sure you sand the pallet first to remove any annoying splinters and make it easy to apply stain or paint. Do not forget to apply two coats of polyurethane for a durable finish.
3. Brown and White Pool Fence
Some people think that an aboveground pool is not as elegant as an inground pool. Well, nothing could be further from the truth. This aboveground pool has shown that being a few inches off the ground can be elegant
This pool features a wooden deck that you can use to lounge on a pool chair while watching your kids swimming. Both of the deck and pool have fences, but the fences  come in different colors to match the deck and the pool immensely.
4. Bamboo and Glass Above-Ground Pool Fence Ideas
Modern and traditional flair blend nicely in this aboveground pool. Bamboo panels cover two sides of the pool, providing a privacy fence that drives any peeping Tom away.
In front of the bamboo panel is clear glass panels that make a great contemporary fence. The glass panels also keep any splash away from the pavers. Besides, the clear glass enables you to enjoy the backyard landscaping while swimming.
5. Bamboo Panel with Lattice
Pool fences are not only about maintaining safety anymore, but also about improving the backyard landscaping. For this reason, combining several materials and patterns are common to enrich the look.
This aboveground features an elevated rectangular deck. The homeowner uses bamboo panels to make a fence for the deck so that your kids will not get a severe accident when running exuberantly.
To make it look more appealing, the homeowner tops the fence with lattice panels. Some torches also make the fence more attractive.
6. Horizontal Fence with Shady Spot
Relaxing by the pool is a fun activity to do, especially on the weekend. Therefore, adding a gazebo or any other shady spots that protect you from the glaring sun and rain is necessary.
Besides adding a patio umbrella or patio cover, do not forget to add a fence around the deck for the peace of mind. It does not to be fancy, though. A horizontal wooden fence like this one in the picture will be just enough.
7. Wooden Panorama Above-Ground Pool Deck with Fence
This aboveground pool is like a paradise. It offers you spectacular panorama when you swim in the pool or simply lounge on the pool chair.
Beautiful panorama is wonderful, but you must not forget safety as your top priority. You do not want anything bad to happen, do you? Thus, installing a pool fence is crucial.
This pool features a wooden fence to match the deck perfectly. It is quite simple yet sturdy. The homeowner also adds trim to top the fence so that it looks quite elegant.
8. Metal Pool Fence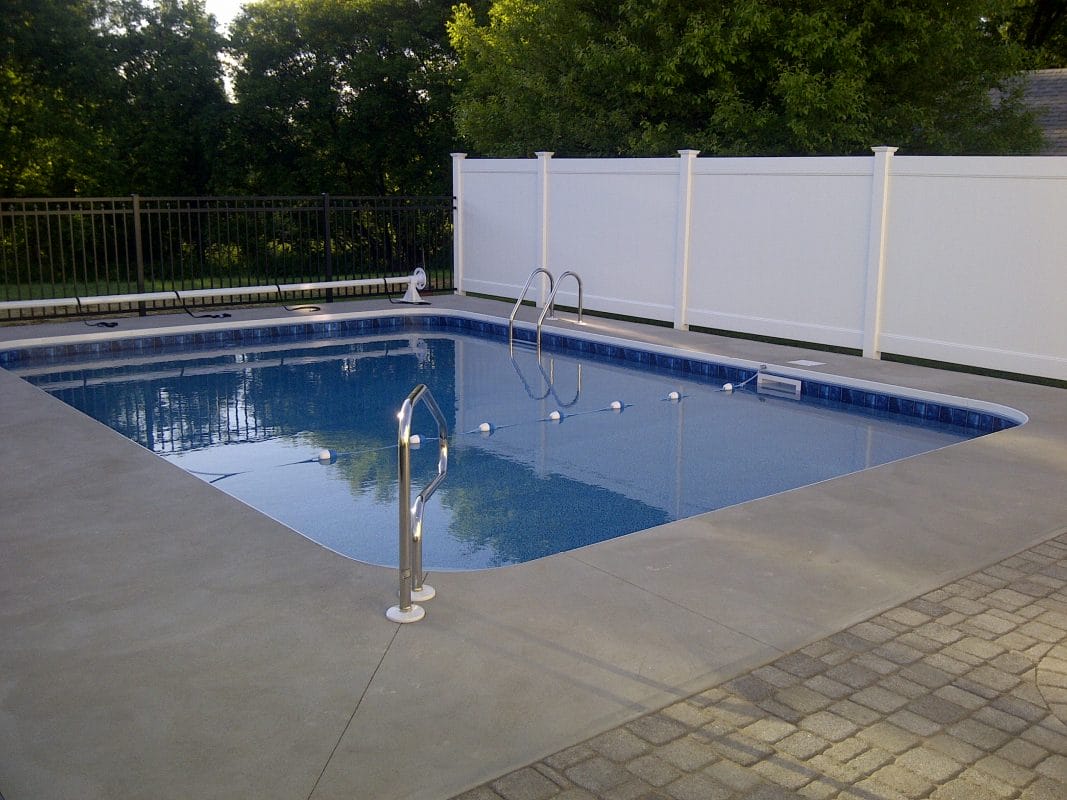 Pool decks are made of various kinds of materials, and so are pool fences. For a sturdy and luxurious fence, metal will be your safe bet.
This aboveground pool deck comes in concrete finish and pavers. The homeowner also installed a black metal fence, which is famous for its sturdiness and durability. The white panels next to the metal fence make a great fence and privacy screen.
9. Lattice Trellis Panel for Pool Fence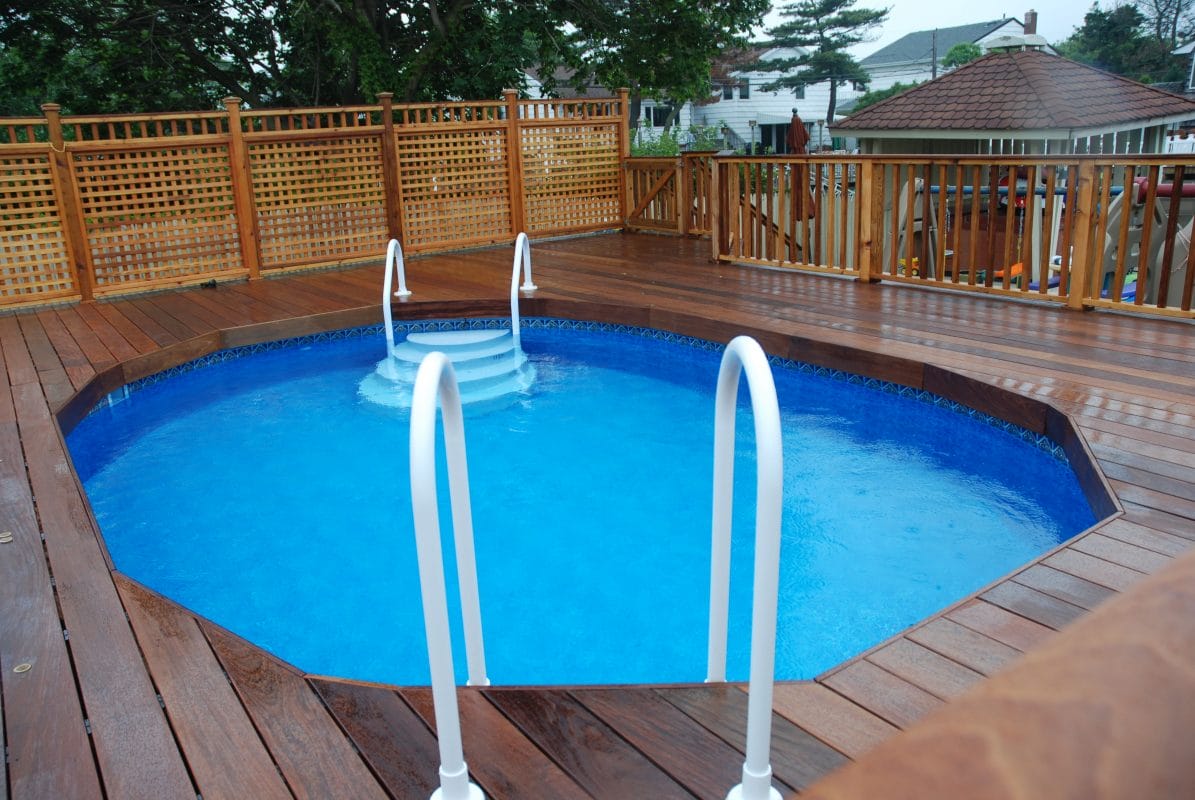 You can use trellis for either a privacy screen or climbing plants. Did you know that you could use it for your pool fence too?
This pool uses trellis as its fence, which matches the vertical fence nicely. Try making it do double duty and look dramatic by training your favorite vine to climb up the trellis.
Once the vines completely cover the trellis, you will get a fabulous backdrop for taking pictures.
10. Mixed Material Above-Ground Pool Fence Ideas
Why do you have to stick to one kind of fence material if you can mix them up? This pool fence has shown you that mix-and-match thing for pool deck does exist.
The fence looks rustic and contemporary at the same time, thanks to the wooden pallets installed vertically. The well-worn look adds rustic style to this aboveground pool.
Stained wooden planks top the rustic fence nicely, adding a more contemporary look to the space. On the other side is vinyl fencing for extra safety and easy access.
11. Above-Ground Pool Fence Ideas without any Deck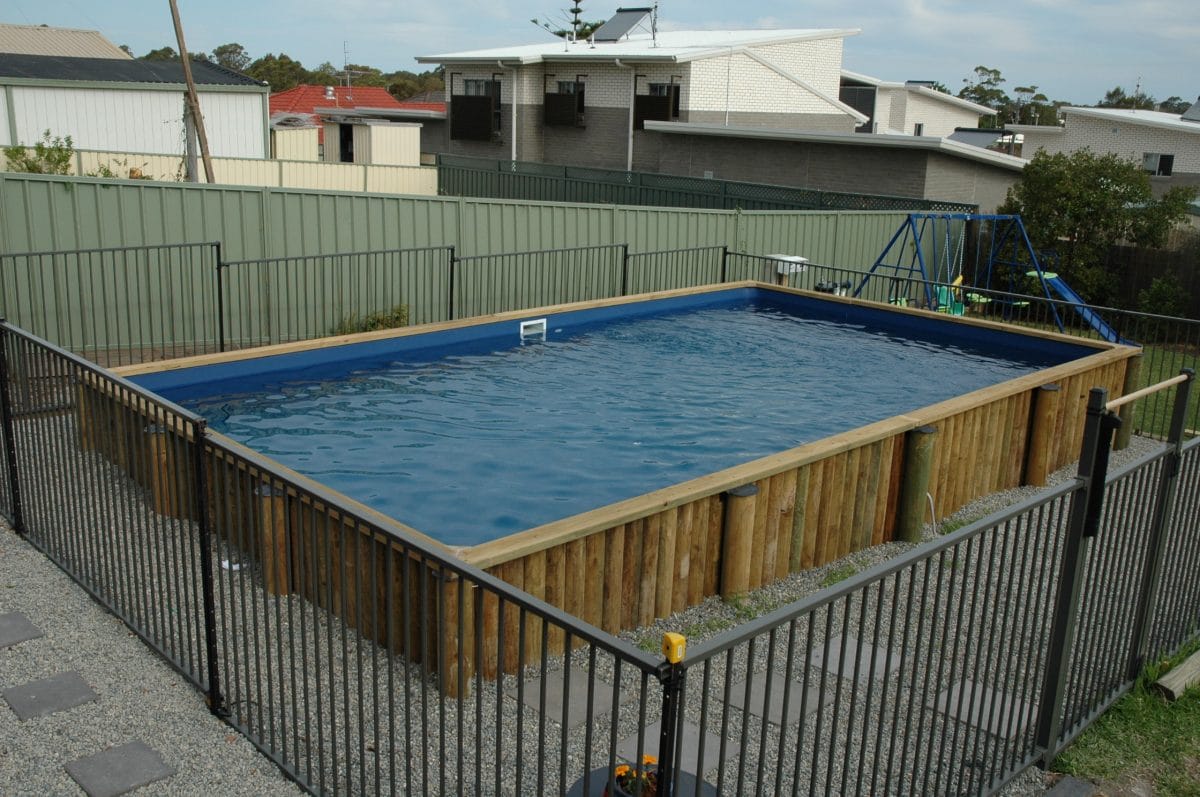 Chilling out on a pool deck is a nice idea. However, if your aboveground pool does not have any deck, you can still have a ball in the pool anyway.
The absence of the deck does not make you less cautious. You still need to be careful and concern about the safety of the pool users especially kids. They like sneaking out when adults are not around.
Therefore, you can install metal fencing around the deck to prevent your kids from swimming in the pool without your permission.
12. Above-Ground Pool Fence for a Tiny Deck
Some homeowners have to get by with tiny pool decks, as they are cheaper and easier to make. They simply do not gobble up lots of your backyard space.
The drawback of a tiny pool deck is it is riskier than the spacious one. Just imagine your kids running on the deck. They can get an accident due to falling from the deck. Thus, installing a pool fence around your pool deck is a must for peace of mind.
13. Matching is Everything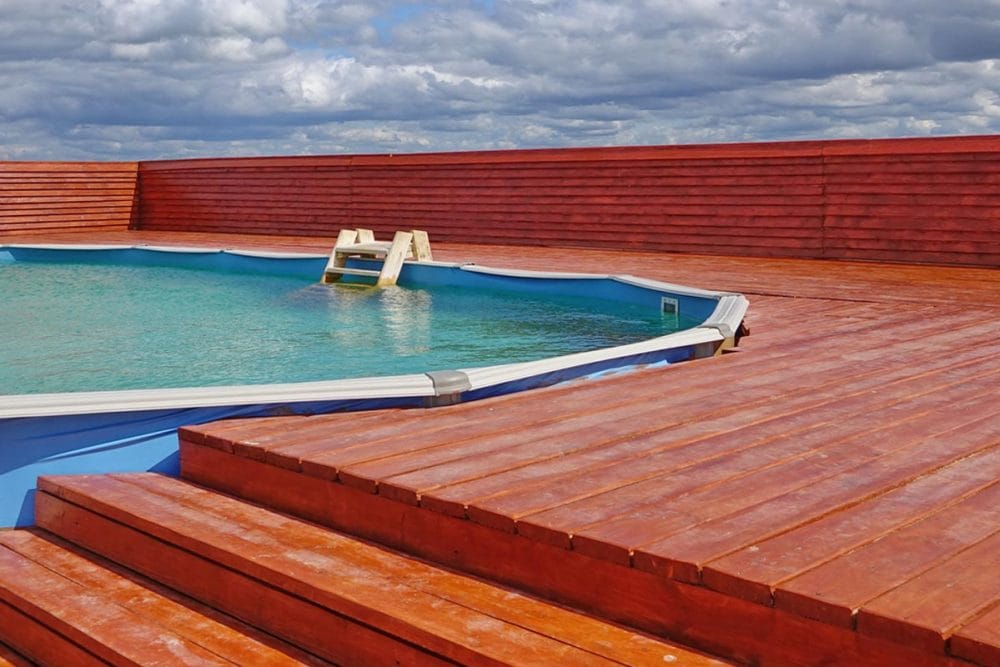 For some people, matching things like the deck and its fencing is everything. This pool fence, for example, matches the deck immensely. They provide a seamless transition that makes them look united and inseparable.
The fence features tongue-and-groove paneling that adds texture to the space. The homeowner arranged the planks horizontally so that he could add more planks easily if he thinks the fence needs to be higher.
14. Contemporary Fence for Above-Ground Pool
Contemporary look entails no-fuss design. Clean-lined furniture and exterior are some
of the most significant characteristics of this style.
If you are crazy about contemporary look and want to bring in the vibes to your aboveground pool, you can try this idea.
This aboveground pool features a faux wood deck that incorporates natural elements into the pool. Glass paneling makes a great pool fence that allows you to swim while blending with the mind-blowing scenery. Besides, it makes the pool look modern.
15. Fencing for a Spacious Deck by the Hill
One of the good things about an aboveground pool is you can have the opportunity to enjoy the jaw-dropping view. To make it better, you can install a spacious deck, which can accommodate more people.
Since the pool and deck are high, you also need to install pool fence. By installing the fence, you will be able to alleviate your worry.
It does not mean you do not need to keep an eye on your kids anymore. You still need to watch your kids.
16. DIY Above-Ground Pool Fence Ideas
The best thing about doing a DIY project is you can get what you need without draining your bank. You can even make pool fence yourself as long as you have the materials and a little bit of hard work.
You can try making a pool fence from wood and bamboo, just like what you can see here. Wood and bamboo fencing is easy to install, yet pretty sturdy and durable. For a more durable finish, add two coats of polyurethane.
17. Cheap Above-Ground Pool Fence Ideas
You may come across lots of fancy and creative pool fence ideas out there. The most important thing that you need to consider before making a pool fence is your budget and skills.
If carpentry is not your forte, and you are short on cash, do not bite off more than you can chew. The best solution for your problem might be this wire screen.
Wire screens are more affordable than wooden planks, glass panels, or metal, which makes them the best choice for those who have a limited budget. Wire screens are made of braided steel wires which makes them a weather-resistant fence.
18. PVC Pipe and Corrugated Fiberglass Panel Fence
If you look for a pool fence that serves double duty as privacy screens, you should try
this idea.
This aboveground pool does not have any deck, but it still has a fence that prevent kids from jumping into the pool without any permission.
The homeowner uses corrugated fiberglass and PVC pipes to make the fence. The combination of both materials makes the pool look perfectly safe and fun.
19. All-White Above-Ground Pool Fence and Deck
Matching is a common thing that you can see anywhere. Maybe you have been doing it for years. You can also do the same thing with your aboveground pool.
This square aboveground pool looks clean and neat with the all-white finish. Even the gravels that surround the pool are also white.
The homeowner installed white vinyl fencing to surround the pool because it is affordable, sturdy enough, and – more importantly – match the deck and pool a lot.
20. Chain Fence for Above-Ground Pool
This is another brilliant solution when you do not have to make a deck around your pool, but you still want to make sure that neither your kids nor your pets jump into the pool. You can just surround your aboveground pool with a chain fence.
21. Being United in Diversity
There is nothing wrong with being different. If you want to decorate something, including your aboveground pool, you can explore your creativity and play with any kind of material and patterns, just like this pool.
This pool features vertical railing that ensures the safety of any user. Four wooden panels standing between the railing provides the ultimate privacy and safety. Under the deck are lattice panels that help you conceal the flaws and forbidden area.
Although the railing, wooden panels, and lattice do not share the same patterns, they still look united due to the crisp white finish.
22. Frosted-Glass Above-Ground Pool Fence Ideas
This modern aboveground pool features a frosted glass fence. The clean-lined edged accentuate the modern flair immensely. The frosted glass fence not only hinders you from falling and getting an accident but also blocks the view so you can feel secure.
23. Chic Above-Ground Pool Fence Ideas
Traditional and modern style blends perfectly in this aboveground pool. The bamboos lining up vertically lend the touch of traditional look to the space.
The clear glass fence is seamless, making it look eminently modern. It also allows you to enjoy the backyard landscaping while swimming.
24. Clear Above-Ground Pool Fence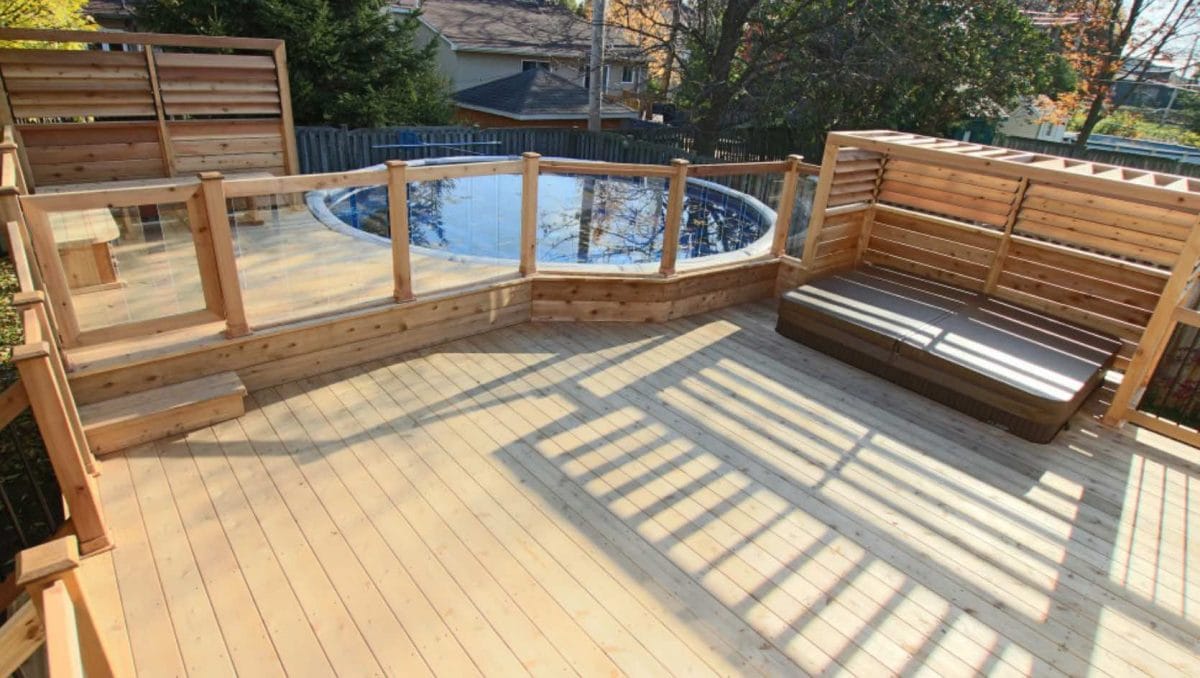 This is a perfect deck to throw a party. You can invite your friends to have a ball here. It even features a clear glass fence that separates the swimming area from the lounge. The fence also prevents the lounge from getting wet due to some splash of water
Those are 24 above-ground pool fence ideas that are not only stylish but also good at ensuring you and your kids' safety.