Homeowners might spend a fortune designing backyard basketball court ideas, but some DIY and low-cost options have similar functions. Various ways to build a basketball court, small or big, can be just as fun.
Indeed, some homeowners prefer grass instead of asphalt or concrete courts. In terms of hoops for backyard courts, various choices are available. Those are depending on the amount of passion you have for this game.
These are some recommended procedures for designing a dreamy basketball court from start to finish. Firstly, choose the ideal size and location. Next, purchase hoops, surface tiles, or textured mats. Then, level the ground to create a foundation. Finally, you can install the hoops and surfaces.
Moreover, by incorporating all elements, homeowners can design a safe place to do sport. If necessary, accessorize the court with fencing or netting, customized artwork, and any other outdoor furniture.
Now, it is your turn to build a court as desired. We have collected many awesome backyard basketball court ideas. Grab these inspirations of planning basketball court designs for your
guidance.
1. Basic Basketball Court
Built a basketball court with a large adjacent grassy yard will give a natural touch. There are many tall trees around the court to provide shades. This shady court has extra space to play in. It sounds interesting to play basketball with kids in no time.
This basic court has a step down in luxury design but still gives more fun. A titanium court with a steel blue key harmonizes with the natural tones. Ballers who play for a hobby would do just fine with this simple court.
2. Backyard Basketball Court Ideas with Stoneworks
Just imagine shooting some hoops around this stone garden court. It is refreshing enough, right? This is a fresh way to design a nature-inspired basketball court.
You will enjoy pure air from plants, shrubs, and trees while playing the game. Flagstone stairways connect the garden to that court for easy access.
Stone statues on the entrance of this basketball court give an ancient look. A sunset view creates a gorgeous atmosphere to the court. The concrete court matches all stunning stoneworks at surrounding. In terms of size, it is large enough to play with teams.
3. Outdoor Basketball Court Flooring
What an eye-catching court it is! This concrete court has a full painting. The bright color of tennis blue in the court makes it a formal basketball court. That will attract your neighbors' attention to join playing the game.
Besides, the court's surface is rich in textures. Start with a wooden base or concrete slab, and then use textured mats to cover the surface. This kind of texture provides a good grip for the rubber soles of shoes.
4. Basketball Court with Metal Fence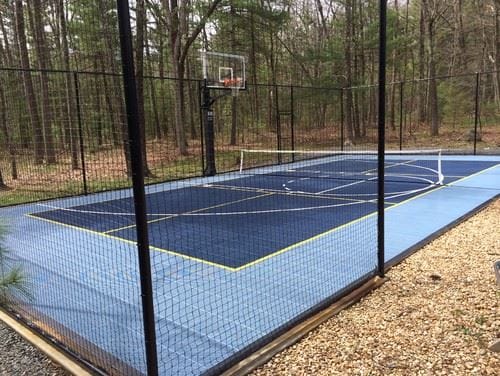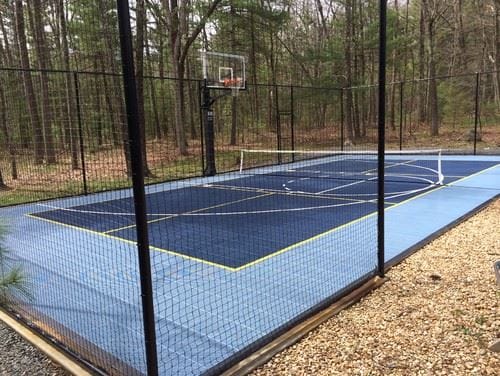 Here is a metal fence court that integrates with tennis. No need to choose since players can play whichever they want at the time. If you want to play basketball, the net will be easy to remove. Therefore, you can have more space available.
Kids who like to stay active will love this kind of court. Tones of light blue borders and the bright blue court give more spirit to play.
5. Hillside Patio Court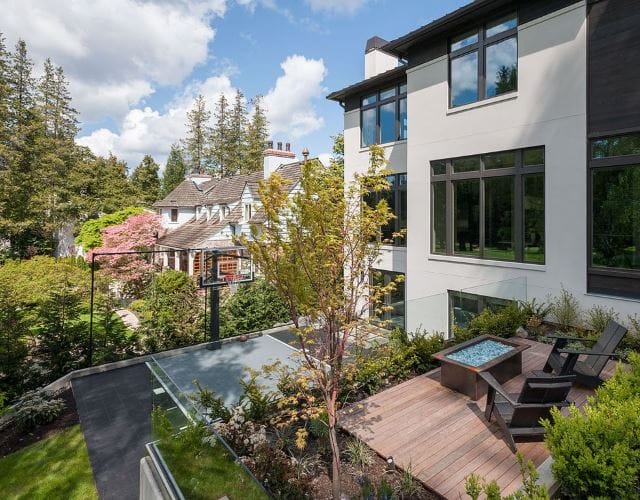 A contemporary patio features a very simple basketball court. Designing a court along the reclaiming yard will make this sloping area more functional. Above the retaining wall, there is a patio garden with seating areas.
This court is suitable for one-on-one shooting hoops. Plain hoop with hard surface fits for someone who partakes in an early morning game.
6. Backyard Basketball Court Ideas with Facile Setup
Designing a basketball court is as easy as you find one place to hang the hoop. The easiest way is hanging the basketball hoop on a wall. Only do any construction if necessary. You can make a concrete court or just simply use textured mats.
This picture shows an evergreen court with a wooden plank fence on one side. There are concrete staircases on another side. Next to it, a raised flowerbed accentuates the court. Some large trees also create shady areas.
7. Backyard Basketball and Golf Court
It is possible to design a double court in a spacious backyard. This photo is one example of how the homeowner creates a basketball court and golf area. At the front part, a grassy yard acts as the golf area. Meanwhile, the back part becomes a basketball court.
An idea of conjugating two sports in one backyard is skillful. The great accessibility enables you to walk in through the court and choose one sport over the other.
8. Multi-Purpose Court for Kids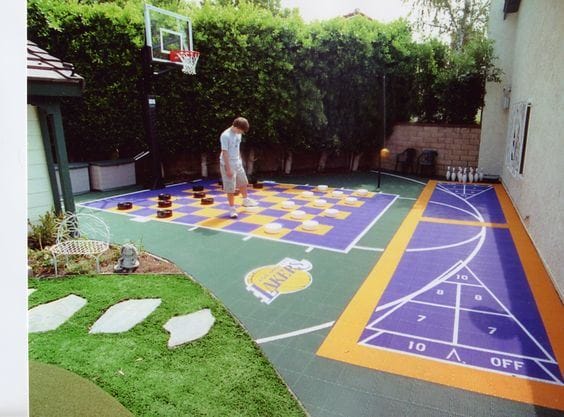 The most effective and efficient court set up for kids is creating one space that holds several kinds of sports. A multi-purpose court consists of basketball, bowling, shuffleboard, and tennis. The four-in-one court allows the kids to spend their summer season with these fun sports.
They feel free to choose their favorite sport to play alone or by teams. Besides, this multi-use court also becomes an entertainment spot for the whole family. Those who do not join the game can take a rest in the seating area.
9. Nature-Inspired Basketball Court
The vibrant color of orange court with black borders becomes a focal point in this sport-resort. Built a basketball court in the middle of tree forests is a great concept. People can enjoy gorgeous scenery while doing sport. Hundreds of trees provide shades to avoid direct sunlight in the court.
This fancy design of sport-court is suitable for a lake house and home in the mountains. It offers fresh air and a relaxing ambiance.
10. Backyard Basketball Court Ideas with Field House
A full-size basketball court features two backboards, keys, free throw lanes, and marking lines. The court has evergreen hue with white lines while the keys are brick red.
A small field house in the center becomes an added feature. It functions as a storage room to keep outdoor stuff. There are also protective fences around the court to prevent the balls from flying out. Thus, you can play safely without losing any balls.
11. Patio Court with Tile Flooring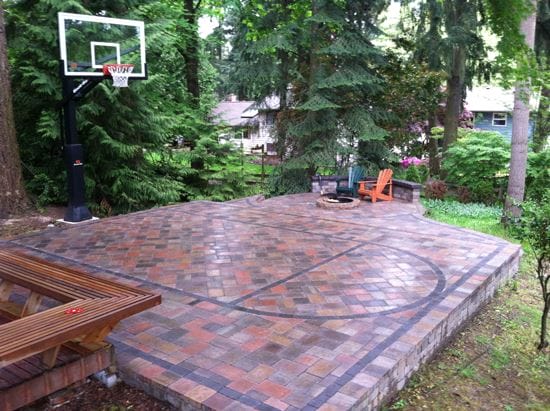 A patio with tile base flooring transforms into an interesting basketball court. Different tones add rich patterns to the surface. Black tiles become the lines to separate the court, key, and free throw lane.
Add extra fun elements like a fire pit and wooden chairs in the patio court. Therefore, it is not only for basketball but also for an entertaining seating area. Fresh natural colors around the court create a stress-free atmosphere.
12. Visual Graphic Basketball Court
Do you have good artwork skills? Try to design a customized basketball court with some astonishing graphics. Create your personalized design such as an orange ball and place it into the court. It is the best way to personalize your sport-court with attractive decoration.
13. Multi-Sport Backyard Court
If you prefer a basketball court and golf area, this creative design will be the best solution. Just decide which sport needs to take priority because it will spend more space. For instance, if you want a larger basketball court, making this mini-golf set up will be outstanding.
This multi-sport set up locates in the middle of a tropical backyard garden. Brick and gravel pathways will ease you to walk through the court. Concrete retaining walls become the borders. Large trees and shrubs create bold statements to the surroundings.
14. Bold Tones of Basketball Court
Bright red and green colors give bold shades to this basketball court. Asphalt with a protective acrylic layer is the material to create that surface. Then, the color painting will mark each area.
The backyard is large enough to create a full-size court. It features two hoops as well as an official court. Its green area also functions as a tennis court.
15. Poolside Basketball Court
Do not need to have a full-size court if you want to play basketball near a swimming pool. Having a hoop is enough to enjoy this fun sport. You can go from basketball to swimming. To be more challenging, shoot some hoops from the water.
A poolside court is perfect for spending the time during hot summer. You can take some shots then go swimming in the pool. It is another fun way to play basketball individually.
16. Driveway Basketball Court
To practice your basketball skills, driveways are the best areas to place a portable hoop. If your driveways are from asphalt, it will be the best material for a court. The asphalt surface is not as slippery as concrete court.
For a driveway court, the in-ground system is better than roof-mounted and portable hoop. Indeed, the in-ground hoop system requires pouring concrete that can take a longer process. These options also need extra space next to the driveway.
17. Modular Hoop
Live on a quiet street is beneficial since it can function as a basketball court. Just simply move your modular hoop to the road. If you have two portable hoops, you can make a full game along the roadside. It is also a great solution for homeowners who do not have a backyard and patio.
18. Easy Tree Hoop
Anything can be a basketball court with a little touch of creativity. A tree hoop is a unique way to have a basketball court without doing any construction. Already in-use concrete yard is large enough to play the game with friends.
Avoid bolting the backboard and hoop directly to a tree. Why is it so? It is because it can damage the tree. The best option is making a removable frame for the hoop. The frame is like a clamp that grasps the tree without damaging it.
19. DIY Wooden Hoop
Creative DIYers have countless ideas to build a homemade basketball hoop. Although it has an imperfect design, you can find the great beauty of this DIY hoop.
As an amateur, some mount a backboard with the welded-on rim to a telephone pole. Defective green lines and brick red backboard shows limited qualities from an unskillful artisan. Ignore the appearance, now you focus on the function of this mounted hoop.
20. Abstract Hoop Art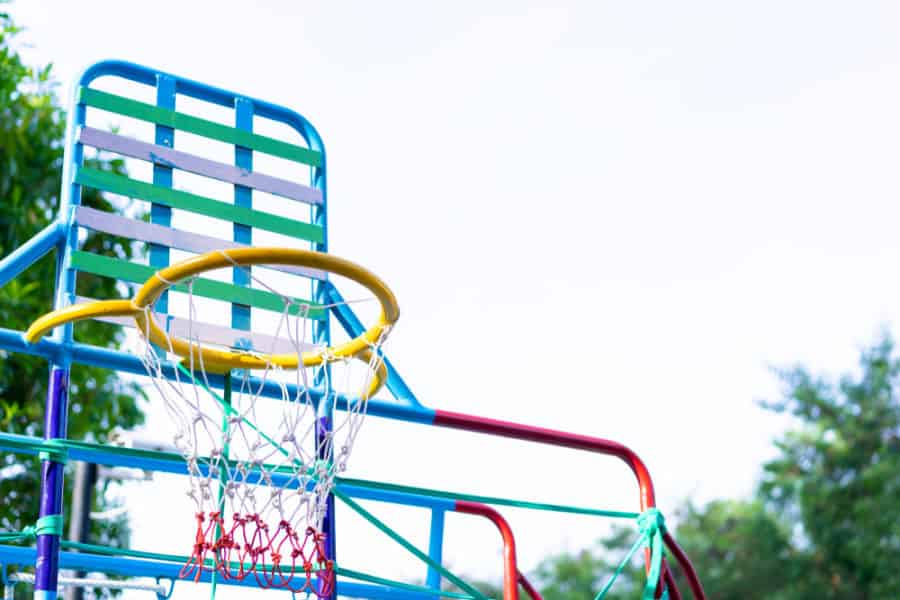 Colorful hoop arts are so attractive and functional. This outstanding structure comes in attractive metal curves and bends. Bright color mixtures create abstract expressionism that evokes cheerful spirit while playing basketball.
21. Natural Backsplash Court
This court features a natural backsplash with green lush. Those tight vegetations cover the backdrop to give a cooling effect. The lush backdrop provides a natural air conditioner for a fresher court.
This tall fence avoids overshooting because the plants will get the ball back. Fencing around an outdoor court is essential and stylish. Fences around offer private security while playing. Thus, you can focus on sport-game.
22. Playground Court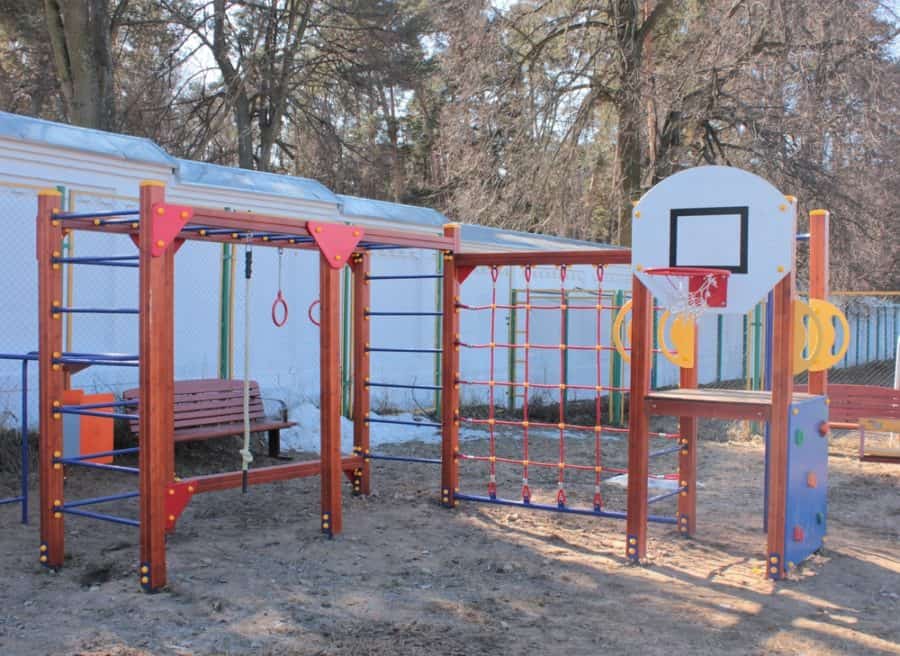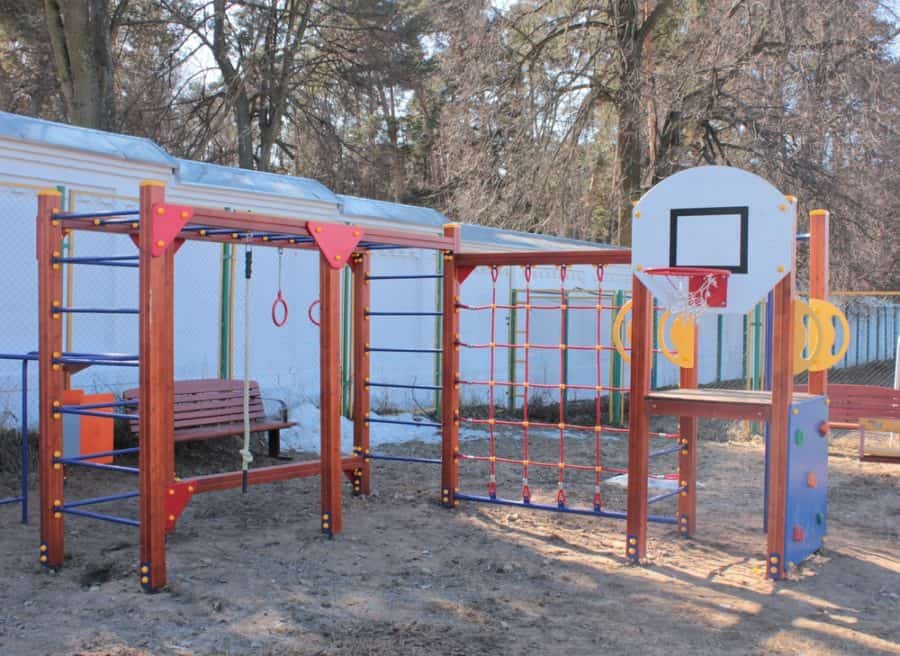 To make a more attractive basketball court for kids, the great way is by integrating it with jungle gyms. In this playground, a white backboard and red hoop are bolting to the metal structure.
Starting from climbing the cargo net, hitting monkey bars, until shooting some hoops, young kids will love playing in this playground. It is an entertaining way to elevate the practice.
23. Large Basketball Court
Here, five-on-five basketball games fit for this large court. It provides an excellent woodland view. Many tall trees and shrubs are around the court. They become the borders and liven up that glossy hardwood court. Hard maple is a dense wood with thin fibers to resist from slivering.
This court surface uses smooth maple hardwood, but the material is not suitable for outdoors. You can see that the surface becomes slippery due to the rain. The rain, sunlight, and other natural factors will damage the wood and base surface.
24. Rainbow Backboard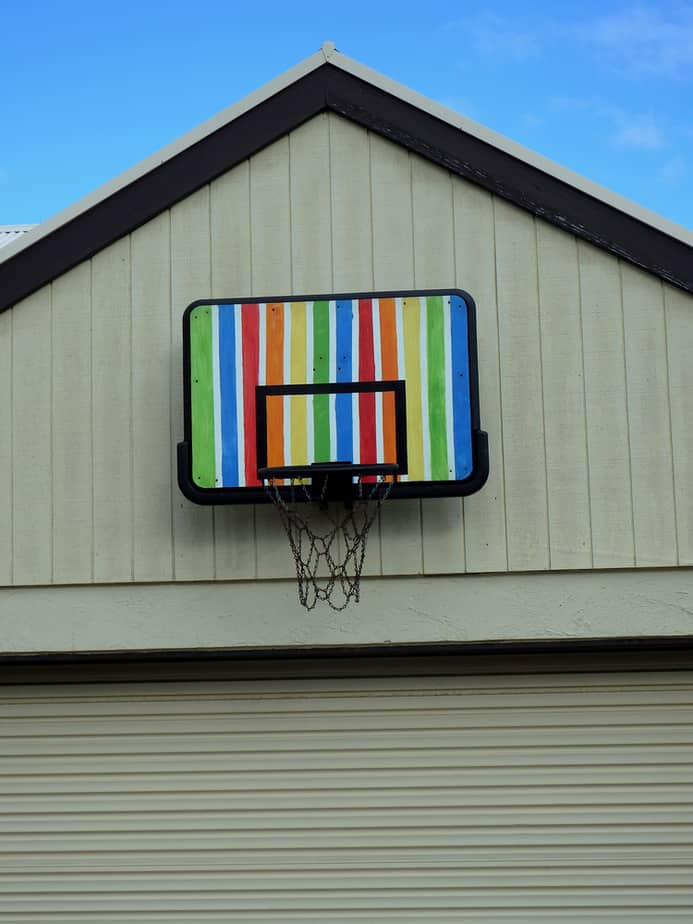 Cheerful tones of rainbow basketball hoop give an awesome reprieve from the monotonous environs. The hoop's design does not have to be boring anymore with these striped colorful patterns. It gives a vibrant touch to that dull grey wooden panel walls.
Browse our featured backyard basketball court ideas above to suit your style and budget. If you are interested in saving costs, designing a homemade court sounds great. A proper basketball court allows kids and families to play together.