Getting barbeque parties with family and friends might be a great idea for this summer holiday. Enjoy the outdoors with magnificent backyard grill patio ideas.
Some popular designs that work best for outdoors are Tuscan, Cabana-style, sheltered stone, and traditional rustic brick grill patio.
You can get started with an outdoor modular grill. You just roll and go for movable kitchen designs. It has an easy-to-assemble barbeque island unit to create a backyard kitchen that suits your style.
While others might prefer to choose a customized built-in grill patio for sweet barbeque gatherings, you need some help from professionals for built-in ones. Besides install hardscaping, you need to run utility lines and hook up lighting also.
Furthermore, whether you choose modular or built-in backyard grills, make sure that your choice offers a better way to show off your cooking skills. Here are some inspirations for your backyard grill patio ideas to help you prep for the summer ahead.
1. Red Brick Wall and Stone Grill Patio
Natural stones and red bricks create a perfect combination for an outdoor barbeque station. Set some rough stones vertically and horizontally against the red brick wall to act as a backdrop. Do not forget to install some light bulbs on the pergola's top for a dramatic look.
The arched pergola defines this outdoor kitchen and creates a comfortable place to spend summer nights. Add an outdoor coffee table and couches to allow the cooking place as a part of gathering.
2. Pergola Grill Patio
A pergola often uses cedar or pressure-treated wood. Lattice or slatted roofs provide good ventilation. However, if you require more coverage, galvanized metal and clear acrylic will be the best rooftops.
Barbeque under the pergola is the right fit for homeowners who like sticking with a traditional touch. Pavers are good for this built-in stainless steel gas grill. It features sleek black countertops that serve a clean look to the workspace.
3. Easy Paver Stones Grill Patio
Sometimes, all you need is something easy like this paver stones grill patio. It consists of a gas grill, cabinet, and refrigerator. Movable grill stations become smart choices in small outdoor spaces. They act as a cookout central and garden hub.
This simple grill unit might transform the heat into a well worth outdoor gathering. Large countertops and wooden stools give easy access to serve food. Then, you can add a rolling cart with shelves for extra counter and storage.
4. Built-in Grill with White Wall
Make summer barbeque in your covered patio more special by designing a built-in grill on the white wall. Reclaimed bricks add textures to the fireplace and grey cabinets. Its design serves a large and free cooking space.
The brick patterned backdrop gives a classic style to this sheltered kitchen. Its traditional style ties in with all-white walls and wooden ceilings.
5. DIY Wood Planks Barbeque Station
If there is one thing that you never get enough of, build a DIY barbeque station. Combine stacked stones and wood planks to get a natural look of an outdoor kitchen. Woods give warm tones to this outdoor kitchen.
Bars across the backdrop act as extra hanging storage for cups and cooking tools. For final touches, add some flower pots and string lights to create a romantic ambiance.
6. Garden Path Outdoor Grill
Along one wall, the grill station is good for smaller areas such as this garden pathway. This configuration is suitable for one chef. The grill unit separates from the seating and dining areas.
You can place an outdoor grill on one side of the garden path. This smart transformation idea makes your garden path more functional. Natural rocks blend with black cabinets and brown wood board backsplash to give a charming look to the pathway.
7. Rustic Stone Kitchen Unit
A long design of this standard grill station provides some refrigerator drawers and cabinets. Natural stones work best with wooden planks. Wood plank flooring and backsplash enhance a rustic look.
Matte finishes and textures define a rustic style of the grill area. The tones of rough stone on this built-in base and counter are in a harmony. Choices of earthy colors blend with all greeneries around you.
8. Contemporary Open-air Kitchen
Polished finishes and sleek lines characterize contemporary outdoor barbeque units. A clean-lined outdoor grill unit with wood panels offers an elegant cooking experience.
This built-in grill matches the wooden panel flooring. Wood panels running in horizontal bands give dimension to the area. Enjoy the beautiful surrounding with this open-air cook space.
9. Paver Stones Kitchen Island
A masonry built-in base of paver and stone is classic. Stacked paver stones are popular materials to build an easy outdoor grill patio. That simple kitchen island with a gas grill is enough to hold barbeque gatherings with family and friends.
One kind of island configuration will create a hub for entertainment. Therefore, adding a raised counter to separate grill and prep area from the guests.
10. Lounge and Backyard Grill Patio Ideas
The custom circular lounge looks perfect for this half-circle outdoor kitchen. It gives free accessible space to walk. Arrange seating area in this position to avoid your guests facing intense light of the sun.
Rough stones with additional lanterns blend with the natural landscape. The grill station also equips a concrete countertop, sink, and refrigerator.
11. Simple L-Shaped Grill Countertop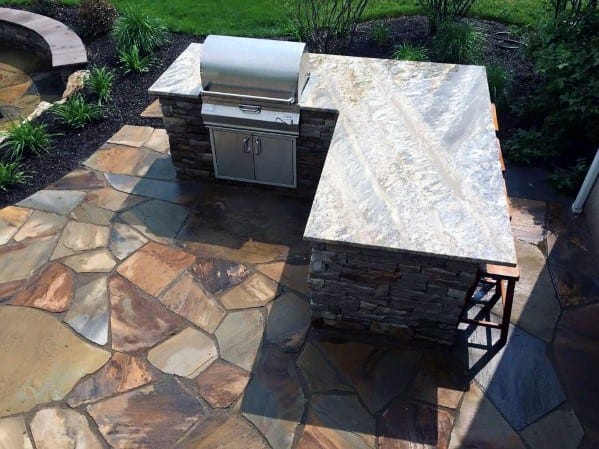 Get a classic touch with this L-shaped outdoor kitchen. An L-shaped configuration is good for two or more chefs. Incorporating extra counter and providing a seating area for entertaining are the characteristics of this design.
Set the grill unit on an angle of your backyard and add some wooden stools. A large concrete countertop offers more space to serve food and drink. This simple design is a perfect fit for flagstones flooring.
12. Paver Cove Backyard Grill
Having a recessed area at the corner? Transform it into a stunning backyard barbeque station. An L-shaped kitchen is the best design for a corner. It allows more than one chef to cook since the design gives a large space. Combine pavers and bricks to match with the wall.
Built-in base mortared to pavers and bricks last as long as natural stone, but they are lightweight and easy to cut. Its material and design echo the foundation walls of this house.
13. Garden Grill Patio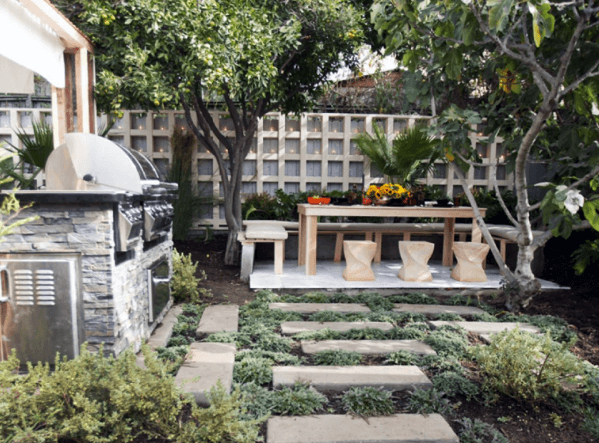 The stacked stone grill is better to fire up barbeques in this garden. You can see that garden grill patio and greeneries are in harmony.
Next to the grill unit, there is a dining table with U-shaped wooden benches. For family gatherings, arrange seating for 6-8 around a table. This seating area allows your guests to gather around the grill, but still, keep them out of the cooking space.
14. Paver Grill against Brick Wall
Simply build a paver grill against the wall. Paver stones and bricks offer different textures that blend in perfectly. A black grill cover matches that dark countertop. Its cover protects the grill from any dust.
This along-one-wall kitchen unit has stainless steel cabinetry that suits the grill. Its material has good durability and weatherproof.
15. Backyard Grill Patio Ideas with Woodland View
Grill patio with woodland views will be a great choice to enjoy greenery all around you. Big natural rocks as a built-in base harmonize with the surrounding. There is also extra space for wood storage.
This unit features a grill, sink, and under-counter refrigerator. Its wide and long concrete countertops lend a clean look. However, they should be properly installed to avoid being prone to cracking.
16. Wide Outdoor Barbeque patio
A fire pit becomes the focal point in this wide outdoor kitchen. Build a grill unit against the wall to give extra space. Rectangular flagstone flooring is in tune with the fireplace and chairs. Feel the warmth during your barbeque sharing.
17. Stainless Steel Barbeque Buffet
A unique design of that kitchen unit allows you to have more storage. The circular stone grill has many stainless steel buffets. Attach a raised dining table and add chairs to enjoy the food. Black concrete countertops and flagstones give bold tones to your backyard.
18. Outdoor Grill Patio with Slate Tiles
Here is a grill unit with slate tile design and backsplash. Slate tiles and granite countertops look great. Well, cook on the slate will not be dangerous if you follow some intuitive tips. For example, rinse and temper the slate tiles before applying.
Outdoor ceramic tiles are thrifty, so these materials are good for DIYers. They have various ranges of colors and styles. This grill patio applies different shades of grey and brown with various patterns. It includes some shelves for storage.
19. Grill Patio with Stoned Pizza Oven
Look at this awesome backyard grill patio! The grill unit features a stoned pizza oven on the island. A wood-fire dome oven serves up an authentic rustic look of family-style Italian.
Grill station, round fireplace, and built-in circular seating use natural stones. Light shade of paver flooring contrast to black dining set and other furniture.
20. Pallet Grill Patio
Unify hardwood boards with stainless steel utensils and drawers enhance a luxury touch to your outdoor kitchen. Its L-shaped design offers a lot of drawers and cabinets for storage.
Use granite countertops to add different textures. Granite cannot easily stain as slate and marble. It will not fade in the sun. Combining granite and hardwood creates a contemporary style to your outdoor kitchen.
21. Wood-Fired Outdoor kitchen
A well-equipped kitchen unit is suitable for this covered patio. The wood-fired stove has a black glossy vent. There is wood storage located under the stove. This freestanding kitchen consists of a serving area and multiple appliances.
It is essential to provide task lighting for the cooking area. This space features spotlights to illuminate the area while cooking at night. Thus, homeowners can safely cook even it is dark outside.
Another feature is the wooden planks as a backsplash. Above the backsplash, you can install an LED TV. An additional unit such as a fan is hanging on the ceiling. Those features support a relaxing moment during your summer backyard barbeque.
22. Modular Outdoor Kitchen Unit
A modular grill patio represents simplicity and modernity. It eases you to design an outdoor cooking space of your dreams. Then, build it your way. For instance, this stainless steel grill and glossy black cabinet doors are great for modern style outdoors.
23. Black and White Built-in Outdoor Kitchen
Installing this kitchen unit next to the stairs seems not bad. Flooring and stairs use wood panels that add a natural look to this cooking space. A sleek modern touch of stainless steel appliances meets the warm tones of woods to create rustic style outdoor design.
This step-down kitchen consists of a gas grill, sink, and some cabinets. It has a white outdoor kitchen island with black countertop and backsplash.
24. Pool Outdoor Patio Kitchen
Locating an outdoor grill station near a pool is good for entertainment. This brick grill is under the oak-tone wood pergola. Enjoy a formal design of stainless steel grills and cabinets. Rough-cut stone countertops show a simple geometric design of stonework.
There is a round fire pit next to the stone grill station. After dipping in the pool, your guests might warm up themselves near the fireplace.
25. Grill Station with Retractable Canopy
Homeowners can build a long grill unit in one sidewall of their house if the backyard has limited space. The greenery in another sidewall adds beauty to this outdoor space.
This outdoor kitchen unit features a stainless steel grill, sink, cabinets, and white countertops. A bit of luxury touch appears from the stainless steel materials. Light tones of wood panels from flooring and canopy bring a traditional style.
The retractable canopy allows shade on bright days. On clear nights, it opens up to the stars. Finish the look by hanging some glass-cube pendant lamps. Those glass pendants evoke beauty and illumination.
I hope that those backyard grill patio ideas help you cook up your favorite outdoor space. A well-equipped outdoor kitchen might be the top of homeowners' lists.
Plan a family meal and weekend party to enjoy the mouth-watering aromas that only come with grills and barbeques.