Gyms have complete equipment for working out, but you do not use all of them, do you? So why don't you build your own gym in the backyard and add your favorite tools? Backyard gym idea provides long-last equipment, which you can use every time.
Many of gym tools are easy to make and you can set them based on your need. Backyard gym idea will save time and money that you spend for gym as well as giving you a comfortable working out space.
Thus, we have prepared you 22 must-have equipment for backyard gym ideas that might inspire you.
1. Build a Monkey Bars
I know it is fun seeing children climbing and hanging on the monkey bars, but did you know that tool could help you to build the strength in your upper body and core. You need the taller one, though.
Iron is good to make monkey bars but it will take a little much time and money, so can use pipe instead. You just need to join the pipes with pipe fittings to resemble the monkey bars. Do not forget to screw each connection to make sure it is safe.
You can mount this tool to the ceiling or add some long legs and stuck them in the ground to get free standing monkey bars.
2. Outdoor Bodyweight Fitness Gym
Get the bodyweight works a go to build your dream physique. You do not have to buy all the expensive equipment, you just need to build this outdoor bodyweight fitness gym, and you will be able to do several workouts.
From pull up bar to parallettes, this backyard gym idea offers you some tools at a narrow wood frame.
3. Adjustable Gymnastic Bar
Why should buy two equipment, if you can make one which enables adults and kids to use it? This gymnastics bar is as an example.
You can decrease or increase the height by adjusting the screw on each side, so either you or kids can use this gym equipment.
The gymnastic bar above is 5 ft long and 4 ft wide, but you can adjust its size as you wish. In case you want to build them at your backyard, here are the steps.
First, you need to make the base using two 5 ft long pipes and three 4 ft shorter pipes. Remember to use side outlet elbow for the middle pipe and insert a 30 to 60-degree socket tee fittings on each long pipe.
Next, add two short pipes on each socket tee as the support. Add another 30 to 60-degree socket tree to the end of each pipe support. Insert two long pipes through the socket tees in vertical position.
Take a 4ft bar then attach a single socket tee at each end. The last attach it to the vertical bars horizontally and screw all the fittings.
4. Sturdy Patio Weightlifting
Doing a little exercise in the morning or afternoon sounds good if you have this weightlifting platform. Stainless steel bars serves you a very strong frame while the holes allow you to customize the height of the weight.
A rack weight lay down next to the weightlifting so that you can easily change the weight and organize the plate well.
5. Pipe Squat Rack
It is easy to find a squat rack in the gym but quite bare in the backyard. Besides its price, the size and weight of this workout tool become the reason why it is bare to find at home.
However, now you can have it in a much cheaper and lighter product. I doubt you can find it at stores but you can make it by yourself. You need to string up plenty of pieces of pipes and fittings to create the squat rack.
6. Homemade Parallettes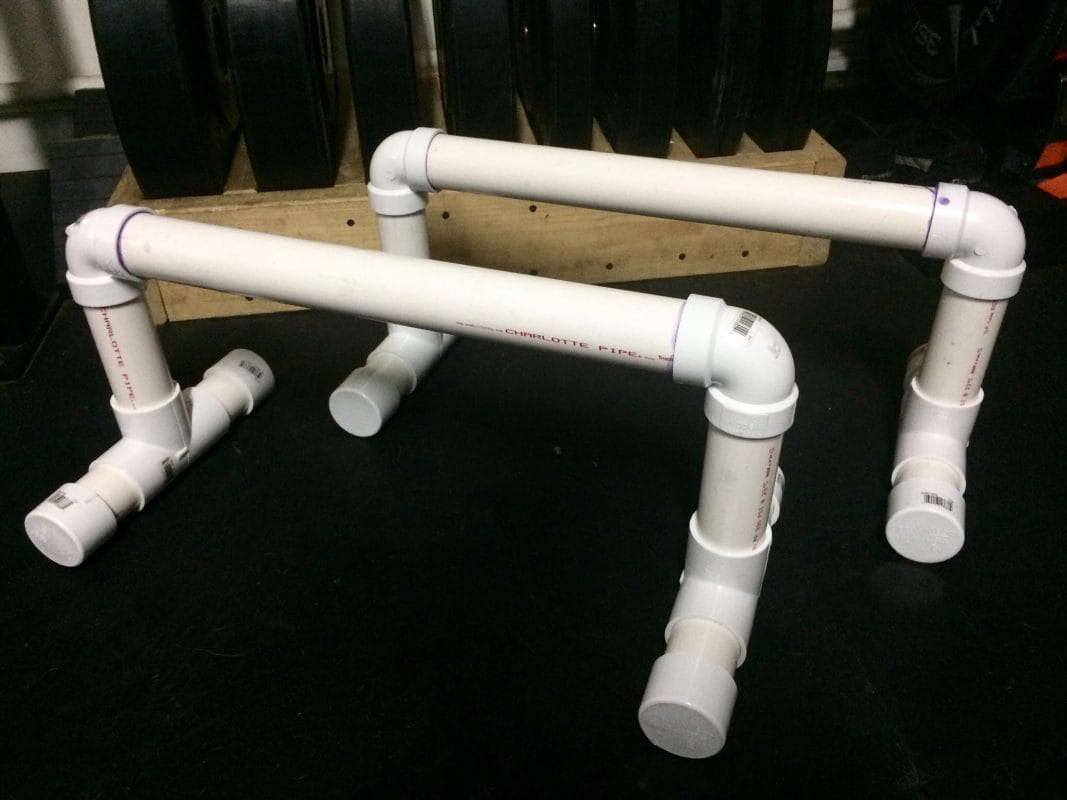 If you are trying to get in more gymnastic skill, parallettes can be a great option. These parallettes uses PVC pipes, which is light in weight and easy to disassemble and reassemble, so you can move them easily.
To make it, you will need PVC pipes, four 90-degree elbows, four tee junctions, and eight end cups. Next, cut the pipes into 24" length, 8", and 5". The last, assemble them into parallettes.
7. Train Your Balance
Instead of gym equipment, this one looks more like a playing tool. Nevertheless, trying to keep your body balanced on a wood board over the top of the pipe frame is quite difficult.
You can try it at home with your kids or friend by creating the pipe frame then add a wood board over it. 90-degree elbow and single socket tee are the fittings used for the frame.
8. Industrial Weight Rack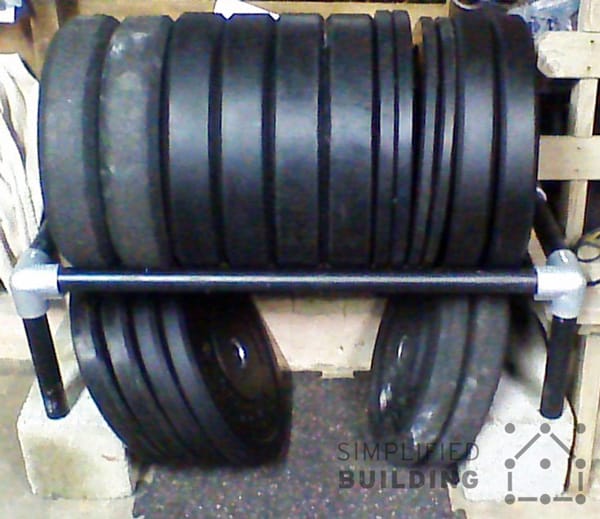 Do not let your weights cluttered around and save your space with this industrial weight rack. You can make this budget-friendly weight rack to keep your weights well organized in the backyard.
For the frame, you simply need to create a rectangle by joining the pieces of pipe using 3 way elbows then add some legs. Next, add cinder blocks under the frame.
9. Ninja Tree Climbers
To have this backyard gym idea, make sure you have one big tree in the backyard. This ninja tree climber lets you climb with fun. Climbing tee is good for physical development. It builds muscle strength as well as hand and eye coordination.
The nylon rope ensures you to have safe climbing time while the rock climbing gear harness help you to get well place to stand on. It is better not to put the tree climber far from each other for the sake of your safety and comfort.
10. Speed Volleyball Station
Instead of floor to ceiling speed-punching ball, you can use this speed volleyball station at home. You can use it to build speed, hand and eye coordination, and strength.
First, you need to create the frame using pipes as shown in the picture. Next use,
bungee cords to hold the ball tightly so that you will not break anything when doing
volleyball practice. The last, attach the volleyball station on the wall.
11. Parkour Structure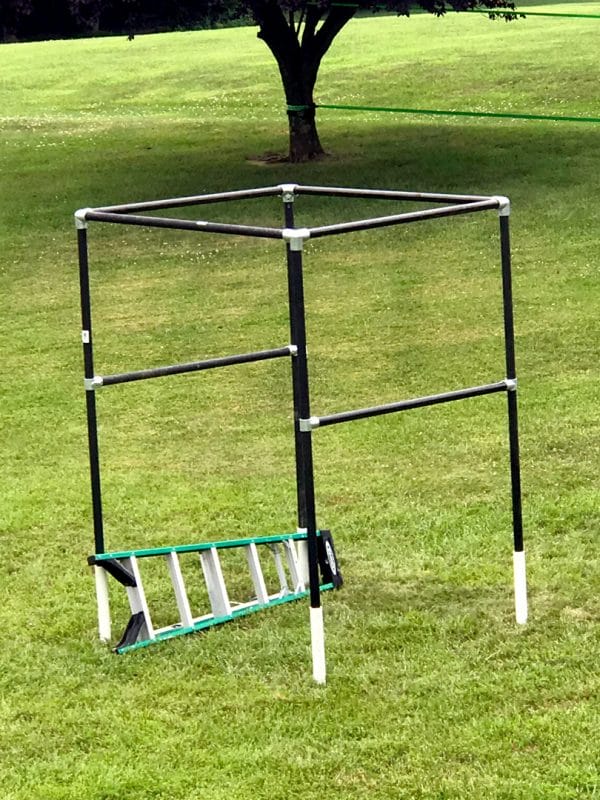 If you are thinking of having a simple and small unit for training at home, this parkour structure may be the answer to that. You can build this one of the easiest gym equipment by yourself.
All you need to do is to create a square with four legs. There is no special size for this; you can customize it based on your need. Making it using pipe allows you to transform it into a dip station.
12. Backyard Jungle Gym
If you have quite spacious space in the backyard, you should try this jungle gym. It allows you to do several works out or even to exercise together with friends. The best part of making your jungle gym is you can set the bars height as you wish.
Posts become the main thing you need to pay attention. Make sure you stick them deep enough in the ground, so they can give you a strong frame and support your weight.
Once the frame stood, set the bars in the position you please then lock them with flanges.
13. Freestanding Pull Up
There are many styles of pull up bar but still, a simple and freestanding one is the best choice you can make at home. Using a pipe, you can make a low cost pull up bar which can be reassembled and disassembled easily.
Begin with creating a rectangular as its base then screw the support bars. Slide two long pipes through the 30 to 60-degree single-socket tees then join them with a bar. Add another two supports at the top to provide more strength structure.
14. Crazy Leg Raise
This equipment just looks unusual with the crazy structure. So many pipes make it look more like a robot. However, this equipment functions like the other leg raise.
15. Dip Station
Constructed by mostly 2x4s, this dip station bar is best to build your hand strength. Some pipes rest on the horizontal wood right at the circular-cut as the dip station bars. There are collar fittings inside the wood that prevent the bars from moving.
Three horizontal bars at the top of the dip station are multipurpose. Connected using flange fitting, they act as additional support to the structure. They also function as a pull-up bar.
16. Tarzan Ropes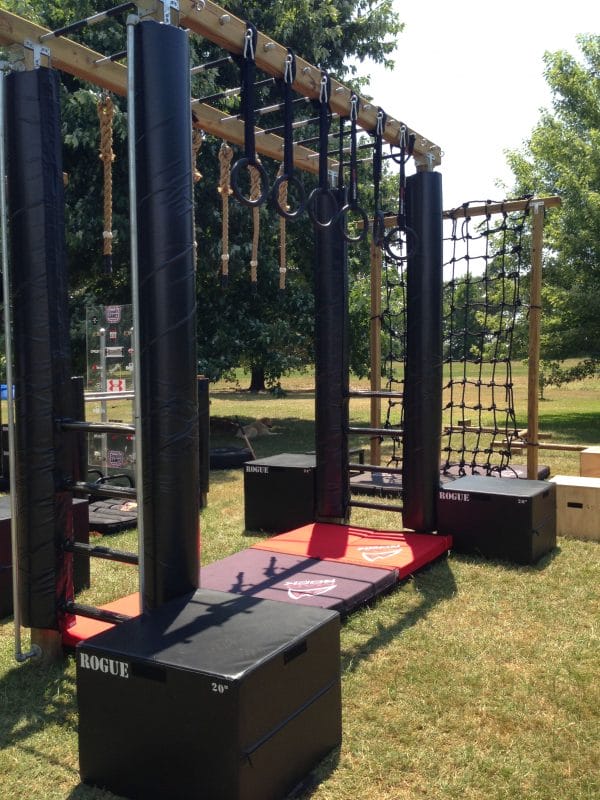 Build your hand strength with this Tarzan ropes. Foam covers the frame to protect you from getting critical damage in case you hit the ground or the construction.
There are some horizontal bars at the top of the frame that you can use as a monkey bar while some others on the left and right side function as step to help you reach the top.
Besides Tarzan ropes, there are a climbing net that you can use to train your balance and speed. Some 3 in 1 polymetrix box are also available for jumping exercise to train your legs.
17. Outdoor Dojo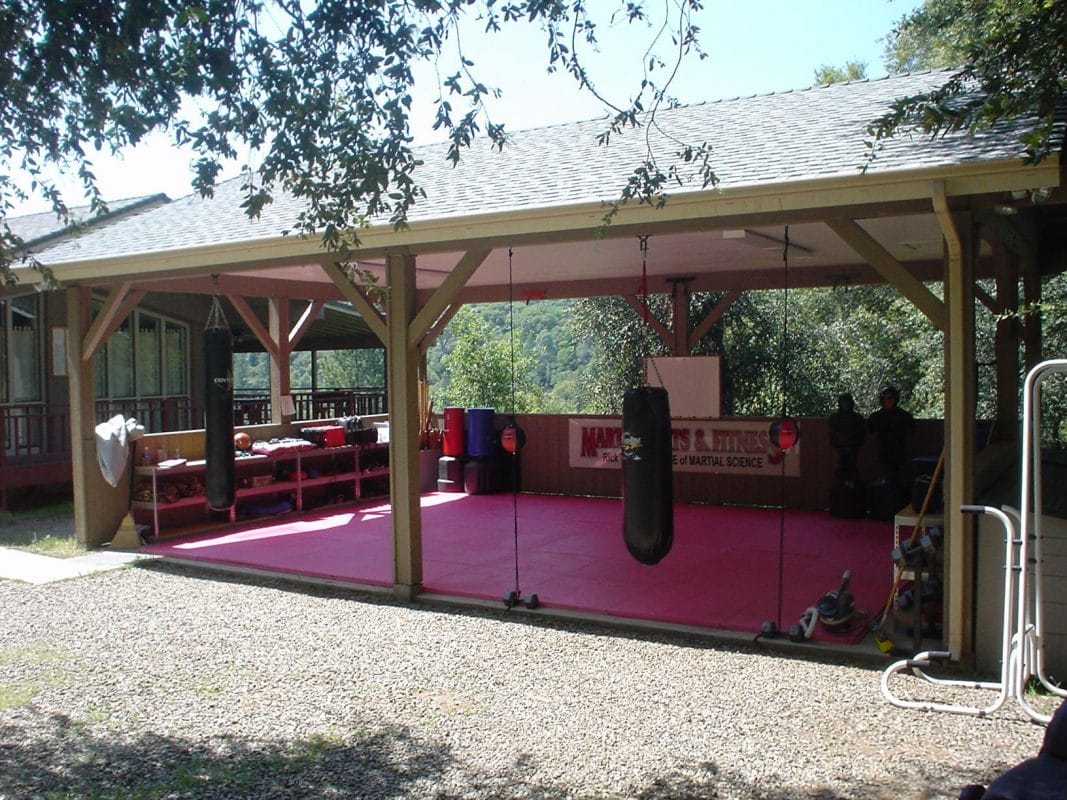 Enjoy working out outside without worrying about the weather with this outdoor dojo. Some equipment such as sandbag and floor to ceiling punching ball are hanging at the front side.
Dojo usually does not require many tools because you only use it for self-defense practice. However, it is not impossible to add some equipment like nunchaku or dumbbell.
18. 3 Levels Backyard Pull Up Bar
There are many kinds of pull up bar you can have in the backyard, one of them is this
three levels backyard pull up bar. You have to stick the posts in the ground to create
freestanding frame.
To allow you to do three different types of pull-ups, cut six pieces of wood and attach
them on the frame at different height. Position them in a little slant direction to keep the
bar from moving or you can just add some collar fittings.
19. Climbing Pegboard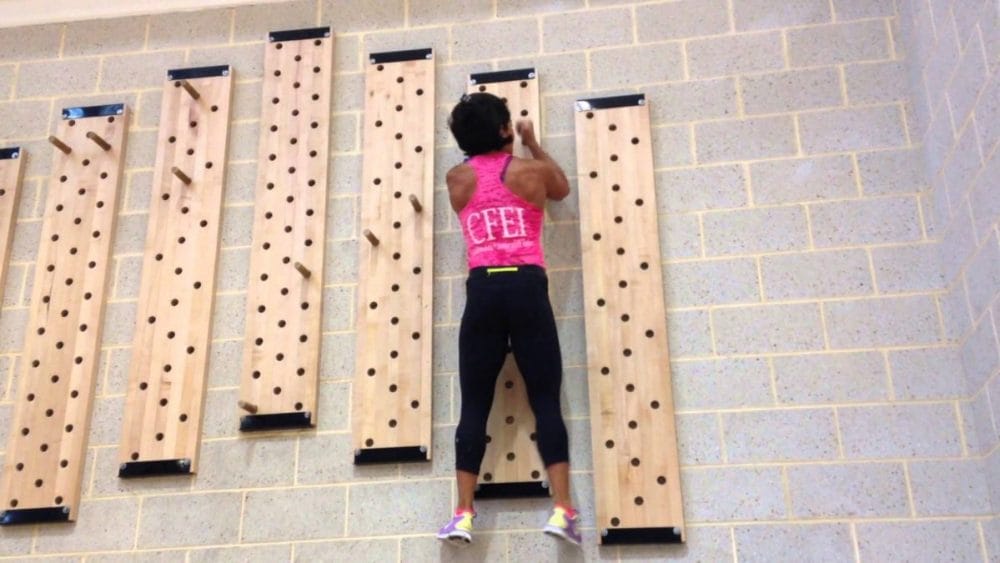 Either you have a small or a large backyard, climbing pegboard will always deal with it. This hanging exercise tool surely does not take a lot of space. It uses a thin sheet of plywood as the pegboard.
Later, make holes in the plywood according to the diameter of the dowels. Make two dowels based upon your hands plus 2" to help you reach each hole and climb freely. This equipment helps you a lot in building strength in your hands.
20. Children's Gymnastic Gym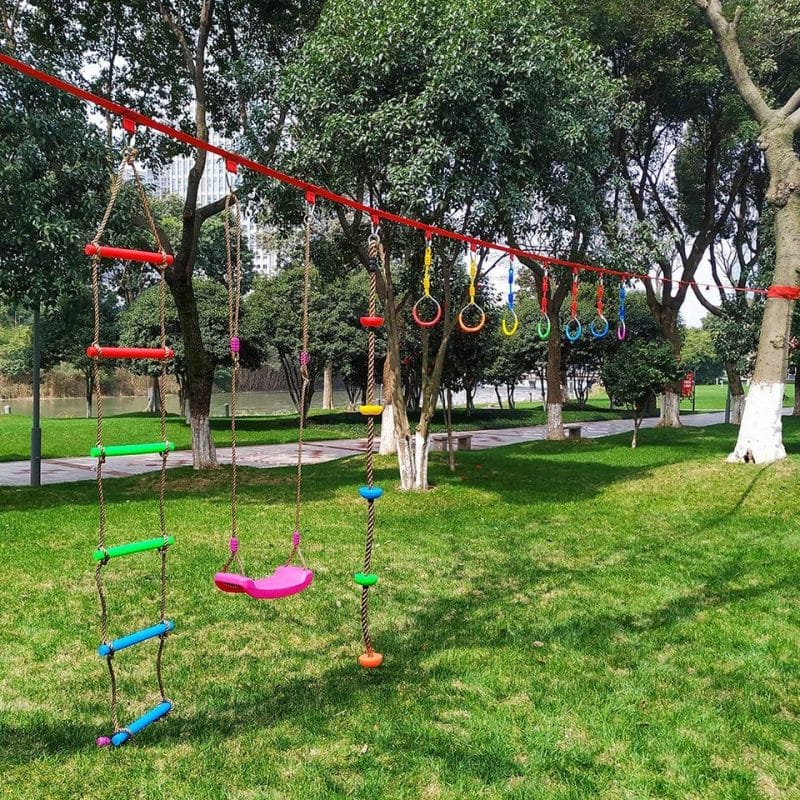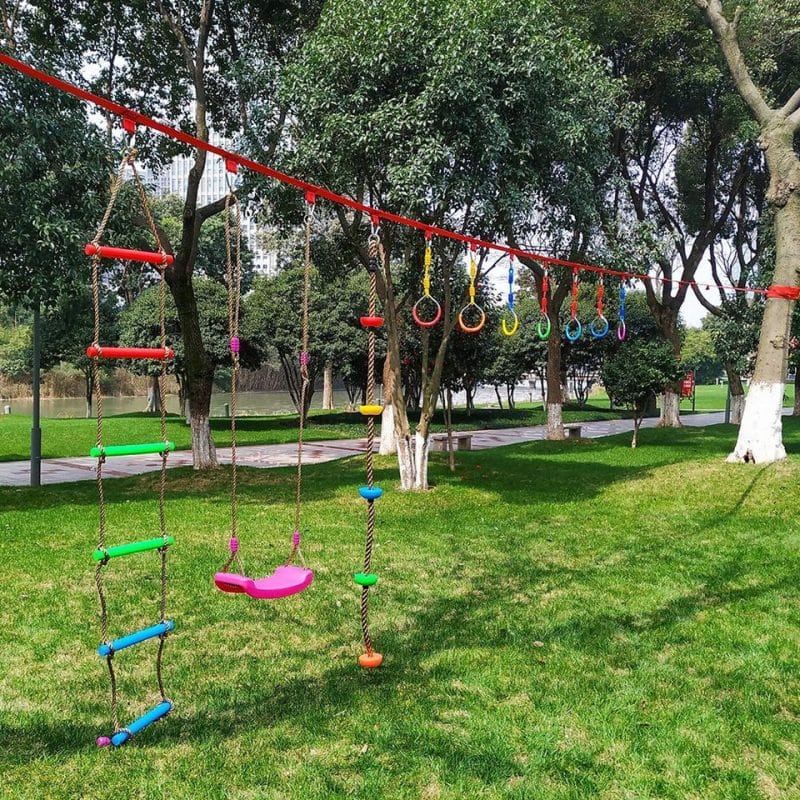 Introduce gymnastic equipment to your kids early. This will develop their social skills and help them to increase their bodies' strength.
You can start by building this colorful gymnastics gym in the backyard. Its different colors attract kids' attention easily as well adorning your backyard.
It provides several different types of equipment that allow children to do various activities. They might consider it as playing rather than doing exercise.
21. Homemade Nexersys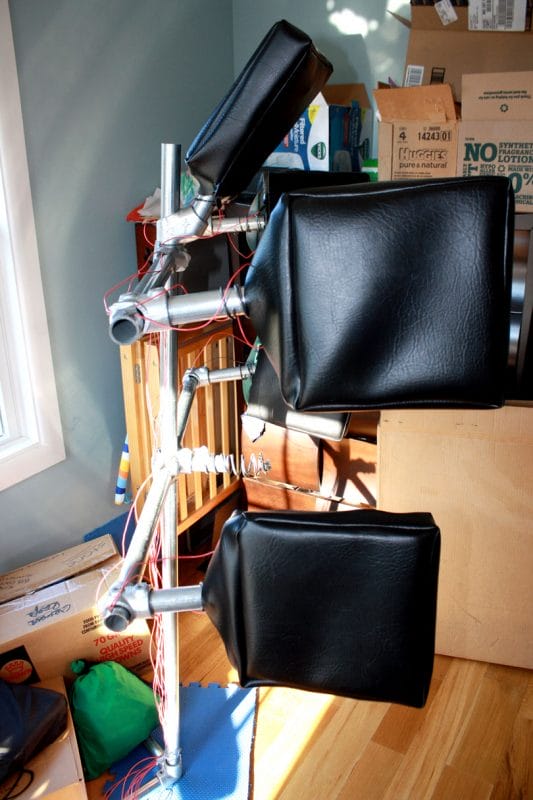 If you are thinking of burning many calories in your body, consider having this nexersys in the backyard. People use nexersys for boxing workout. This DIY equipment may be a little odd with many strings, but it functions exactly like the other nexersys.
Assemble pipe and fittings to create the stand. Next, attach some pads to the frame using string. Each pad should contain a simple pressure sensor, which will register a hit when struck.
22. Punching Bag
If nexersys is quite complicated for you to make, you can try this instead. Yeah, this is a punching bag. It is not very expensive at store. However, if you would like to make yours in a much cheaper way, you can simply fill in your bag with sand and rags.
One of the benefits of making your punching bag is you can customize the kind of weight you want. Next, you only need to hang it somewhere strong enough to hold its weight. It can be on a tree or build a simple stand for it.
Thus are 22 simple ideas to bring the gym into the backyard you should consider giving a try.
You do not need expensive equipment if you can make low-cost ones to gain a healthy body. So have you decided which one of these backyard gym ideas you would give a go?