Hammocks become a symbol of relaxation during the outdoor season. Try to forget your busy schedule and enjoy lying in a hammock. There are many admirable backyard hammock ideas that fit for your lazy day.
Numerous styles of hammocks are available. Hammocks' model may vary depending on the types of materials. Cotton fabric is the material to make Brazilian hammocks. Another style is Naval hammock made from cotton and canvas.
Venezuelan hammocks are made of breathable materials. They resist insects and water entry. The others are string hammocks that come in Nicaraguan and Mayan style.
Hammocks have two suspended points that hang between trees or pillars. Besides, opting for freestanding hammocks is preferable. A stand will support the swing if there is no tree to string.
You can swing, read in, and take a rest on hammocks. Today we present 26 backyard hammock ideas that will give adorable accents to your outdoor area. Choose the right style that suits your home design.
1. Backyard Pool Hammock
That quilted cotton hammock features a spacious base area, soft pillow, and solid wood spreader bar. While feeling tired, you can relax comfortably with this high-quality hammock. You are better only lying in than taking a nap because it is easier to fall off the hammock.
Adding a hammock by the side of a pool creates an attractive centerpiece for outdoors. This style of hammock serves a quiet spot for reading books. It also becomes a charming addition to your outdoor pool decor. That is a perfect private spot for recharging your energy after a long busy week.
2. Built-In Foot Hammock
A unique design of this chair hammock comes in its built-in footrest. Additional ropes tied to create foot hammock. Some people are looking for a comforting footrest while reading on the hanging chair in the backyard. Mini foot hammock is the most comfortable way to sit on this type of swing.
3. Polyester Hammock with Half-Circle Stand
Create a stunning look in your garden while relaxing under the sun with this hammock. The red half-circle wood stand offers a unique style and durability to fit for fun and relaxation. That hammock comes in brown tight weave polyester rope.
Polyester is the fabric material with poly rope clawed ends. Its hardwood frame is made of pine with an outdoor finish coat. Featuring a matching pillow, wooden arc frame, and hardwood bars, the chair hammock's design is for one person only.
4. Cozy Elegant Backyard Hammock Ideas with Fringes
Soft stretchy cotton fabric is a material to make Brazilian fabric hammock that goes with fringes. The complementing pillow allows you to indulge in stylish relaxation. It is perfect for a backyard and balcony retreat. Enjoy sunny days with this pretty, sturdy, and comfortable hammock.
While lying on this hammock, it engulfs you in a cocoon. However, it is not good for looking out at the surroundings. Use rope to attach the hammock between trees or stands. The looped and stringed ends have similar threads. A metal hook will rub the loops when you attach without ropes.
5. Twin Hammock Swings
Creating a private vacation area nearby this pool looks exciting with swing-set structures. The strong wooden structure supports two hanging chairs.
Besides, a round granite table locates between those twin woven hammock swings. It is such a perfect place for beach lovers to enjoy looking over the body of water from their seats.
6. Green Soft Chair Hammock
Colorful pillows accentuate soft and thick cushions of this swing chair. The attractive swing sets near a raised bed garden, so you can see the beauty of that flower garden while swinging in. Stripes and decorative patterns add textures to the seating area.
7. Hammock and Straw Hut Gazebo
A bamboo hammock under this straw hut gazebo looks more natural in the Asian-style landscaping. Keeping the look simple and understated is a key to designing Asian inspired backyard hammock. The wooden gazebo with A-shaped design can fit neatly into the backyard.
8. Traditional Pool Hammock
Here is a piece of inspiration for timeless backyard stone pools. It sounds great to get on a hammock via the deck near your pool. The posts are made of cedarwood with a pergola style top. That triangle pergola is ready to support the hammock.
It seems to be a cool concept and looks relaxing. To make sure that you are safe without falling out into the water, do not hang directly over your pool. Safety comes first! Then, feel 100% relaxation with this traditional pool hammock.
9. Fish Pond Hammock
What is on your mind if you are sitting in this space? It is like entering a stress-free zone. There is an unusual hammock with four suspended points. Large wooden structures hold it right above a fishpond. Feel the calmness by looking over lots of aquatic plants and trees.
10. Unique Coral Coast Hammock Chair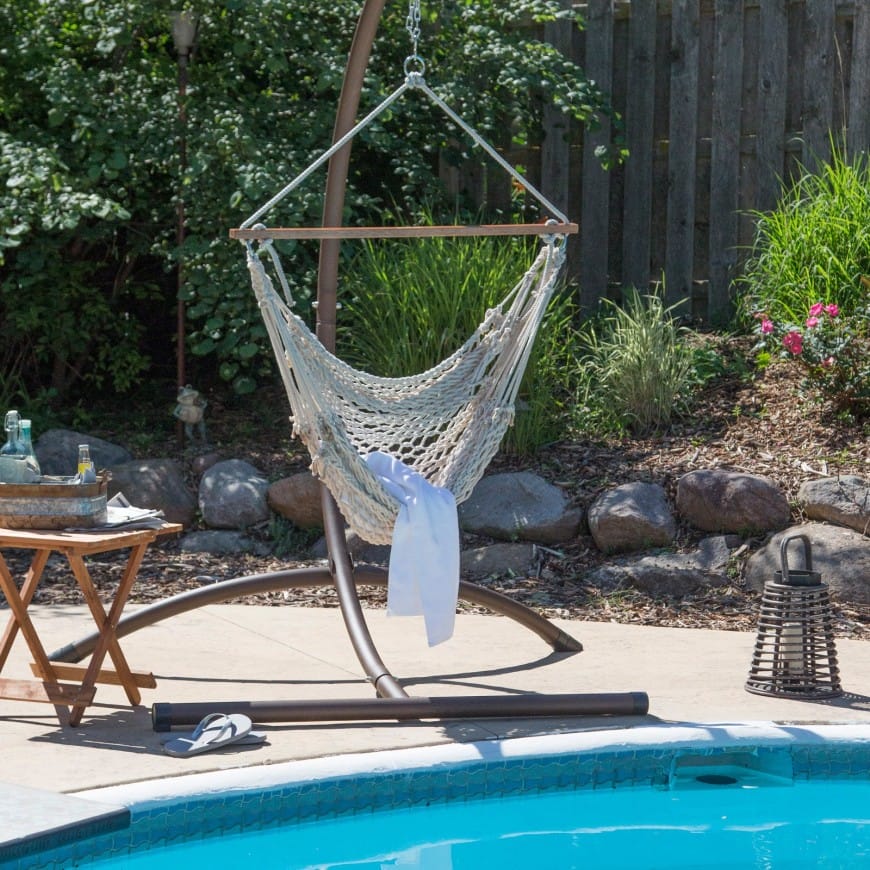 Bring the breezy style of this woven rope hammock anywhere you want. This chair hammock is made of soft cotton cord. To make it portable, use that unique metal stand and attach the easygoing furniture near a backyard pool.
The bronze arc metal chair stand brings a modern element to this outdoor pool. It includes a wicker egg chair that has rust-resistant durability. You can enjoy almost 360 degrees of hanging with unparalleled comfort.
It features solid wood spreader bars with varnish for weather resistance. The hammock's natural color blends with surroundings. Spend summer outdoor time by getting to sit in the swing with your family members.
11. Unique triple hammock stand
Rocking to nap with the natural breeze is an enjoyable activity. This style of hanging furniture will fit for your backyard. An innovative design of the triple hammock stand offers a unique shape. Three people can relax in one hammock at the same time. Neighbors and guests will impress it.
Structures of that amazing artwork stand combo use the finest marine-grade materials. Therefore, they have good durability in extreme weather.
Each trinity hammock consists of a stainless steel structure with a suspended teak table hanging at the center. Three quilted fabric beds give comfortable areas to rest. It is good for your backyard patio, outdoor pool, or on the beach.
12. Hammock in Wooden Gazebo
As you can see, a hammock with fringes suspends diagonally between two pillars of this wooden gazebo. The hammock is hanging right above the panel flooring.
There is a roof above the hammock to avoid sun burning. Having a fantastic seating area near water allows you to enjoy the view and fresh air without being sunburn.
13. Vintage Wooden Arc Hammock
Combine cotton hammocks with fringes and natural wooden arc stands will offer a vintage look to this minimalist-style backyard. For sure, the traditional hammock might be your favorite spot.
The stand is made of larch wood with a weatherproof oil finish, so it is perfect for outdoors. Two spreader bars at both ends avoid knotting.
14. White Cotton Rope Hammock
A cotton rope material has maximum density design without sacrificing comfort. This traditional hammock ensures a supportive and natural fit. Its functional beauty appears from the double-looped strands to hand-braided ring knots.
Two vine-covered trees support the loose weave hammock. The loose weave design allows you to feel cool even on a hot day.
15. Pergola Hammock in Tropical Patio
A traditional hammock with pergola top will encourage your summer spirit outdoor hangouts. Locate the hammock on a raised paver patio terrace with a toss game tent.
Having hammock under patio pergola is a great experience. Both children and adults will enjoy hammock spinning. This enjoyable architectural stuff also creates romantic and breathable sitting. The pergola hammock's design is in tune with greeneries and potted trees around.
16. Hanging Rope Hammock Chair Swing
A fashionable enjoyment presents in this white hammock chair swing. People can enjoy sitting and reading books or magazines. Soft materials are from cotton or polyester.
That hammock swing can easily move to the balcony, backyard patio, or terrace. Just simply hang it on a tree or use a hammock stand. Feel relax on snuggling in a comfortable cocoon while listening to the birds, crickets, or rain.
17. Multicolored Venezuelan Hammock
What a gorgeous Venezuelan hammock it is! That beautiful handwoven base area creates a sturdy comfortable lounging. The multicolor are bursting together with colorful blooming flowers in this garden. Two small sturdy pine trees hold the hammock.
18. Colorful Travel Hammock
Do you need a travel hammock for outdoor camping? Colorful striped hammock is the best choice. This cotton fabric canvas is also suitable for a backpacking trip, family campout, and short weekend hike.
The hammock's vibrant colorful stripe pattern is relaxed and gorgeous. The ultra-thin portable design creates a perfect combination of beach life.
Two hardwood spreader bars make the hammock more stable and balanced. Woven soft canvas fabric has a thick and high-density compact.
19. Multi-Use Heavy-Duty Steel Hammock Stand
Feel a relaxing afternoon in your backyard patio with this multi-use hammock stand. Forget about the days searching a pair of perfectly spaced trees that fit for your favorite hammock. The design is suitable for Venezuelan, Brazilian, Mayan hammock, and any other styles.
An A-frame stand design gives long-lasting strength. Its material that can resist rust is powder-coated tubular steel. Combine with brown soft mesh hammock and curved spreader bars to fit a single person only. While swinging alone, you will be like a newborn nestling in his cradle.
20. Rainbow Hand-Woven String Hammock
Compare to standard Mayan hammocks, these strings are four times thicker. Soft cotton strings are the materials with various colors like blue, green, natural, and brown. This multicolored string hammock uses orange, purple, green, yellow, blue, and red.
The thick Mayan hammock is simply hanging between two poles in the outdoor patio. Spend your lazy summer day with this colorful hammock by looking over a small lake.
21. Hammock and Decorative Fringes
This Nicaraguan hammock comes in kiwi green color. The hue harmonizes with all surroundings. Two giant trees support the hammock. You can enjoy the fresh air while lounging on.
It has a hardwood spreader bar and decorative fringe that construct an oversized base area. Unwind and relax with superior comfort since it uses soft-spun cotton. The bed area is roomy enough for two persons.
22. Contemporary Hammocks for Gardens
Hammocks for gardens add a piece of nostalgia to lie in comfortably. That contemporary chic swing chair acts as a relaxing vacation-like spot in the garden. Locate the futuristic structured hammock below a gazebo that will evoke a stylish aura to this garden.
Wonderful objects such as a chair, sofa, bed, or recliner hammocks might give simple pleasures to homeowners. This curve-wave hanging chair has an elegant design that blends perfectly with natural surroundings. Its black color creates a bold statement to the garden.
23. Ancient Mayan Hammock
This handmade hammock has combined threads in Yukatan with Mayan weaving techniques. It has beneficial features; they are perfect for two people, comfortable nylon blend, and make lasting memories.
Red and yellow hammocks are hanging between two large ornate pillars. They look out over the overlong entrance pathway.
24. Wooden Hanging Hammock in Contemporary Landscape
Vibrant orange and white colors of this hammock become a focal point in the flagstone pathway garden. Hanging between two giant oak trees with a small table that has a similar hue will be perfect for lounging. A white pillow and glass of lemonade add joyful elements.
25. Woven Hammock with Accent Details
Here is a basic woven hammock with some accent pillows. Accentuate with strings of colorful beads will create an eye-catching lazy-day spot in your backyard. Patterns and tones of the cushions are in harmony with this home's design.
26. Fun Backyard Hammock Ideas with Warped Planks
Warped planks transform into an unusual hammock and hang between two large trees. It becomes a great spot to swing in instead of resting. This is fun to have outdoor activities with kids on this wooden swing hammock.
We have gathered those backyard hammock ideas that can extend your outdoor landscaping. Opt for your favorite style to be the best centerpiece for summer backyard inspirations