Undoubtedly, many people love lawns. However, creating a well-manicured yard is very time-consuming. After all the hard work, still it may not look excellent. No worries, I've had some mesmerizing backyard ideas no grass, in this article to inspire you.
Removing the lawn does mean sacrificing your outdoor space. But in fact, some gorgeous backyards do not feature any grass at all.
Just read on to find impressive landscaping designs. They will certainly change any lawn and your outlook forever.
1. Modern Backyard Ideas No Grass
If you have a neglected backyard, then consider replacing the grass with gravel. Those tiny stones appear both architectural and modern. Be sure to implement them properly. I guarantee you won't miss the greenery anymore.
The gray concrete pavers pair with the gravel delightfully. They make the backyard extra stylish. Meanwhile, the boxwoods and ornamental plants spruce the outdoor space up.
2. Backyard Design No Grass with Stone Pavers
Instead of covering your backyard with sod, you should bring stone pavers to it. They will lend your outdoor space an instant rustic appeal. Moreover, their rugged simplicity contrasts with the plants, generating a fabulous yard feature.
Different plants also soften the backyard's look effortlessly. Additionally, you must not forget to add some chairs in the space for a cozy outdoor sitting area.
3. Backyard with An In-ground Pool
Searching for awesome grassless backyard ideas? If so, give this landscape design a chance. As you see, it boasts a clean and sleek in-ground swimming pool. Moreover, the gray pebbles give the space a uber-trendy look.
In addition, the lounge chairs let you catch some sunshine. Meanwhile, the trees and shrubs do not only soften the outdoor space but also add texture.
4. Say Yes to Moss Lawns
Moss is one of the most incredible alternatives to grass in backyards. That's why you should make room for it.
With a carpet of moss, your backyard will stay lush throughout the year. Although you need to get rid of the grass first before bringing it into the lawn.
Additionally, moss doesn't require any watering or weeding. Furthermore, it appears equally stunning both in bad and good soil environments.
5. Grass Lawn Substitute
Talking about inexpensive backyard ideas no grass, consider planting ground cover plants between pavers. This outdoor space features blue star creepers. They also surround the square stones beautifully.
Apart from blue star creeper, you can replace the grass lawn with sweet woodruff, white clover, as well as woolly thyme. They also stand up to high foot traffic. However, these ground cover plants are completely mow-free, so why not celebrate them?
6. Grassless Backyard with A Pond
This is one of the splendid backyard ideas no grass. The pond with a fountain becomes the spectacular focal point in the garden. Furthermore, it's easy to maintain. Large birdbaths and fountains will also do the trick.
The concrete pavers generate a cohesive feel. Although this backyard has no lawn, it boasts plenty of greenery. They keep the outdoor space from looking lifeless. Lastly, two wooden chairs let you and your spouse sit down while enjoying the soothing water feature.
7. No Grass Garden Ideas with Squares and Circles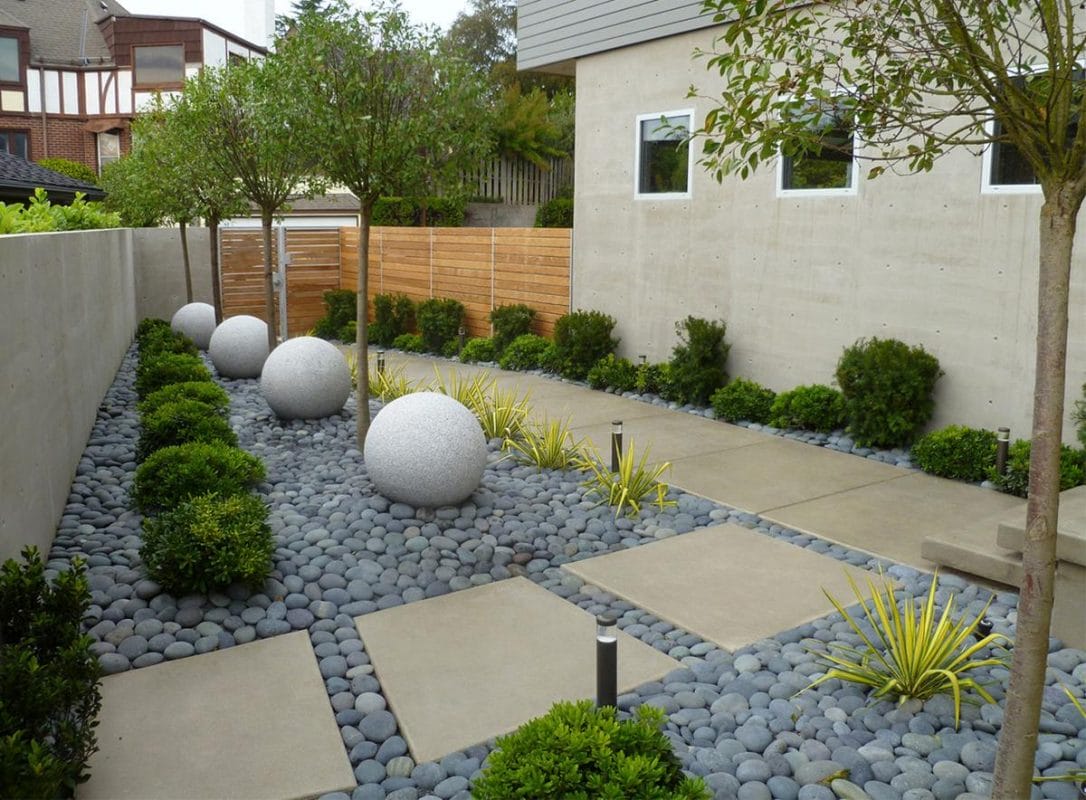 I love this water-wise landscaping design. As the photo shows, the backyard garden features Mexican beach pebbles and square slabs. Moreover, they lend the outdoor space a contemporary flair.
There are also gray granite orbs in the backyard garden. They weigh about a couple hundred pounds. Consider planting Pittosporum plants to align them.
8. Backyard Ideas No Grass with Mulch
You can opt for organic mulches like pine bark or cedar chips to replace unwanted grass. They make a rustic yet remarkable ground cover, too.
Before laying the mulch down, you should put any landscaping cloth on the soil. This will keep pesky weeds from growing in it. For canine owners, be sure to avoid using cocoa hull mulch since it's truly lethal to dogs.
9. Concrete Backyard with An Outdoor Living Room
Make the most of the backyard by creating an outdoor sitting area. Regardless of its size, you can always expand the living space to the great outdoors.
Furnish your second sitting area with cozy patio furniture. You can also add a bonfire pit or build an outdoor kitchen. The options are limitless. Moreover, the pebbles and sleek pavers evoke modern vibes.
10. Backyard with Artificial Grass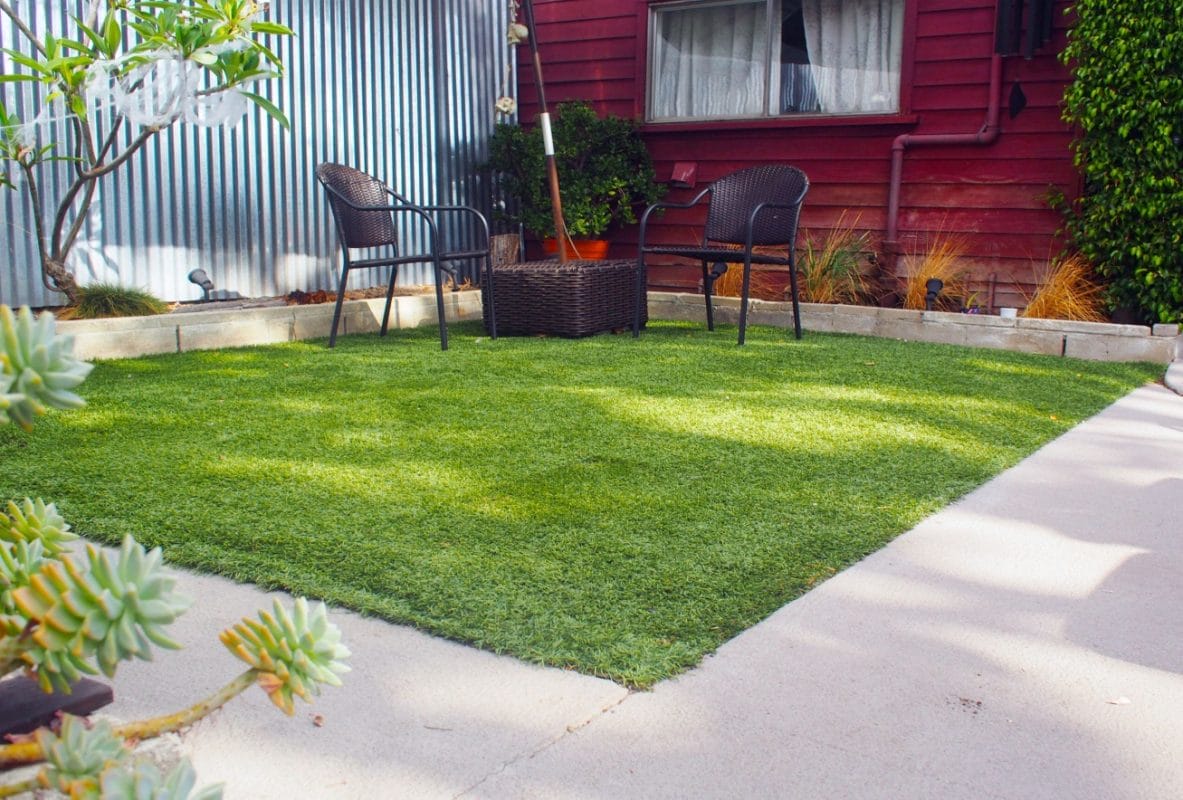 If you hate uprooting dandelions, then give fake turf a try. It will certainly keep your lawn both weed-free and lush. Even more, this is one of the superb backyard ideas no grass.
Apart from being stain-resistant, artificial grass provides excellent drainage. Best of all, it stays green year-round without maintenance.
11. Townhouse Backyard Ideas No Grass
Transform your small townhouse backyard into a stylish concrete jungle. This patio, for example, features bluestone pavers, pebbles, and a cedar fence. They make a functional and magnificent outdoor space.
The tall plants gorgeously surround the townhouse backyard's perimeter. Furthermore, they brighten the space. I believe you won't miss the traditional grass lawn.
12. Backyard with Raised Planters
Turning a neglected lawn into a fabulous garden with raised planters offers various benefits. Since you don't plant directly into the soil, you'll only need to till and weed occasionally.
Unlike container gardens, raised beds do not require plenty of water. They also make harvesting veggies a cinch. You can grow annuals or perennials besides vegetables in them.
13. Tropical Backyard Garden with Palm Trees
Convert your boring, flat landscape into a tropical oasis. This backyard, for example, boasts palm trees. They provide shade and privacy.
I suggest you grow dwarf evergreens or palms. Another option is spicing up your grassless backyard with ficus plants and potted rubber trees. Before planting them, always check your hardiness zone first.
14. Backyard with A Potted Garden
Looking for cheap backyard ideas no grass? If so, try this terrific landscaping design. You only need to swap your lawnmower for a watering can and spade.
Taking care of a container garden is a breeze. Moreover, the planting options are endless. Place your colorful pots throughout the backyard to make it more exciting.
Those backyard ideas no grass prove grassless lawns look equally gorgeous. They also don't require weeding and cutting. Whatever landscape design you choose, remember to put your needs and personal budget into consideration.