If you are looking for backyard office ideas, you are in the right place.
Working from home is almost everybody's dream because it keeps you close to family, saves more on transport costs, and flexible schedule. Unfortunately, not everyone has a free room to set up a home office.
Luckily, a home often comes with a backyard, which offers enough space to build a backyard office. Building your very own backyard office will give you privacy, get you free from the crowd, and increase self-productivity.
You can choose many kinds of designs for your backyard office. If you have not chosen any, here we bring you 22 mesmerizing backyard office ideas that might inspire you.
1. Chic Backyard Office Idea
This office looks so calm with the combination of black and wood beige. A wooden office-building combines with green grass outdoor creates a place with a natural aesthetic view.
This tiny room contains a couple of chairs and a working desk. The homeowner organized some books and accessories on the mounted shelves, creating a clean and comfortable working area.
The sliding door saves space of the little office. A long bench under a shady tree offers a great place for having a little break after overwhelming work.
2. Desolated Office Garden
If you are the kind of person who works best in the solitude, you might want to adopt this backyard office design in your backyard. This office hides behind a tree and employs black painted cedar for the exterior and natural plywood as the interior.
The full-height glass door ensures the room gets enough natural light. It also allows you to see the whole side of this office and you will find nothing but a folding desk and a chair.
3. Backyard Office Box
If you are the kind of neat freak person, this backyard office will suit you the most. Mounted shelves on the wall provide enough room to organize books and another stuff, which makes this office less clutter.
This office features dark shade in the outside and bright white inside. It looks so spacious without unnecessary elements. There is only a painting hanging on the wall, a couple of desk chairs and floating working tables, and shelves.
4. Feminine Backyard Office Idea
Do you want a more feminine office? Then you should check this out. The interior and exterior are painted in white, while the furnishings are in red. This contrast different color between interior and furnishings creates a chic ambiance.
A large French door is opening, showing a chic red chair and a table. Three shelves on the wall give space to put some photos and greenery. Move a little bit to the left, there is a cabinet rests on the corner to organize your office stuff.
5. Office Corner
The design of this backyard office reminds us of the corner kitchen cabinet. Like the cabinet, this office is best to put in the corner. This can be a good solution for those who want to have a backyard office yet having a small space of the yard.
6. Office in Red and White Theme
Most backyard offices maintain the wood color of the structure but not this time. This office applies red and white theme color, contrasting the green ground around it.
The wide white sliding door lets space open and brings a little outside in. A cabinet with shelves rests right in the middle. There are two chairs and a table where one is facing the window and the other one is facing the door.
This backyard office serves as a roof deck for recreational purposes or outdoor meeting. The most important, black steel surrounds the deck to keep you safe.
7. Metal Structured Office
In case you need a quiet place to do your job, this metal structured office is worth to try. You will find metal structure almost in every side of this building.
Some chairs and a table appropriate a little space to discuss with friends. Books are prepared in the bookcase in the corner. At the front side, two benches with white steel frames and panel woods on the top offer a place for chilling out.
The dark wood floor works in harmony with the light to create a warm ambiance. However, it is better to have brighter light for studying or working.
8. Repurposed Pallet Office
The backyard office is supposed to be comfortable, not expensive. By repurposing a wooden pallet, you can make this pallet office without spending a lot of money.
The different colors of the aged pallet give rustic looks while the sliding door creates modern design. The stairs connect the working room to another small story. Add a fireplace to warm your night and a sofa to make the room cozier.
9. A Roof Deck above the Office
Nothing is better than having a break on the roof deck after tiring work. Having an office and a roof deck at the same space is precious. That is why you should consider building a home office with a roof deck like this one.
The stairs will lead you to the roof as well as acting as plant containers. There are wire and steel balustrades along the stairs and the deck to keep you safe. Right under the stairs, there is a space, which you can use as additional storage.
10. Full Bright Office
If you love to get your work done in a bright yet safe place, then you would love this office idea. The position of fiberglass door will let a ton of natural light come in.
Backyard office tends towards being small and having less furnishing, but not this time.
This garden office is so inviting with two blue chairs outside and a sofa next to the building. Walk inside the room and you will find some chairs again and a working desk. The circle pathways keep your shoes off the grass.
11. Raised Garden Office
This backyard office is large enough for a working space. It is a little higher than the land around it. Stones steps, built between mini gardens, lead to the patio in front of the office.
A green chair and a small table in the corner serve a nice seat to enjoy the sunset with a cup of coffee. There is almost no stuff inside the office but a chair. The sliding wooden door constructs from horizontal wood gives a classic unique look.
12. Black Red Cedar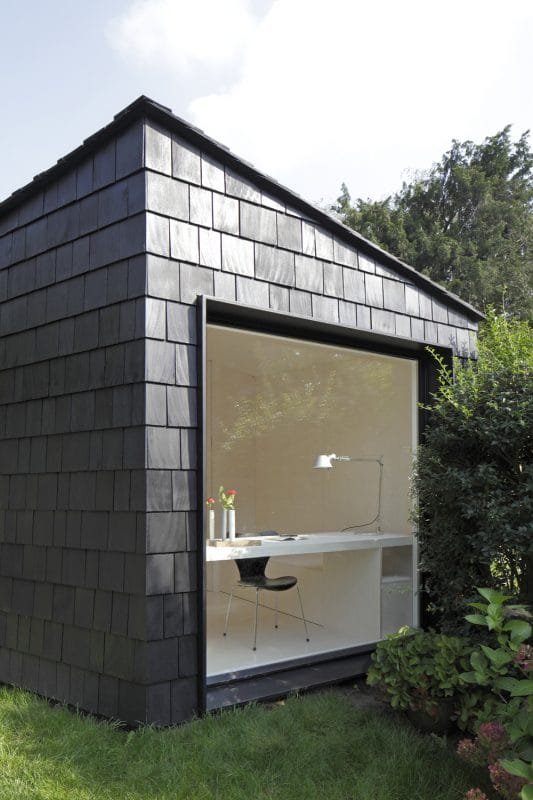 When other office backyards commonly constructed with panel wood or board, black- vanished red cedar shingles envelope this office from the roof to walls. Thousands of shingles are painted and mounted to the building individually.
The working space is in the corner complemented with a chair and a built-in table. It is facing right to the garden while a thick floor-to-ceiling window becomes a divider between the room and the garden.
Contrasting to the dark and rough exterior, the interior has a smooth and bright surface with white color.
13. Wooden Beige
Simple and minimalist design is always pleasing to look at. The beige color of the room creates a tidy and spacious space. The glass doors serve a greenery view to freshen up your mind.
A working table sits in the corner facing the door with a tiny pot of plant and a desk lamp. On the opposite side, there is a white chair for relaxing.
The colorful doormat lying down behind the door gives different shade as well as a sign you can enjoy the room with barefoot.
14. Green Lush Office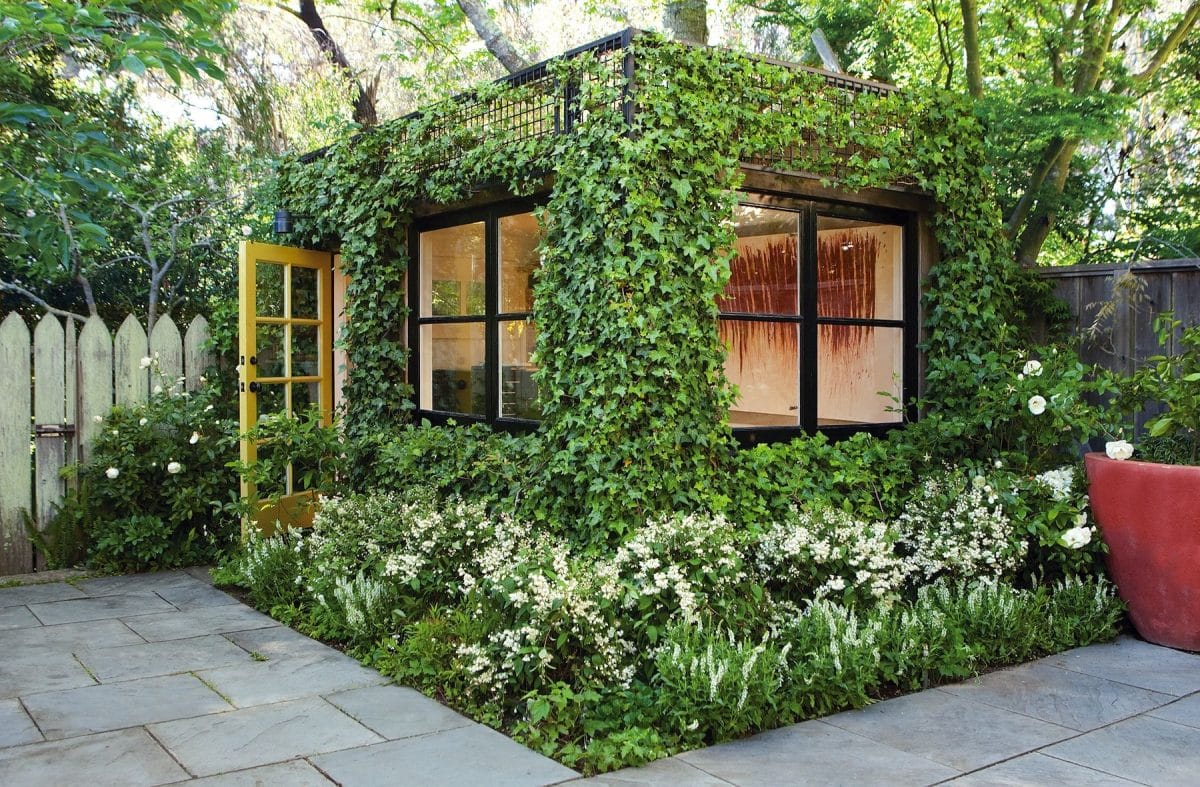 If you are a nature lover, this backyard office is worth to try. The vines embrace the office wall and make it look like a living wall. Meanwhile, sweet white violet, anemones, and hellebores cover the ground perfectly.
If you want a more colorful view, you can use climbing rose instead of green vines and add some lavender. Lavender is not only for beautification, but its smell can also help you to relax.
Its glass door and windows are free from vegetation, so you can see the beauty of the nature around you. This is just a perfect backyard office for a nature lover.
15. Modern Office with Folding Door
The backyard office does not have to be big as long as it can house your equipment. Although the size is tiny, this office provides enough space to put a desk chair and the table, an armchair, and drawers.
The folding glass door is the feature of this contemporary garden office.
16. Office with Patio
Relaxing after overwhelming job is the most awaiting moment. That is why you should consider expanding your office by adding a patio. There you can sit nicely while enjoying a cup of coffee after a stressful work.
There are some armchairs and a table in the patio, which offers comfortable seats. On the other side, a quaint office, constructed with floor to ceiling wooden panels, stands nicely. Some different colors of flowers adorn the whole office building.
The hedgerow grown behind the building plays a role in providing a little privacy to the office.
17. Tiny Glass Office
Tiny but practical, this backyard office features glass walls almost all around, ensuring much natural light in. However, the office uses a louver system in case you want the distraction to shut out.
A u-shaped table gives enough space to organize your equipment as well allowing you to hold a meeting in it, but you need to add more chairs anyway because there is only one chair inside.
18. Entire Glass Office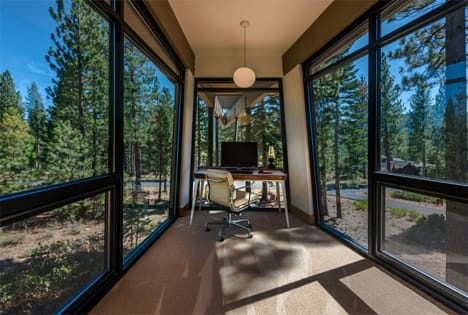 Sometimes you need to stop for a while from working and stare at nature to find more inspiration. It does not mean you have to go outside, because this office serves you the view of nature from all sides.
Glass wall and black steel frame cover the entire building, allowing you to see the landscape clearly. A workspace facing the trees is ready to use. The round lamp hanging right above the desk offers more light when the sun goes down.
19. Office from Cork Cladding
Unusual material creates this eye-catching building. The rough texture of the exterior invites some people to figure out what it is. The sliding pocket door can be fully slid open if you desire to.
Cork cladding covering the entire building gives different texture at the outer side. This natural earthy material establishes waterproofing layer and acts as a thermal insulator.
The furniture inside is cantilevered off the wall to creates the feeling of spacious room while a central slot window divides the couple's shared desk. The skylight provides a lot of sunshine, so you no longer need additional light from lamps.
20. Earthy Backyard Office Idea
If you are a downtown dweller and looking for an escaping place, this one is for you. Plants and trees surround this backyard office; make it unseen from almost every side of view.
Vertical cedar covers the front side of building, leaving a small size of the window for better circulation. On the top side of the building, you can see the panted roof. This office building just blends with nature well.
21. Busy Backyard Office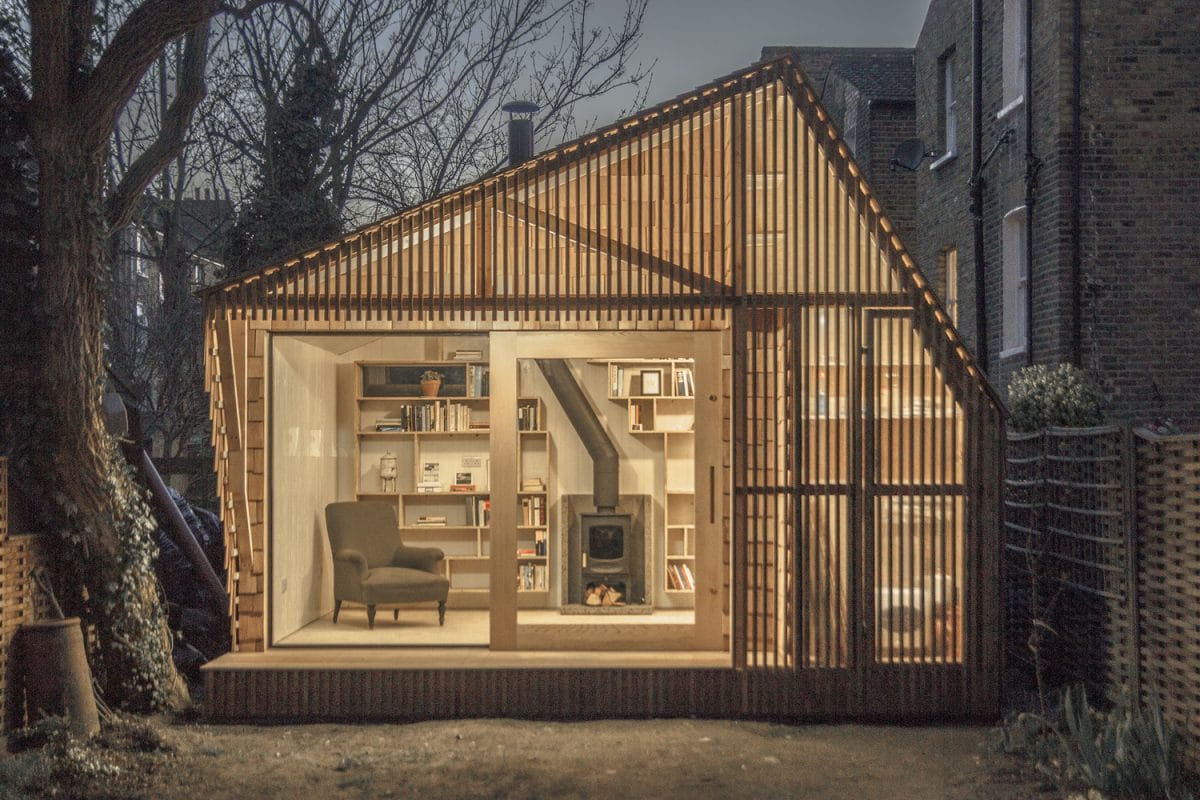 Wooden room and warm light color are such a perfect combination to create a cozy feeling. From outside, the room looks very busy with a wall full of shelves and books. A fireplace rests between the shelves to warm your night.
An armchair sits facing the door, as if it asked you to watch flying fireflies. The wide glass door allows the room to get plenty of natural light at day.
22. Polyhedron Backyard Office Idea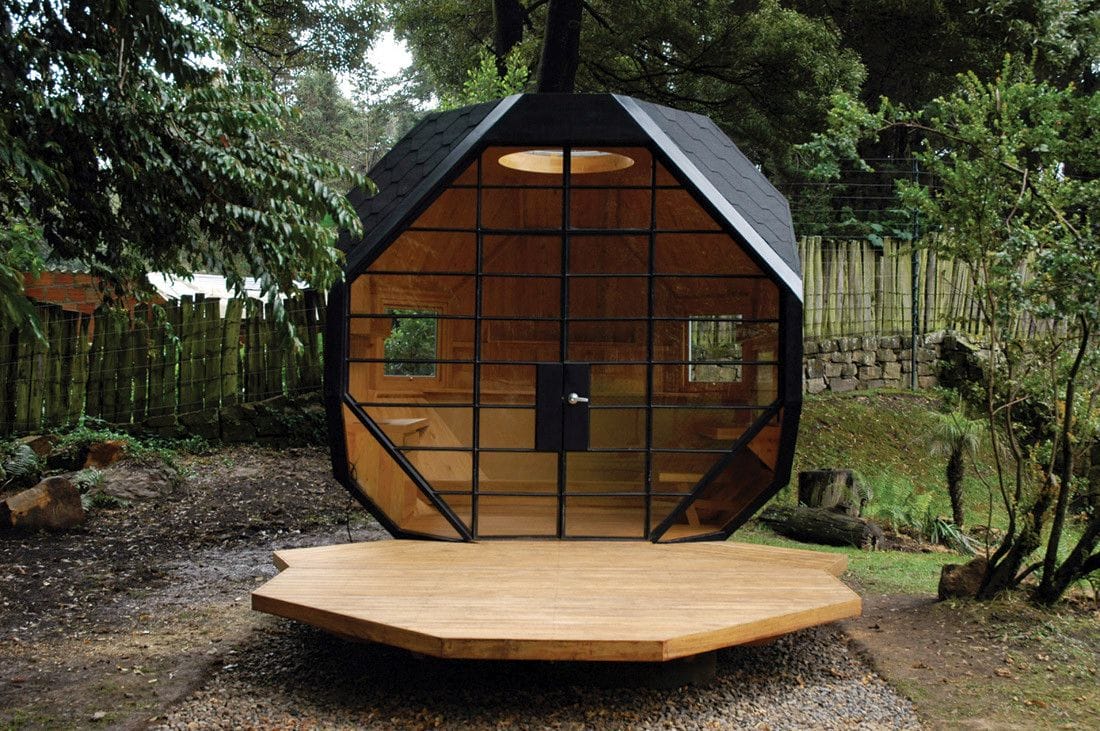 If you thought this is the honeybees' house, you need to recheck it. This aesthetic architectural is a building that you can use for studying or working. It adopts the polyhedron shape that makes it look unusual yet eye-catching.
All of the interior and furnishing are made of wood. Inside the office, there is a working area with a bench and ledge.
23. Office in a Shell
Beautiful, practical, and unique are three words describing this backyard office. Its elliptical loop looks like a huge shell lying on the grass. With only a few steps far from the house, this building will grab your guest attention and be a focal point in the yard.
White oak lines the interior of this office. Fiberglass walls and door, framed with dark wood, provide natural light throughout. Inside the office, there are a floating wood table, a chair desk, and some storage.
All you need for a modern extraordinary backyard office is here.
Regardless of the size and the style, the backyard office is important to be comfortableand cozy because the main point of having your own office is to do your job well. So which one of these 23 mesmerizing backyard office idea comforts you the most?