Are you ready to spruce up your outdoor space? Tiles become the greatest option for your outdoor spaces. When it comes to backyard tiles ideas, you will have countless choices to consider. Whether you are installing a new backyard or upgrading your existing space, arbitrate the right style for you.
A common type of backyard tiles is unglazed clay. This type of tiles mostly uses red clay since it can be denser and harder as a result. Meanwhile, glazed clay commonly functions as accent details in unglazed tiles. It decorates around the edges and in patterns.
It is also important to consider the surface and tiles' durability. You could get away with less durable tiles on a covered surface, while durability should be your priority if it is going to be an uncovered surface. 
Here are some extraordinary backyard tiles ideas to get you started. We cover many trends in this guide. Read on, please!
1. Backyard Tiles Installation over Grass
A new trend of tiles is outdoor thick porcelain stoneware. The thick tile's size is 20 mm, so it can lay on grass using both dry and traditional installation with glue. The grey stone motifs add a modern and colder feeling to that landscape.
Due to its thickness and strength, it is perfect for walkways and poolside. In the photo above, monolithic porcelain slabs are locating on a grassy area and poolside. Those thick and large tiles become gorgeous garden pathways.
Besides, special tile trims design the edge of a swimming pool. It has a similar pattern and color to the walkways. Its cold stone style harmonizes with the warm wood of patio decks. Their good performance will not stain and change in color over time.
2. Innovative Backyard Tiles Ideas with Raised Access Flooring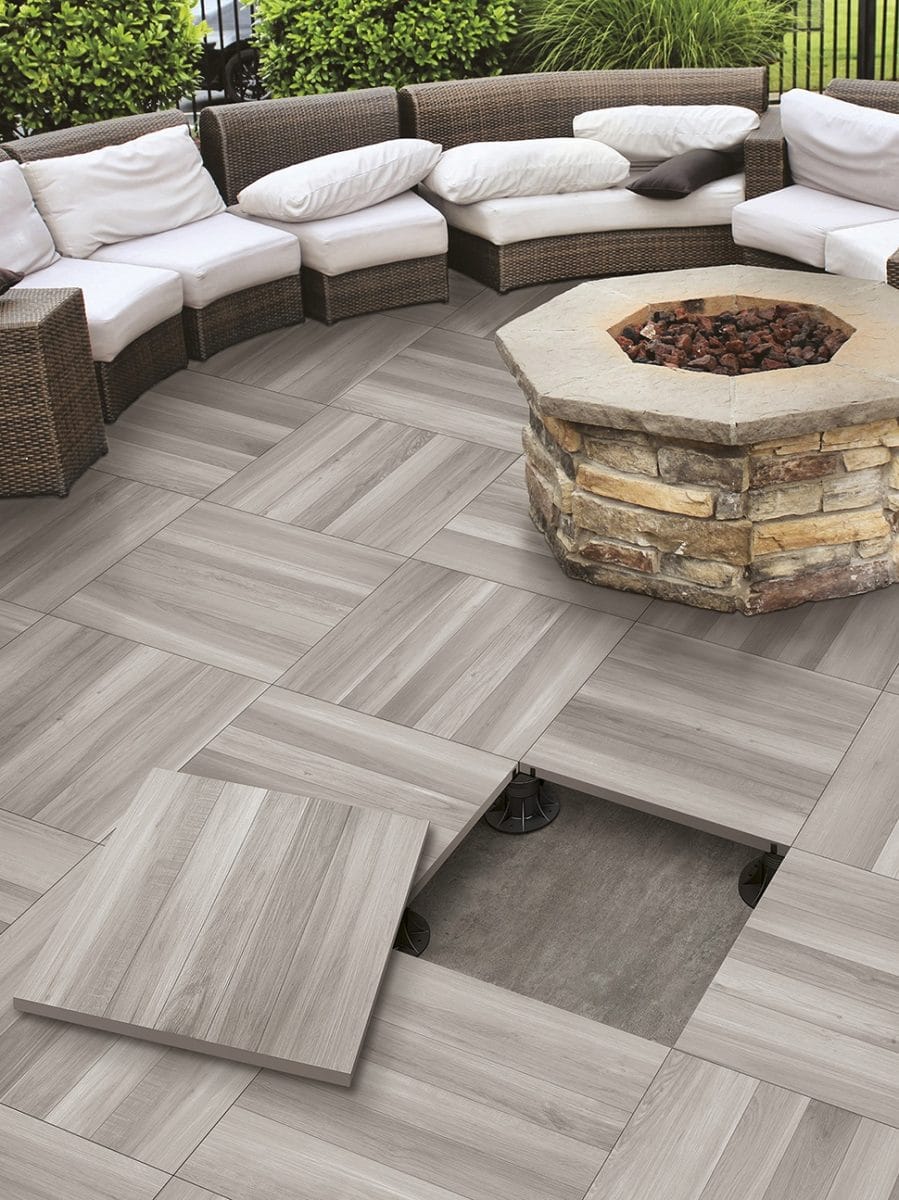 Nowadays, the new tile installation system has grown innovatively. Outdoor raised flooring becomes a unique tile design by laying tiles on polypropylene supports. This installation requires very strong and thick porcelain tiles.
The way you build outdoor tiles access flooring is almost similar to a raised wooden deck. The difference is in terms of materials. 
A raised deck uses wood planks while this flooring needs ceramics. The raised porcelain flooring has a no-maintenance design. It can alternatively replace wooden decks.
Hidden spaces underneath allow you to get easy access to utility lines like wires and pipes. To change the look, you need a vacuum cup to remove the tiles. Then, alter the existing tiles with new patterns.
3. Dry Installation of Outdoor Tiles over Sand
There is an outdoor tile installation onto the sand near a beach area. Awning terraces use traditional tile installation with glue while the extended patio needs dry installation only. 
Those wood-like outdoor tiles support the heavy traffic along this beach area. The decorative tiles are easy to clean. Moreover, they are non-slip even in wet conditions.
4. Over-Sized Backyard Tiles Ideas with Fire Pit
Another unusual idea is installing tiles near a fire pit seating area. Grey stone-like ceramics cover the surface. They are in tune with these wavy chairs that provide an appeal of indoor.
To maintain wasting water and grass, just simply place the thick tiles on a gravel base surface. Laying huge tiles with in-between gaps fits for this large area. However, for a smaller space, you should drop the tiles without gaps.
5. Trendy Slate Tiles for Backyard Garden
Various shapes of grey tiles create an eye-catching pattern like a crocodile. This is such a creative outdoor tile design. These green tropical trees and plants liven up the dark tone of tiles. A white crocodile statue gives a more attractive look.
Slates, hard natural stones, are suitable for outdoors. Unusual color combinations vary to give more contrasting effects. The more you get color variations, the better the effects will be. 
6. Raised Tile Floor for Patio
This patio deck uses raised tile installations. The tiles offer a sophisticated modular style for raised tile patio above. That raised flooring is on a gravel base, so it does not need a concrete foundation. Those floor tiles have brown wood effects to blend well with nature.
This smart system allows the vertical sides to be tiled as well. Since there is not a permanent attachment, you can easily move the patio as needed.
7. Magical Effect of Colored Slate Tiles
Slates are great materials for outdoor applications. Not only backyard tile floorings, but kitchen countertops and backsplashes also use slate tiles. They feature various color mixtures that give a magical effect to outdoor spaces. 
The unique colors always come with a stunning flagstone appearance. In this photo, wall-to-floor surfaces are from slate tiles. They give a dark tone to outdoor spaces, so it is better to choose white ceramic furniture to add a contrast look.
8. Heavy Porcelain Tiles as Paths and Stepping Stones in the Garden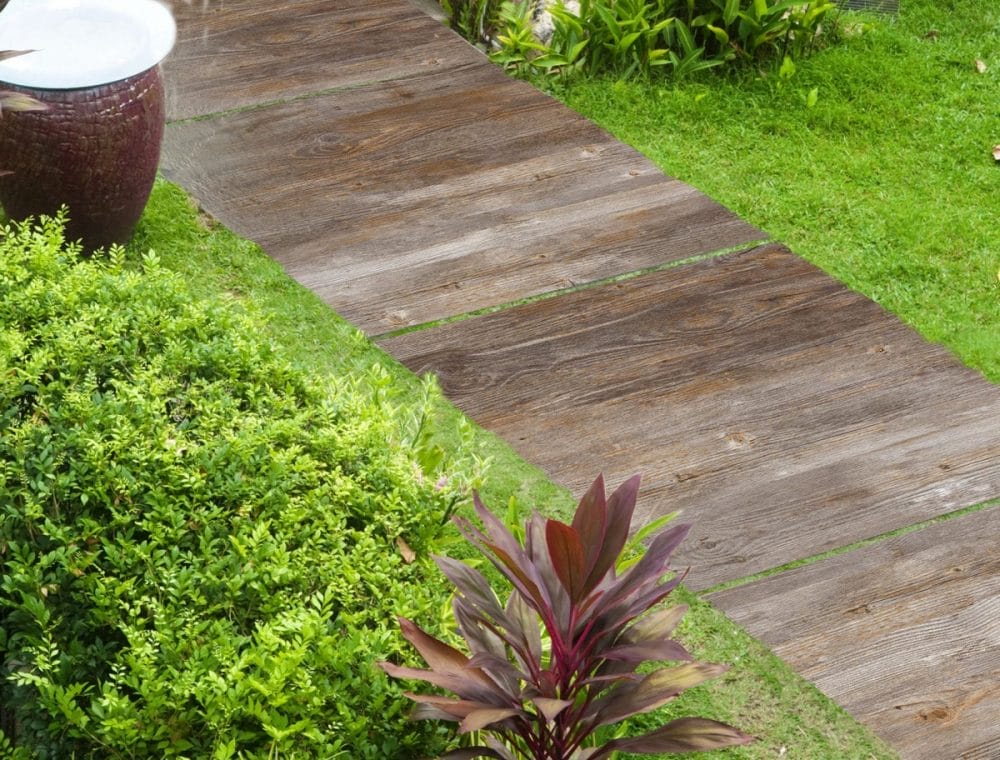 Heavy tiles popularly become garden pathways and stepping-stones. Easy installation is just as you laying stones to make a walkway over the grass. Although they have a similar way of installation, thick porcelain outdoor tiles offer a uniquely different look.
This garden pathway comes in the recycled-wood-like tiles. Those tiles are lying on a grassy base garden with no gaps between the sides. The natural pattern of heavy tiles matches the grass base and plants.
To create stepping-stones, just simply drop the tiles by giving a gap in one side to another. Spread the tiles in different ways to achieve various designs of walkways.
9. Trendy Lava Stone Tiles for Outdoor Floorings
Get a stunning outdoor decor inspiration from volcano magma, Nerosicilia tiles use lava stone extract from Etna. The style comes in a fabric look. To create a very vigorous tile, the lava stones are burning into magma, as their original form.
Elegant lava stone tiles open up a wide range of possibilities for architectural designs. Many pretty flower designs accentuate the tiles. Those are available in the lovely monochrome styles. The flower motifs also provide great textures for outdoor floorings.
10. A New Life with Marble Gravel Tiles
Look at this flooring of natural stone! Combining marble gravels with polyurea resin (UV-resistant one) that resists to UV will achieve a great thickness. Those can create waterproof floorings for walkways, balconies, and patios. A conspicuous blend of colorful marble gravels creates an astonishing appearance.
11. Pop Up Colors of Metallic Tiles
This patio shows us that simple tiles can give a beautiful and modern touch by combining various shades of metallic colors. Some attractive shades consist of cobalt, green, beige, silver, and red. White rounded wicker sofas with soft beige pillows are the best furniture to suit the metallic tiles.
The colorful shades of flooring provide a good balance with the natural stone wall. The hues will shine while it is raining. Enjoy the beautiful patio under the rain.
12. Outdoor Tiles Out of Metal Inlay
Grab the festive look of this decorative flooring. The sky blue color tiles go with inlays made of stainless steel. The customized designs may vary such as these flower inlays. The dark blue tone of garden edgings creates a bold statement to this outdoor space. 
The tiles feature high-performance of resin Duromer. They have a weatherproof and non-slip design, so it is a perfect choice for outdoor floorings.
13. Decorating Effect from a Rug Tile
A creative idea of using tiles for outdoors comes from that rug tile. It represents a real rug in the narrow backyard. The floorings are from light brown porcelain stoneware. Additional ceramic tiles with different patterns create a rug-like effect around the seating area.
Dark wood-look tiles function as a rug to give a bold shade to lighter shades of floorings and furniture. They create a perfect look for an outdoor rug.
14. The Beauty of Metal Tiles
A beautiful blend of bronze and chopper is combining with tiles to create metal-ceramic floorings. The mixture creates a sole surface finish. It gives abstract patterns with different textures. 
Apply these metallic outdoor tiles in your backyard by adding bronze or chopper furniture to bring a luxury touch. Can you imagine what your patio will look like? Feel the actual metal finish around your seating area.
15. Wood Looking Tiles in Backyard
Brown wood-like tiles are covering all surfaces in this outdoor patio. Bring the warm colors of floorings and wall surfaces outside. The tiles will also liven up your patio.
This backyard garden spa combines the warmth of wood looking surfaces with a colder feel of grey tiles that cover a bathing tub. Besides, black rectangular planter boxes hold small plants to give a natural look and fresh air.
16. Encaustic Cement for Backyard Tiles Ideas
Here is a new application of encaustic tiles for outdoor spaces. This is a popular style in Europe. The cement tiles come in Victorian patterns. Create a red brick base and pair it with the Victorian encaustic tiles to get decorative flooring. Will you bring this on your patio?
17. Poolside Tiles
Installing waterline tiles is a chic way to make your pool stand out. Thick porcelain tiles cover this grassy pool deck. To customize a perfect outdoor pool area, mix different tile styles and patterns.
These tiles feature wood grain motifs that give a natural touch to the surroundings. No need to worry about slippery surfaces, since this type of tiles has a non-slip material.
18. Impressive Tiled Patio Flooring On a Budget
Clay-based tiles are affordable choices for your backyard. Either ceramics or porcelains become cheaper flooring options than stones and rubbers. They are also rich in textures.
Choose a simple tile design with various shades is a good way to install floorings on a budget. The color tones will give a decorative look without adding any accent details.
19. Creative Patio Tiles for Seating Area
A creative combination between patio tiles and those tropical plants brings an exotic atmosphere to the seating area. Those staircases also use the same tiles as this flooring. The bright color tiles are suitable for these patterned chairs. They create a relaxing place to enjoy the natural view. 
These amazing tiles will not alter in color when sunlight exposes the surface. To balance the bold shade of these tiles, feature the seating area with a white canopy. It also creates a sheltered area to avoid direct sunlight.
20. Backyard Tiles Ideas over Concrete Porch Deck
Remodeling an old porch deck with stylish outdoor tiles is a great way to make your space truly special. Different sizes of trim porcelain tiles are lying on the concrete base to give decorative patterns. A circular grass field with tile borders provides a natural area rug in the porch deck.
21. Outdoor Tiles with Grass Carpet
A grass carpet becomes the focal point in this backyard garden. Tiles with lighter tone function as borders. Those separate the grass base area from flowerbeds. The tiles flooring also act as walkways for walking in through the garden. Tile floorings and white sofas are in perfect harmony.
Light grey tiles do not have to mean boring. You can mix up the tiles with a splash of color from the blooming tropical flowers in the garden.
22. Awesome Tile Flooring With Lush Fence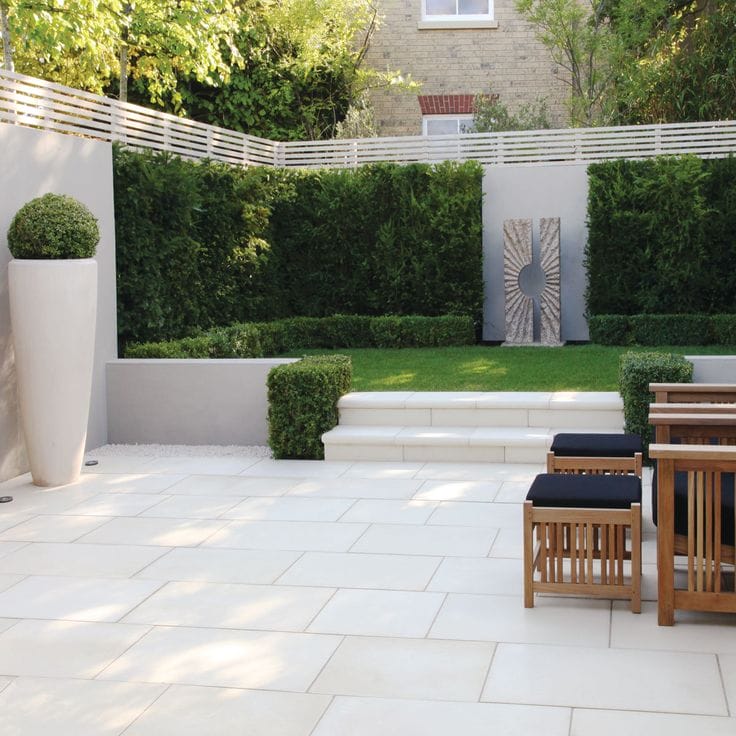 Large and thick outdoor tiles with white tone make this small patio more spacious. The clean tiles are in tune with a tall trough at the corner. The wooden furniture makes a great statement to floorings.
To avoid the monotonous design of white tiles, raised garden bedding accentuates the back part of the patio. This patio features lush fences to create a private outdoor space. Line the fencing with shrubbery and leave the center area open.
In conclusion, backyard tiles have become an integral part of home decor. Whether for relaxation or entertainment, outdoor spaces are more essential than ever. Therefore, choose the right backyard tiles ideas that offer stain resistant and low maintenance.
We have described many tile designs above to add flair in your backyard. Your final decision will give a big impact on the final appearance of the backyard flooring. So, what type of outdoor tiles will you choose?