Homemade pickles are not only fresh but also really delicious. If you truly love them, growing cucumbers in your garden is a nice idea. Here, I've rounded up some DIY cucumber trellis ideas that will help protect the fruit and make harvesting much easier.
Having a trellis is important. Cucumbers sometimes start to rot when they sit on the ground. To avoid this issue, you should train them to grow up a lattice.
If you're completely clueless, don't worry about that. Read on to discover different fantastic cucumber trellis options below.
1. Teepee Cucumber Trellis
The teepee method is one of the remarkable cucumber trellis ideas. You'll need large wooden sticks or tree branches to create teepees. Moreover, the project requires twine to tie sticks or branches together. It will support them, too.
Wrap the string nicely around the teepee. Then, enable it to climb upward. Plant the cucumbers at the teepee's base.
Use the wire to help train your cucumber plants growing up the handmade teepee. It will surely give you a better harvest.
2. String Trellis for Cucumbers
If you're looking for a simple but superb way to support your cucumbers, then consider trying this idea. Simply put a string trellis at each end of the cucumber patches or raised beds.
Place two wood pieces in the ground in a vertical manner. Then, put a wooden beam at the top to support the cucumber plants. Run the string vertically across the frame. Seriously, it's a low-budget and straightforward method to trellis the cucumbers.
3. PVC Cucumber Trellis Ideas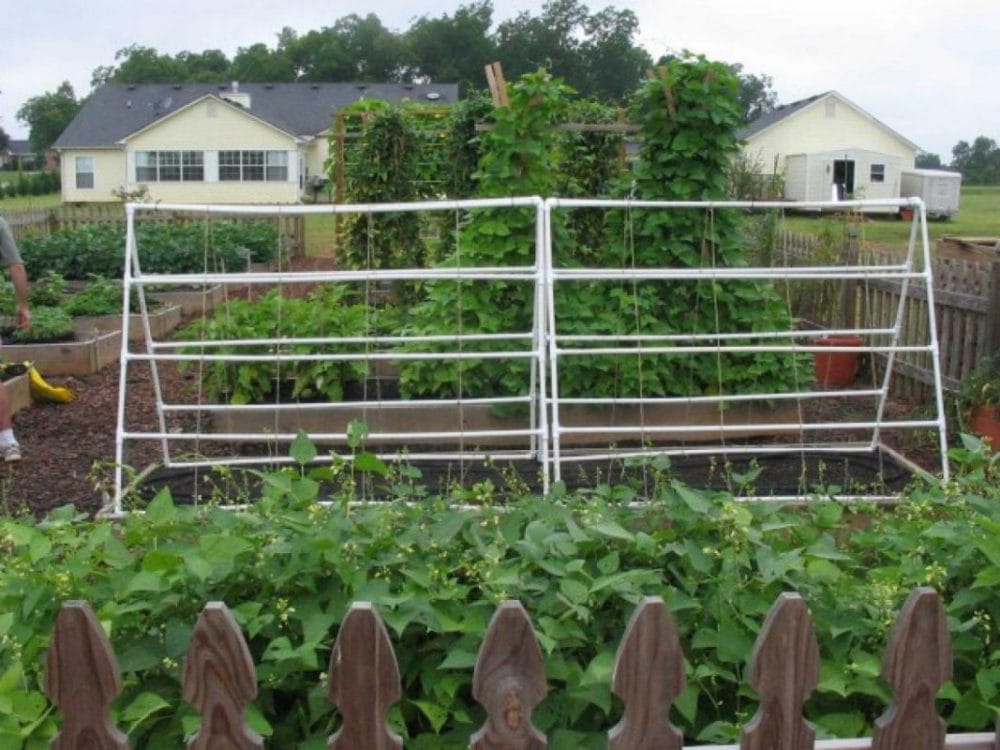 You can use this idea for many gardening techniques. However, it will need more space than previous cucumber trellis ideas.
For this project, you must build the cucumber trellis from PVC pipes. The cucumber plants will grow up them. I recommend adding shelving to house your potted veggies or herbs on the same structure.
4. Raised Bed and Trellis Combo
There are raised beds in your garden, so why not follow this cucumber trellis idea? By applying it, you don't have to create large planter boxes for cucumbers.
First of all, space two garden boxes in the garden. Then, create a metal arch. Lastly, transform it into a cucumber trellis using twine or string.
You must plant the cucumbers in each garden box. Let them climb the arched trellis while offering enough space to walk underneath it.
5. Cattle Panel Cucumber Trellis
Do you raise cattle? If yes, there must be some leftover cattle panels laying around the garden. It's time to put them to great use with my handmade cucumber trellis idea.
Cattle panels are suitable for a cucumber trellis since they're quite tall and sturdy. Moreover, they let you maneuver underneath while tending the cucumber plants.
6. Cucumber Trellis with Cages
Speaking of growing veggies in a cage, you probably don't think about cucumbers. The picture above might change your mind forever.
If you currently grow cucumber plants in raised beds, try installing a fence around them. The cage will protect your lovely cucumbers from animals that love to munch on them. Furthermore, the plants have a strong fence to grow up.
7. A-Frame Trellis for Cucumbers
This is surely one of the simple cucumber trellis ideas. However, it will lend your garden a little pizzazz instantly. The A-frame trellis is not only ideal for cucumbers but also pumpkins and tomatoes.
I strongly suggest you build this classic and multi-purpose trellis yourself. Be sure to fill in the frame's open space with a wooden grid. This offers room for your cucumbers to climb up.
Since the unit is pretty tall, you can maneuver beneath it easily. This cucumber trellis is definitely worth your while.
8. Wooden Cucumber Trellis Ideas
Whether you grow cucumbers in a raised bed or traditional garden, consider making this incredible wood cucumber trellis. To brighten up the yard, just paint it in vibrant color.
Here, the wooden step ladder serves as a trellis for cucumbers. You can find it at estate sales with ease. Simply place the unit on the ground.
Add the sturdy ropes to the trellis for support. Since the unit is stable, it will enable your cucumbers to climb excellently.
9. Trellis for Potted Cucumbers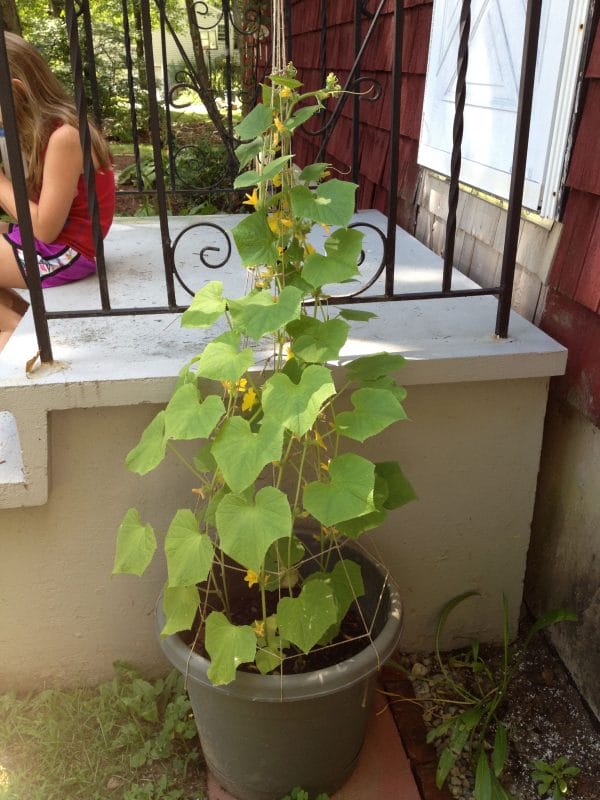 Don't you admire this DIY cucumber trellis for pots? It's perfect for those who do not grow cucumbers directly in the ground.
You just need to create a trellis out of garden twine on top of the pot. Plant the cucumber in the pot. As it gets bigger, it will grow up the unit.
10. Fence Cucumber Trellis
Talking about cucumber trellis ideas, consider building this unit yourself. It's such a simple method to support the cucumbers.
As you see, the handmade cucumber trellis hugs the privacy fence. The string offers a stable place for cucumbers to grow and climb.
This cucumber trellis is not only simple to build but also easy to take down. It enables you to grow productive and healthy cucumbers.
11. Bamboo Cucumber Trellis
This trellis doesn't need some carpentry skills. It's certainly a beginner-friendly and low-budget project. You just need bamboo sticks and strong rope or twine.
The sticks of bamboo go both horizontally and vertically. They also make a practical and sturdy cucumber trellis.
12. How to Make a Cucumber Trellis with Twine
If you're currently working on a budget, then implement this cucumber trellis idea. The project just needs stake and twine.
First of all, put the stake in the ground vertically. Then, make the grid pattern using twine across the metal frame. This is a practical and low-budget way to train your cucumber vines to grow up the trellis.
13. Chicken Wire Cucumber Trellis Ideas
Chicken wire undoubtedly is sharp stuff to work with. However, many people love it. The item does not only protect chickens but also supports the cucumber vines and makes the garden look tidier.
First of all, create a freestanding frame. Next, use the chicken wire to fill in its open space. The cucumbers will beautifully grow through the chicken wires.
Well, you have 13 magnificent cucumber trellis ideas now. Some boast simple designs, while others are more complicated. Choose the option that matches your carpentry skills, budget, and personal preference.