Today, redecorating the backyard is not a difficult thing to do for everyone, especially for you. It is because there are tons of easy-to-follow yet impressive DIY garden projects that you can find on the internet.
Suppose all this time you have often wondered "how can I make my garden look good with no money?", then this article can be your best answer.
In this article, there are 23 DIY garden projects ideas that you can easily do with your family on the weekend. Of course, it is affordable and easy to be done. There are even some tutorials that will assist you! Isn't it interesting?
Moreover, you also don't need professional help to finish it. As most of these DIY garden projects only use recyclable things that you can obtain in your place.
It can be some old junk or teacups, recycled wooden pallets, or even old boxes.
Let's cut the chase and get started with the first tutorial in these DIY garden projects!
1. Eye-catching Garden Tools Storage from Old Wooden Pallets
Paying attention to your gardening tools storage feasibility is the most initial thing when you decide to decorate the backyard.
Indeed, you don't need to spend much money transforming it into a unique and space-saving item for your garden area.
It would help if you looked for the remaining wooden pallets that are still suitable to be upcycled in your shed. Alternatively, you can also utilize other materials, such as some old doors or window frames.
After that, nail them to one another and color them with wood paint as the finishing touch.
It would be best to match its color with your backyard theme. And whoa! Now you have eye-catching garden tools storage without spending much money. It such an easy DIY garden idea, isn't it?
2. Fold-Up Patio Table as One of The Most Aesthetic and Practical DIY Garden Projects
Of the many DIY garden projects, we can say that this idea is one of the most interesting, both in terms of aesthetics, usability, and space-saving. This project will be perfect for you who have a small backyard.
Just like the previous tutorial, this project only requires some used wooden pallets and also a few meters of chain to create. The design that sticks to the wall and can be folded makes this item more practical.
Aside from being a place to store garden stuff, it can also be used as a unique outdoor bar table.
3. Cute Stone Doodles
Besides on the paper, did you know that you can also create doodles on stone? Yes, you are right! You can't miss this cute artwork from your list of DIY garden projects.
It is uncomplicated to perform. First, you need to collect and clean the stones in various sizes. Be sure to pick one with a large extent as the base.
After that, arrange and glue them according to your creativity. As a final step, paint the eyes using acrylic.
It will be so cute to place this artwork on your plant pot or the sidelines of the garden grass.
4. Colorful Veggies and Fruits Characters for Your Garden Markers
There are many DIY garden projects made of river rocks. One of them is these kids-friendly garden markers. If you are an expert, painting vegetables, fruits, and flowers in detail will be very impressive.
Otherwise, you only need to paint the base with various patterns and shapes that almost resemble the plants. Then, give each stone a name.
In addition to using these colorful stones as markers for your garden, you can also use them as a learning medium for your children to recognize various kinds of plants.
5. Colorful Clay Toadstools to Give Your Garden a Magical Touch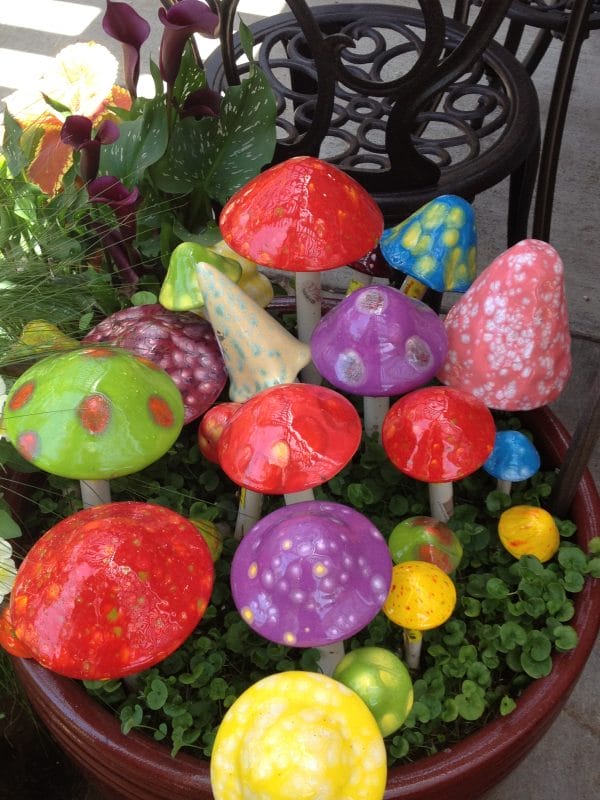 If you like fairy-themed garden decors, then clay toadstools are the best idea you can apply to your backyard.
To create a fairy garden like this, the materials you need are clay, toothpicks, hot glue, acrylic paint, a knife, and a brush. The essential step in applying this theme is to shape the clay to resemble toadstools as authentic as possible.
For the color, give it any pattern that suits your taste. Red and white are not the rules.
6. Vertical Old Pallets Plant Potters
It is undeniable that repurposing old wooden pallets has become a trend for DIY garden projects lately. It is, of course, because this item is the most eco-friendly material and easy to find.
Moreover, you also don't need to put much expense into doing this project.
There are many plant potters designs from wooden pallets that you can follow. However, suppose you like rustic style. Then, leaving the pallet as it is is the best option.
Alternatively, if you want to give it a little touch of sweet color with some of your favorite ornaments, that will also be amazing.
7. Hanging Herbs Vases from Mini Food Jars
Other DIY garden projects ideas introduce you to the use of mini food jars as vases for herbs in your backyard.
Besides saving space, a decorative system like this will also make it easier for you to take care of these plants according to each provision.
Even though you plant these herbs in different jars, they can still be found in the same area. Furthermore, you can also add some labels under every plant you have. Subsequently, you will able to recognize it easily.
8. Shabby Chic DIY Garden Projects: A Sweet Flower Dresser
If you have an old dresser that is no longer used, don't rush to throw it away. Instead, consider upcycling this furniture into a display spot for your favorite flowers.
Since you will be using it as an outdoor decorative item, make sure to recolor it with all-weather paint. That way, this flower dresser can last for a longer time.
Trust me, and this flower dresser will be one of the cool garden projects you've ever done.
9. Vertical Stacked Herb Garden from Wooden Planks
It is not difficult for you to create a plant rack like this. You only need a few wooden planks and nails or screws to attach them.
Make sure to arrange the shelves diagonally so that each herb will get the same portion of sunlight.
Let this vertical herb garden be as it is without adding any paint or polish to get a natural impression.
10. Retro DIY Garden Décor Ideas from an Old Radio
Antiques and flowers are the perfect decorations for your backyard or patio. Therefore, suppose other people decide to sell all the old-fashioned stuff they have in the junk shop.
Instead, it's good for you to recycle it into a unique and anti-mainstream yard decoration.
You can plant some kind of flower on it. Then let it grow naturally around the radio. That way, this item will be the most attractive focal point in your yard.
Besides the radio, you can also use other antiques such as typewriters and used bicycles. Are you ready to try one?
11. Bees around Your Garden
How many DIY garden projects have you tried before? In that moments, have you ever thought about making child-friendly decorative ornaments made from old golf balls? If not, then give this idea a try.
You can make this bee-shaped garden ornament with your kids at the end of the week. It doesn't take a long time to create this project, as you only need to paint it then spread it around your garden.
The materials you will need are some old golf balls, acrylic paint, spray paint, a few yards of wires for its wings, and a plier.
That's why many people called these projects the DIY garden ideas on a budget as it doesn't need to spend much penny to create.
In addition to making paintings that resemble bees, you can also try to create ladybug characters or other cute animals as the variation.
12. Simple Cork Seed Markers
Every part of your bottle is indeed possible to be recycled, including its cork.
Among many DIY garden projects about making backyard veggies markers, the one with pins is the simplest and cheapest you can follow. You only need some corks, wooden screws, and a permanent marker.
By plugging in these cork garden markers, you will later easily find the seeds you just planted.
13. DIY Vegetable Garden Projects: Markers from Clothespins
There are lots of DIY garden projects about veggies markers that have been shared before. However, there is still one way that also worth trying. It is the one made from clothespins.
Of course, it is so cheap and straightforward, as you only need some pins to create.
Supposed you desired a more fabulous look. That way, you can consider painting these clothing pins with spray paint or acrylics before labeling them with your herbs or veggies' names.
14. Antique Birds Feeder
Do you have vintage-designed teacups in your home? If so, no need to be confused about how to recycle it anymore.
Instead of just using it as a display in the closet until it gets dusty, you should turn it into a bird feeder like this.
You only need to glue it with E-6000 permanent craft adhesive, and then hang it on a tree trunk in your garden. After that, fill it with some grains, and let the birds accompany you every sunny morning.
Besides bird feeders, these projects suitable for bird-bath and butterfly feeders as well. Merely change the way you attach the cups and their platters.
Next, don't forget to put water or some fruits as it's filling and everything will be clear.
15. Fabulous Mini Garden from Rain Boots
Leaving a lot of old boots on your shoe rack will undoubtedly disturb the neatness of your interior. Therefore, try to turn it into something new and still have a high aesthetic value.
One example is by filling it with planting media and plant several types of colorful flowers inside. As the finishing touch, consider coating it with paint to enhance its appearance.
16. Pastel Bucket Planters
Of the many ways to make the best DIY garden projects for your backyard, aluminum buckets are a popular option that is inexpensive and simple to complete.
Surprisingly, you can complete this project in just a few hours. Merely coat painting the buckets with some pastel colors, and that's all! Supposed you desired more rustic look, you can choose by only coloring it with grey.
17. Fancy Painted Potters
Besides coloring the buckets for your planters, you can also consider painting your potters with some fancy characters. It's good to paint it with some detailed creatures like an owl or flamingos.
However, you can also merely paint it with all the images inside your head, and an abstract style will also be the coolest one.
18. Mosaic Garden Stepping Stones
Garden stepping stones made of standard pavers won't be able to highlight your backyard perfectly. Therefore, try to create a more elegant style by adding a mosaic texture to it.
You only have to arrange and attach some random-sized sea glasses, broken wine bottles, and even some small stones that have been colored on the concrete.
Then, you will do everything in only a couple of days without spending a lot of money.
19. Portable Garden Beds from Old Wine Boxes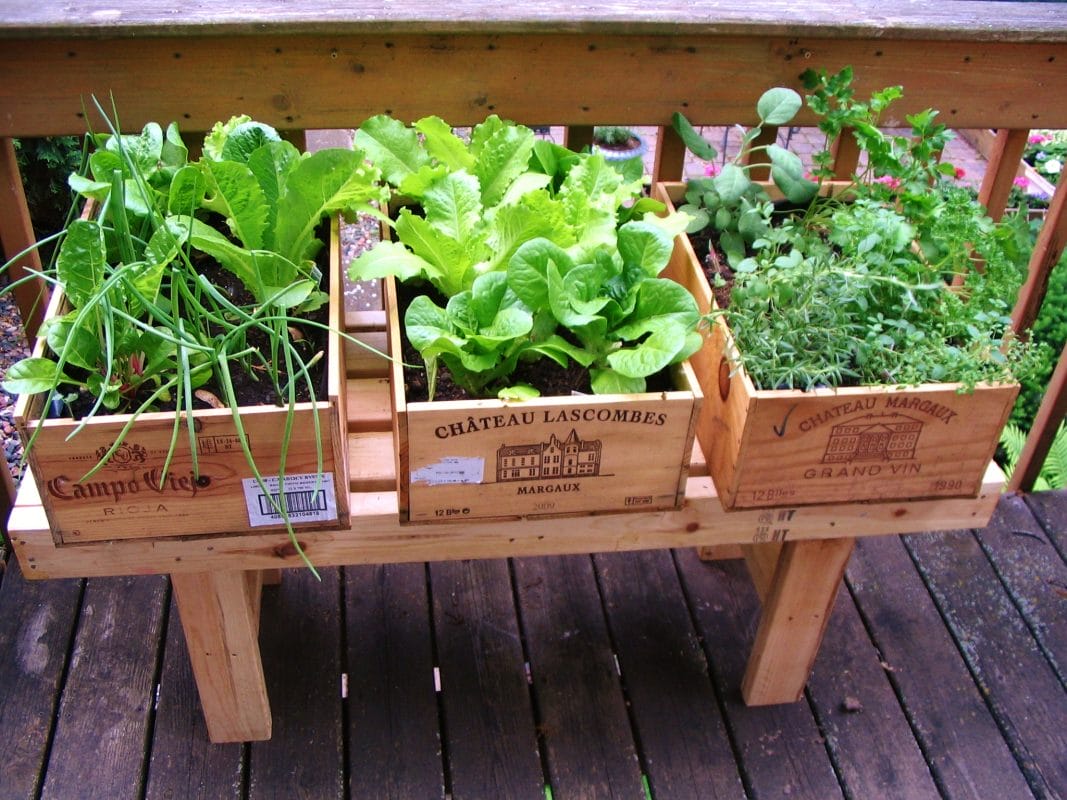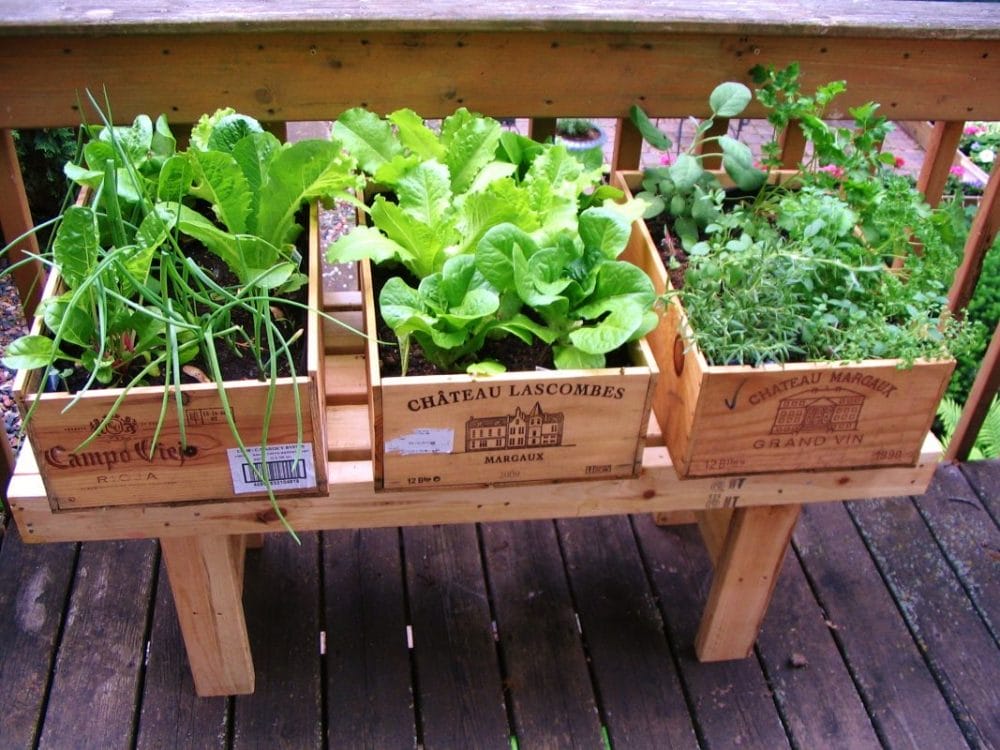 Choosing old wine boxes as the primary material in all your DIY garden projects is, indeed, never wrong. It is proven that this object is multifunctional and can be recycled into anything.
Besides using it as your gardening tools storage, you can also transform them into portable garden beds. It's effortless to create. You only need some old wine boxes, a hammer, nails, and lumber to build it.
Besides suitable for planting various kinds of herbs, this DIY garden bed also looks perfect for vegetables or some tiny flowers.
20. Graceful Wind Chimes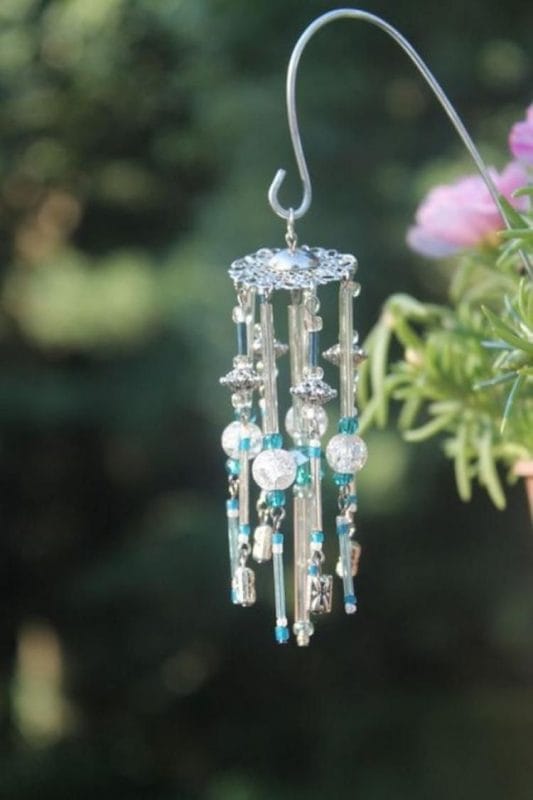 No matter how beautiful your backyard decoration is, it will feel hushed if it is not equipped with wind chimes.
Not only for decorating the garden with a fairy theme, but it is also suitable for all types of exterior designs for your home.
Even more, this decorative ornament is hassle-free to make. In short, you only need to put the beads, a small bell to create the sounds, and a spacer bead with holes all together.
Don't forget to set a curved wire for its suspension as well. And, finally, these ornaments are ready to catch the wind!
21. DIY Garden Bed from Cinder Blocks
Besides using wooden planks and stone, you can also create a permanent garden bed using cinder blocks.
This method is known to be relatively easy and cost-effective for you who have a large backyard. Therefore, you certainly can raise your plant lots in a more neatly way.
Otherwise, suppose you are looking for DIY garden ideas for small spaces. Instead, you can use cinder blocks individually as your planter instead of uniting them into more significant fields.
22. Sparkling Garden Fence
A wooden fence filled with scattered marble will be perfect for you who like magical-themed garden decorations.
To create it, you need to make holes with varying sizes and spots before then installing colorful marble in it.
During the day, this fence will be able to catch amazing colorful sunlight for your backyard, so try it right away!
23. Bottle Garden Fountain
Are you looking for some DIY garden projects from junk?
If so, this last method will introduce you to the innovation after all. Unlike many DIY garden projects mentioned before, this tutorial brings us to transforming old bottles and glass into the most beautiful garden fountain.
Finally, the DIY garden projects recommendations last here. Among the many tutorials mentioned above, have you chosen your favorite(s)?