Featuring a collection of fantastic backyard pavilion ideas, this page is for those of you who have
been looking for such inspirations. None can deny that spending spare time outside is a good idea,
particularly if you have a backyard or garden to enjoy.
However, the weather sometimes does not support you to do so. From rain to snow to extreme
heat, they can ruin your plans to enjoy your time outside the house. Building a pavilion could be a
great solution at this point.
With open walls and roofs, a pavilion is indeed perfect to give you the best of both outdoor and
indoor feeling. A pavilion could provide enough shade from the sun and protect you from the rain
Thus, it can lengthen your time to enjoy the outside world even when the weather does not
cooperate.
The bad news is that a pavilion typically requires a spacious area to make the most of it. If you do
not have roomy yard space, it is probably hard to fit a proper pavilion around the house.
A pavilion itself is capable to play several roles in any house. Some of them may come along with
pools, offering shade to you after swimming. You could build others above footpaths to give
protection from the harsh sun.
Moreover, some other pavilions are to cover an outdoor eating area for parties and barbecue times.
Before checking out the backyard pavilion ideas, let us learn the pros and cons of creating this home
feature first.
Pros of Building a Pavilion
A pavilion is a perfect solution if you want to stay away from the rain when doing a barbeque party
in the backyard. It also offers space to escape the harsh sun during your pool party.
Moreover, a pavilion will also offer you immense coverage with minimum impact on your space.
As long as you maintain your pavilion, it will look fantastic and improve the overall appearance of
the house. It is no secret that a well-maintained pavilion could create interesting visual appeal
around any house.
Cons of Building a Pavilion
If you do not have the luxury of a spacious backyard or garden, it may take more time to fit a
pavilion in the space.
Similar to other structures, a pavilion will need some proper and regular maintenance as well. For
your information, roof work is somewhat troublesome when too much snow and rain expose the
pavilion. It will be less enjoyable if your pavilion's roof starts to leak.
Besides, it is quite hard to find exact estimates for building a pavilion. Nevertheless, you can get a
general idea of how much the cost is by considering an identical structure.
For instance, if you take the price points of Ramadas into account, DIY kits typically start at around
$2000. In case you are interested in custom pieces, the quotes from professional installers may be
different as well.
When considering another identical building, you may get a more defined price estimate. For
example, a gazebo typically requires a budget of $37 to $62 per square foot.
Indeed, these estimates are not perfect. However, at least they can provide you an idea of how
much to spend on creating a pavilion.
Now, let us explore some of the most fantastic backyard pavilion ideas below!
Wooden Pavilions
Wooden pavilions could offer you all the benefits of structures made of wood. These pavilions tend
to provide a classic appearance. They are possible to paint or stain to suit your style as well.
However, you should be aware that wood exposed to the elements requires proper care. Without
proper care, your wood is at risk of warping, rotting, falling apart, and cracking. Thus, this kind of
pavilion needs proper and regular maintenance.
1. Iron Chairs under a Pavilion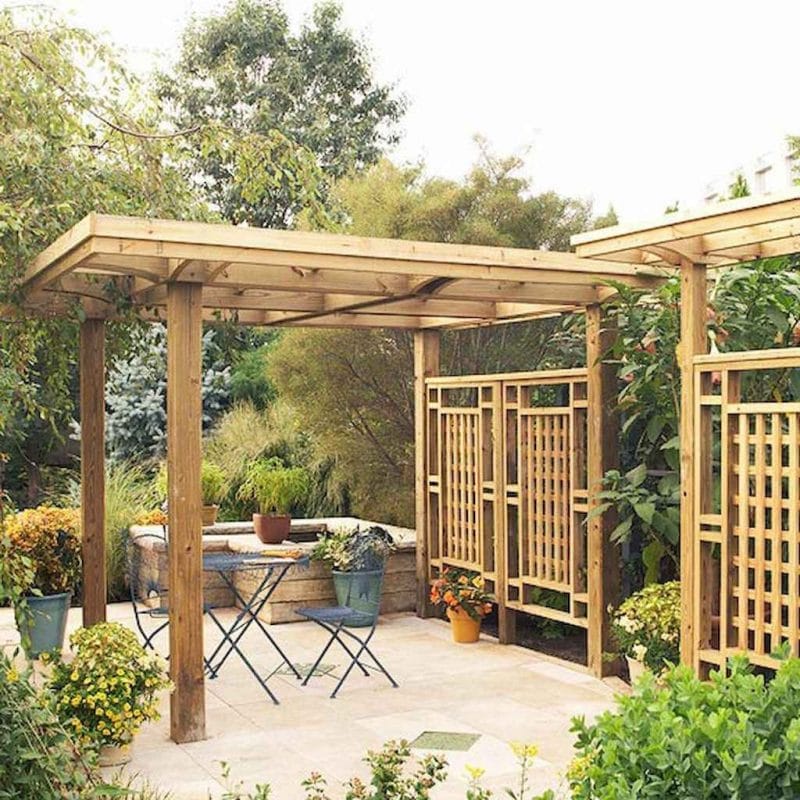 There is no better place for your outdoor iron chairs than under a pavilion. It offers a soothing spot
to sit back and enjoy the backyard. This pavilion comes with a pergola roof that offers adequate
shade while letting some sunlight come through.
2. Charming Poolside Pavilion
Who does not want to sit back and get relaxed in this poolside pavilion? It makes a perfect spot to
enjoy one of those sunny summer days. After doing some laps in the pool, you can climb out to relax
in the shade.
Since the pavilion is right beside the pool, it would be easy to go into the water when you are ready
to swim again.
3. Elegant White Pavilion
Wood is a versatile material for a pavilion. This way, you can paint your wooden pavilion in any
color. For reference, this pavilion is painted white for a pop of color among the greeneries. You can
also paint your wooden pavilion with other colors.
4. Elevated Wooden Pavilion
It would be a great idea to sit your pavilion in an elevated platform or deck as shown above. This
way, you could have a great place to look over your property. It is around the swimming area where
you can look over everything around.
5. Rustic Style Pavilion
Do you want to introduce a rustic flair in your outdoor area? If so, this rustic style pavilion can be an
ideal complement in your yard.
With natural reclaimed wood beams and warm earthy color palette, this pavilion offers a relaxing
space to hang out with families or friends.
6. Backyard Pavilion Ideas for Outdoor Eating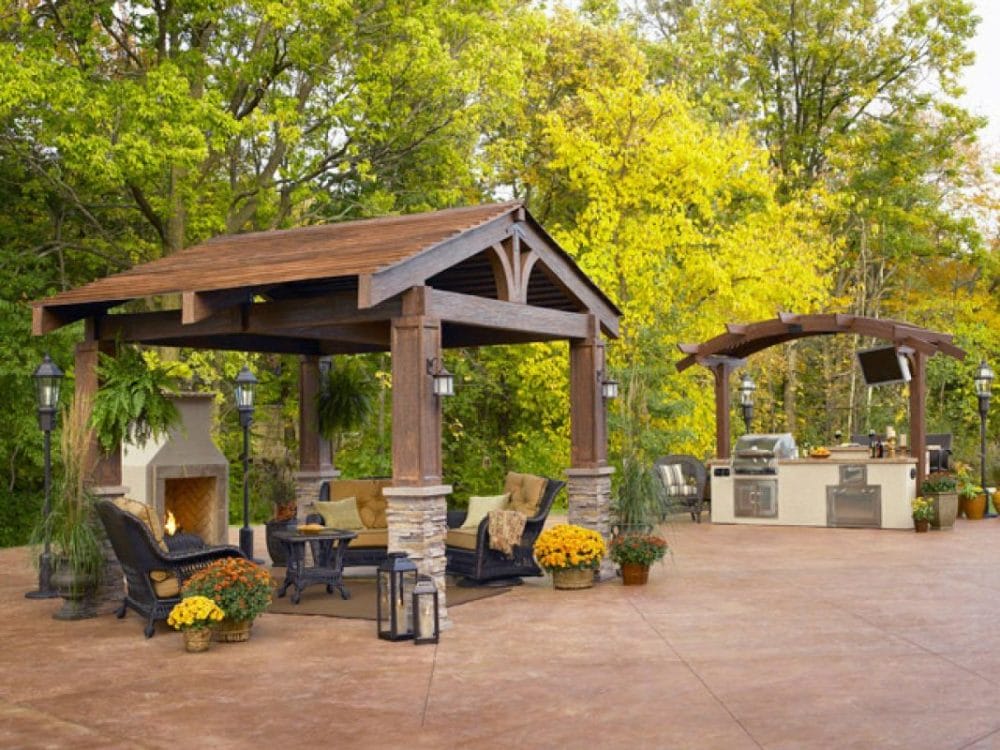 Your wooden pavilion can be a great spot to set up an outdoor eating area. Thanks to its adequate
shade, you and your guests can gather and do some parties conveniently.
If you love to have a
barbeque with other family members, this pavilion will make a perfect place as well.
7. Comfy Pavilion with Daybed
You do not need a very spacious pavilion to enjoy the outside world with the comfort of your home
interior. This pavilion proves that outdoor space could become a perfect spot to take a nap or simply
enjoy the environment.
With a pair of daybeds, this small pavilion offers true luxury. You can lay on by the pool while
enjoying the beautiful surroundings.
8. Truly-Finished Wooden Pavilion
This airy pavilion comes with truly finished wood sit on stone bases. If you are searching for a
pavilion idea that looks great in both modern and rustic homes, it could be a good reference. Include
simple furniture in the design and set it around the stone fireplace.
9. Fancy Pavilion with Curtains
If the openness of a pavilion is not your thing, consider hanging curtains in this area. By hanging
curtains, you can choose to close them when some privacy is nrecessary. Once you want to simply
enjoy your backyard garden, just open the curtains.
10. Walkway Pavilion
A pavilion not always means a gathering place. If a part of your walkway requires extra shades, you
can opt for a pavilion. It can make gardening and walk around the garden more comfortable since
the direct sunlight will not harm you.
11. Simple Poolside Pavilion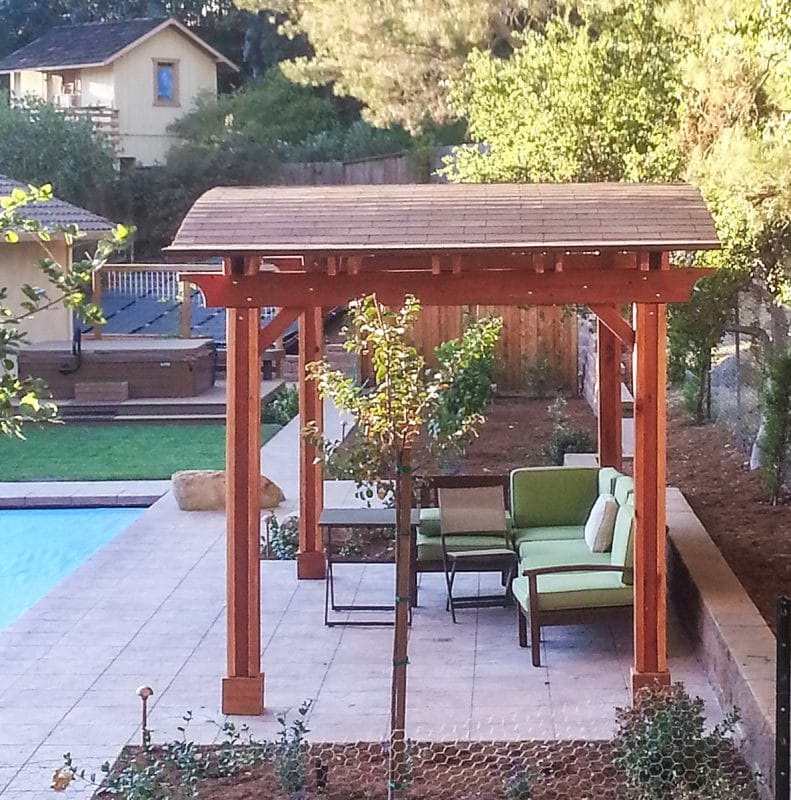 This is another poolside pavilion you can take into account. Despite its small size, this pavilion is still
perfect for partygoers who love to play in the water while enjoying some tropical drinks. It makes a
good place for those who kick back to the shade and share stories with others.
12. Pavilion in a Tiny Space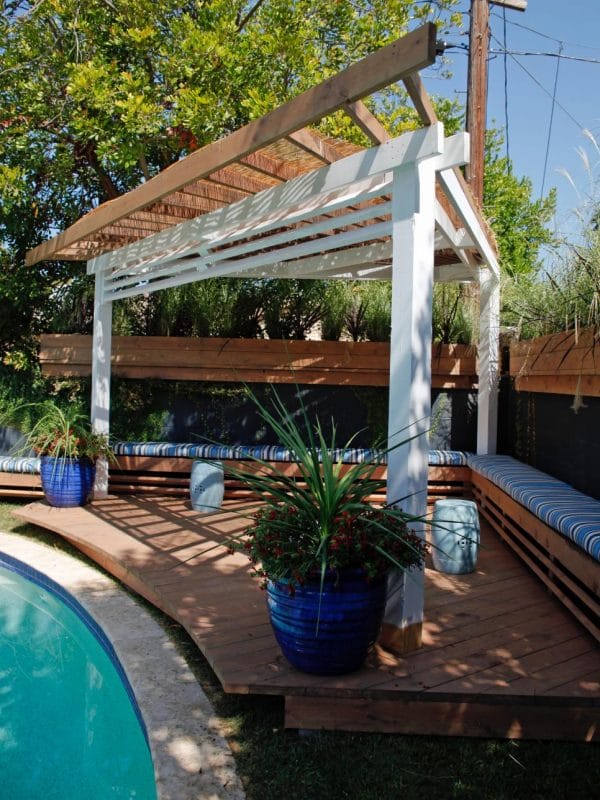 A pavilion does not always need to be large and spacious. You can even take advantage of such a
tiny corner in your backyard to create a functional pavilion. It makes a good reference with its
triangle shape to fit the available space.
This unique, tiny pavilion also adds visual interest in your backyard. Besides, it offers enough space
to enjoy the water and get relaxed.
13. Modern Pavilion with a Flat Roof
When some pavilions comes with slanted roofs to make them feel more enclosed, this modern one
comes with a flat roof instead. Thanks to its flat roof, this pavilion affects the space underneath to
look more open and spacious.
14. Wooden Pavilion with a Thatched Roof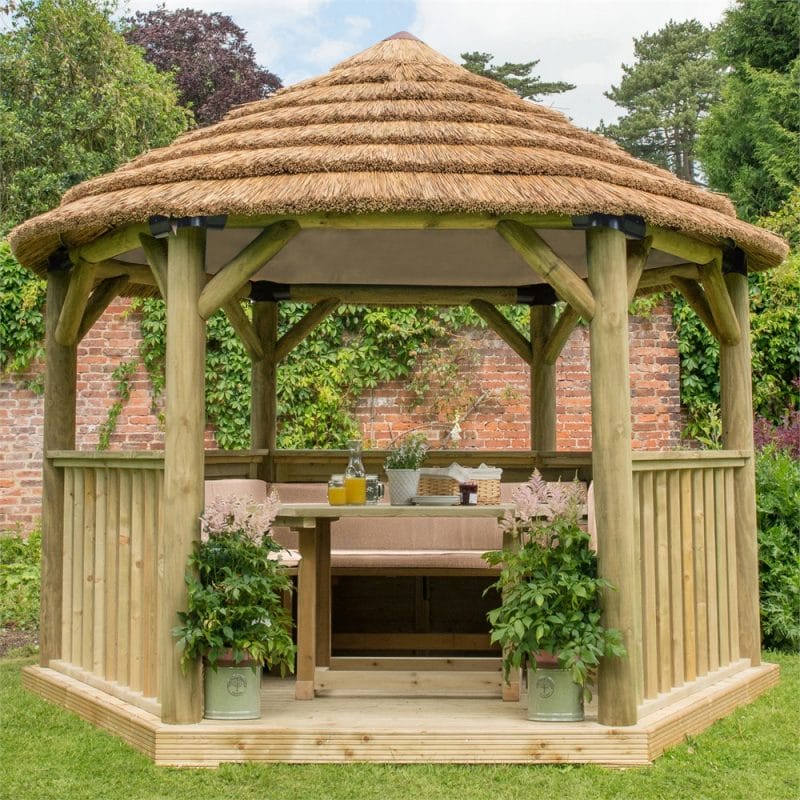 Add a touch of festive texture in your pavilion with a thatched roof. Using this kind of roof in your
pavilion will give it an island feel. This way, you do not need to go so far to experience a cozy feeling
of being on a hidden island.
15. Backyard Pavilion Ideas with Plenty of Flowers
A pavilion is indeed an ideal companion to any gardens. Hanging some flowers around the pavilion
will make this space blend perfectly with the nature. Besides, you will achieve such an awesome
shady place to enjoy the outside world.
16. Red Cedar Small Pavilion
Do not let your small space stop you to build a functional pavilion. This small pavilion could be a
good reference if you want to create an intimate outdoor spot with comfortable seating areas. You
can use this pavilion to enjoy your morning coffee or breakfast.
17. Wooden Pavilion with a Canvas Roof
This square pavilion comes with a canvas roof. It is an interesting choice after all. Despite being
prone to damage, a canvas roof allows you to take it down and do some cleaning or repair when
needed.
Metal Pavilions
Aside from one made from wood, there is also a metal pavilion. This metal pavilion may not have the
versatility and adaptability of the one made of wood, but it may stay longer than its wooden brother
may. Besides, it can still be stylish as well.
18. Metal Pavilion with Stone Foundations
This metal pavilion comes with stone foundations and thick metal poles to hold the roof properly.
The painted metal poles work perfectly to match the simple furniture included in this pavilion
design.
19. Metal Pavilion with a Canvas Top
A metal pavilion can have a canvas or cloth top as well. This inspiring small metal pavilion has
everything you need to enjoy the outdoors. From a coffee table and chairs to curtains, this pavilion is
indeed well prepared.
This metal pavilion is an ideal option for a tiny and simple backyard too. It is enough to keep you out
of the rain without taking too much space in the backyard.
20. Charming Pavilion with Blooms
This metal pavilion is overflowing with flowers, making it look exceptional and stunning. It would be
an amazing oasis for you who want to be among gorgeous flowers.
The material of this pavilion is entirely metal and pink flower vines from top to bottom surround it.
Without a doubt, this pavilion can be a fascinating focal point in your backyard.
Stone Pavilions
Similar to metal, stone pavilions tend to last for many years thanks to their strong stone foundations.
Moreover, they also have a natural and rustic appeal that is perfect to complement any backyards.
If you are looking for a sturdy and permanent structure, a stone pavilion is the right construction to
choose. Stone pillars can appear elegant too.
21. Stone Pavilion with a Classic Flair
This superb pavilion comes with stone pillars, offering a classical beauty. Nevertheless, this kind of
pavilion may not work for everyone. You need to have enough space and budget to make the most
of this idea.
22. Gorgeous Stone Pavilion
Here is a fantastic pavilion that comes with stone pillars. The overall design of this pavilion is elegant.
Simply add a chair or two to make it a favorite spot to spend your cool evening.
Portable Pavilion
Not everyone has the luxury of a spacious backyard and limitless budget that allows them to build a
permanent pavilion. At this point, purchasing a portable pavilion is a good choice since it is less
expensive and easy to move.
23. Outdoor Portable Pavilion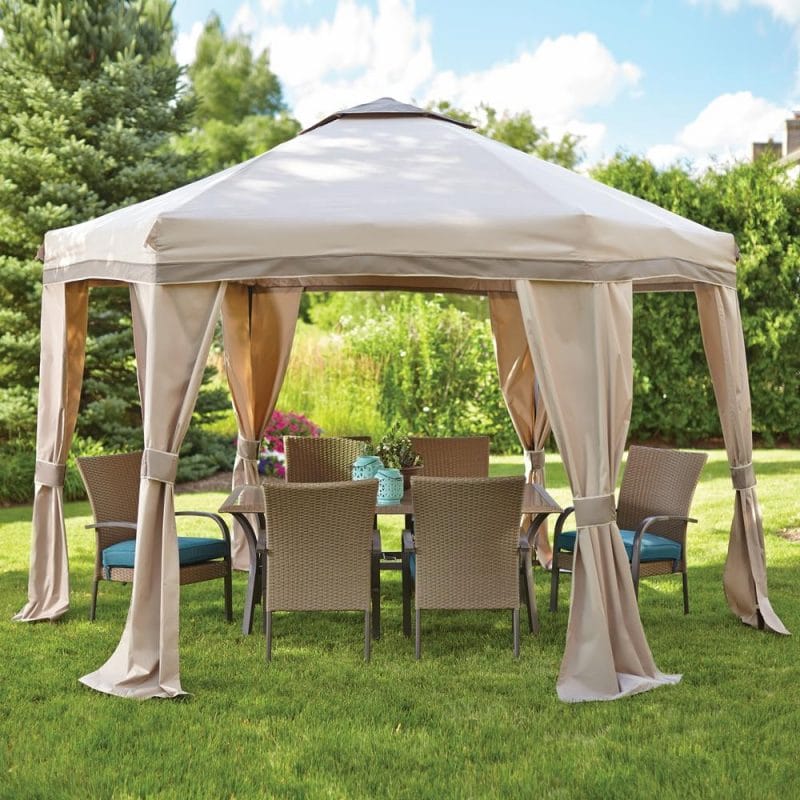 This portable pavilion is ideal for a small gathering in the backyard or beside the pool. You can set up
this pavilion in anywhere around the house without any difficulty. Thus, once you want to rearrange
your outdoor space, you can easily move this pavilion if necessary.
In conclusion, fitting a pavilion in your backyard offers the best of both indoor and outdoor worlds.
You can select one of these backyard pavilion ideas to create yours. Good luck!