The beauty of floral gardens is celebrated. It's not difficult to see why they're popular: striking colors, delicate blooms, and intricate patterns. Yet, instead of just one sense being stimulated, the ideal garden should delight all of them.
When designing a garden, scent is frequently the last thing on your mind. One of the best ways to progress your garden, however, is by using it as a focal point. Any of the 15 plants below can help you put fragrance front and center this season.
1. Sweet Alyssum
This small flower plant can be found in clusters, making it ideal for use in gardens of all kinds. The blooms release a very sweet fragrance that can fill up any room, despite the plant's modest size, and this is made clear from the name.
While they don't like the cold, sweet alyssum can survive drought and heat. They're generally trouble-free plants, making them ideal for perennial bed ground cover. They require little care.
These plants produce a pleasant honey-like fragrance that fills your garden year after year, as they self-sow and bloom.
USDA Hardiness Zone 5–9
2. Rose
In the flower gardening industry, roses have a long history of spawning hundreds of societies and dedicated followers. Smell is one of the most popular reasons why gardeners grow roses, and for good reason. For a reason, the expression 'stop and smell the roses' isn't a cliche.
They may be tough to cultivate, but once you get the hang of it, you can stop and smell the roses (figuratively) whenever you want.
USDA Hardiness Zone 3-11
3. Peony
Peonies are the way to go if you want a wide range of scents. Flower varieties come in a variety of shapes and scents. Citrus scents are common in some gardens, while spices are present in others. Even a few types emit a rose-scented odor. Some, like roses, are completely devoid of fragrance.
The flowers are only part of the picture. The lovely, deep green leaves fill a garden even when the flowers are not in bloom, and they are complimented by vivid pink, purple, or white blooms.
USDA Hardiness Zone 3-8
4. Hyacinth
The hyacinth is the perfect spring scent for you. Just a few plants emit a powerful and addictive fragrance that pervades an entire garden. The legendary flower stalks, which carry multiple closely packed colorful flowers, are largely responsible for this.
Hyacinths are excellent cut flower garden plants, and they make wonderful container plants. They continue to bloom every year, indicating that spring has arrived as a perennial plant.
USDA Hardiness Zone 3-9
5. Lavender
One of the most well-known scent plants is lavender. The scent of lavender is evoked by simply mentioning the term. When dried, the flowers retain their fragrance. Long after the flowers have been removed, these plants continue to give.
Not only is the fragrance of the blooms attractive, The intense botanical flavor of lavender has made it popular in the culinary world. It may be used as a flavor for beverages, added to salads, or turned into a tea.
USDA Hardiness Zone 5–9
6. Gardenia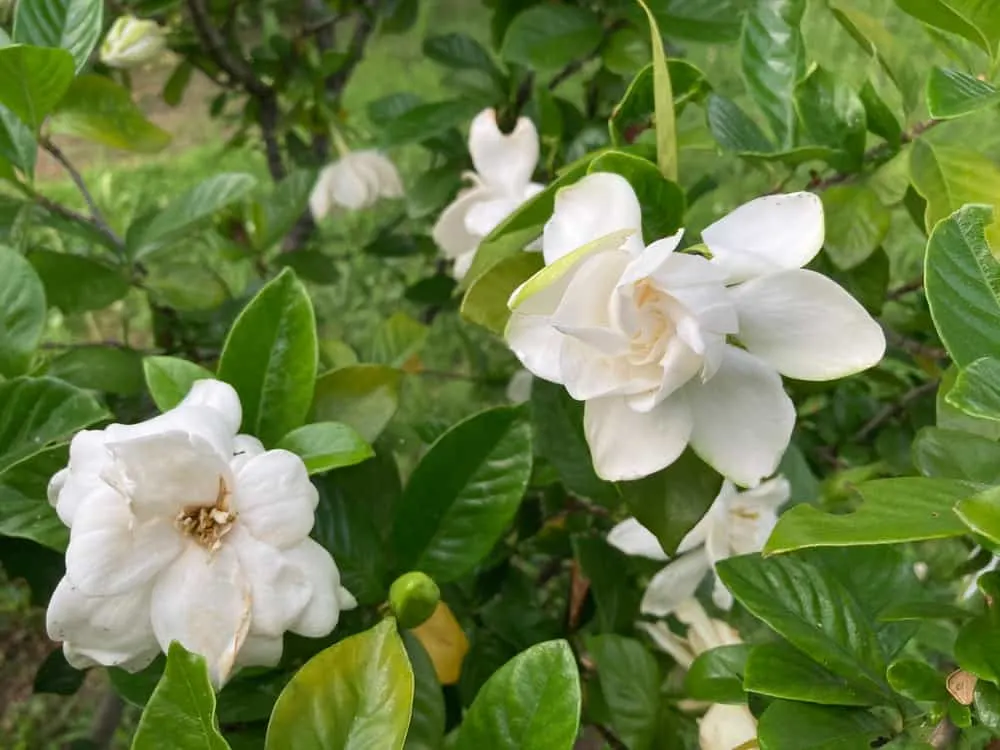 The gardenia's fragrance is something that everyone who has spent a few minutes in a perfume shop understands. Gardeners and perfume enthusiasts describe it as creamy, elegant, and romantic. It is another classic floral fragrance. Why pay for a fragrance when you can enjoy it free in your own yard?
These plants will produce flowers from spring to fall, with the majority of the year spent producing their signature fragrance, depending on your chosen variety.
USDA Hardiness Zone 8-11
7. Garden Phlox
Phlox fragrance is less well-known than other plants on this list, but it is nonetheless pungent. From spring through late summer, the large blossoms come in a variety of colors and sizes. From sweet to spicy, the fragrance has a variety of descriptors.
In both sunny and shaded areas, garden phlox may thrive. Powdery mildew is a common problem, however you may combat it by increasing air circulation.
USDA Hardiness Zone 3-8
8. Heliotrope
A cottage garden classic is Heliotropes. The clusters of tiny flowers emit a pleasant fragrance likened to cherries or vanilla, and are reminiscent of hydrangea. The common name for this scent is "cherry pie plant."
Heliotropes are undoubtedly making a comeback, despite being considered old-fashioned by some. The traditional deep purple form is the best option for maximum fragrance. You won't be dissatisfied if you visit here.
USDA Hardiness Zone 9-11
9. Jasmine
The jasmine plant has been described as exotic, tropical, and sweet, among other things. They might also be used to describe the plant's lovely fragrance. The fragrance is likely to become your gardening signature smell because it is grown in huge clusters.
Jasmine may be cultivated indoors in front of a sunny window if you don't have much outdoor space. The plant's tropical fragrance may permeate a room when it is blooming.
USDA Hardiness Zone 9-11
10. Flowering Tobacco
Don't let the fact that it has the word "tobacco" in its popular name influence your judgment of this plant. The odor of jasmine is similar to that of Nicotiana. The scent of the flowers fills the evening air when they open at night.
While some types only bloom for a short period, their gorgeous appearance and captivating fragrance make them worth growing.
USDA Hardiness Zone 10-11
11. Angel's Trumpet
This tree, botanically known as Brugmansia, produces trumpet-shaped blooms that make impressive carpets. It's an excellent wall or fence cover because it may grow up to 10 feet tall. These flowers, like nicotiana, emit a delicate, sweet fragrance with faint citrus notes and bloom at night.
Brugmansia thrives in containers with plenty of water and fertilizer. The huge blossoms will draw a lot of pollinators to your patio, and the fragrance will draw you there as well.
USDA Hardiness Zone 9-12
12. Honeysuckle
The aroma and flavor of honeysuckle flowers are renowned. Hummingbirds and bees are drawn to this climbing plant's nectar all year. A variety of colors is available for every kind of gardener, with over 180 different varieties.
When grown in clusters, honeysuckle plants grow incredibly quickly, producing hundreds of blooms that make a colorful carpet.
USDA Hardiness Zone 6-9
13. Freesia
The freesia is another trumpet-shaped flower that is popular in arrangements. When grown on a sunny windowsill, the bulbs are frequently indoors and bloom profusely. The flowers are clustered on leafless stalks, each of which exudes a fragrant bouquet.
Group a range of colors together for an eye-catching outdoor display. There are several options to choose from, including white, purple, red, blue, and others that release a lovely fragrance to enliven a flower bed.
USDA Hardiness Zone 7-11
14. Flowering Crabapple
You might want to think again if you believe that the humble apple can't get any better. The Malus genus includes flowering crabapples, which are popular decorative trees. The trees produce a rainbow of fragrant flowers in the spring. Some blooms have a hotter fragrance reminiscent of cinnamon or cloves, while others smell (predictably) like sweet apples.
You'll get some delicious fruits at the conclusion of the season, along with the lovely fragrance. Crabapples are not normally consumed by humans because of their sour flavor, but they are eagerly devoured by birds in the area during the fruiting season.
USDA Hardiness Zone 4-8
15. Magnolia
It's difficult to want to grow anything else once you get a whiff of the Magnolia tree's massive blooms. Magnolia trees have a fragrance that is sweet, citrusy, and champagne-like, and they are incredibly popular in the South. Perfumes and aromatic body lotions often employ it.
It takes a long time to grow a magnolia tree. Depending on the variety you pick, they may take a long time to grow and take up a lot of space. Yet, when you view (and smell) your tree in bloom, your efforts will be rewarded.
USDA Hardiness Zone 7-9
When you pick fragrant flowers for your garden, you can't go wrong. The flowers are visual showstoppers in and of themselves, and they will draw a variety of wildlife to your garden, benefiting the rest of your plants. Any of the 15 fragrant plants can become your next favorite fragrance once they've been placed.