When it comes to tropical landscaping ideas for backyard, you can work with planters or go beyond
it by combining various exterior tricks. Some of you may even think of adding a tropical oasis that
can bring back the memory of your last vacation in the Caribbean or Hawaii.
Whatever your goal is, tropical landscaping can always be a good option to enliven any backyard.
However, you indeed need to know how to do it right for the best results.
In case you are interested in introducing tropical landscaping in your backyard, here are some of the
best ideas to explore.
1. Shady Palm Trees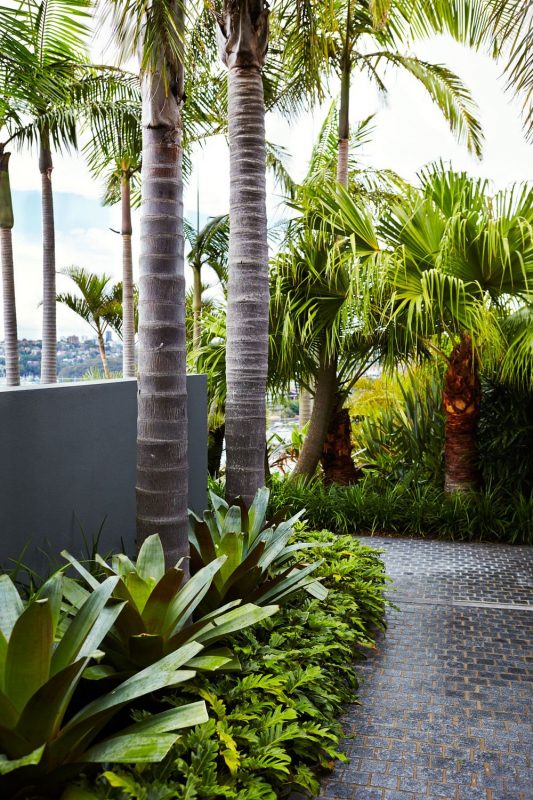 Plants with big, vibrant leaves are a staple in any tropical gardens. For this reason, palm trees make a
good instance of tropical plants to be involved in your tropical backyard.
Palm trees are without a doubt aesthetically pleasing and can easily bring that tropical vibe into your
backyard.
However, it may take time for the palm trees to grow bigger in your backyard. Thus,
consider planting one, which has already grown enough to beautify your backyard.
2. Enchanting Banana Trees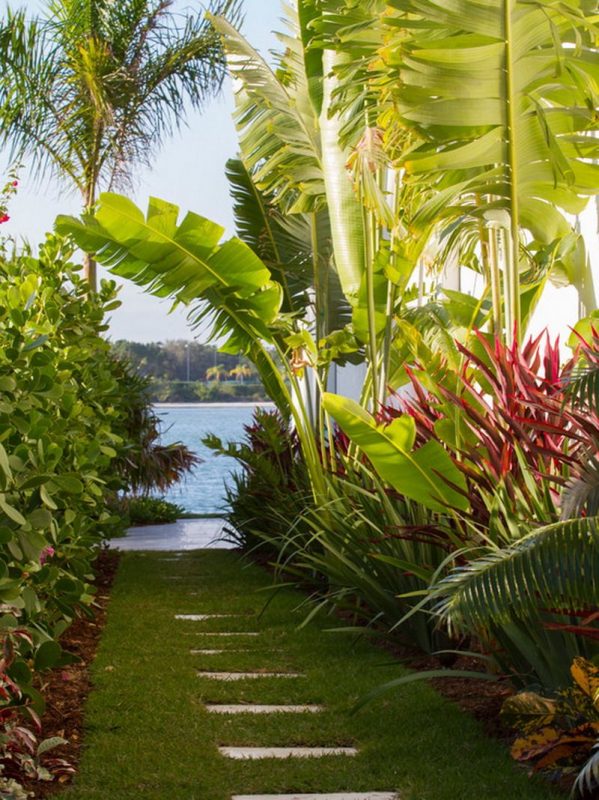 Aside from palm trees, banana plants are another good option to add tropical mood in your
backyard. Their large, bright leaves make banana trees a perfect addition to any backyard.
Besides, banana trees are not only perfect to create a gorgeous, flourishing backdrop in your
backyard, but they can also produce plenty of tasty fruits.
For another pop of color, consider bringing in another plant with vibrant leaves like the red leaf
philodendron. This plant's red-purple leaves will make a beautiful pair for your green banana trees.
3. Plenty of Cordyline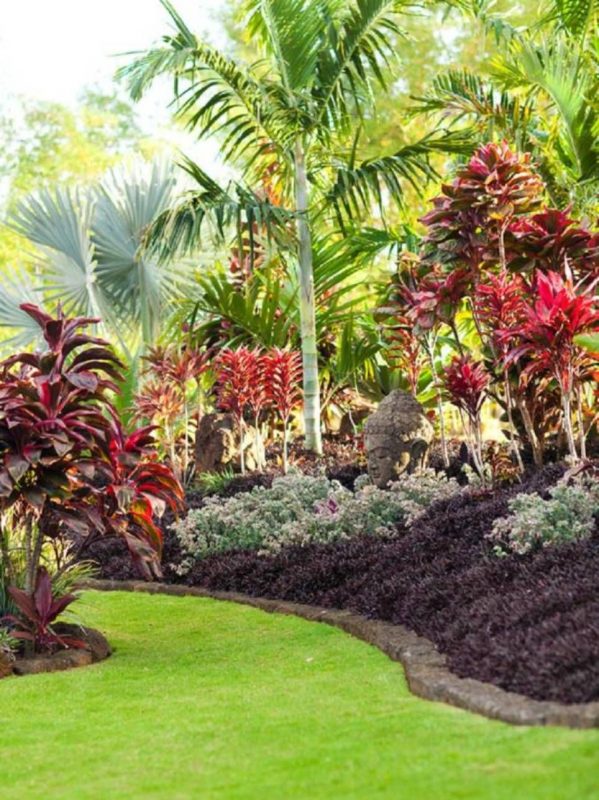 When it comes to tropical landscaping ideas for backyard, typical gardens in Southeast Asia and the
Pacific should provide many inspirations. Just like the soothing Asian garden that comes with such
simple landscaping layout.
With plenty of cordyline plants and colorful shrubs, this garden appears interestingly beautiful. To
separate the cordyline bed with the grass, use stone pavements as the edge. For a variety, grow a
type of palm tree too.
4. Neatly Arranged Shrubs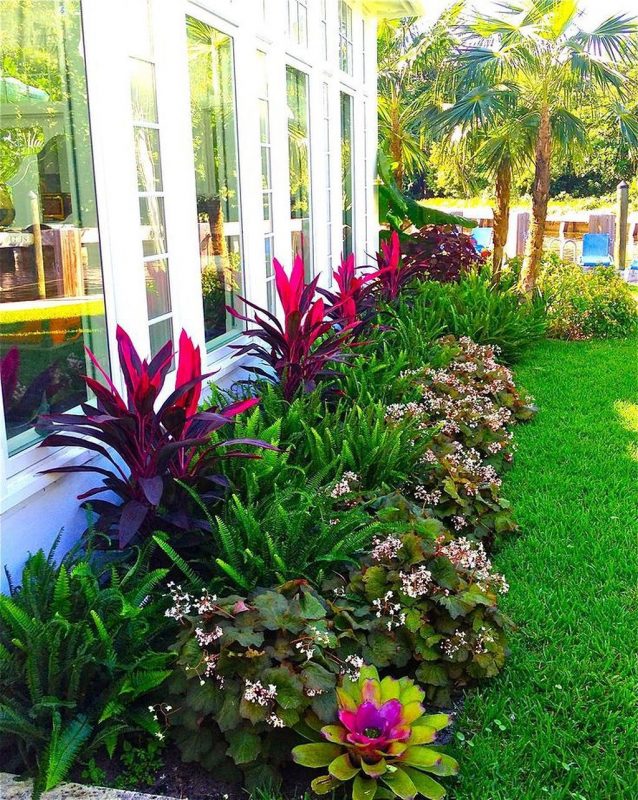 The first thing you may notice from this backyard landscaping is how neat the arrangement is.
Involving several types of shrubs only, this landscaping idea is perfect for you who want to achieve
such a neat look in the backyard.
This idea is particularly ideal when you are trying to landscape the area right beside your exterior
walls or under the windows.
5. Gorgeous Tropical Plant Bed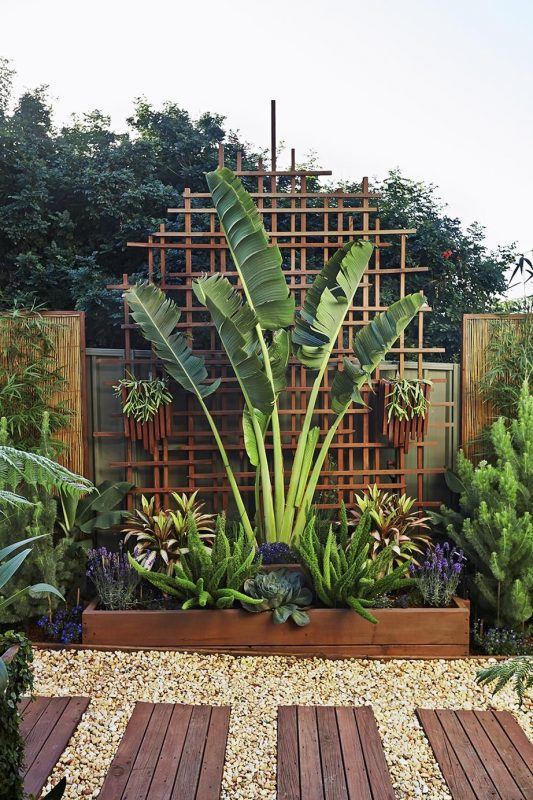 Introducing an elevated garden bed is a good choice when you do not want to get the dirt spread
over the backyard patio. This method is also perfect if you only have limited backyard space but
want to add both a tropical garden and functional patio area.
For the elevated tropical plant bed, you can grow banana and aloe vera trees as the focal point.
Then, you can add any type of shrubs to complete the bed. As fillers, you can opt for lavender plants
or some evergreens.
6. Calming Tropical Path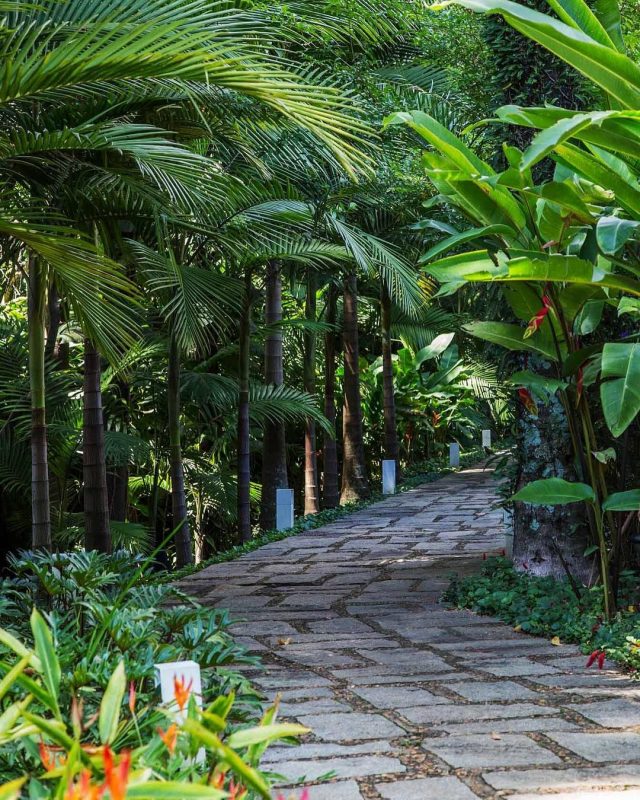 Walking through this path is indeed relaxing. It must somehow feel like walking through the calming
tropical forest out there.
Take advantage of randomly cut slate stones to create the path. Leave the edge untreated to make it
appears more natural. Instead, you can incorporate outdoor lights along the pathway.
Gets a variety of tropical plants including palm trees and banana trees to be grown around the
pathway. You can also combine your trees with some evergreens or shrubs.
7. Fabulous Tropical Pool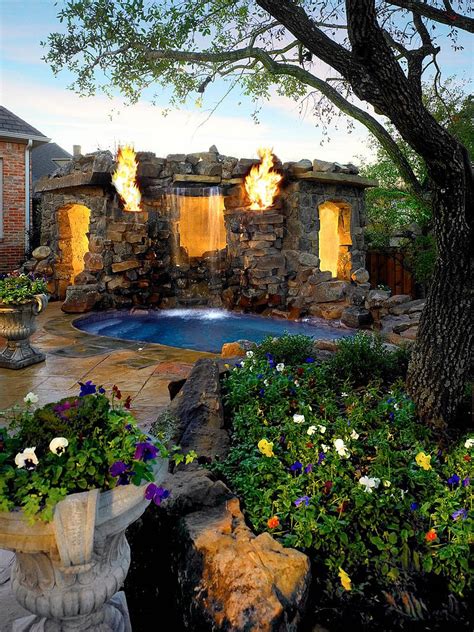 In the ideal world of a tropical backyard, there would be a water feature that complements the
whole space. If your space and budget allow you to do so, adding this spectacular tropical pool
would be nice.
The pool is to come up like a part of the natural world with stone borders. The stones are also to
appear like a cave, making the backyard even more natural.
Meanwhile, some flowering shrubs are in stone planters, adding a touch of color in this tropical
backyard.
8. Water Feature with Abundant Greeneries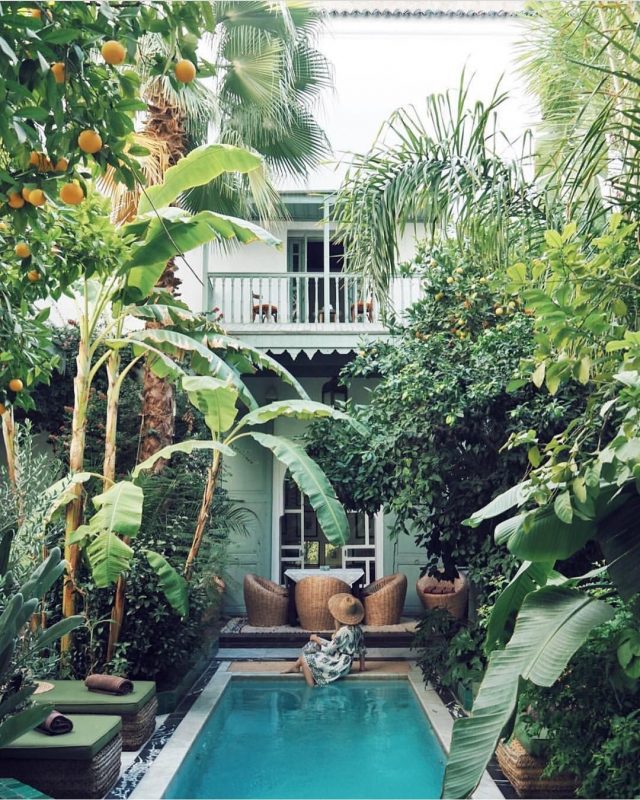 The garden landscape around a tropical pool is typically with plenty of greenery, some natural
stones, and a few flowering plants to add color. This idea makes a perfect example at this point with
abundant greeneries added around the pool.
Instead of flowering plants, this landscaping idea comes up with an orange tree for a pop of color.
Some seating areas are also included in the backyard to make it more enjoyable.
9. Spectacular Pool with Waterfall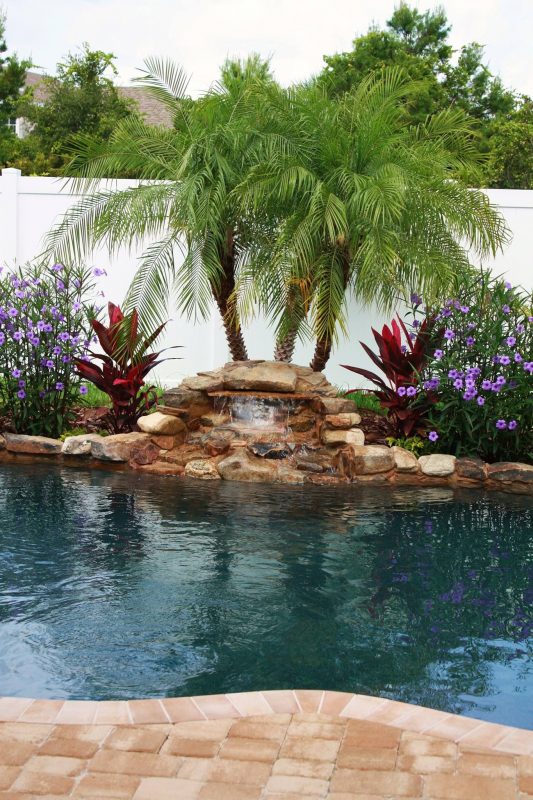 If you were willing to go further, including a pool with a waterfall in your tropical backyard would
make this outdoor space more special. This idea is a promising one to give you and your family a lot
of fun.
You do not need to build such a big waterfall in your pool. A small and simple one as shown above is
enough to add a tropical vibe in your backyard.
Consider adding some palm trees, cordylines, and any kind of flowering shrubs around the pool to
bring another touch of tropical beauty.
10. Tropical Landscaping Ideas for Backyard with a Slide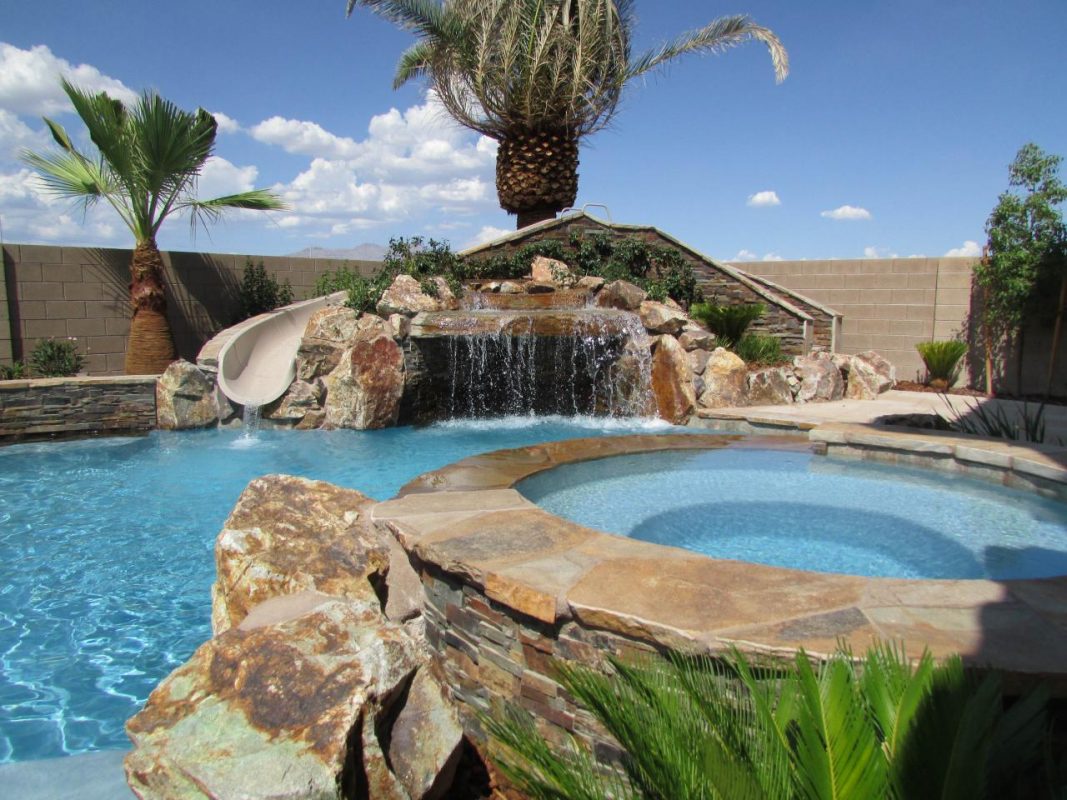 Make your tropical backyard a favorite spot for your kids by incorporating a poolscape with a slide.
This tropical pool is also with a grotto and a bridge that offers a never-ending joy in your home.
For an extra tropical vibe, get one or two palm trees around the pool. These trees could help add
some shade in the pool as well.
If you have the luxury of spacious backyard and budget is not an issue, this idea is highly
recommended to bring that summer memory in Hawaii right in your home.
11. Tropical Backyard with Desert Flair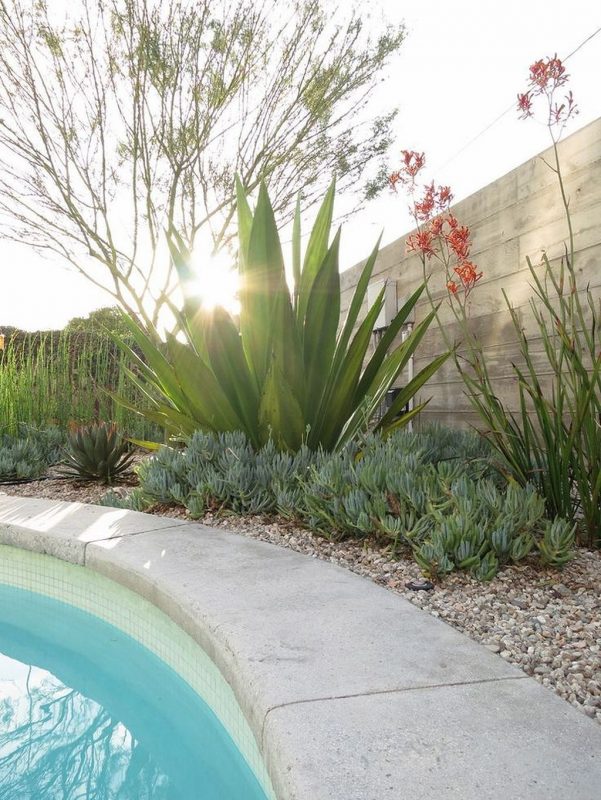 A backyard with a desert theme is often rich in floral and plant life. From the selection of cacti and
other types of plants, a tropical desert landscaping would bring your backyard to the next level.
Instead of the typical cacti, this backyard landscaping idea goes for a large agave plant. There are
also some types of succulent grown around the big agave. The ground is with light-colored gravels to
emphasize the desert vibe in the backyard.
12. A Collection of Succulents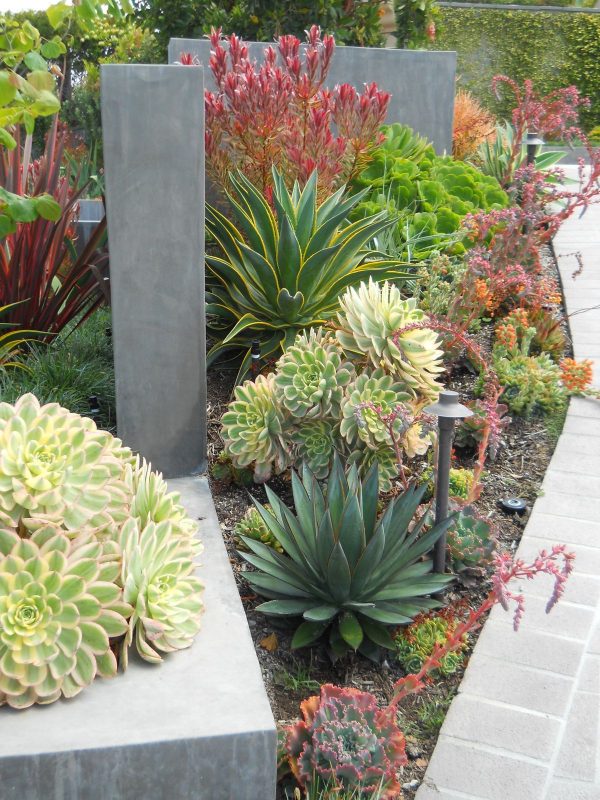 Succulent plants have always been a great asset in a backyard with a tropical flair. This is because of
their drought-tolerant trait. Succulents can even adapt to colder weather, making it a good option
for those of you who seek for less-maintenance backyard landscaping.
This landscaping idea makes a good example with its colorful succulent collections. You can plant the
succulent on a decorative shallow bowl or right on the ground.
Combine the succulents with some flowering shrubs if you want to add colors in your backyard
landscaping.
13. The Comfort of Your Home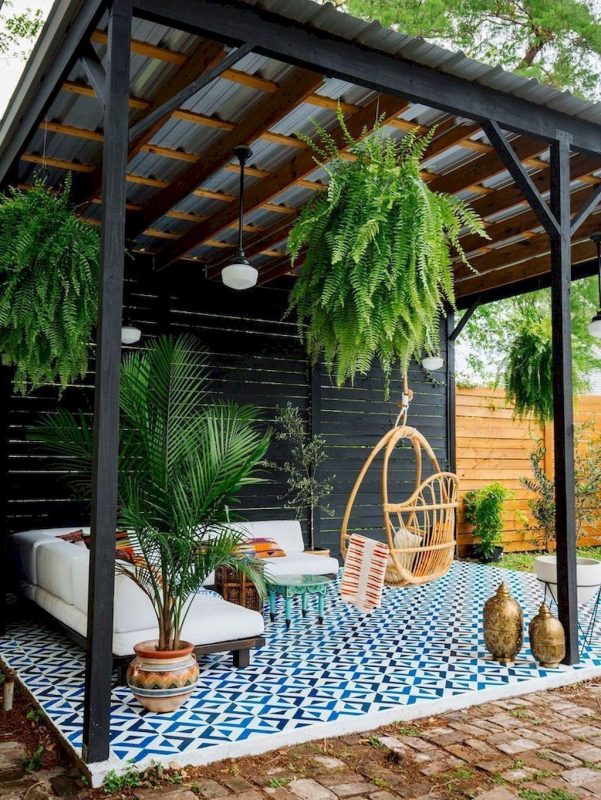 A tropical backyard can also offer the comfort of your home. By integrating your backyard landscape
with the patio area, you will be able to achieve it and have the best of both worlds.
This idea is perfect, especially for those of you who do not have the luxury of a spacious backyard.
Do not forget to invest in an outdoor sofa to make this space everyone's favorite.
If you include a pergola or roof in your patio design, consider bringing in some hanging plants.
Besides, you can also add a pot of small palm trees around the patio to hint a tropical vibe.
14. Simple Landscape with Tropical Touch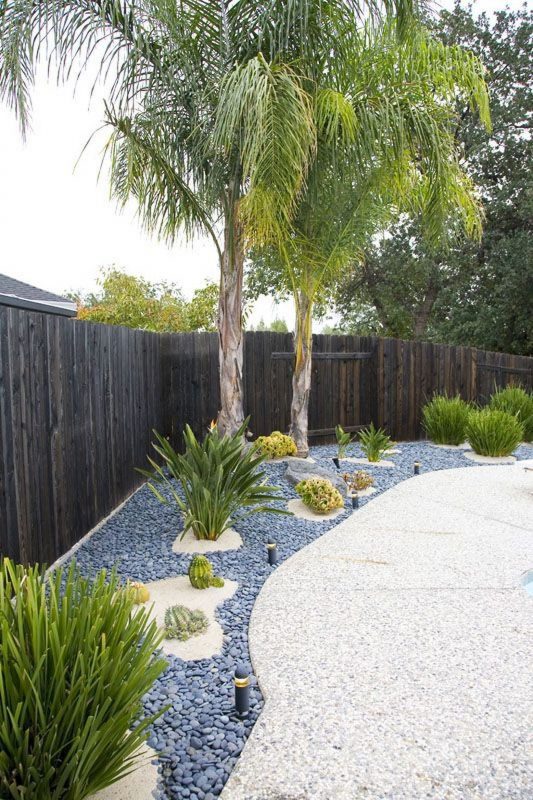 For you who are interested in a simple and low-maintenance tropical landscape, this idea should be
a great reference for you. With a pair of palm trees and a few small shrubs, this backyard landscape
looks amazing.
Gravels to preserve soil moisture cover the ground. Covering your garden with gravel instead of
mulch or grass is also a good option since rocks could last longer than other materials.
15. Wooden Privacy Fence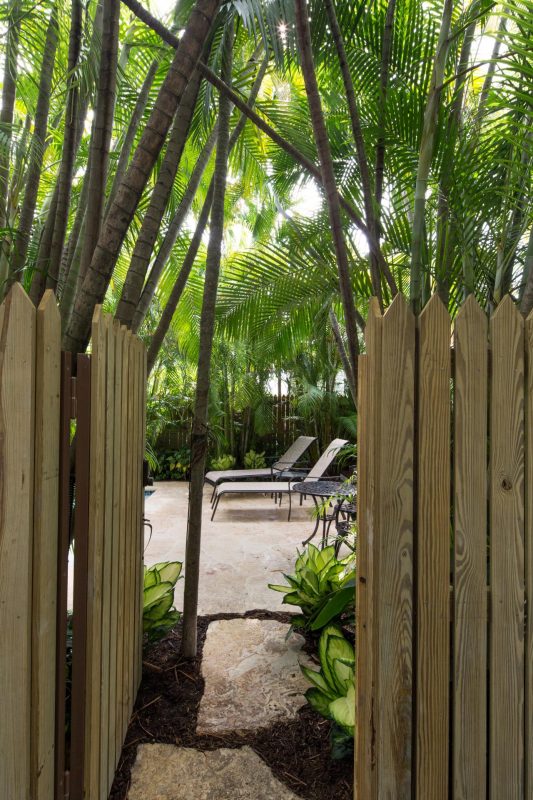 Introducing a wooden fence into your tropical backyard is a good method to add privacy in this
outdoor space. You can improve the privacy level by incorporating several medium palm trees right
behind the fence.
Large stepping-stones will be welcoming once you open the fence. This fence then leads you into an
inviting tropical space with a relaxing seating area. With many palm trees surrounding the area, this
backyard will indeed become an outdoor haven for the whole family.
16. Tropical Landscape with Bamboo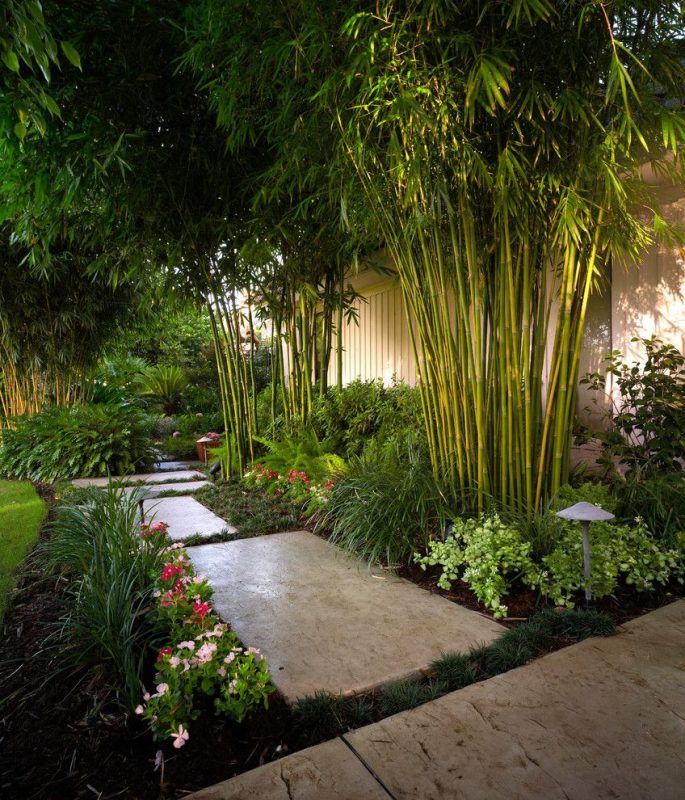 Tropical landscaping ideas for backyard often include bamboo trees. The tropical vibe offered by
bamboo trees could make your backyard appear exceptionally beautiful.
With many types of bamboo trees available out there, you can easily choose one that suits your
overall landscape the best. Consider landscaping around the bamboo trees with greeneries to
achieve such a calming and inviting appearance.
17. Alternative Unique Bamboo Planters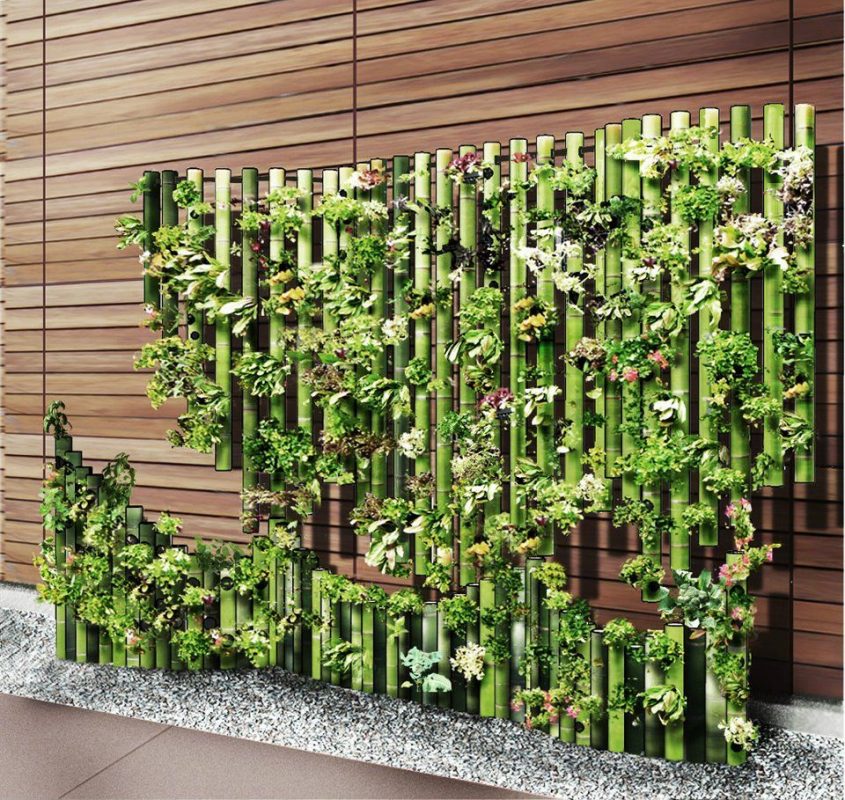 We will never go wrong when growing some bamboo trees in the backyard. However, if you do not
like to plant these trees, but are still interested in adding bamboo in your space, consider going for
decorative planters as shown above.
Although this project requires you to have some time for creativity, it is not necessarily difficult. You
just need to prepare adequate bamboo poles to get started.
For the type of plants you grow in these bamboo planters, it would be a wonderful idea to go for
various kinds of succulents. These plants are perfect to emphasize your backyard landscape's
tropical mood.
18. Bamboo Backdrop and Screen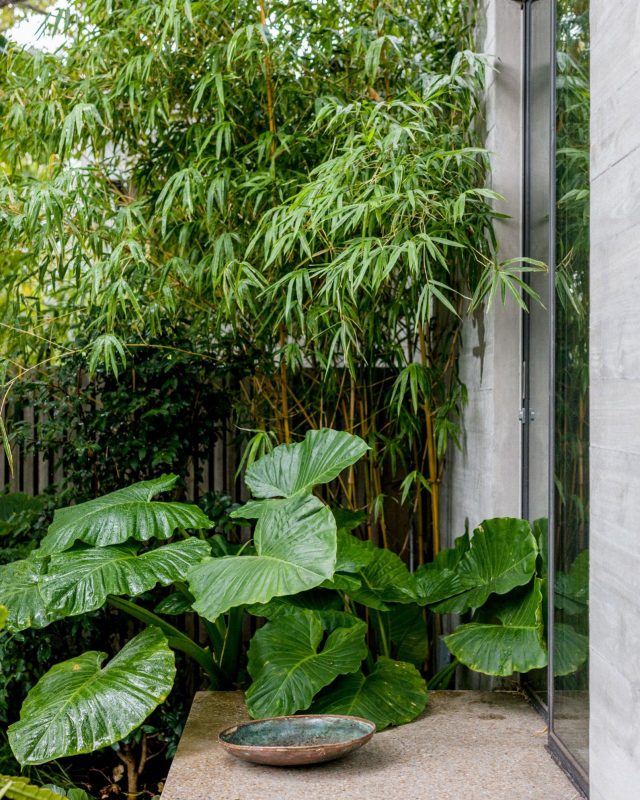 This is another good way to incorporate bamboo into your backyard landscape. It is easy to fill in
spaces in your landscape using bamboo trees. Besides, you can take advantage of this tree's ability
to provide an interesting backdrop to feature other tropical garden ideas.
If you need a privacy screen, bamboo trees make a good option as well. Simply grow some bamboo
trees around the fence to enhance the privacy of your outdoor oasis.
Moreover, you can also include colocasia in your backyard landscape for a fascinating addition in the
space.
19. The Charm of Green Varieties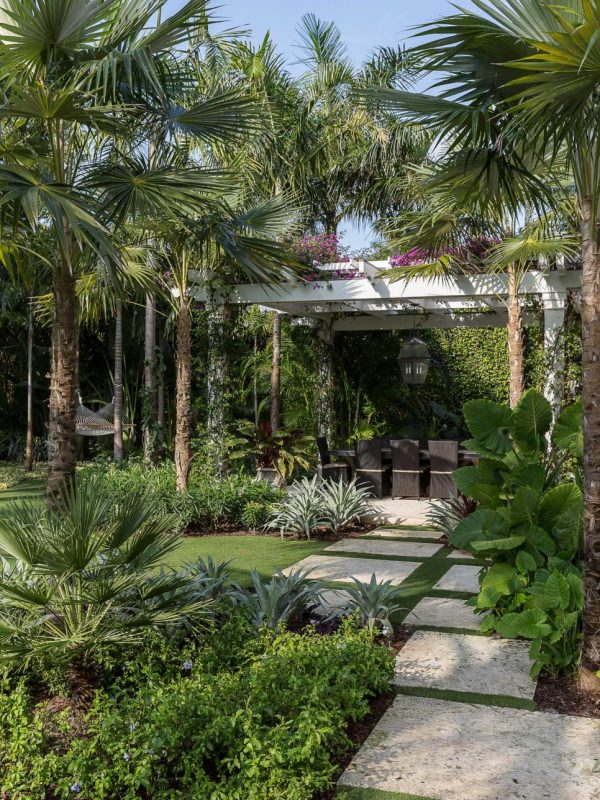 Every plant involved in this tropical backyard landscape is in green. From the medium-sized palm
trees to shrubs and grass, everything is in a bright green color.
Even though it lacks other colors, the green brought to this landscape is in different varieties and
shades. Thus, this idea is still capable to display the charm of tropical oasis.
To support the natural tropical view of your backyard, include stone pavers in the landscape.
20. Rich of Lighting Solutions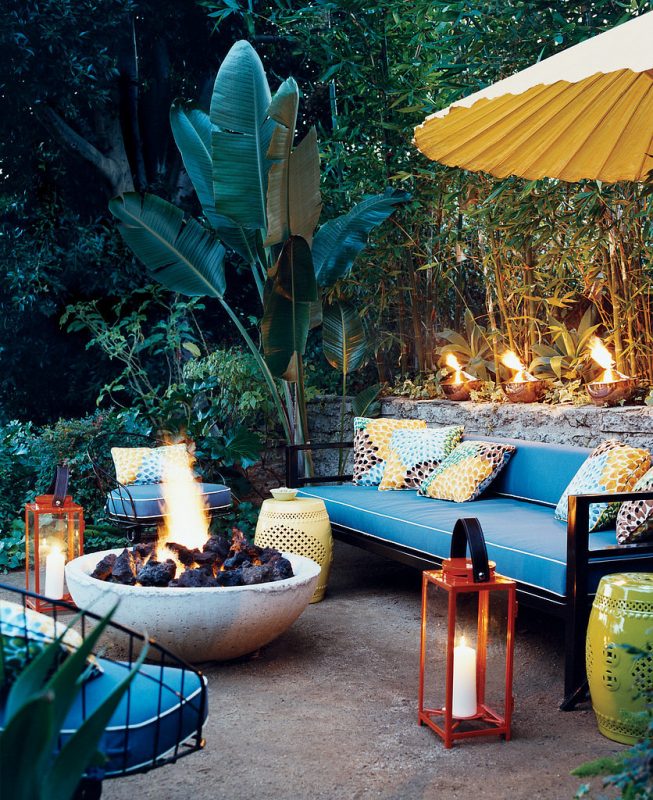 Adding enough lighting in the backyard landscape allows you to achieve a dramatic and beautiful
atmosphere. Similar to the picture above, you can consider any type of lighting to complete your
backyard landscape.
From outdoor floor light to post lamp, there is a lot to choose on the market. Incorporating a fire pit
makes a good option as well since it could provide your space extra lighting while keeping you warm.
By having enough lighting sources, your tropical trees and shrubs would still be able to show up their
existence through the night.
21. Tropical Landscaping Ideas for Backyard with Pergola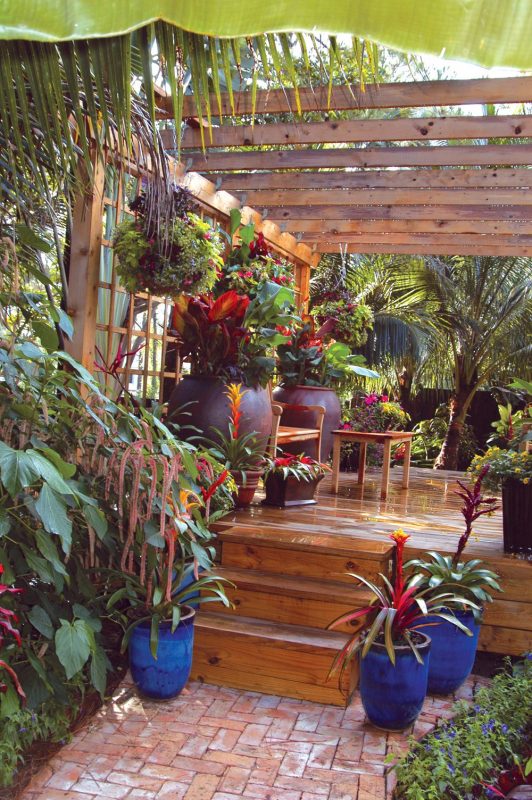 This garden makes a great reference if you want to include a pergola and wooden deck in your
tropical landscaping idea. A wooden deck presence in this landscape allows you to bring a collection
of colorful planters to the space.
The cordyline terminalis is in blue pots. Meanwhile, there are also some hanging plants installed on
the pergola. You can also see a coconut tree on another side of the deck.
22. Tropical Landscaping in Small Backyard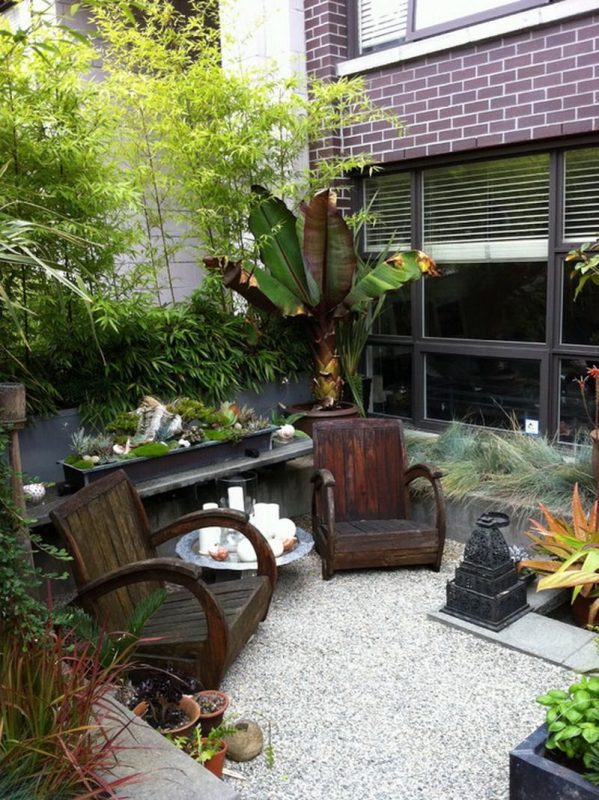 Who says you cannot apply tropical landscaping concept in a tiny backyard? This idea may inspire
you to bring a tropical vibe into your small backyard patio.
A kind of small bamboo and banana tree are included in the landscape, followed by colorful tropical
shrubs around the patio.
Finally, you have already known some of the best ways to make your tropical backyard come true.
You can now plan your new tropical landscape based on the favorite tropical landscaping ideas for
backyard mentioned above. Good luck!