Have you ever been dreaming about a tropical paradise? Going tropical in backyard gardens evoke a lush and exotic look with flashes of vibrant colors. Tropical backyard ideas might have festive lights, small structures, and plants. 
Create an exhilarating tropical retreat outdoors will give the first impression to visitors. Homeowners can start choosing tropical-looking plants with bright colors and shapes. For instance, Cordylines, Hibiscus, Alstroemeria, Agapanthus, and Begonia are the best tropical plants.
Arrange well-positioned potted plants will be a breeze to obtain a pretty backyard garden. Opt for smaller plants before adding mid-level and taller ones. It aims to create a feel of forest floors.
This article contains refreshing tropical backyard ideas to guide you on which plants you can select. You can create a tropical ambiance by combining the right plants with exterior design tips.
1. Rainforest Plants in Garden Pathway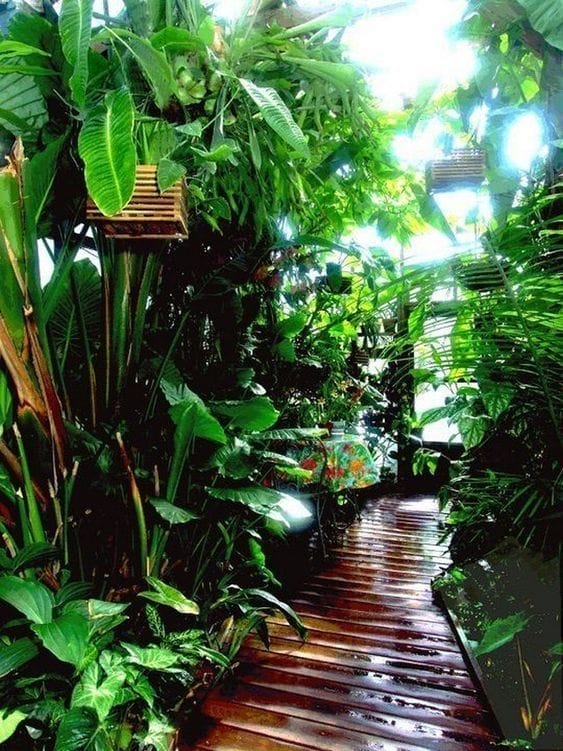 If you are limited to a backyard patio, you can design a tropical paradise along both sides of your entrance pathway. Let's see! There is a brown wood plank walkway between various rainforest plants. That pathway transforms into a charming tropical garden.
Think about what a rainforest looks like. Choose mid-level plants like Elephant Ear, Alocasia, and other tropical leafed plants. Combine those medium plants in taller-size such as Banana-like trees. Here, you can also see Ficus trees. They are smaller trees with large leaves. 
2. Gorgeous Blossoms of Heliconia
Heliconia is one of the must-have plants to create a tropical backyard garden. The foliage looks like a banana tree, but it has such "lobster claw" flowers. Its blossoms are popular among the group of tropical plants. 
In this garden, Heliconia gets quite tall even though it can be a dwarf plant. The pendulous heliconia flowers come in red and yellow colors. The bright hues pop up through this paver walkway.
3. Tropical Vertical Gardening
Vertical gardening is an innovative and space-efficient way to accentuate backyards or patios. High boundary walls and small gardens are great reasons for designing a vertical garden. Living walls are very popular since plants cover the entire surface.
Bromeliads are smaller plants that have very nice blossoms. Therefore, they can be vertical elements in the garden. These mounted Bromeliads can liven up the black dull wall. They also act as decorative details to the patio or deck.
The vertical garden pairs well with other medium potted banana trees. Small pots of Mother-in-law Tongue plants perfectly blend with the hanging planters. Those tropical plants are good for softening hard environments.
4. Palm Trees for Large Tropical Backyard Ideas
Every garden, especially large landscape needs vertical elements to add textures and balances. Palm trees with their simple upright form add perspective and volume to this large tropical garden. The palms have oversized leaves that will make lulling sounds in the wind.
Various types of tropical companion plants evoke different colors and leaf patterns to the grass backyard. Elephant ear plants and Alocasia also give different flairs. These dwarf plants offer exotic appearances and striking colors.
5. Beautiful Side Tropical Yard
Never ignore your narrow side yard since it still becomes a part of the house. Homeowners can choose appropriate plants and include walkways, sculpture, or gardens. Grow some tropical trees and design an attractive pathway that will make this space more than just a link from front to back.
Zamia with rough-surface leaves is the best addition to this side yard. Pair with large-leafed plants such as elephant ear and Alocasia. Ficus, a smaller tree but large-leafed, will give an extraordinary balance. In addition, ferns are ideal companion plants that fit for a narrow side yard.
6. Exotic Palm Trees Garden
Palms are great additions to create a tropical backyard garden. They have textured trunks, curving shadow, and scented flowers that give a complete sensory experience. However, as backyard design elements, they often become overlooking.
Indeed, tropical garden is not complete yet without palms. Use them in fresh ways like this classic double row of palm trees. Add flagstone walkways between the palm garden beddings. You will also see those palms create a swaying yellow tone among grasses and shrubs.
7. Fresh Tropical Garden Landscape
Tons of ornamental leafed plants create fresh garden edgings in a grass yard area. Rows of Alocasia blend with stepping stones to provide a meandering walkway through your little tropical jungle. The pathway can conserve water and retain heat for warmth-loving plants.
Many plants make great companions with Alocasia such as philodendrons and Anthurium. The bright pink Anthurium flowers are in bloom to evoke a fresh and charming look.
8. Huge Foliage Plants and Flowers
Rows of huge foliage trees enhance bold patterns in that tropical backyard garden. Red banana trees, elephant ear plants, small colorful Bromeliads, and Heliconia with gorgeous blossoms unite in a giant bouquet. They present an idea of juggling the forest in backyards.
Large leafed plants in this garden offer more fresh and natural atmosphere. The screw pine leaves are swirling around the trunk and giving an appealing look.
9. Pretty Large Leafed But Smaller Trees
Succulents are small dwarf plants with wonderful blossoms. They locate right along the edge of a gravel pathway. Green and purple foliages add charming texture and color. The dragon trees can fit into the succulent borders. They also add vertical elements with other taller trees.
Medium level plants like Alocasia and Anthurium have large leaves. Those exotic leafed plants provide a different knack to this tropical backyard.
10. Tropical Plants for Garden Edging
To create a sense of cohesion in narrow side yard, avoid overstuffing the edge with lots of different plants. They will make a confusing medley. That border is close to the wall, so ferns are perfect for greening up the soil.
The ferns as edging plants make ideal companion and easily fit between taller plants like palms and banana trees. Taller tree ferns grow in around the borders. They create a great vertical space that fits for narrow side yards.
11. Private Tropical Mini Garden
Mini gardens with various kinds of lush foliage will enhance a cool feel. Grow medium palm trees to create summer shade in sunny places. Shrubs, tree ferns, and ground covers fit for this private garden. Alpinia with lush green leaves is also good to create that cool retreat.
Create a garden border with white painted gravels. The curved pattern edging adds a unique texture to the ground base. Accentuate with potted roses will make this garden more beautiful.
12. Traveler Palm Garden with Wooden Decor
Let us see this Asian inspired tropical garden. There are perfect combinations between smaller-level flowers, medium plants, and taller trees. Dark brown woods become dominant natural elements to decorate the garden.
These wood plank walkways add bold textures to the gravel base area. They also match the wooden planter as a raised bed garden. The raised bed consists of a Traveler Palm tree, colorful Ti plants, and succulents.
Many succulents are right along the edge of this pathway. They enhance a real charm to this tropical garden. Besides, the striking wooden backdrop acts as an accent detail. Two decorative wooden mounted planters also enhance the look.
13. Tall Green Garden
Dracena, as known as the corn plant, is easy to grow in the whole edges of this large grass yard. Its soft leaves and vertical stems create unique textures. In one part of the yard, Bush Lily grows in a colony. This evergreen plant gives a great color display when it blossoms in the spring.
Huge palm trees cover the entire wall to provide much better privacy. Other larger trees blend nicely with the palms to enhance vertical elements. They liven up the tedious walls and add attractiveness to this garden.
14. Small Tropical Landscaping
Have limited space in backyards does not mean that you cannot create an exotic tropical garden. A smart arrangement of plantations with some extra touches will achieve attractive spots in your landscape.
Build a raised bed garden along the wooden fence. Combine taller banana trees and palms with companion plants such as red Ti, Bromeliads, and compact Xanadu. Those provide great garden colors.
Lilyturf as an edging plant in this tropical garden is a ground cover to prevent erosion. This grass-like plant is very tough and drought-tolerant. Wooden borders will help to contain the growth spread of lilyturf because they are vigorous growers.
15. Awesome Indoor Tropical Garden
This picture shows that a tropical garden is adjacent to the living room. This kind of garden needs the right choice of indoor houseplants. Peach Lily, Chinese Evergreen, and Philodendron are smaller-level foliage for easy indoor plants.
Taller palm trees make a great vertical statement to the indoor areas. They mix into the garden bedding with Succulents and shrubs. The arrangement of palms and other foliage will give a wondrous effect.
16. Garden with Potted Leafed Plants
Tropical foliage plants that grow in trendy decorative pots are good for entertaining and relaxation. Philodendron grows well in this dark grey round stone pot. If you look for an-easy-to-care-for tropical plants, Philodendron is a great choice. 
Non-climber Philodendron with larger leaves grows in the garden base around lots of shrubs. While Philodendron vines grow along the walls and fences. They are the easiest vines that provide length and low-maintenance. 
17. Bamboo Backyard Garden
Proper plant species and accent details can set a tone for stunning ambiance. Defining a garden's edge with small stones is perfect for this bed. The tropical garden bed consists of Bromeliads, palms, and bamboo trees.
The larger Bromeliads grow into this stone garden floor. They give outstanding colors to the grass yard. While bamboo trees are easy-to-grow plants that become great borders to make a privacy space between neighbors.
Besides giving a taste of tropics, bamboo and palm trees become the backbone of tropical gardens. Bamboo gardens offer a relaxing place and soothing contrast to the environment.
18. Large Tropical Backyard with Traveler Palm Tree
Create a simple tropical garden with Traveler Palms will help to liven up the monotonous white wall. Just grow some trees along the wall and add some small tropical flowers on the garden floor. Bright colorful Pentas blend well with the Traveler Palms. 
There is nothing like purple, red, and white Pentas to bring butterflies flocking to this backyard. A simple trick to make you feel like in a tropical paradise is adding a few pieces of furniture. 
At the corner, there is a canopy seating area with wooden benches. Stepping stone pathway links the garden to that seating area. It is a perfect place for enjoyment and entertainment.
19. Colorful Great Garden with Bromeliads
A well arranged of huge potted Bromeliads accentuate the backyard. Colorful blossoms of foliage give an attractive look. Smaller air plants and succulents cover the ground area. Both species also have wonderful blossoms.
To create a tropical feel, make shade areas from palm trees. The palms also act as a canopy of hardier trees that protect smaller plants.
20. Tall Garden Troughs and Festive Lights
Tall troughs will increase the curb appealing of your backyard garden. The best tropical plants for these containers are Boxwood shrubs and Big Bluestem. Those plants can turn ordinary planters into artworks. They also give a focal point to those tall troughs.
Boxwood shrubs in tall planters add a funky look. The troughs enable you to mix Boxwood shrubs with big bluestem. To be more festive, grow some banana trees on the grass garden base.
Moreover, arrange those tall planters along the wall. Add paver backdrop to give different patterns and textures. If necessary, install solar lights to give a dramatic effect.
21. Beautiful Tropical Foliage
Bright colors of plants scattered throughout a tropical backyard garden. Grasses cover the ground and a huge bunch of flowering plants creates beautiful arrangements. Choose red banana trees as taller plants and paired with roses, lilyturf, and bromeliads.
A group of larger Bromeliads, as known as air plants, is quite accommodating to this garden since it gives great colors in a shady area. The stunning and colorful blossoms will grab visitors' attention while entering that tropical backyard.
We have compiled the most fascinating tropical backyard ideas to inspire you. Start filling your backyard with charm, color, texture, and personality. 
A large variety of tropical plants decorates the backyard garden beautifully. The important key is choosing the right tropical plants because they will be the main elements of your garden.
***
When it comes to tropical landscaping ideas for backyard, you can work with planters or go beyond it by combining various exterior tricks. Some of you may even think of adding a tropical oasis that can bring back the memory of your last vacation in the Caribbean or Hawaii.
Whatever your goal is, tropical landscaping can always be a good option to enliven any backyard. However, you indeed need to know how to do it right for the best results.
In case you are interested in introducing tropical landscaping in your backyard, here are some of the best ideas to explore.
1. Shady Palm Trees
Plants with big, vibrant leaves are a staple in any tropical gardens. For this reason, palm trees make a good instance of tropical plants to be involved in your tropical backyard.
Palm trees are without a doubt aesthetically pleasing and can easily bring that tropical vibe into your backyard.
However, it may take time for the palm trees to grow bigger in your backyard. Thus, consider planting one, which has already grown enough to beautify your backyard.
2. Enchanting Banana Trees
Aside from palm trees, banana plants are another good option to add tropical mood in your backyard. Their large, bright leaves make banana trees a perfect addition to any backyard.
Besides, banana trees are not only perfect to create a gorgeous, flourishing backdrop in your backyard, but they can also produce plenty of tasty fruits.
For another pop of color, consider bringing in another plant with vibrant leaves like the red leaf philodendron. This plant's red-purple leaves will make a beautiful pair for your green banana trees.
3. Plenty of Cordyline
When it comes to tropical landscaping ideas for backyard, typical gardens in Southeast Asia and the Pacific should provide many inspirations. Just like the soothing Asian garden that comes with such simple landscaping layout.
With plenty of cordyline plants and colorful shrubs, this garden appears interestingly beautiful. To separate the cordyline bed with the grass, use stone pavements as the edge. For a variety, grow a type of palm tree too.
4. Neatly Arranged Shrubs
The first thing you may notice from this backyard landscaping is how neat the arrangement is. Involving several types of shrubs only, this landscaping idea is perfect for you who want to achieve such a neat look in the backyard.
This idea is particularly ideal when you are trying to landscape the area right beside your exterior walls or under the windows.
5. Gorgeous Tropical Plant Bed
Introducing an elevated garden bed is a good choice when you do not want to get the dirt spread over the backyard patio. This method is also perfect if you only have limited backyard space but want to add both a tropical garden and functional patio area.
For the elevated tropical plant bed, you can grow banana and aloe vera trees as the focal point. Then, you can add any type of shrubs to complete the bed. As fillers, you can opt for lavender plants or some evergreens.
6. Calming Tropical Path
Walking through this path is indeed relaxing. It must somehow feel like walking through the calming tropical forest out there.
Take advantage of randomly cut slate stones to create the path. Leave the edge untreated to make it appears more natural. Instead, you can incorporate outdoor lights along the pathway.
Gets a variety of tropical plants including palm trees and banana trees to be grown around the pathway. You can also combine your trees with some evergreens or shrubs.
7. Fabulous Tropical Pool
In the ideal world of a tropical backyard, there would be a water feature that complements the whole space. If your space and budget allow you to do so, adding this spectacular tropical pool would be nice.
The pool is to come up like a part of the natural world with stone borders. The stones are also to appear like a cave, making the backyard even more natural.
Meanwhile, some flowering shrubs are in stone planters, adding a touch of color in this tropical backyard.
8. Water Feature with Abundant Greeneries
The garden landscape around a tropical pool is typically with plenty of greenery, some natural stones, and a few flowering plants to add color. This idea makes a perfect example at this point with abundant greeneries added around the pool.
Instead of flowering plants, this landscaping idea comes up with an orange tree for a pop of color. Some seating areas are also included in the backyard to make it more enjoyable.
9. Spectacular Pool with Waterfall
If you were willing to go further, including a pool with a waterfall in your tropical backyard would make this outdoor space more special. This idea is a promising one to give you and your family a lot of fun.
You do not need to build such a big waterfall in your pool. A small and simple one as shown above is enough to add a tropical vibe in your backyard.
Consider adding some palm trees, cordylines, and any kind of flowering shrubs around the pool to bring another touch of tropical beauty.
10. Tropical Landscaping Ideas for Backyard with a Slide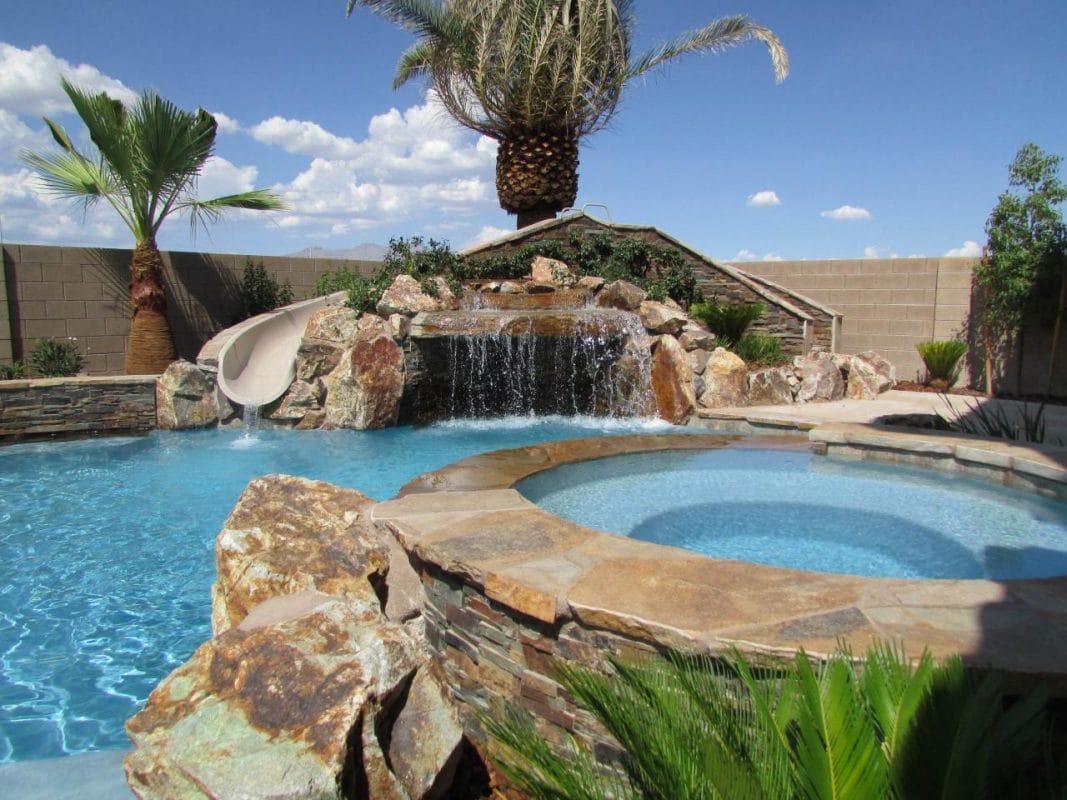 Make your tropical backyard a favorite spot for your kids by incorporating a pool scape with a slide. This tropical pool is also with a grotto and a bridge that offers a never-ending joy in your home.
For an extra tropical vibe, get one or two palm trees around the pool. These trees could help add some shade in the pool as well.
If you have the luxury of spacious backyard and budget is not an issue, this idea is highly recommended to bring that summer memory in Hawaii right in your home.
11. Tropical Backyard with Desert Flair
A backyard with a desert theme is often rich in floral and plant life. From the selection of cacti and other types of plants, a tropical desert landscaping would bring your backyard to the next level.
Instead of the typical cacti, this backyard landscaping idea goes for a large agave plant. There are also some types of succulent grown around the big agave. The ground is with light-colored gravels to emphasize the desert vibe in the backyard.
12. A Collection of Succulents
Succulent plants have always been a great asset in a backyard with a tropical flair. This is because of their drought-tolerant trait. Succulents can even adapt to colder weather, making it a good option for those of you who seek for less-maintenance backyard landscaping.
This landscaping idea makes a good example with its colorful succulent collections. You can plant the succulent on a decorative shallow bowl or right on the ground.
Combine the succulents with some flowering shrubs if you want to add colors in your backyard landscaping.
13. The Comfort of Your Home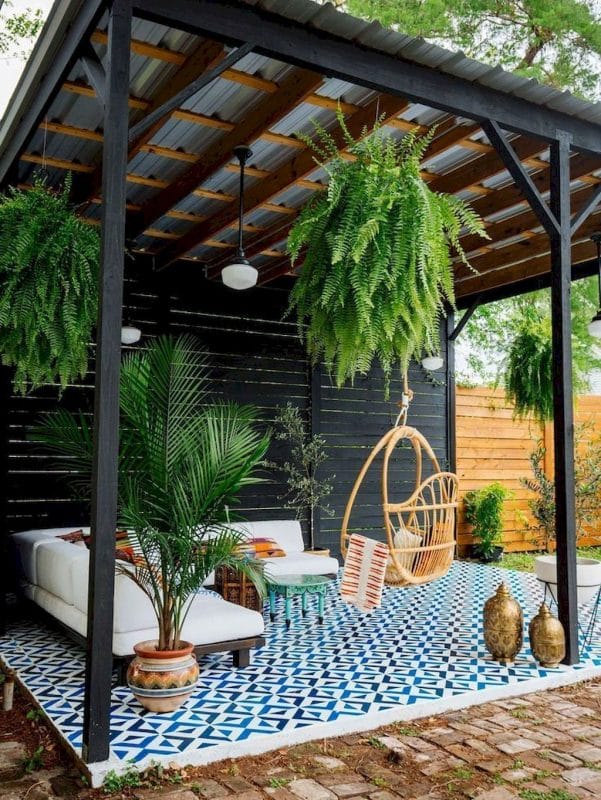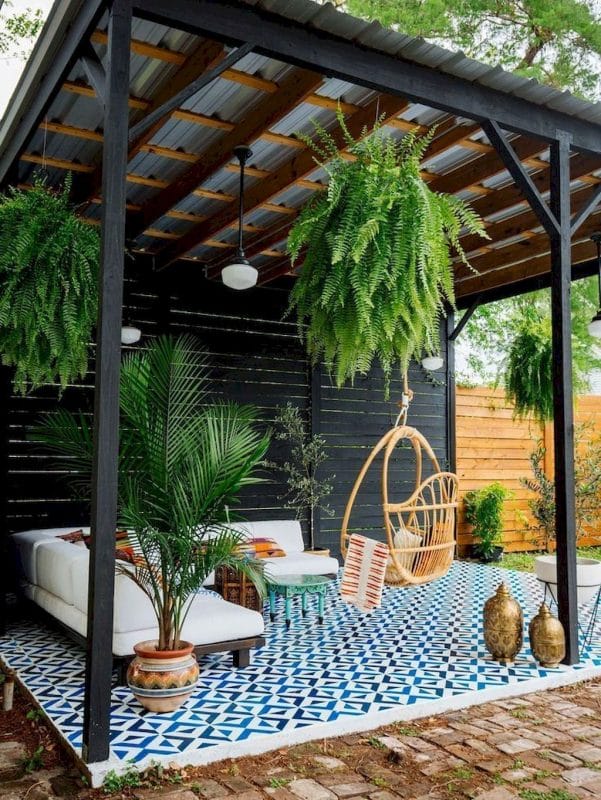 A tropical backyard can also offer the comfort of your home. By integrating your backyard landscape with the patio area, you will be able to achieve it and have the best of both worlds.
This idea is perfect, especially for those of you who do not have the luxury of a spacious backyard. Do not forget to invest in an outdoor sofa to make this space everyone's favorite.
If you include a pergola or roof in your patio design, consider bringing in some hanging plants. Besides, you can also add a pot of small palm trees around the patio to hint a tropical vibe.
14. Simple Landscape with Tropical Touch
For you who are interested in a simple and low-maintenance tropical landscape, this idea should be a great reference for you. With a pair of palm trees and a few small shrubs, this backyard landscape looks amazing.
Gravels to preserve soil moisture cover the ground. Covering your garden with gravel instead of mulch or grass is also a good option since rocks could last longer than other materials.
15. Wooden Privacy Fence
Introducing a wooden fence into your tropical backyard is a good method to add privacy in this outdoor space. You can improve the privacy level by incorporating several medium palm trees right behind the fence.
Large stepping-stones will be welcoming once you open the fence. This fence then leads you into an inviting tropical space with a relaxing seating area. With many palm trees surrounding the area, this backyard will indeed become an outdoor haven for the whole family.
16. Tropical Landscape with Bamboo
Tropical landscaping ideas for backyard often include bamboo trees. The tropical vibe offered by bamboo trees could make your backyard appear exceptionally beautiful.
With many types of bamboo trees available out there, you can easily choose one that suits your overall landscape the best. Consider landscaping around the bamboo trees with greeneries to achieve such a calming and inviting appearance.
17. Alternative Unique Bamboo Planters
We will never go wrong when growing some bamboo trees in the backyard. However, if you do not like to plant these trees, but are still interested in adding bamboo in your space, consider going for decorative planters as shown above.
Although this project requires you to have some time for creativity, it is not necessarily difficult. You just need to prepare adequate bamboo poles to get started.
For the type of plants you grow in these bamboo planters, it would be a wonderful idea to go for various kinds of succulents. These plants are perfect to emphasize your backyard landscape's tropical mood.
18. Bamboo Backdrop and Screen
This is another good way to incorporate bamboo into your backyard landscape. It is easy to fill in spaces in your landscape using bamboo trees. Besides, you can take advantage of this tree's ability to provide an interesting backdrop to feature other tropical garden ideas.
If you need a privacy screen, bamboo trees make a good option as well. Simply grow some bamboo trees around the fence to enhance the privacy of your outdoor oasis.
Moreover, you can also include colocasia in your backyard landscape for a fascinating addition in the space.
19. The Charm of Green Varieties
Every plant involved in this tropical backyard landscape is in green. From the medium-sized palm trees to shrubs and grass, everything is in a bright green color.
Even though it lacks other colors, the green brought to this landscape is in different varieties and shades. Thus, this idea is still capable to display the charm of tropical oasis.
To support the natural tropical view of your backyard, include stone pavers in the landscape.
20. Rich of Lighting Solutions
Adding enough lighting in the backyard landscape allows you to achieve a dramatic and beautiful atmosphere. Similar to the picture above, you can consider any type of lighting to complete your backyard landscape.
From outdoor floor light to post lamp, there is a lot to choose on the market. Incorporating a fire pit makes a good option as well since it could provide your space extra lighting while keeping you warm.
By having enough lighting sources, your tropical trees and shrubs would still be able to show up their existence through the night.
21. Tropical Landscaping Ideas for Backyard with Pergola
This garden makes a great reference if you want to include a pergola and wooden deck in your tropical landscaping idea. A wooden deck presence in this landscape allows you to bring a collection of colorful planters to the space.
The cordyline terminalis is in blue pots. Meanwhile, there are also some hanging plants installed on the pergola. You can also see a coconut tree on another side of the deck.
22. Tropical Landscaping in Small Backyard
Who says you cannot apply tropical landscaping concept in a tiny backyard? This idea may inspire you to bring a tropical vibe into your small backyard patio.
A kind of small bamboo and banana tree are included in the landscape, followed by colorful tropical shrubs around the patio.
Finally, you have already known some of the best ways to make your tropical backyard come true. You can now plan your new tropical landscape based on the favorite tropical landscaping ideas for backyard mentioned above. Good luck!
***
Many people are like to spend their weekends or spare time just by enjoying nature. While some prefer to go outside and doing outdoor activities, others tend to relax at home. That is why the second group of people is tending to search tropical garden ideas to decorate their garden. 
Gardening becomes one of the favorite activities at home. Not only decrease stress level, but you can also beautify your home by gardening. One of the most popular garden styles is tropical. Talk about the tropical garden, this garden style will give a different atmosphere at your home. 
Moreover, green leafy plants will make you feel comfortable, relax and peaceful. Furthermore, there are several points you should consider before build or create your tropical garden. The first is the type of plants. Not all plants are suitable to create a tropical look. 
You can use some plants that will make your garden look tropical, such as hoyas or known as the waxflower, banana plants, the traveler palms, bird paradise that looks like a bird's beak, ferns, papaya tree, orchids that will make your garden look fabulous and enchanting.
Moreover, to make the garden look attractive, you need to select the plants based on the leaf size and its color. Do not only concern about the plant, but you should also consider the water. As commons knowledge, the leafy plants need more water. 
That is why you should think carefully about the water source to keep the plants fresh and still alive. You can shower the garden twice a day to keep the garden green. Talk about the water, many tropical gardens often completed with the element water such as a pond or water fountain.
To help you build or create your dream tropical garden, it is okay to look up several tropical garden ideas below!
The All Green Tropical Garden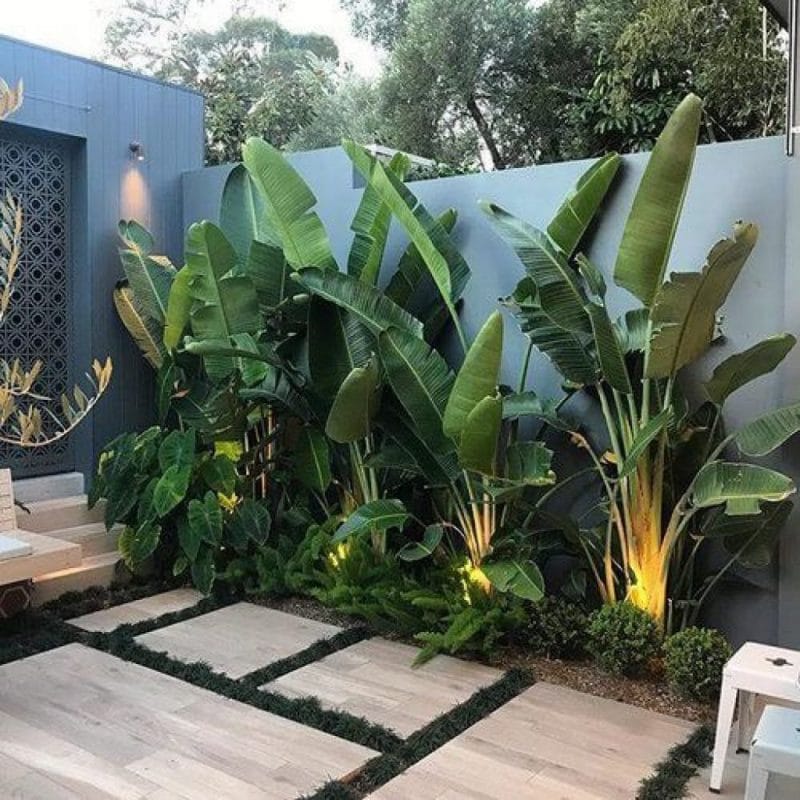 When you want to create the green tropical garden, all you need is the green leafy plants. You can put like banana plants, which will fulfill the area and make your garden look dense. Do not forget to create the perfect layers to add a lush touch. 
Adding some lower plants such as monstera will make the low layer of the garden look more attractive with its split-leaf. Moreover, you also can add some lower plants such as ferns that will create a full look. 
This kind of tropical garden idea is also suitable for the backyard garden idea. Besides, you can also put the lamp under the traveler's palms!
The Secret Green Tropical Garden Ideas
Do you like to have a deep conversation with your mate while enjoying the sunny day? This tropical garden idea is the best choice for you. In your deck or backyard, you can build the garden at a certain height. 
To create a shady and calming atmosphere, you can put the banana plants or traveler's palms, which will protect you from the sunlight. As the lower layer, you can put the green plants with the wide leaves to make it look dense and lush. 
Next, you can build simple outdoor concrete and wood bench. Complete it with the cushion.
Purple Tropical Garden Ideas
Another tropical garden idea you can consider the reference is the purple. The purple plants can make your garden look wider. 
As a reference, you can use vista savia, which has the middle height. You can use this plant to fill the middle layer too. The other option is a heliothrope that will make the lower layer looks more luxurious. 
One thing you should notice when you choose this garden idea is you should combine the purple plan with the green or yellow plants too.
The Simple White Pot Tropical Garden Ideas
This idea is suitable for you who do not have enough space to build your medium or a big tropical garden. By putting the tropical plants inside the concrete pot, you can create a tropical spot at your home. 
Place the pots in the corner of the backyard or the front yard. To make the spot looks wider, you can do the little trick by using the white pot in a different size. Besides, you can place a wooden panel on the wall to add a simple and modest touch.
The East Asia Tropical Garden Ideas
As we know that bamboo is one of the plants that have cultural value. Especially for the Asians who consider the bamboo plant as the sacred plants and often associated with symbolizing the grace and the strength. 
That is why many Asians tend to plant the bamboo around their house. Talk about the tropical garden ideas, sometimes, you also get the recommendation to plant bamboo. Not the big one, you can choose the Dendrocalamus minor bamboo, which has a smaller size than the common bamboo. 
Besides, you can plant the bamboo in the ceramics pot and put it in the deck or balcony.  
Indoor Tropical Garden Ideas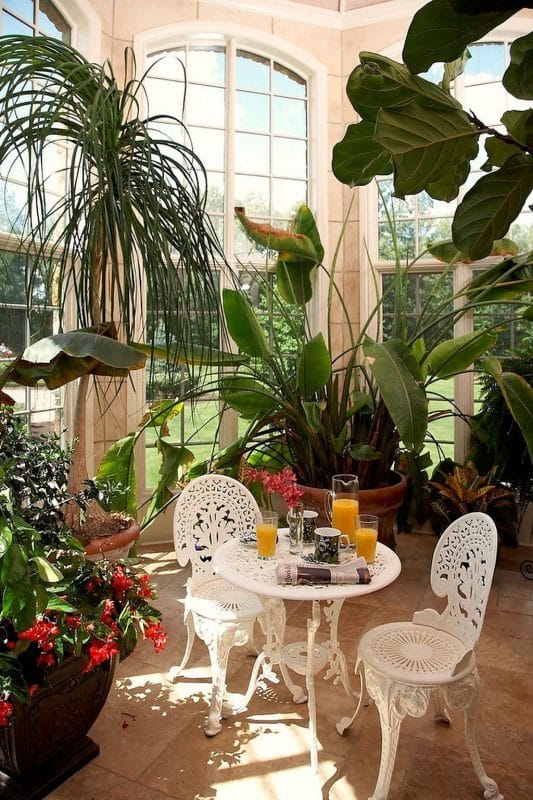 Who says you cannot get your indoor garden? Nowadays, the indoor garden is the most favorite garden style to decorate the house differently. Usually, the placement of the indoor garden is not far from the deck or the balcony to ease its maintenance and to keep the plants gets the sunlight properly. 
If you want to have this tropical garden idea, the potted plants will be the most appropriate reference, such as the alocasia, which has a wide leaf and can fill the top or middle layer. 
You can choose another plant like the Ti which known as the beautiful tropical plants which consist of two different colors in red and green and make your garden look denser. While to add the middle layer, zamia is the best plant to choose from.
The Backyard Tropical Garden
If you ever traveled to some countries in Asia, you will find the palm trees easily in many spots. That is why putting the palm trees in your tropical garden is also a great idea. One thing you should consider is the type of palm tree that you will choose. 
To create a dense and lush tropical garden, especially which compatible with your wooden backyard styles are the dypsis and chamaerops. These two types of palms trees are easy to buy and you can even put those plants on the pot. 
If you have small areas in your backyard, this type of palm trees also able to plant directly in the soil. To make your garden look varies; you can add the others type of tropical plants such as orchids or maybe fern.
The Wet Rainforest Style
The other tropical garden ideas you can try at home is the wet rainforest style. To create it, you just need to make your plants look dense and lush by putting many plants from the low to the top layer. 
Besides, you can combine it with arranging a varnished wooden deck or floor to make it look wet. Moreover, you can add colorful plants to make it look fabulous and less mystique.
The Intimate Garden 
Do you want to have an atmosphere like in the tropical cottage you have visited last holiday? Just look at this tropical garden idea. By planting the green leafy plants beside the pathway to your house, you magically change the scene of your garden. 
To make it look more intimate, you can put some lantern on the edge of the pathway.
The Simple Greeny Garden Ideas
Change your terrace into a tropical scene is the best idea to create different styles at your home. By build a small pond in front of the terrace and decorate it with the stone. After the pond, you can change the rest of the available land into a small park filled with grass and greenery. 
Do not forget to build a pathway across the terrace and a small park with a wide natural stone or you can change it with a concrete pathway.
The Water Lily Garden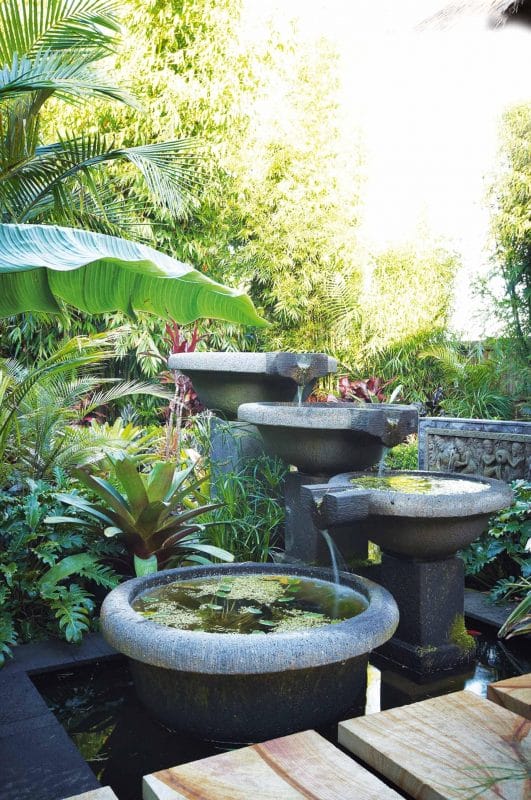 Build a pond in your garden is the other best idea to create a tropical look. By putting some water lilies in the pod and decorate it with the low green plants around, will change your garden look more enchanting and refreshing. You can add the palm trees near the pathway to give shady touch.
The Natural Style
If you ever explore the natural sites in tropical countries, you will find the common stone pathway. This kind of pathway is the natural pathway built by the villagers by putting the mountain or river stone nearby. 
You can apply this refreshing panoramic as your tropical garden idea. Just put the stone pathway or cement looks like the stone pathway and decorate it with the various green leafy plants. You can add some small corals around the plants too.
The Woven Tropical Spot
If you do not have enough space in your terrace or backyard, do not worry. By placing the ferns or palms tree in the woven pot, you can create your tropical garden in your favorite spots. Besides, this type of small garden has easy maintenance just by spray the water routinely.
The Monstera Corner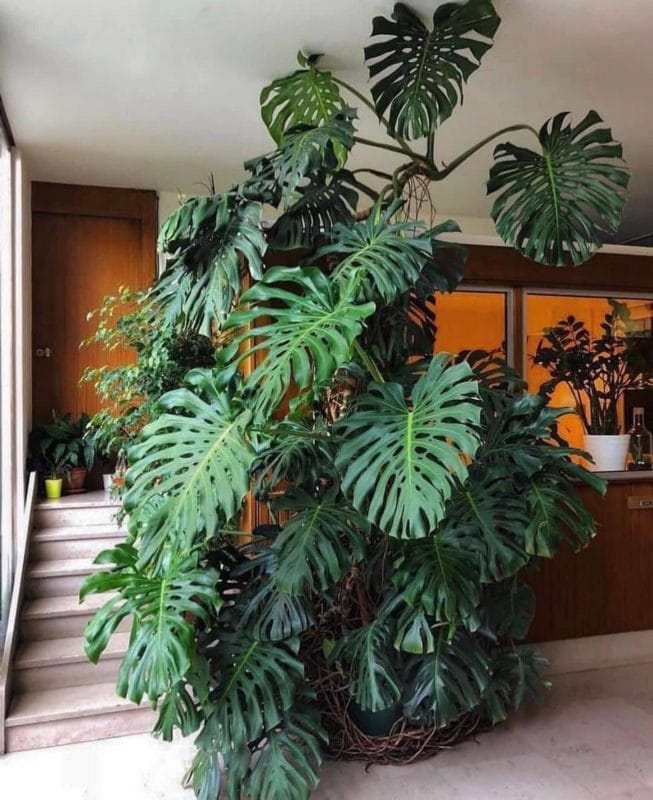 The other tropical garden ideas you can try at home is the monstera corner. Monstera is the most popular tropical plant nowadays. Not only use as the photo properties, but you can also plant and decorate your favorite corner with monstera. This idea is very suitable for minimalist house design.
The Refreshing Book Corner
Build a mini garden indoor is not an impossible thing. You can even build your tropical mini garden above your bookcase. Different from the other tropical garden ideas, which focused to create a dense and lush look, it is advisable to put some potted plants. 
The ones that do not need a lot of water are recommendable, so you can keep it fresh just by spraying routinely.
The Simple Hanging Wall Garden
Having a small space at your home is not a hitch to build a tropical garden. You can put wire panels in the wall and hang some small potted green leafy plants on it. Choose the plants which do not need a lot of water and choose the wall exposed by the sunlight.
Colorful Tropical Wall Garden
To keep your wall in a good way and prevent the moss on it, you can hang some potted tropical plants. It will be better if you use a colored pot only to make it look simple and aesthetic. These garden wall ideas are also can be creative to arrange it.
The Shady and Mystique Style
Some of the people are like to create a shady and mystiques atmosphere at their home. This kind of situation can be a great idea to create a different and unique tropical garden. The key is to put many green leaf plants among the low to the top layers. Make it dense and lush. 
To add the bright touch to balance this style, you can spread the white coral stones in the ground and put some wooden items.
The Bright Tropical Garden Ideas
Even the tropical garden focus to make the garden looks dense and lush; you are still able to show the bright vibes on it. Just choose the colorful plants or flowery tropical plants to add in your garden. Besides, you need to focus on the lower layer only to make it look clean and neat.
The Tropical Pergola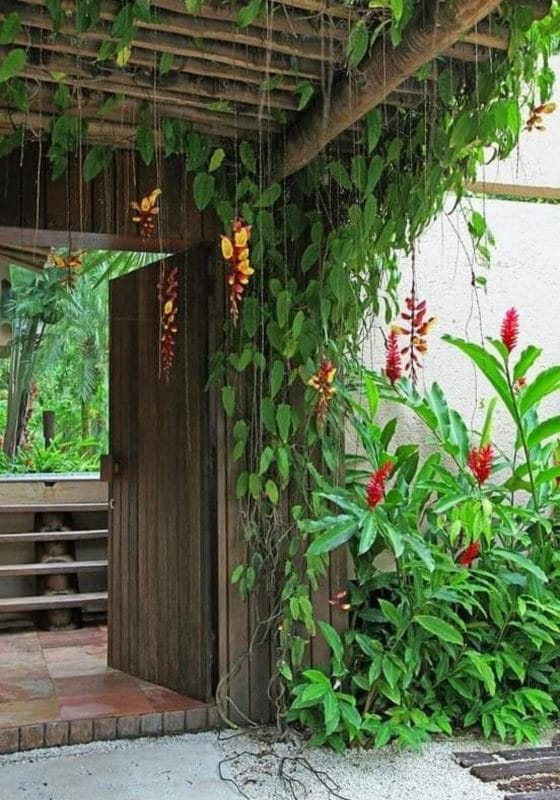 Do you have a pergola? That is great! You can decorate the pergola with the beautiful hanging tropical plants and add the hanging lobster-claw plants above the pergola after that. To make it denser, you can add the medium height flowery tropical plant under the pergola.
The Tropical Orchid Style
Are you bored with the green tropical garden? You can make it look more colorful by replacing the green leafy plants with several types of orchids. Remember that you need a sturdy wooden tree as the place to stick the orchid. 
Choose the potted type of orchids and change the pot with the coconut shell. To complete the look, you can also combine the orchids with the type of potted small bamboo.
After knowing the tropical garden ideas above, which one is the most suitable to build at your home? Do not forget to do the routine maintenance to keep your tropical garden fresh.
***
It is always wonderful to spend the holiday in Bali or Phuket. Unfortunately, it will cost you a fortune. Instead of splurging on expensive flight and hotel, bring in the holiday vibes to your home with these 26 tropical backyard ideas.
1. Small Tropical Backyard Ideas
A spectacular tropical garden is not only for a spacious backyard. Even a small backyard can make a fantastic holiday retreat.
This backyard has proven that size is not a big deal. Gravels are set down to make a pathway to the door. Plant some palm trees on both sides of the pathway to escort you to your destination.
When creating a tropical backyard, you have to keep in mind that the more, the merrier. Therefore, you need to grow more plants like dumb cane, ivy, cordyline, and elephant's ears to perk the space up.
2. Romantic Tropical Backyard Ideas
The tropical backyard tends to be romantic. However, you can make it more romantic by picking the right lighting.
This backyard shows you how easy it is to create a romantic ambiance. Battery operated candles are set down along the pathway to illuminate your steps.
Solar torches welcome you at the end of the pathway, enhancing the traditional look immensely.
3. Tropical Privacy Screen
It is always good to relax in the backyard after working all day. Nevertheless, what makes it irritating is the inquisitive neighbors that are eager to find out what you are doing. If that is the case, consider having a privacy screen.
You can choose various kinds of privacy screens. Instead of making wood pallet fencing, try growing some tall plants.
Some plants like banana trees and bamboos can make a perfect privacy screen while accentuating the tropical flair. They grow fast and improve your backyard landscaping.
4. Tropical Backyard Ideas with Pool
This backyard looks like a beach resort, thanks to the swimming pool and the palm trees that have successfully brought in the holiday vibes to space. The unique fountains make the backyard look amazing.
To get privacy, use wooden planks to form a privacy screen. To hide the screen away and make it look more dramatic, Chinese Windmill Palms, banana trees, and boxwood completely cover the fence.
5. Tropical Backyard Ideas with Fountain
When it comes to creating tropical landscaping in your backyard, do not underestimate the functions of water features. They might be dispensable. However, if you incorporate them into your backyard, you will get a mind-blowing one.
This backyard features a tiered fountain that has become the centerpiece. Mexican Fan Palms anchor the fountain nicely. Spanish moss dangling from the tree adds more drama to the backyard.
6. Add Artificial Colors
Tropical plants typically have large leaves with only a few flowers. Therefore, you can add more colors to amp your backyard up. You can grow either birds of paradise or orchids to add more colors. You can also opt for paint for instant and foolproof color.
This backyard features plastered walls for the privacy screen. To accentuate the tropical flair, the wall is painted orange, mimicking the color of canna. To please the eyes, add some banana trees and succulents.
7. Let the Fish Swim
Watching the swimming fish is relaxing. Some fish like koi even have exotic colors that can match your tropical landscaping perfectly. Therefore, you should consider keeping some fish in your backyard.
This backyard features a pond that looks natural due to its meticulous design. Some koi fish swim happily in the turquoise water of the pond. Palm and moss make this pond look awesome.
8. Tropical Backyard with Modern Patio
This backyard is the smart combination of modernity and rusticity, with some touch of tropical flair. Tropical greenery like yucca, hostas, and canna surround the patio, making it a nice place to hang out.
Bamboo privacy screen helps you deter peeping Tom from watching you while alleviating the glare of the sun. Log stools and tables allow you to shoot the breeze with some friends while blending with nature.
9. A Place to Lie Down
This minute backyard is exquisite and cozy. The pathway features uneven shapes that make it look natural.
Two single-sized mattresses lying on the pool deck offer a comfortable spot to lounge or even lie down. A Frangipani tree standing by the pool deck provides sufficient shade for you.
Concrete fence creates a privacy screen while hosting some dangling vines. If you think it is not enough, try extending it using bamboo for the peace of mind while accentuating the tropical style.
10. A Perfect Nook
Turn your backyard into a perfect hideaway where you can enjoy the natural beauty, escaping from the hectic activity for a while. You do need a respite.
This backyard features a wooden deck that comes in the weathered finish to add a little bit of rustic look to the space. Lush greenery like banana trees, ferns, and palm grass surround the backyard nicely.
A wooden chair stands among the lush green vegetation, offering you a comfortable place to sit down while slurping your afternoon tea or just reading a romance.
11. Low Maintenance Tropical Backyard Ideas
If gardening is not your forte, but you are dying for the holiday vibes of a tropical backyard, try opting for this low-maintenance garden.
Instead of turf that needs mowing regularly, try covering the soil in your backyard with pebbles or gravels. Then add some drought-tolerant plants like aloe and snake plants among the pebbles. Do not forget to add several palm trees to vary the look.
12. Tropical Backyard with Hot Tub
Installing a hot tub at home can help you feel more relaxed. Take this idea to the next level by installing a hot tub in your backyard.
This backyard features a small hot tub, which allows you to linger in the hot water while enjoying the serene backyard landscaping.
Faux stone tiles cover the retaining walls nicely, adding a textural element to the backyard. The same tiles cover the hot tub to match the retaining wall perfectly.
13. Sit around the Fire Pit
For several reasons, it is always good to turn off your television, put your phones down, and enjoy the glittering stars in the sky. To make it tangible, you need to turn your garden into a good place to spend the night.
Covering the soil with turf is a little bit tiring. Try mulch, instead. Put some chairs around the fire pit to create a space to hangout. Try adding a pergola to round out it. To kick it up a notch, try hanging some pendant lights like lanterns or mason jars.
14. Simple Tropical Backyard Ideas
Creating a chic tropical backyard does not have to be arduous. This backyard is quite simple, yet attractive. It features a sleek wooden deck that adds a little bit touch of a contemporary look.
Bamboos line up along the backyard to give you the ultimate privacy while matching the deck nicely. Banana trees and palm trees make a classic tropical backdrop.
15. Display Your Orchids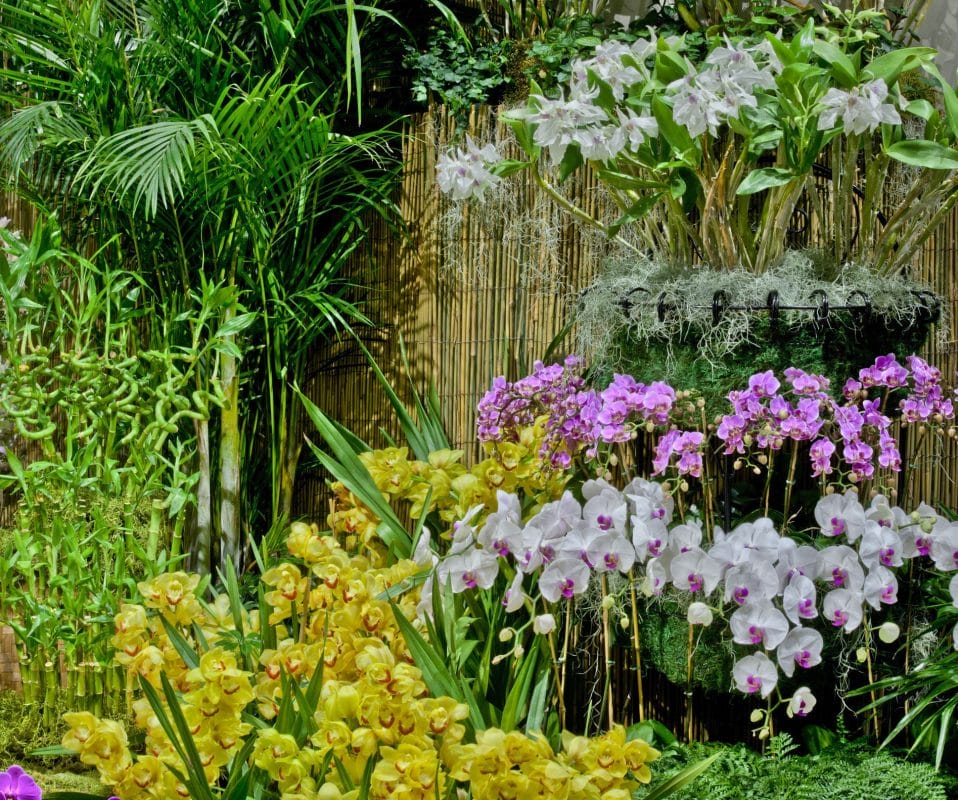 Orchids have never failed to amaze everyone with their exquisite colors. Besides, they can bring a tropical feel to the space instantly.
However, orchids do need more attention than those drought-tolerant plants. Always remember not to expose orchids to the bright, direct sun for a long period. You had better put it under a tree canopy so that they can get bright, filtered light.
You might also need to consider placing your orchids in a sheltered area, so the wind will not cause severe damage to them. When cold snap occurs, make sure to bring orchids indoors. If you do not have a greenhouse, a heated garage will do in a pinch.
16. Classic Jar Fountain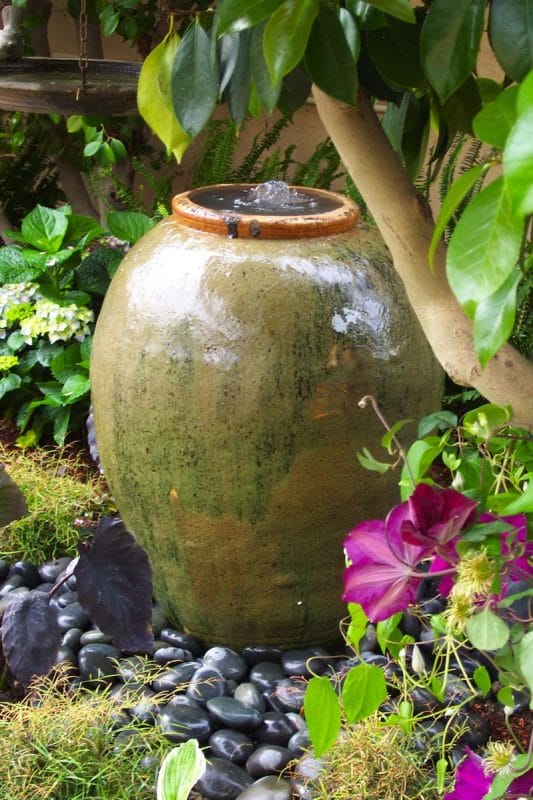 Water features have always been a part of tropical charm. You might feel perplexed when it comes to picking the right water feature for your backyard. If you have no idea what to choose, try this classic big jar as it will add a traditional touch to the space.
17. Tropical Flower Bed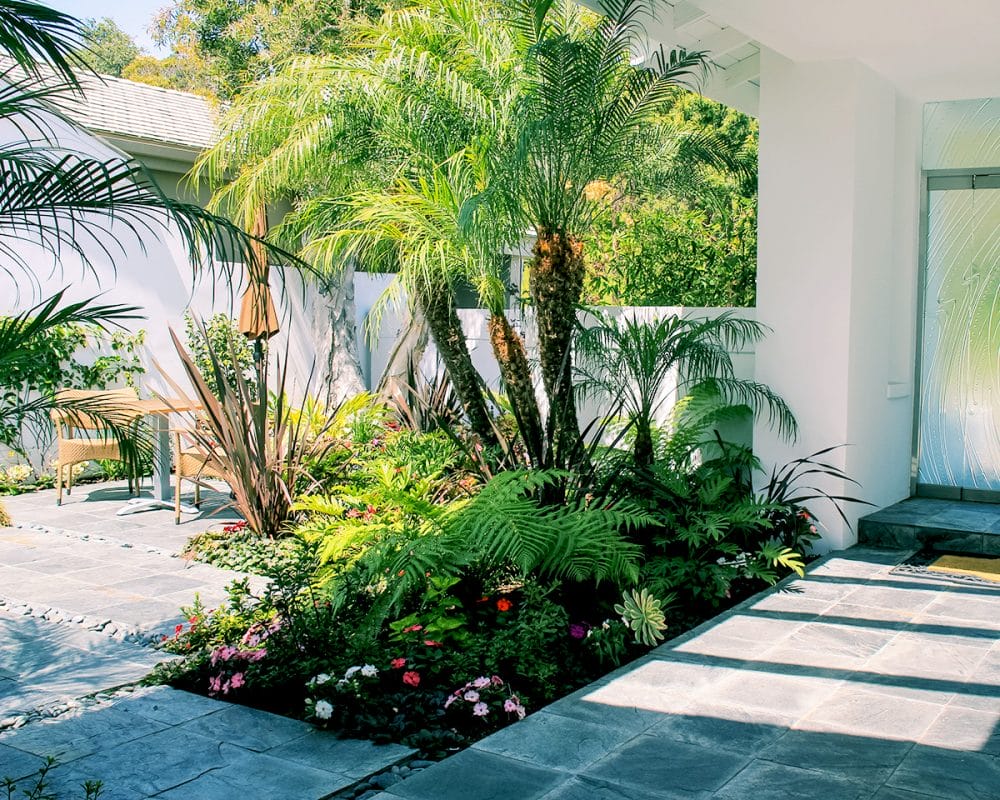 If you do not have enough space to accommodate lots of ferns, banana trees, and elephant's ears, you can just opt for this flowerbed.
This contemporary house has a little exposed soil as concrete covers the backyard. Nevertheless, it does not hinder the homeowner from creating paradise.
Some areas of the backyard remain uncovered so that you can use them as the flowerbed. Palm trees and ferns add an instant tropical charm to this backyard.
18. Dress Up the Pathway
Pathways keep your footwear clean from mud. Pathways can do more than that. They are a part of backyard landscaping now.
This backyard features square pavers that have different sizes. Natural look comes from the random arrangement of the pavers. The pathway is dressed up with banana trees and birds of paradise that guide you to the door.
19. Tropical Backyard with Manicured Lawn and Gazebo
The manicured lawn always brings a contemporary look to the space. Therefore, incorporating turf, either the real or the artificial one, to your backyard is such a great idea.
Besides the manicured lawn, this backyard also features a gazebo covered with a hut to create a traditional ambiance. Dumb cane, bird of paradise, and yucca anchor the gazebo well.
20. Surrounded by Banana Trees
The white wall of this backyard is like a blank canvas. Paint the canvas with greenery. Ferns and banana trees slightly cover the wall and create a dramatic backdrop.
A built-in bench enables you to sit back and relax while enjoying the beautiful landscaping.
21. Tropical Backyard with Outdoor Dining Room
It is always great to have a potluck party with your best friends in the backyard when the weather plays nice. Since there will be some guests to come over for the party, meaning there are some eyes that need to impress, simple tropical garden can do the trick.
This backyard is spacious enough to accommodate several guests. However, decorating the whole backyard can be pricey and time-consuming. Therefore, you do not need to add details to every nook and cranny.
Just pick a spot that acts as a centerpiece, and decorate it with succulents, yucca, sugar cane, and fountain. Do not forget to a large dining table for your family and friends.
22. Tropical Outdoor Living Room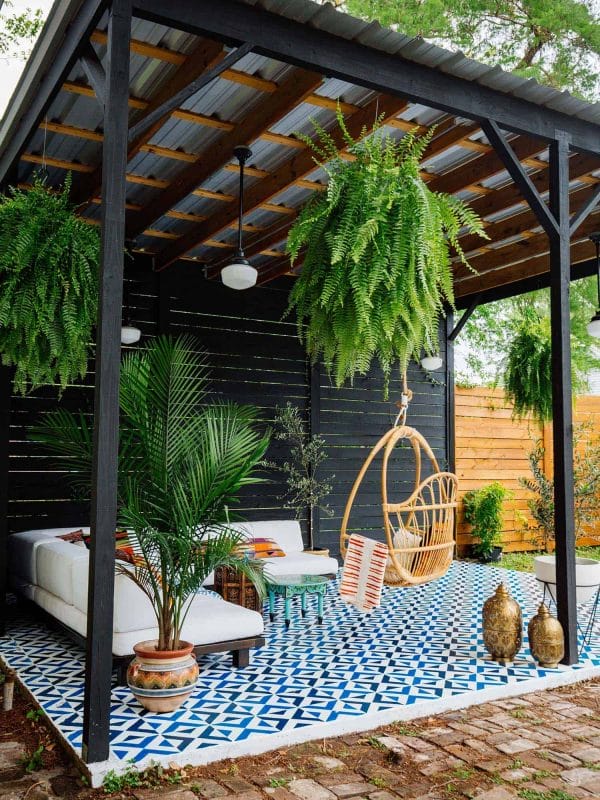 This is a perfect place for relaxing and soothing the breeze. It is because corrugated metal covers the patio that helps you maintain the conversation despite the weather.
The sectional sofa ensures your ultimate comfort. A rattan swing allows you to lounge comfortably. Hanging ferns and potted palm decorate the patio and accentuate the tropical retreat.
23. Contemporary Tropical Garden
The sleek design with clean-lined furniture embodies contemporary style immensely. Behind the wicker sectional sofa are several bamboos that create a spectacular backdrop.
Some other greenery like palms, ferns, and jasmine make the backyard lush because one of the significant characteristics of a tropical backyard is lush foliage that mimics a natural forest.
Therefore, letting plants overlap and climb over one another is a great idea.
24. Tropical Backyard with Three Different Seating Areas
You might have a small backyard, but it does not mean you cannot have a ball. This small backyard features three seating areas that allow you and your spouse to host different guests at the same time.
25. Beautiful Tropical Backyard on a Budget
This small backyard has proven that you can get a beautiful garden without draining your cash. As long as you know what to grow and how to arrange the plants, everything will be just fine.
Ferns and jasmines are fast-growing plants. Look at how they wrap the wall nicely. Growing Bougainville and orchids add some pops of colors.
26. Incorporate a Hammock
Take your holiday vibes to the next level by investing in a hammock and putting it in your backyard. You will feel like spending time on a beach although you are just at home.
These tropical backyard ideas have shown you that creating a beautiful and natural backdrop is not an impossible mission. With a little bit of imagination and creativity, a tropical backyard will be yours.