It is always wonderful to spend the holiday in Bali or Phuket. Unfortunately, it will cost you a fortune. Instead of splurging on expensive flight and hotel, bring in the holiday vibes to your home with these 26 tropical backyard ideas.
1. Small Tropical Backyard Ideas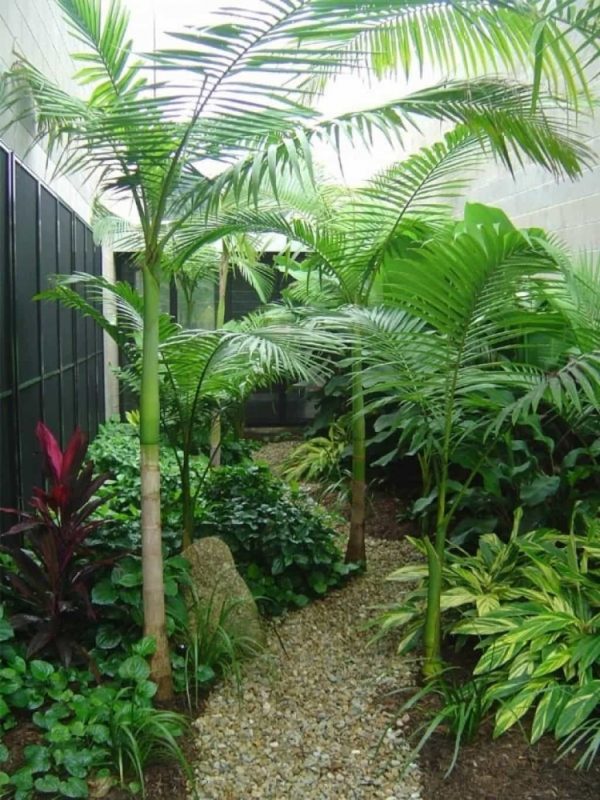 A spectacular tropical garden is not only for a spacious backyard. Even a small backyard can make a fantastic holiday retreat.
This backyard has proven that size is not a big deal. Gravels are set down to make a pathway to the door. Plant some palm trees on both sides of the pathway to escort you to your destination.
When creating a tropical backyard, you have to keep in mind that the more, the merrier. Therefore, you need to grow more plants like dumb cane, ivy, cordyline, and elephant's ears to perk the space up.
2. Romantic Tropical Backyard Ideas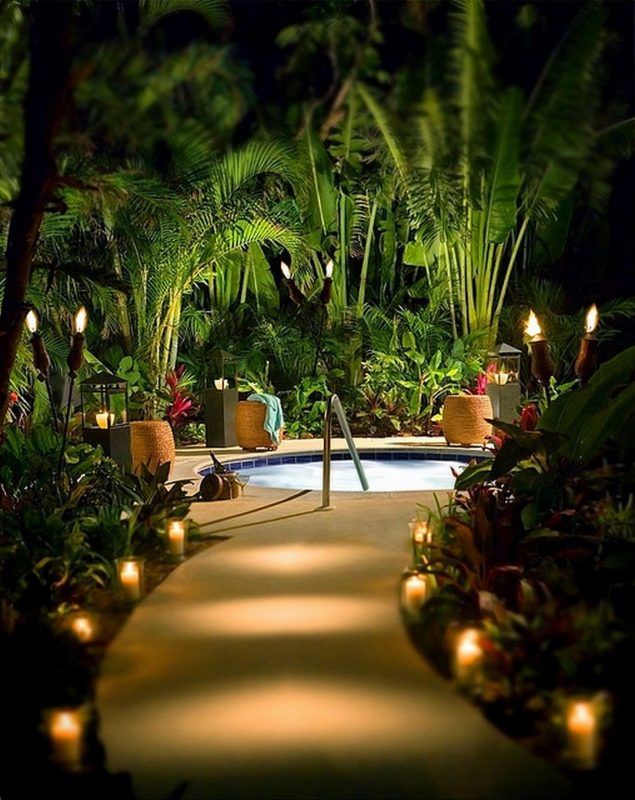 The tropical backyard tends to be romantic. However, you can make it more romantic by picking the right lighting.
This backyard shows you how easy it is to create a romantic ambiance. Battery operated candles are set down along the pathway to illuminate your steps.
Solar torches welcome you at the end of the pathway, enhancing the traditional look immensely.
3. Tropical Privacy Screen
It is always good to relax in the backyard after working all day. Nevertheless, what makes it irritating is the inquisitive neighbors that are eager to find out what you are doing. If that is the case, consider having a privacy screen.
You can choose various kinds of privacy screens. Instead of making wood pallet fencing, try growing some tall plants.
Some plants like banana trees and bamboos can make a perfect privacy screen while accentuating the tropical flair. They grow fast and improve your backyard landscaping.
4. Tropical Backyard Ideas with Pool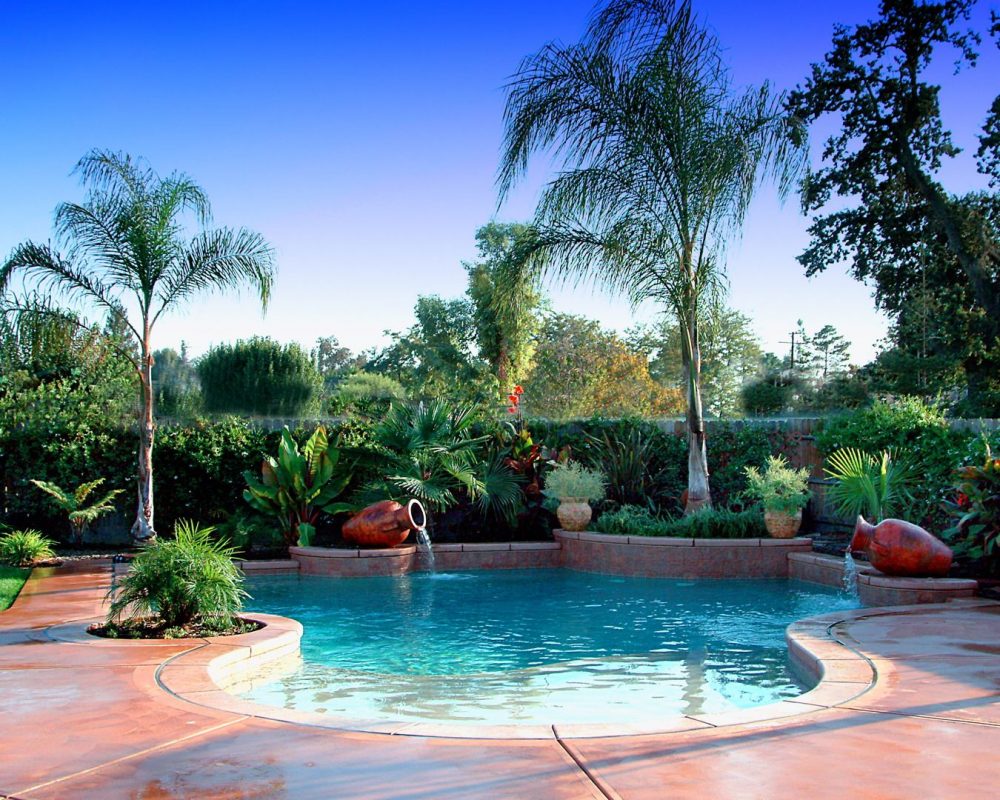 This backyard looks like a beach resort, thanks to the swimming pool and the palm trees that have successfully brought in the holiday vibes to space. The unique fountains make the backyard look amazing.
To get privacy, use wooden planks to form a privacy screen. To hide the screen away and make it look more dramatic, Chinese Windmill Palms, banana trees, and boxwood completely cover the fence.
5. Tropical Backyard Ideas with Fountain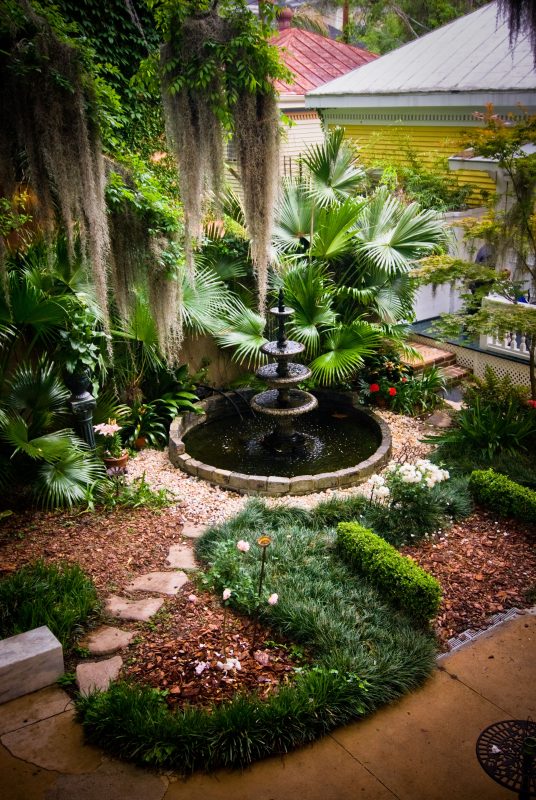 When it comes to creating tropical landscaping in your backyard, do not underestimate the functions of water features. They might be dispensable. However, if you incorporate them into your backyard, you will get a mind-blowing one.
This backyard features a tiered fountain that has become the centerpiece. Mexican Fan Palms anchor the fountain nicely. Spanish moss dangling from the tree adds more drama to the backyard.
6. Add Artificial Colors
Tropical plants typically have large leaves with only a few flowers. Therefore, you can add more colors to amp your backyard up. You can grow either birds of paradise or orchids to add more colors. You can also opt for paint for instant and foolproof color.
This backyard features plastered walls for the privacy screen. To accentuate the tropical flair, the wall is painted orange, mimicking the color of canna. To please the eyes, add some banana trees and succulents.
7. Let the Fish Swim
Watching the swimming fish is relaxing. Some fish like koi even have exotic colors that can match your tropical landscaping perfectly. Therefore, you should consider keeping some fish in your backyard.
This backyard features a pond that looks natural due to its meticulous design. Some koi fish swim happily in the turquoise water of the pond. Palm and moss make this pond look awesome.
8. Tropical Backyard with Modern Patio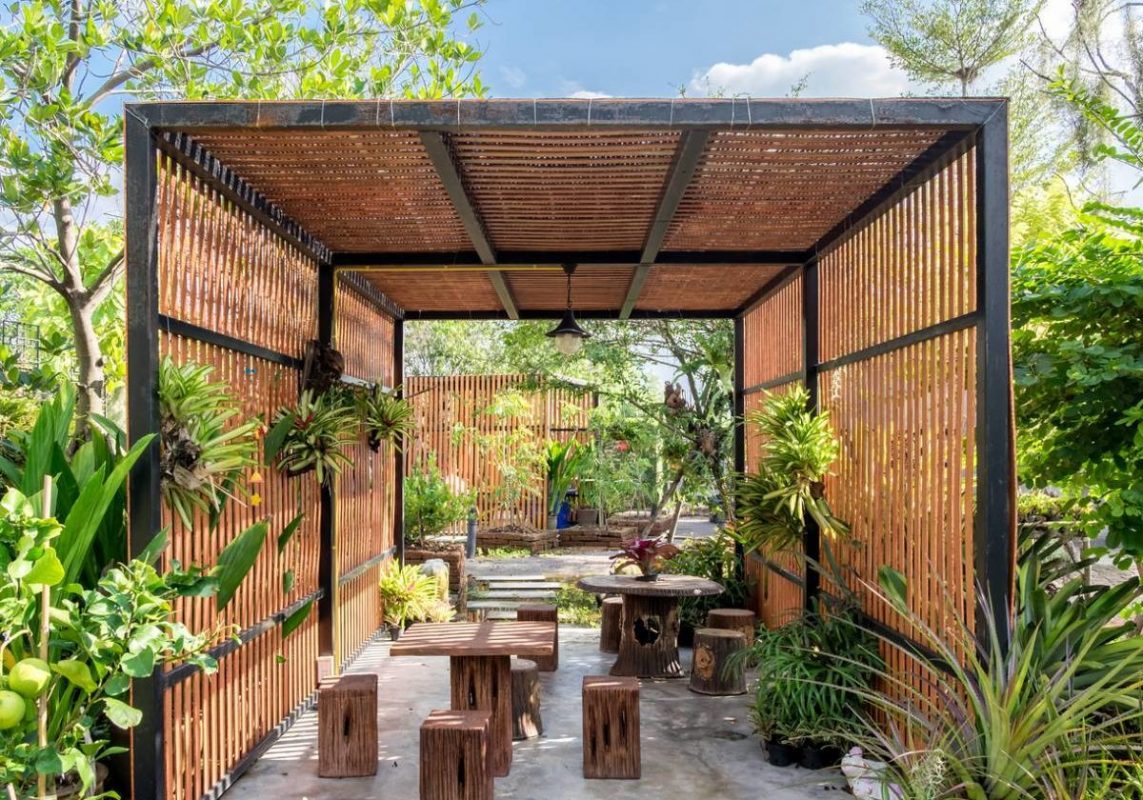 This backyard is the smart combination of modernity and rusticity, with some touch of tropical flair. Tropical greenery like yucca, hostas, and canna surround the patio, making it a nice place to hang out.
Bamboo privacy screen helps you deter peeping Tom from watching you while alleviating the glare of the sun. Log stools and tables allow you to shoot the breeze with some friends while blending with nature.
9. A Place to Lie Down
This minute backyard is exquisite and cozy. The pathway features uneven shapes that make it look natural.
Two single-sized mattresses lying on the pool deck offer a comfortable spot to lounge or even lie down. A Frangipani tree standing by the pool deck provides sufficient shade for you.
Concrete fence creates a privacy screen while hosting some dangling vines. If you think it is not enough, try extending it using bamboo for the peace of mind while accentuating the tropical style.
10. A Perfect Nook
Turn your backyard into a perfect hideaway where you can enjoy the natural beauty, escaping from the hectic activity for a while. You do need a respite.
This backyard features a wooden deck that comes in the weathered finish to add a little bit of rustic look to the space. Lush greenery like banana trees, ferns, and palm grass surround the backyard nicely.
A wooden chair stands among the lush green vegetation, offering you a comfortable place to sit down while slurping your afternoon tea or just reading a romance.
11. Low Maintenance Tropical Backyard Ideas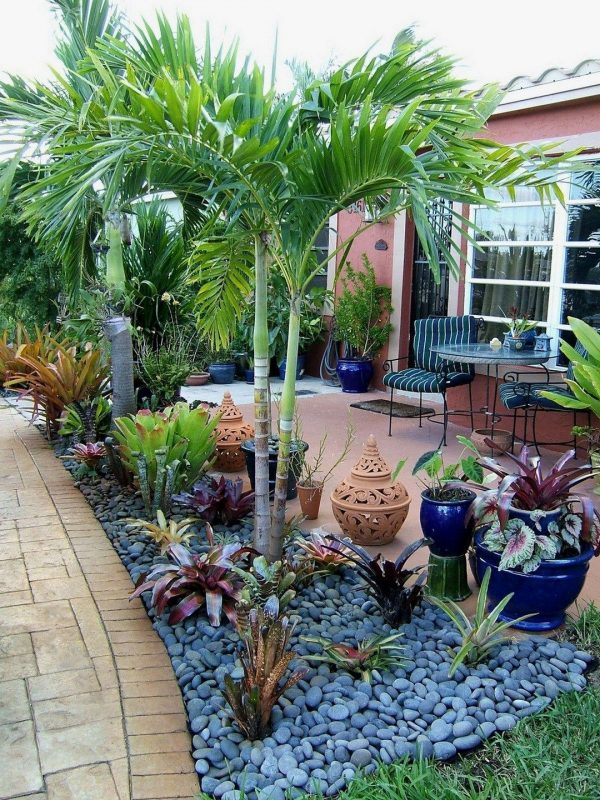 If gardening is not your forte, but you are dying for the holiday vibes of a tropical backyard, try opting for this low-maintenance garden.
Instead of turf that needs mowing regularly, try covering the soil in your backyard with pebbles or gravels. Then add some drought-tolerant plants like aloe and snake plants among the pebbles. Do not forget to add several palm trees to vary the look.
12. Tropical Backyard with Hot Tub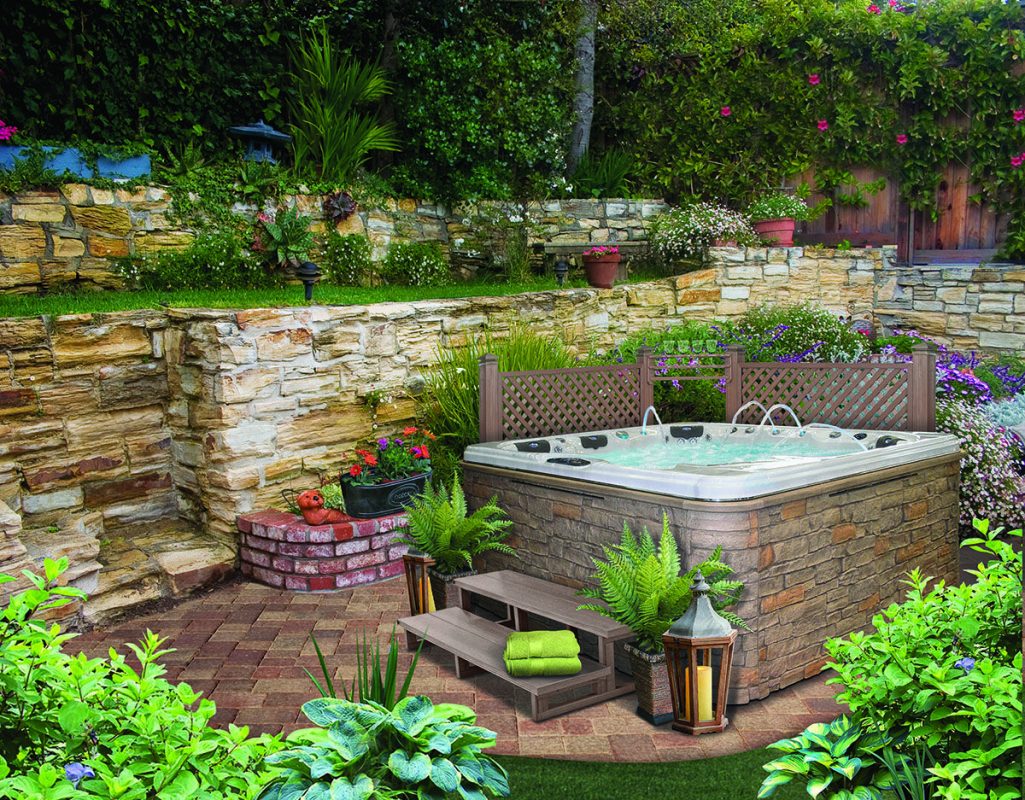 Installing a hot tub at home can help you feel more relaxed. Take this idea to the next level by installing a hot tub in your backyard.
This backyard features a small hot tub, which allows you to linger in the hot water while enjoying the serene backyard landscaping.
Faux stone tiles cover the retaining walls nicely, adding a textural element to the backyard. The same tiles cover the hot tub to match the retaining wall perfectly.
13. Sit around the Fire Pit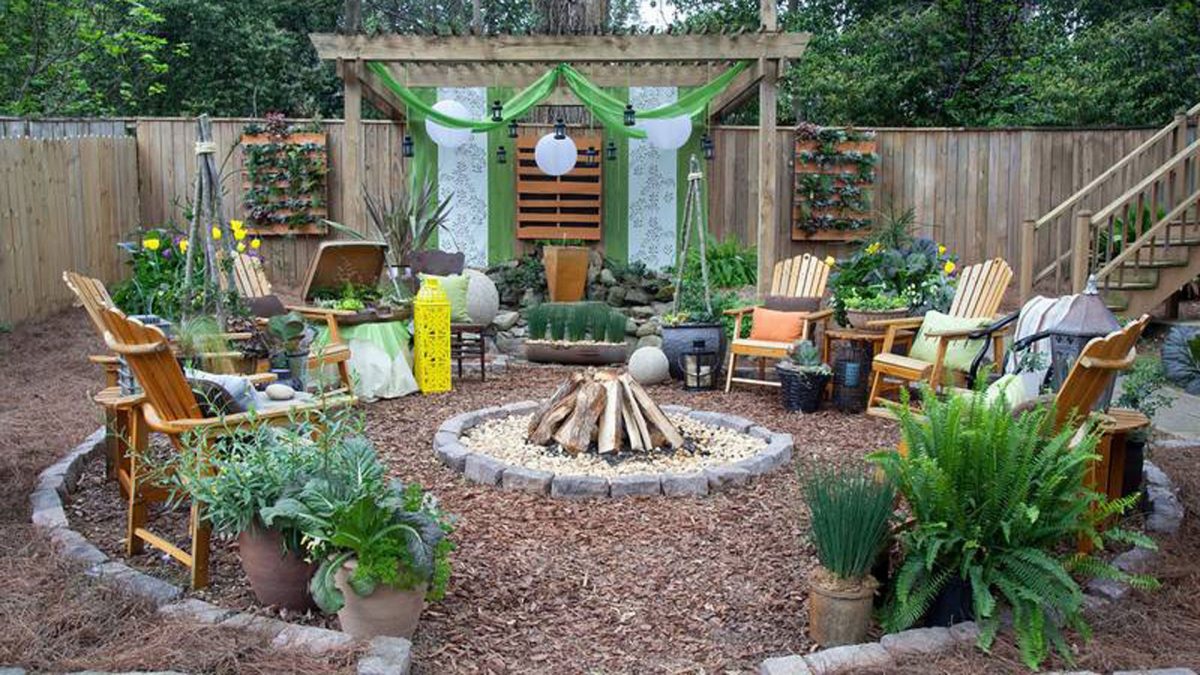 For several reasons, it is always good to turn off your television, put your phones down, and enjoy the glittering stars in the sky. To make it tangible, you need to turn your garden into a good place to spend the night.
Covering the soil with turf is a little bit tiring. Try mulch, instead. Put some chairs around the fire pit to create a space to hangout. Try adding a pergola to round out it. To kick it up a notch, try hanging some pendant lights like lanterns or mason jars.
14. Simple Tropical Backyard Ideas
Creating a chic tropical backyard does not have to be arduous. This backyard is quite simple, yet attractive. It features a sleek wooden deck that adds a little bit touch of a contemporary look.
Bamboos line up along the backyard to give you the ultimate privacy while matching the deck nicely. Banana trees and palm trees make a classic tropical backdrop.
15. Display Your Orchids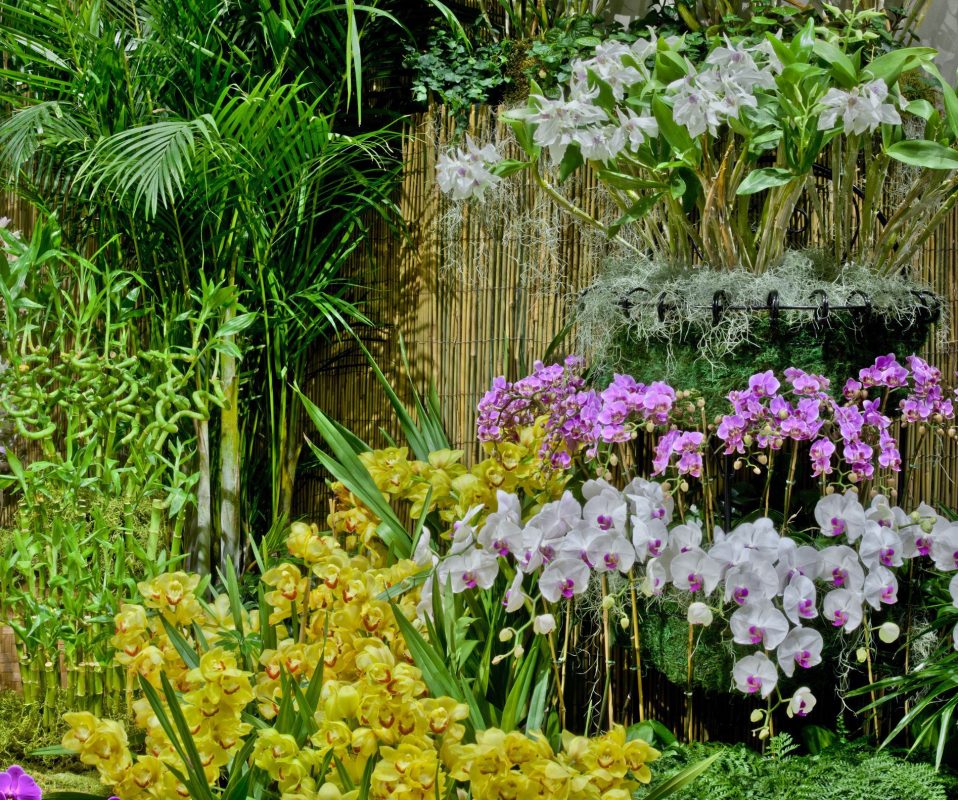 Orchids have never failed to amaze everyone with their exquisite colors. Besides, they can bring a tropical feel to the space instantly.
However, orchids do need more attention than those drought-tolerant plants. Always remember not to expose orchids to the bright, direct sun for a long period. You had better put it under a tree canopy so that they can get bright, filtered light.
You might also need to consider placing your orchids in a sheltered area, so the wind will not cause severe damage to them. When cold snap occurs, make sure to bring orchids indoors. If you do not have a greenhouse, a heated garage will do in a pinch.
16. Classic Jar Fountain
Water features have always been a part of tropical charm. You might feel perplexed when it comes to picking the right water feature for your backyard. If you have no idea what to choose, try this classic big jar as it will add a traditional touch to the space.
17. Tropical Flower Bed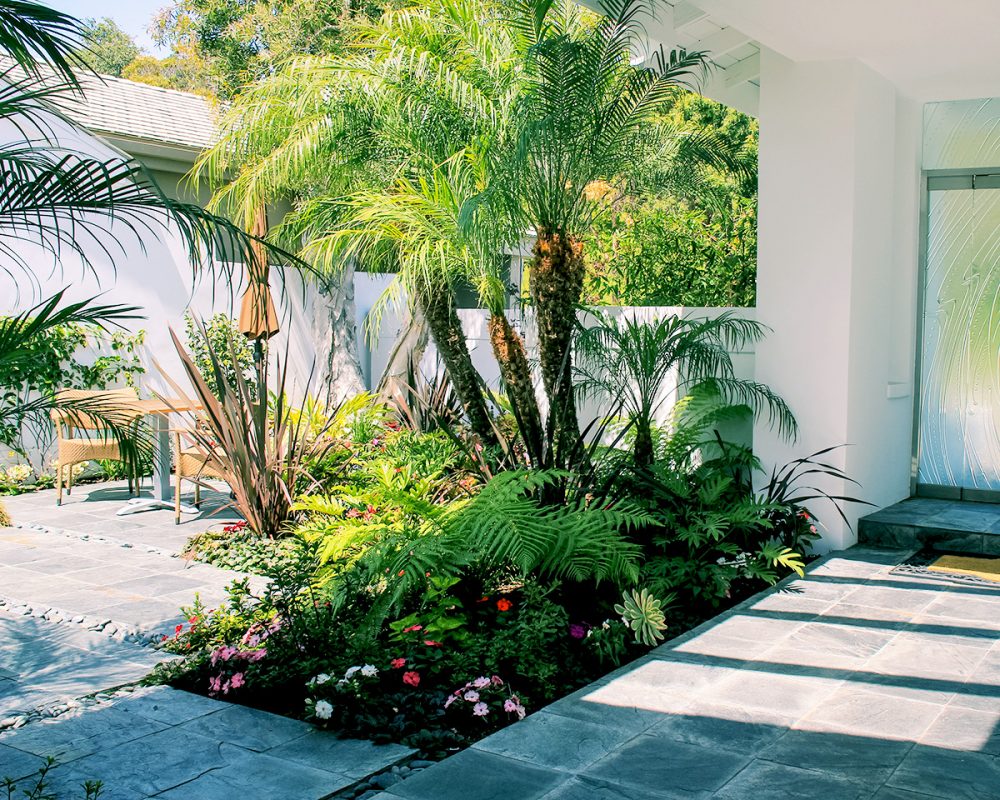 If you do not have enough space to accommodate lots of ferns, banana trees, and elephant's ears, you can just opt for this flowerbed.
This contemporary house has a little exposed soil as concrete covers the backyard. Nevertheless, it does not hinder the homeowner from creating paradise.
Some areas of the backyard remain uncovered so that you can use them as the flowerbed. Palm trees and ferns add an instant tropical charm to this backyard.
18. Dress Up the Pathway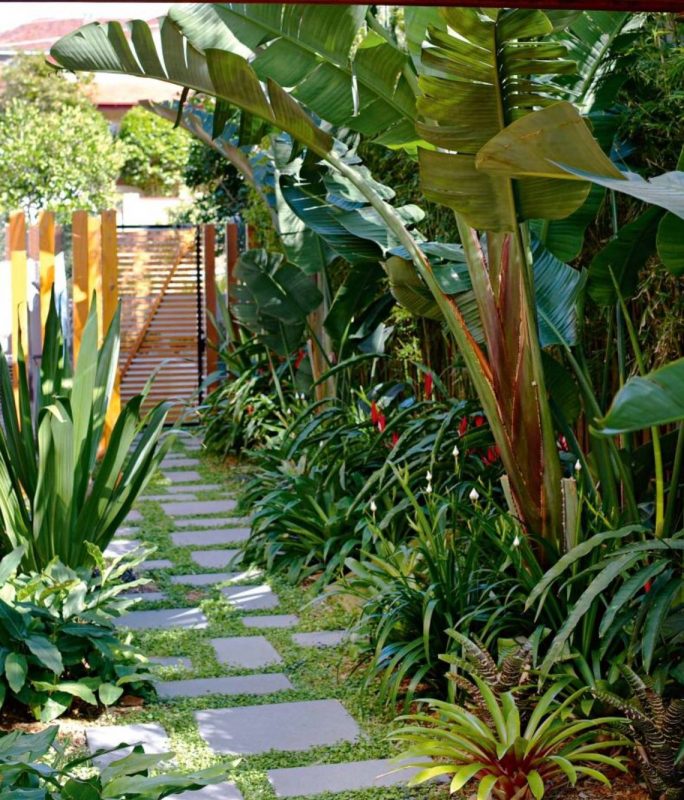 Pathways keep your footwear clean from mud. Pathways can do more than that. They are a part of backyard landscaping now.
This backyard features square pavers that have different sizes. Natural look comes from the random arrangement of the pavers. The pathway is dressed up with banana trees and birds of paradise that guide you to the door.
19. Tropical Backyard with Manicured Lawn and Gazebo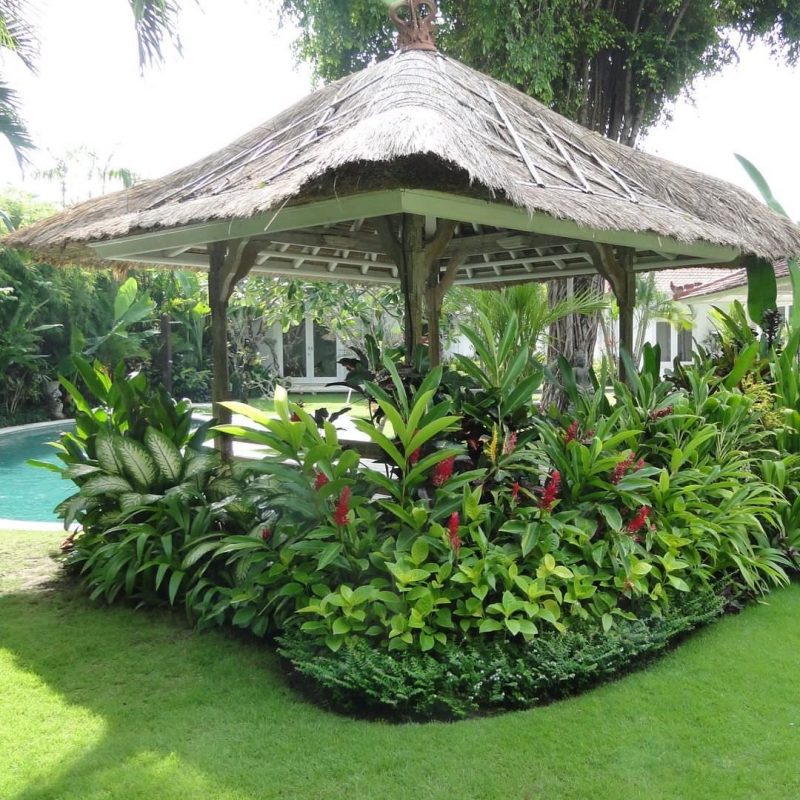 The manicured lawn always brings a contemporary look to the space. Therefore, incorporating turf, either the real or the artificial one, to your backyard is such a great idea.
Besides the manicured lawn, this backyard also features a gazebo covered with a hut to create a traditional ambiance. Dumb cane, bird of paradise, and yucca anchor the gazebo well.
20. Surrounded by Banana Trees
The white wall of this backyard is like a blank canvas. Paint the canvas with greenery. Ferns and banana trees slightly cover the wall and create a dramatic backdrop.
A built-in bench enables you to sit back and relax while enjoying the beautiful landscaping.
21. Tropical Backyard with Outdoor Dining Room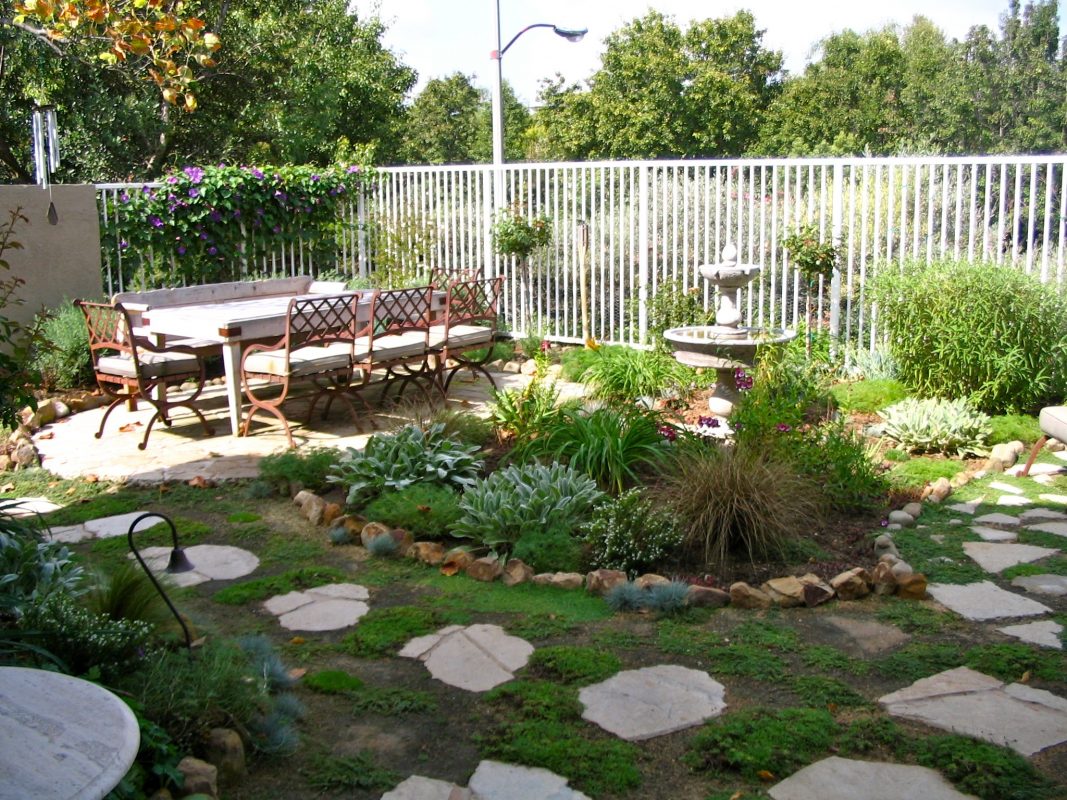 It is always great to have a potluck party with your best friends in the backyard when the weather plays nice. Since there will be some guests to come over for the party, meaning there are some eyes that need to impress, simple tropical garden can do the trick.
This backyard is spacious enough to accommodate several guests. However, decorating the whole backyard can be pricey and time-consuming. Therefore, you do not need to add details to every nook and cranny.
Just pick a spot that acts as a centerpiece, and decorate it with succulents, yucca, sugar cane, and fountain. Do not forget to a large dining table for your family and friends.
22. Tropical Outdoor Living Room
This is a perfect place for relaxing and soothing the breeze. It is because corrugated metal covers the patio that helps you maintain the conversation despite the weather.
The sectional sofa ensures your ultimate comfort. A rattan swing allows you to lounge comfortably. Hanging ferns and potted palm decorate the patio and accentuate the tropical retreat.
23. Contemporary Tropical Garden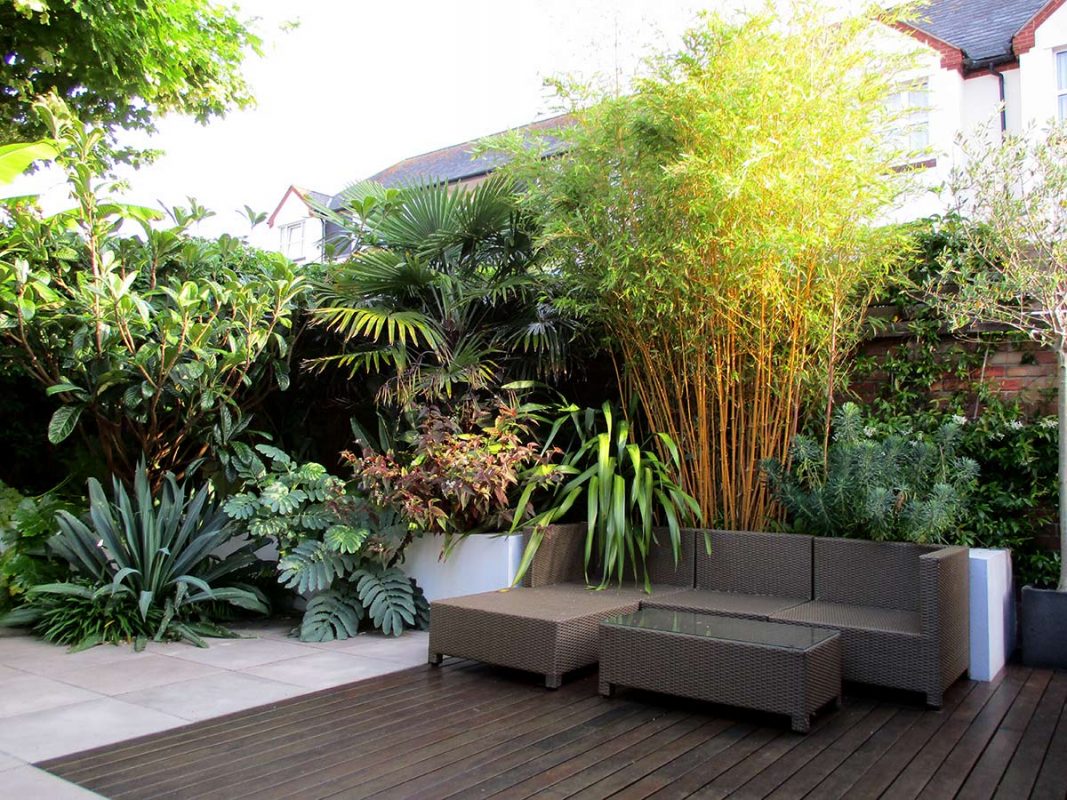 The sleek design with clean-lined furniture embodies contemporary style immensely. Behind the wicker sectional sofa are several bamboos that create a spectacular backdrop.
Some other greenery like palms, ferns, and jasmine make the backyard lush because one of the significant characteristics of a tropical backyard is lush foliage that mimics a natural forest.
Therefore, letting plants overlap and climb over one another is a great idea.
24. Tropical Backyard with Three Different Seating Areas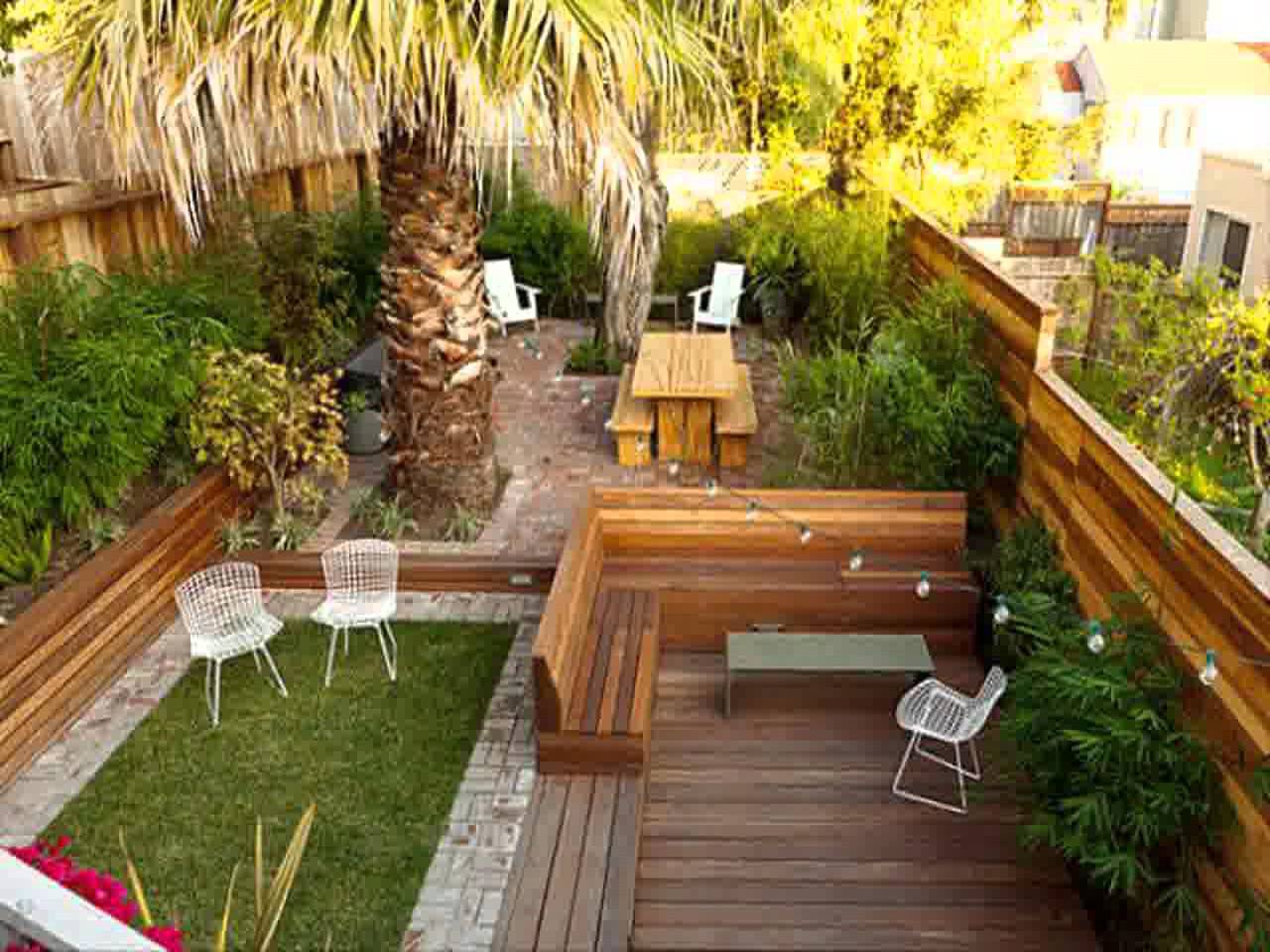 You might have a small backyard, but it does not mean you cannot have a ball. This small backyard features three seating areas that allow you and your spouse to host different guests at the same time.
25. Beautiful Tropical Backyard on a Budget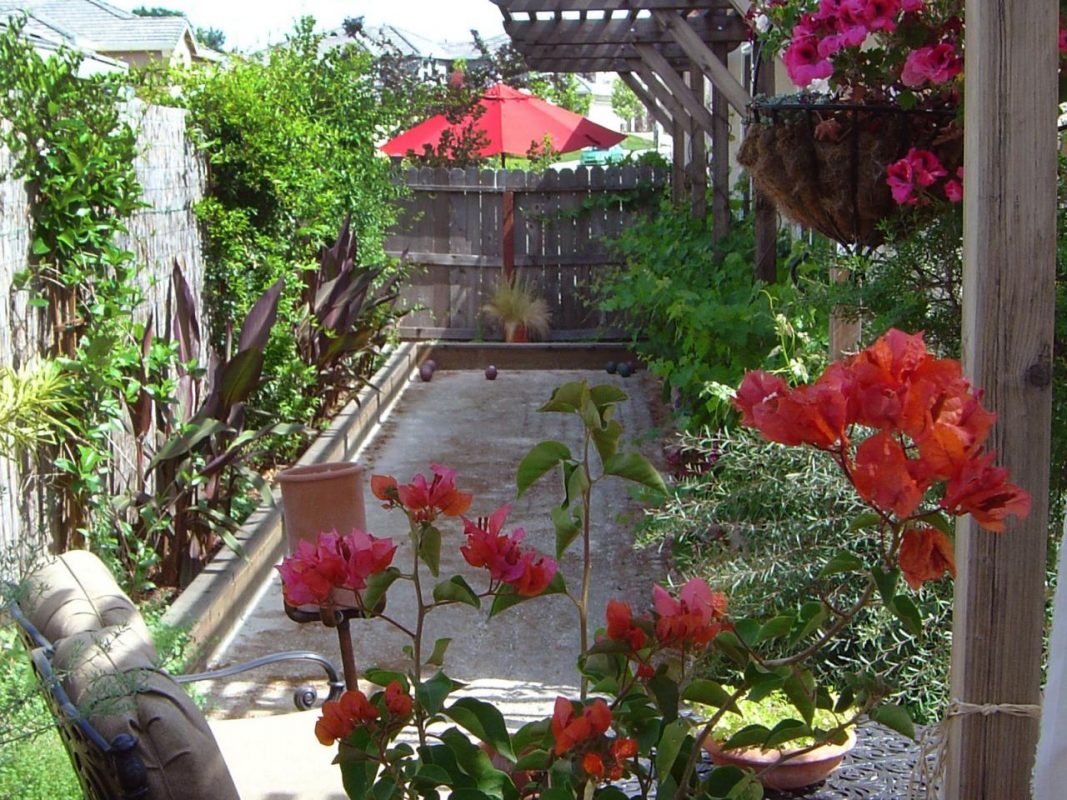 This small backyard has proven that you can get a beautiful garden without draining your cash. As long as you know what to grow and how to arrange the plants, everything will be just fine.
Ferns and jasmines are fast-growing plants. Look at how they wrap the wall nicely. Growing Bougainville and orchids add some pops of colors.
26. Incorporate a Hammock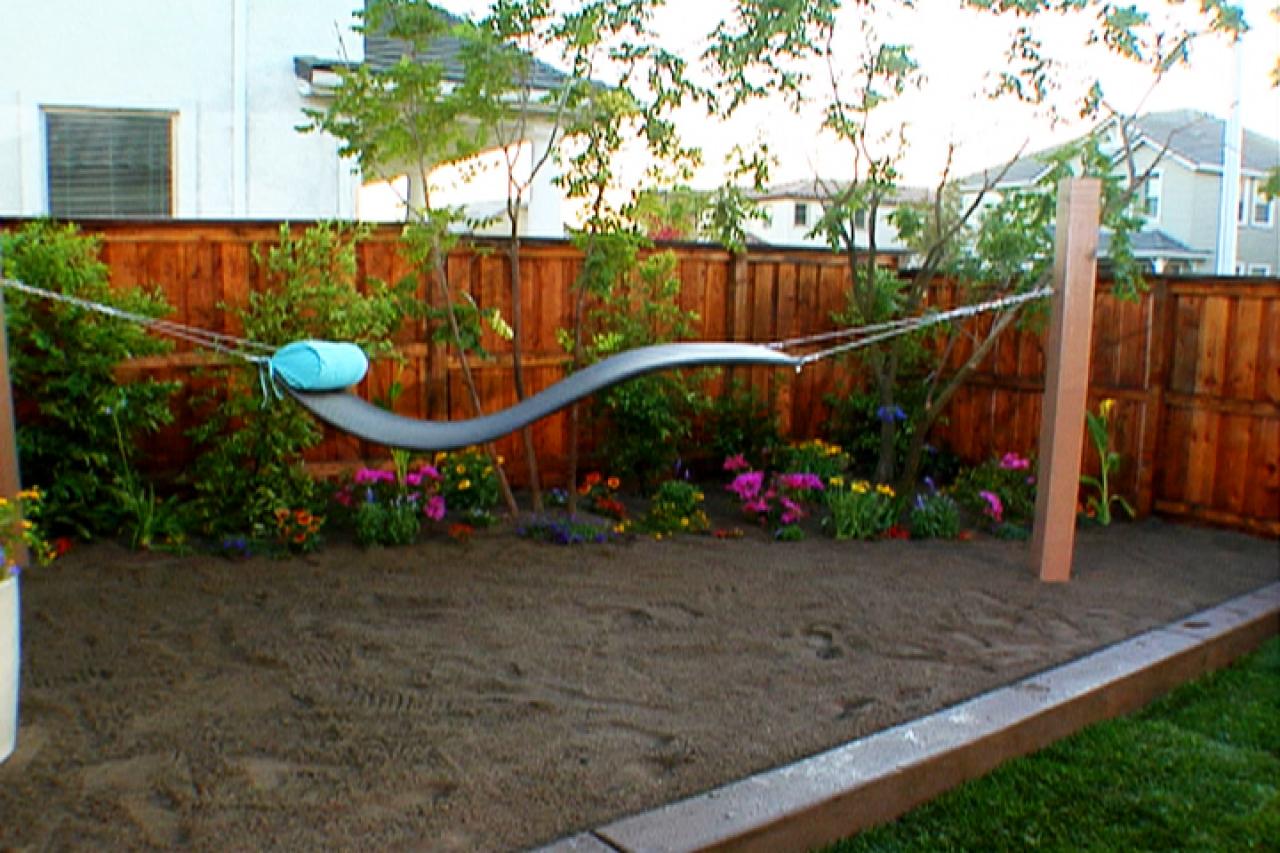 Take your holiday vibes to the next level by investing in a hammock and putting it in your backyard. You will feel like spending time on a beach although you are just at home.
These tropical backyard ideas have shown you that creating a beautiful and natural backdrop is not an impossible mission. With a little bit of imagination and creativity, a tropical backyard will be yours.