By lifting plants up off the ground, growing plants and flowers in hanging baskets can add brightness to an area and provide more garden structure.
Being able to put plants up in baskets not only piques curiosity in the yard, but also gives extra special places for additional plants when all the ground and patio planters are full.
Hanging baskets in the shade are a huge benefit, and they're easy to install. We've seen it before, and it's a stunning hanging basket that has been overexposed to the elements. It was once lovely and colorful. Shade can help hanging baskets stay hydrated and protect them.
Hanging baskets thrive in the shade for good reason.
Several plant and flower varieties get a relief from losing much needed moisture if they are in hanging baskets in the shadow. Exploring the use of living baskets, such as moss-covered baskets, is a excellent technique to take use of this. These are stunning, and they surround your hanging basket plants with a wonderfully lush environment.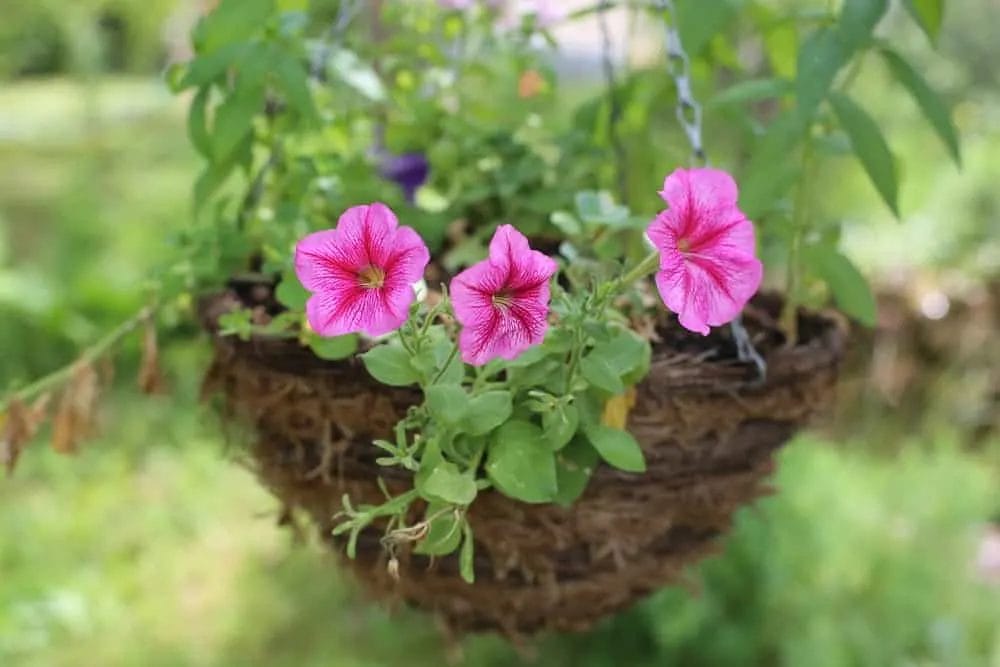 Shade-tolerant plants often need excellent drainage as well. This indicates that root rot, fungus, and mildews may be a problem for them. When growing in low-draining soils, these issues may occur. Air circulation and drainage are both improved when they're placed in the air.
Wind and weather may wreak havoc on hanging baskets, drying them out, and destroying precious flowers and leaves if shaded areas provide additional protection.
Shade-loving plants may present their own set of issues, but I can assure you that it is worth the effort!
The distinctive leaf shapes, colors, and brilliant, gleaming, almost iridescent blooms of many shade loving plants and flowers are another great feature.
Hanging Baskets in the Shade: Best Practices
You are completely responsible for your hanging plants and flowers. Providing moisture-retaining soil, supplemental nutrients, and consistent water are of the utmost importance for plants that are distant from the ground and may be exposed to dry, windy conditions.
Ground-dwelling plants might be able to obtain water from the surrounding region, but hanging basket plants are totally reliant on us. We must be nice to them at all times and make sure they have everything they want.
A quick note on shade
A "shade plant" may tolerate full sun in areas with high humidity. In dry situations, the same plant might become a shade-only plant. Some of the following plants, particularly if they are exposed to more than partial sun and/or dry and windy conditions, may appreciate ways to increase humidity by using equipment such as automatic irrigation.
8 best plants and flowers for hanging baskets in the shade.
Fuchsia (Fuchsia 'Tom Thumb')
Stand Out Feature: Large, brilliant fuchsia pink and purple blooms with a tear-drop shape.
Tom Thumb Fuchsia is a traditional small weeping shrub that is ideal for hanging baskets. From late spring through fall, the pendulous form is covered with one-of-a-kind blooms. Fuchsia may be utilized alone or in combination with other shade-loving plants. It's important to remember that fuchsia cultivars come in a wide range of shapes, sizes, colors, and blooming patterns.
Hardiness: Zone 8, 9, and 10.
Height and Spread: 2 1/2 feet tall by 2 1/2 feet wide.
Care: In the shade or dappled sunlight, moist, warm conditions are protected from the wind. Dryness or direct, hot sunlight is not tolerated by Fuchsias.
Western Bleeding Heart (Dicentra Formosa)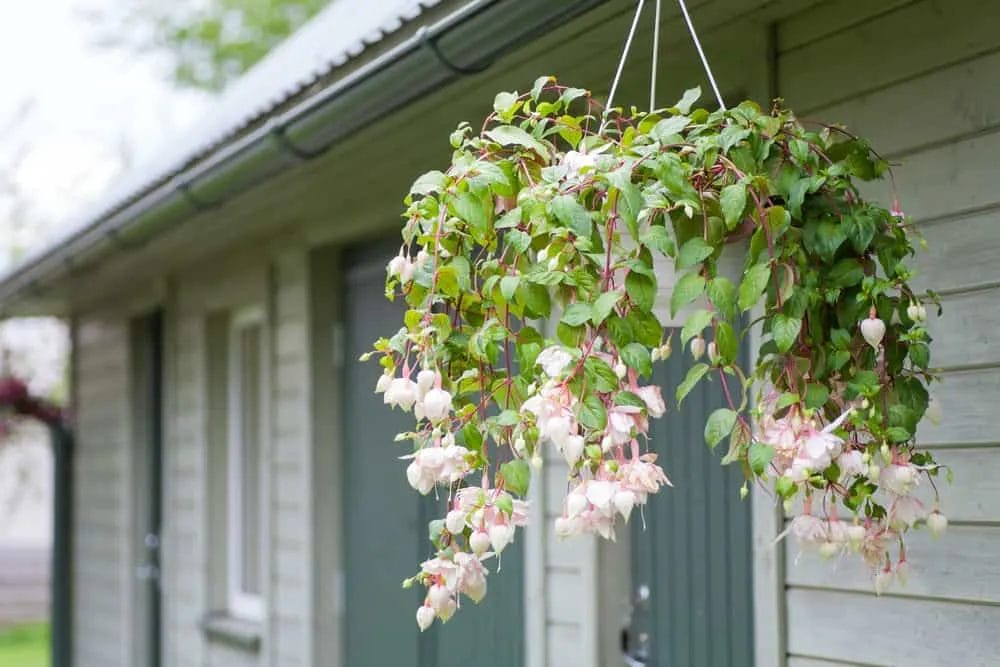 Stand Out Feature: Pendulous branches with gorgeous pink/red, heart-shaped blooms hanging in rows.
Description: The arching stems with heart-shaped flowers dangle for many weeks in late spring and early summer, making the lacy foliage a beautiful backdrop.
Hardiness: Zones 4 to 8.
Height and Spread: 6 to 12 inches tall and 1 to 3 feet wide.
Care: Dappled light with some shade. Rich, high-quality potting soil is beneficial. The more drought-tolerant bleeding heart cultivars, such as Western bleeding heart, are a good option for hanging in a basket. Group it with other plants that may take over the show during the summer and into fall, such as spring flowers.
Begonia (Begonia 'Pendula White')
Stand Out Feature: Large pendulous fragrant white blooms clusters.
Description: This lovely white blooming showstopper will bring a bright white brilliance into the shade. The blossoms emerge in bunches and dangle over deep green waxy leaves from July until the first frost.
Hardiness: Zone 11. It's not hardy enough for frost. Bulbs may be picked and stored for the following year's planting.
Height and Spread: 10 to 14 inches tall and wide.
Care:/strong>: Plant in strong, high-quality potting soil and keep it moist. Take cover from the sun and the wind.
Lobelia (Lobelia erinus)
Stand Out Feature: Many hues of blue blooms on a delicate trailing annual with a fan-shaped bloom.
Description: From April through June, it blooms a lot, and in the fall, it blooms even more. In the hanging basket, this compact annual can fill in space while other summer and autumn flowering plants reach their full size.
Hardiness: Zone 10 to 11.
Height and Spread: 6 to 10 inches tall and 6 to 12 inches wide.
Care: It thrives on rich, damp, natural soils. If Lobelia is pruned after its spring display, it may produce an additional fall bloom.
Impatiens (Impatiens walleriana)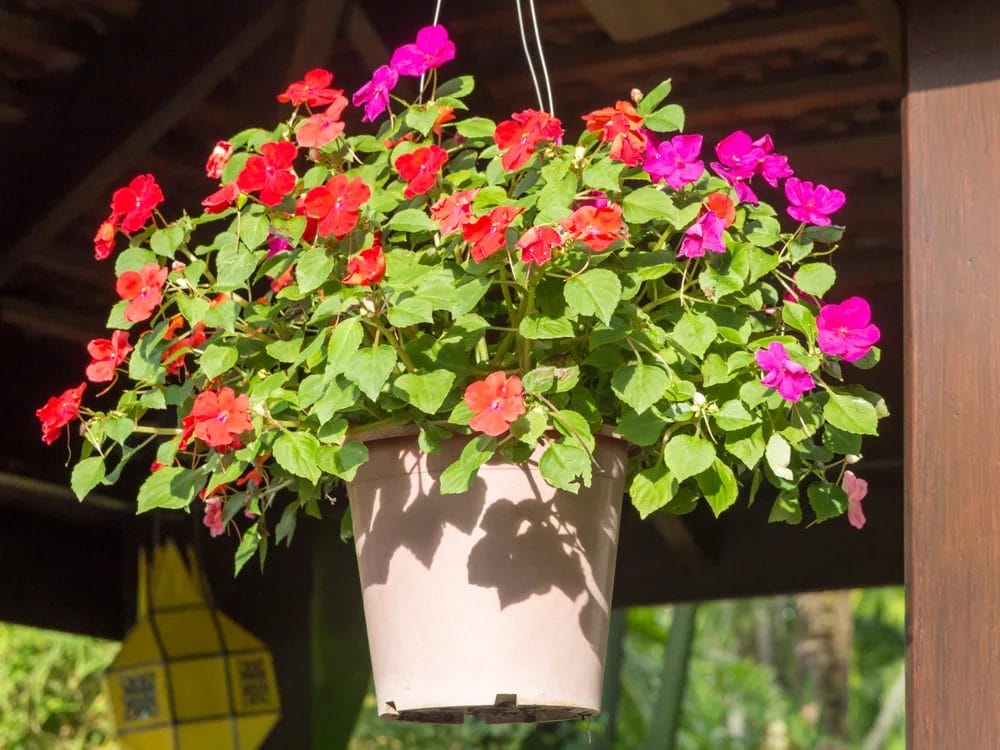 Stand Out Feature: Incredible vibrant color choices.
Description: Incessantly blooming plants of tiny size with glossy green leaves and a profusion of diverse colors: pink, purple, lilac, red, orange, rose, white. From June through Frost, they bloom continuously and put on a spectacular display.
Hardiness: A tender perennial. Zone 10 to 11.
Height and Spread: 6 to 24 inches tall and wide.
Care: Typically, it's a low-maintenance breed. It loves nutrient-rich earth and prefers to be kept moist all of the time. Bushier plants with more flowers will be encouraged by cutting back young plants.
Monkey Flower (Mimulus ringens)
Stand Out Feature: A monkey-face, or snapdragon-like flower with a distinct, sometimes visible, look.
Description: From June to September, they bloom in a variety of hues, generally yellows, oranges, and reds but may also be found in purple and lilac blooms. Upright types are available, while trailing types are ideal for hanging baskets.
Hardiness: Zones 3 to 9.
Height and Spread: They reach a height of 1 to 3 feet and a width of up to a foot.
Care: Wildflowers called monkey flowers grow in bogs and are native to North America. They like damp soil in the shade and will die if it gets too dry.
Trailing Bacopa 'Giant Snowflake' (Sutera cordata)
Stand Out Feature: Overflowing trailing habit.
Description: Hang a shade or two with this ultimate hanging basket. In the spring, huge white flowers bloom on a stunning backdrop of its own blue/green leaves, continuing to bloom all summer.
Hardiness: Zones 9, 10, and 11.
Height and Spread: It grows to be about 6 inches tall before spreading to 2 feet.
Care: Because of its vigorous nature and prolific, long bloom time, it enjoys additional nutrition. Trim any damaged stems, rather than deadheading.
Coleus 'Red Trailing Queen' (Coleus scutellarioides)
Stand Out Feature: Bicolored leaves with contrasting borders and centers.
Description: Leafy plants that are compact. Velvety heart-shaped leaves With a tiny light pink center, they are rose burgundy with white to green edges. Coleus comes in a variety of colors and forms, making it easy to choose from. This is just one of the spectacular shade-loving plants that, when grown alone, provide an outstanding softened backdrop or center piece.
Hardiness: Zone 11
Height and Spread: 1 to 1 ½ feet tall, spreading 1 to 3 feet.
Care: Plant in moist, rich soil. To promote compact lush habit, keep coleus evenly moist by pinching back young plants. To keep the attention on the gorgeous foliage, flower stalks may be trimmed.
What are you putting in your basket?
Initially, growing shade-loving plants in hanging baskets might seem difficult. Hanging baskets are ultimately a satisfying activity in and of themselves, from the planning through the planting and maintaining. Even more stunning areas in the yard may be created by exploring the many choices available and mastering the particular techniques to help shade plants flourish in hanging baskets.