After a hectic day, you want to relax in a hot tub. This helps melt away your jitters. Unfortunately, you cannot use it all year round due to the weather changes. That is why I compiled some cool hot tub gazebo ideas.
Combining hot tub and gazebo sure is a brilliant option. Your outdoor space will become the center of attention, and it works as the ultimate relaxation spot. Besides, it allows you to socialize with your family and friends.
These hot tub gazebos are both weatherproof and delightful. Browse this gallery through to find the best design for your lovely backyard landscape.
1. Personal Escape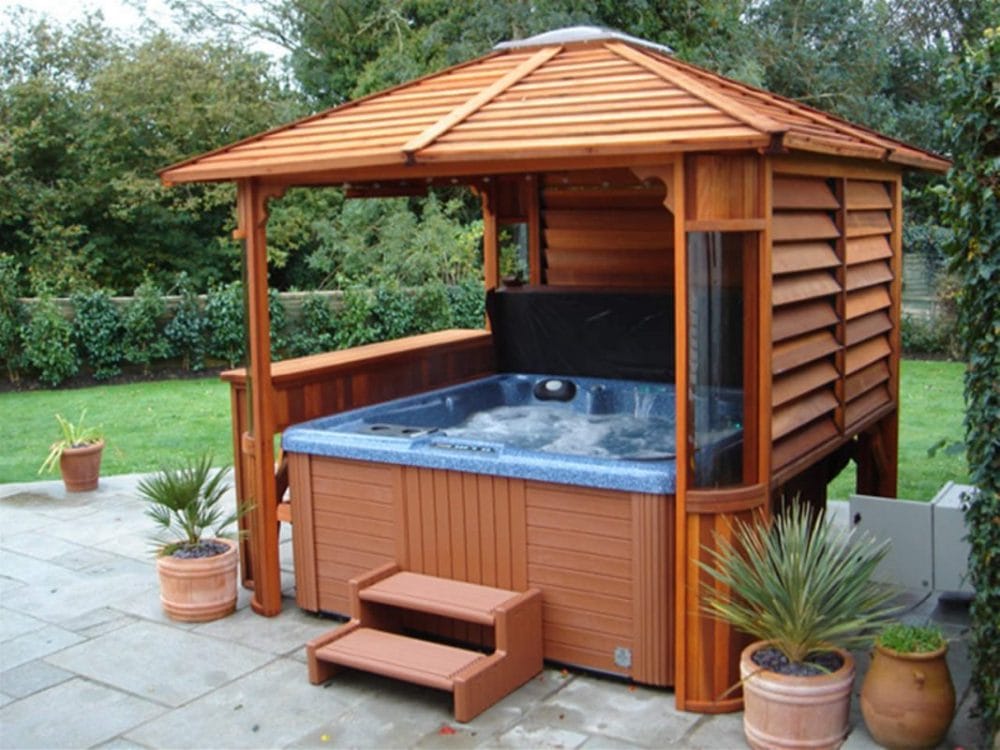 Above is a semi-permanent wooden hot tub gazebo. Since it employs a skylight, you can enjoy a breathtaking night sky view throughout the year. The roof itself protects the hot tub from winds, harsh sunlight, and precipitation.
There are steps to help you access the hot tub easily too. Meanwhile, the terracotta planters around the gazebo create a cohesive feel.
Moreover, concrete slabs give the gazebo a great foundation. They come in different sizes. As a result, they add visual interest to the space.
2. Double Duty

This hot tub gazebo has dual purposes. It features a built-in table and wooden stools. Those furniture pieces make for a cozy hangout spot. You could feed your guests after they soak in the hot tub.
The gazebo offers sun protection, not to mention it enables you to dip your body in the hot water on rainy days. Two panels shield the backyard from prying eyes.
Both wooden hot tub gazebo and red brick pavers carve a welcoming scene. Lastly, potted blooming flowers enliven the space.
3. Minimalist Hot Tub Gazebo Ideas

Whether you live in a mountain lodge or not, this hot tub gazebo is the best way to go. The unfinished wood details generate a rustic feel in no time. Meanwhile, whitewashed bricks and crazy flagstone pavers bring more texture to the space.
The design of the hot tub gazebo keeps you from getting sunburns. It develops an airy setting as well.
A black circular tub catches the eye and delivers drama to the backyard landscape. You can take a hot water dip in it without missing the beauty of your garden.
4. Isolated Solitude

Do you love DIY projects? If yes, you should construct a hot tub gazebo yourself like the one pictured above. Since it is handmade, you can save some money.
Its cloth top and panels give you extra privacy, while the unpainted wood frame develops a natural look. Furthermore, the brown hot tub nicely sits under the white gazebo. The built-in wood mat heightens the intimate ambiance.
Stone patio slabs and river rocks lend the backyard rugged textures. Some greenery transforms the area into a lively oasis.
5. Hideaway for Two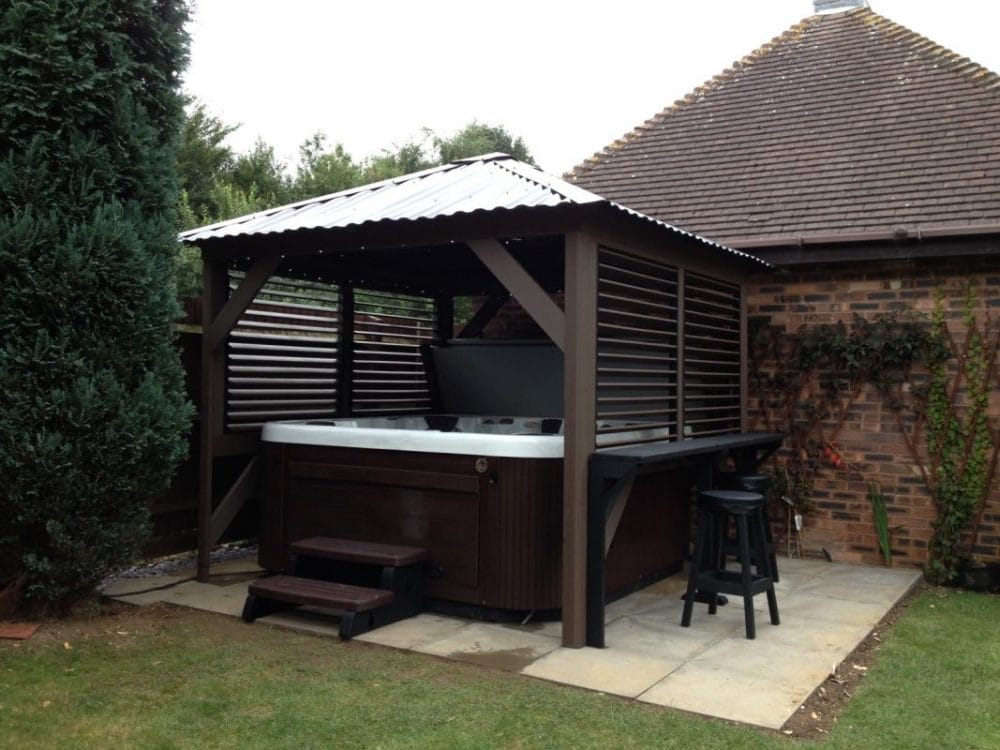 Who doesn't want to while away the hours in this hot tub? It is spacious enough to accommodate you and your significant other. The gazebo offers permanent rain and sun protection.
Sidewalls allow the crisp breezes to come through. Meanwhile, the fences keep your neighbors from spying on you two.
Black-painted tables and stools raise the comfort of the hot tub gazebo. Both you and your partner can have a good conversation as well as sip fresh summer drinks. The grass, shrub, and trees round out the yard.
6. Outdoor Fun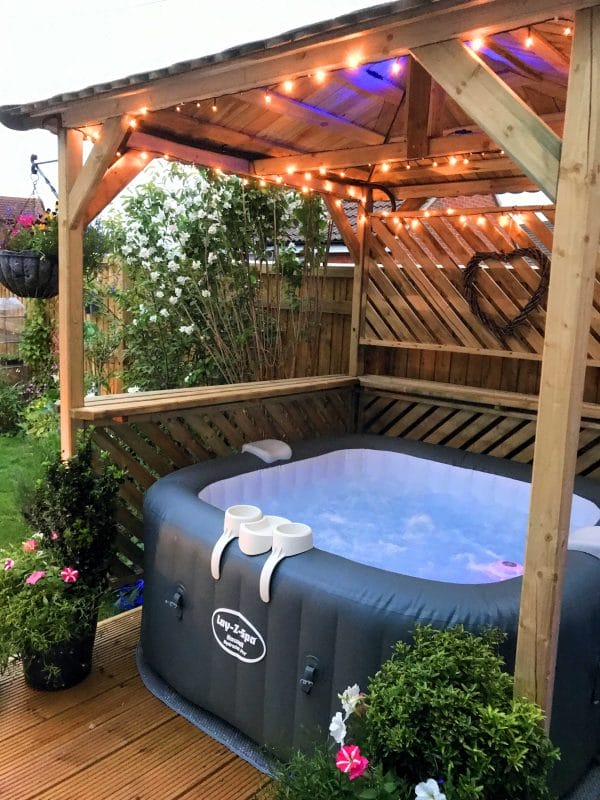 Do you have no large backyard? Do not despair. This wooden hot tub gazebo is compact but fabulous. You could leave it unpainted like the fences. It fills the backyard with rustic charm in a flash.
The semi-enclosed structure enables you to watch adorable butterflies and hear buzzing bees. Gazebo's roof protects the area from bad outdoor elements. Colorful flowers offer wonderful scents.
Strings of light illuminate the solitary space once the sun sets. A twig heart on the panel titivates the room.
7. Glass Hot Tub Gazebo Ideas

As you can see, the gray hot tub rests under the glass-paneled gazebo. It is such a perfect place to kick back. The sunroom design allows lots of natural light to shine through.
Furthermore, the roof of the gazebo probably impedes your vision. However, you do not need to worry about nighttime insects and rain.
A rattan armchair evokes a cozy atmosphere. A potted tree and flowers connect the screened hot tub gazebo with the surrounding garden.
8. Portable Enclosure

Are you not into a permanent hot tub gazebo? Then, you should give this portable gazebo design a go. When not in use, you can easily remove it. That way, you can gaze up bright stars of the night sky.
You can replace the gazebo over your hot tub for extra shade on sunny days. To get complete privacy, just pull the curtains back.
If you hate a plain hot tub gazebo, hang potted planters from the ceiling. You could also put the houseplants on concrete slabs to add more vivid colors.
9. Breezy Living Space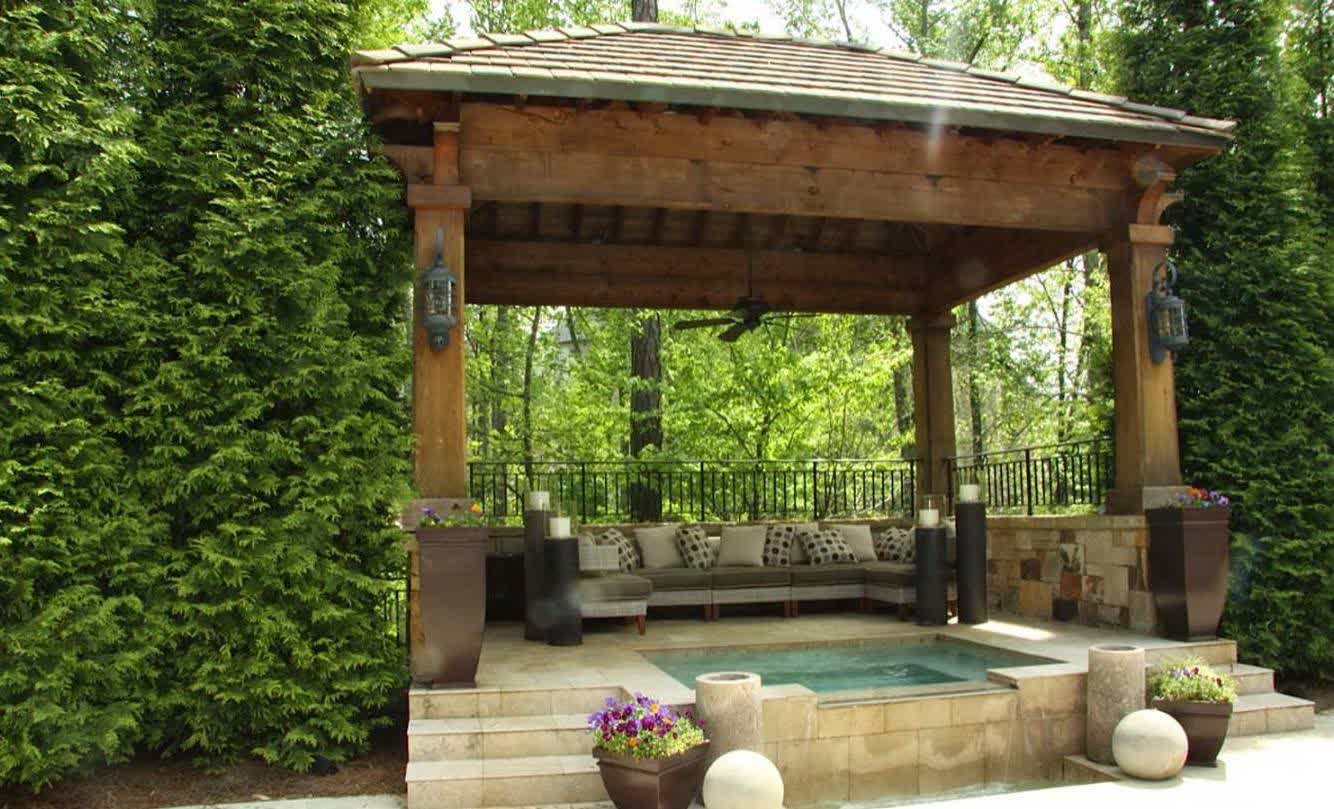 Just because you opt for a semi-enclosed hot tub does not mean you cannot find a comfortable hangout spot. Here, the magnificent gazebo houses a stone hot tub as well as furniture.
The C-shaped sofa and throw pillows come in neutral tones; therefore, they do not look out of place. Those units let your guests relax and have a chitchat.
Moreover, the ceiling fan and wall sconces reinsure the hot tub gazebo with some vintage appeal. Meanwhile, flowers and trees provide extrasensory pleasures.
10. Wishing Well

This raw wood hot tub gazebo certainly reminds you of wishing well. The design sets an open feel, while roofed cover keeps out leaves, dirt, and debris. You can enjoy an uninterrupted backyard view while indulging in a hot soak.
The brown tub and benches warm up the space. Living fence and trees add natural colors to your gazebo. They provide a sense of privacy too. Meanwhile, stone slabs increase the outdoorsy feel.
11. Hot Tub Gazebo Ideas with TV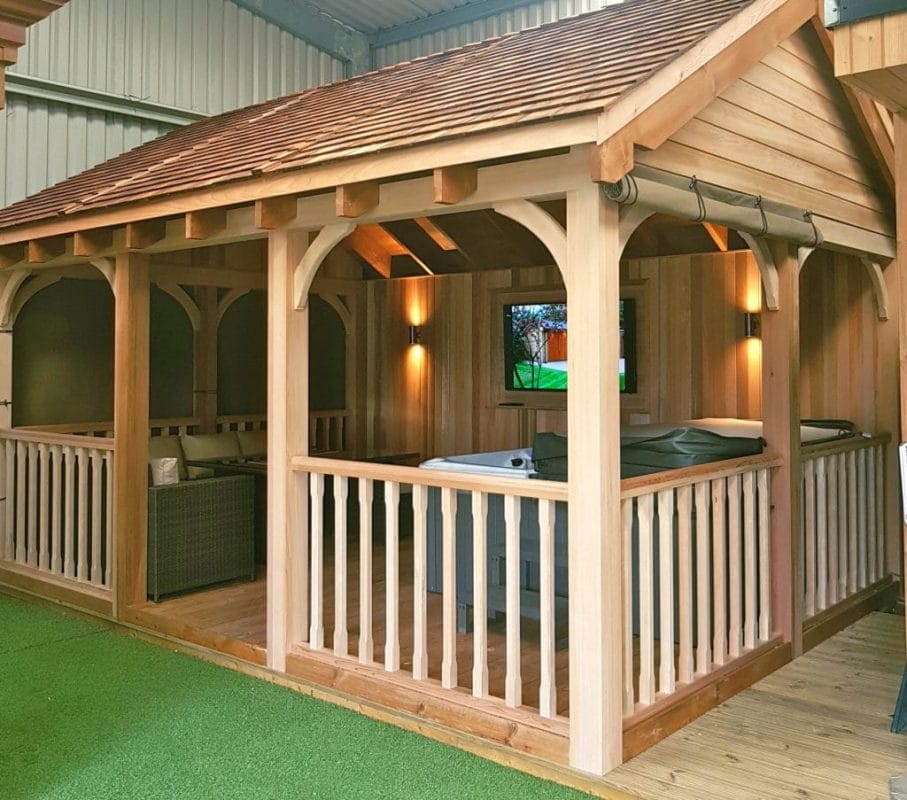 There are a gray hot tub and woven wicker sofa under the large unfinished wood gazebo. You can talk to your dry guests while lying back in the tub.
The shades are easy to pull down. They prevent your annoying neighbors from stalking you. Two saber wall sconces cast an atmospheric glow in the night. Outdoor television delivers a modern vibe to the area.
12. Welcoming Solarium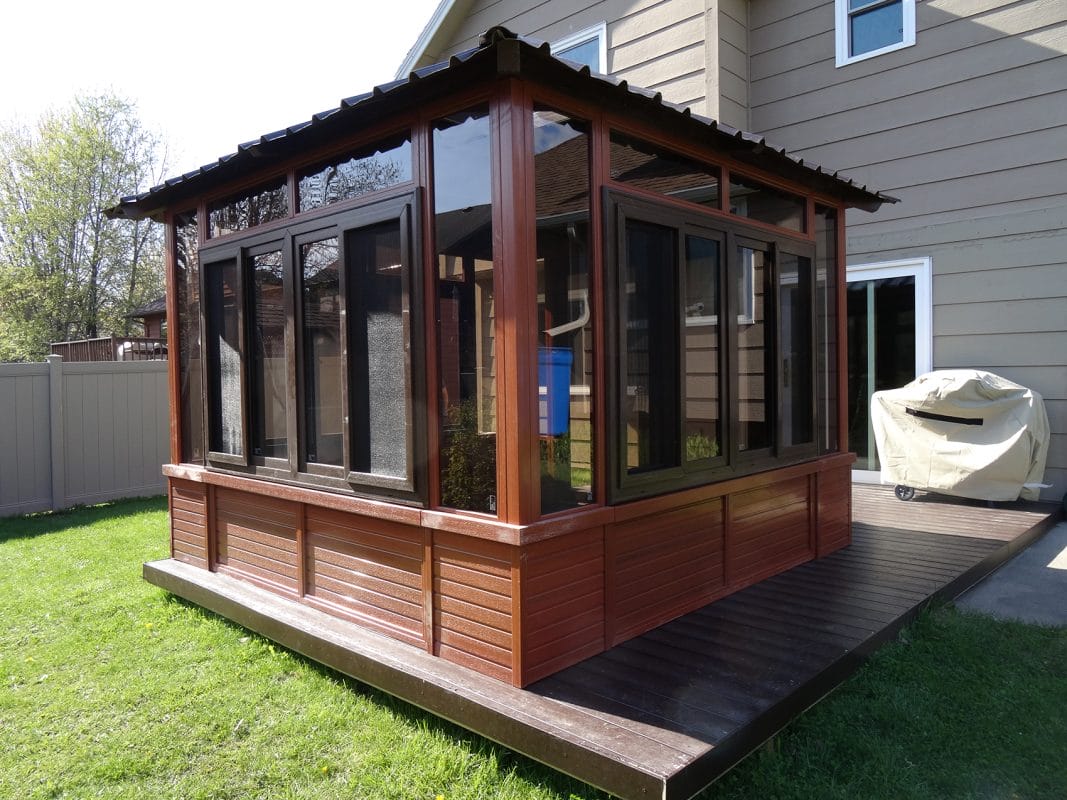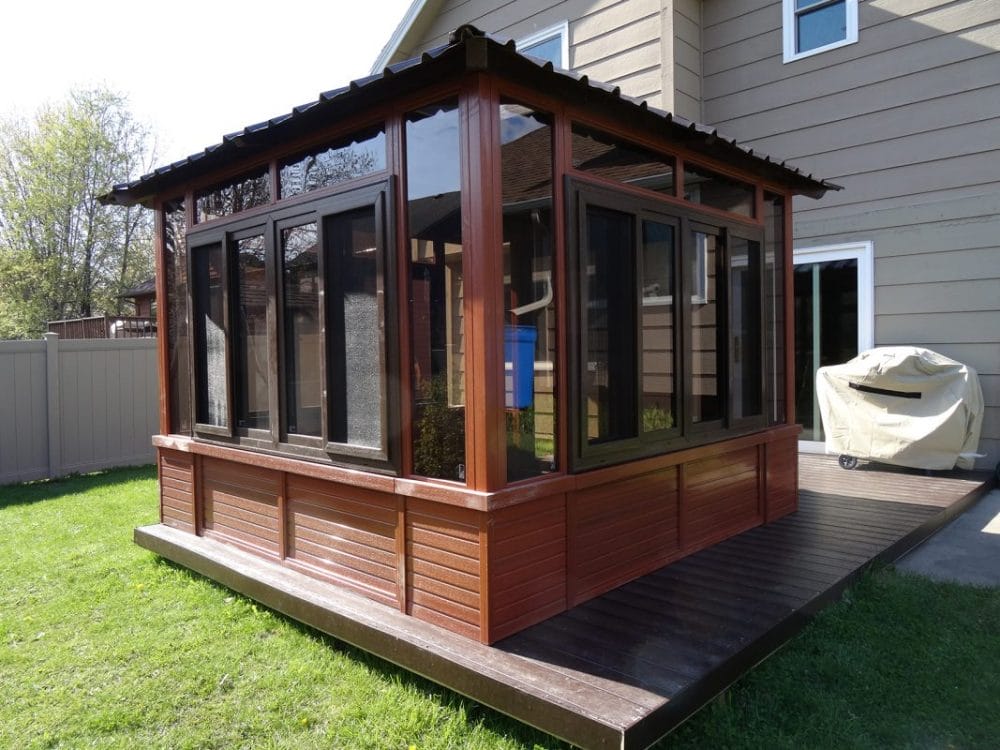 Unlike the regular hot tubs, this one allows for all-weather use, thanks to the covered gazebo. The glass panels make you feel comfortable inside the hot water during the winter and autumn months.
Design-wise, it is sturdy and aesthetically pleasing at the same time. The raised platform gives hot tub gazebo strong structural support. Meanwhile, grass improves the appearance of the backyard.
13. Moroccan Influences

This backyard is not so big, but it employs an alluring hot tub gazebo. The cloth gazebo and curtains assert a sense of elegance. They also produce a relaxed appeal.
The Moroccan lanterns imbue the space with an oriental vibe. Both lanterns and candles exhibit a tranquil air. The hot tub gazebo is a perfect spot for reflection, meditation, and relaxation.
14. Graceful Shadows

If you do not want the dark shadows fully cover up your solitary space, try this idea. The pergola-inspired roof offers a degree of sun protection. So, the water does not get too hot.
A projector screen enables you to watch your favorite movies in the great outdoors. A vintage clock titivates the wooden hot tub gazebo, while the mind-blowing nature will drift away from your anxiety and stress.
15. Fit
 

for A Couple

Here is a modern hot tub gazebo resting upon stone brick slabs. It boasts a sturdy roof and pillars. Moreover, the sunlight comes through it from all sides.
Two blue Adirondack chairs accompany the covered hot tub. They bring pops of color to the otherwise neutral backyard. You and your spouse can have a cozy conversation after spending time together in the swirling hot water.
16. Secluded Sanctuary

As the image shows, the hot tub sits under the full roof of the gazebo. It keeps off the strongest of the sun's rays, not to mention you can enjoy the tub without worrying about rain.
The pallet fences make for an isolated escape. They prevent your neighbors from watching you as well. Meanwhile, the black-and-white lounge chair sets a laid-back ambiance.
17. Privacy Panels

This hot tub gazebo has lattice sidewalls. They let in comforting breezes and maintain your privacy, while the covered roof protects the area from inclement weather.
Wooden steps, planters, and tub welcome you and your other half. Moreover, the reclaimed wood foundation enhances the rustic feel. Lastly, vibrant flowers create a romantic atmosphere and bring shots of color to the yard.
18. Paneled Getaway

None of your neighbors can spy on you, thanks to the hot tub gazebo with glass panels. They also help prevent unwanted sunburns. The roof is enchanting on its own, and it protects the hot tub from snow and rain.
Furthermore, a built-in table and two armchairs are a perfect addition to the covered hot tub. The striped seat cushions perk things up. Both you and dry guests can socialize together. How awesome is that?
19. Luxurious Hot Tub Gazebo Ideas

The hot tub and swimming pool have the same colors. Along with crisp white oversized pillars, they lend the space a Mediterranean feel.
Brown pillows and beige curtains turn the hot tub gazebo into an elegant hideaway. They are such a striking contrast to the pillars too.
The candles subtly illuminate the area and carve a romantic vibe. Meanwhile, blooming flowers raise the beauty of the hot tub gazebo.
20. Weather Does Not Matter
This charming gazebo sits gorgeously on the rooftop. It holds a semi above the ground hot tub. The roofed cover also ensures that you can enjoy a long soak on any occasion.
Moreover, the neutral color palette exudes a feeling of serenity. The river rocks, stone brick pavers, and trees lend the space some outdoorsy appeal. For sure, this hot tub gazebo combo will let your daily burdens go instantly.
21. Go Big or Go Home
Pictured above is a larger-than-life gazebo. It divides the outdoor space and houses the large hot tub at once. The white pillars and handrail contrast marvelously with wooden features.
Since the gazebo employs no screen, it lets in fresh breezes. Two armchairs right on both sides of private hot tub make for a comfortable seating area.
Flowers on vase and a potted plant keep starkness at bay. Meanwhile, rolled towels on the brown steps develop a spa-like atmosphere.
22. Simple Personal Touches Hot Tube Gazebo
This hot tube gazebo is truly unique. It features flat top that provides sunshade. The homeowner did not add screens to the gazebo because she desires an unblocked view of the surrounding nature.
Sofa and armchairs allow for family gatherings and other social events. Wall sconces, random flagstone pavers, and rocks generate a countryside charm. A fireplace heats the entire area during cold months.
23. Refreshing Respite Gazebo
If you love Mother Nature, you should give this wild design a shot. As seen in the image, the structure of the gazebo includes a tiki hut-inspired roofing style. It delivers an exotic vibe to the backyard.
A two-tone hot tub furnishes the gazebo. A built-in table can accommodate towels and cold beverages. Meanwhile, wooden fences, bamboo pillars, and trees convert the backyard into a jungle retreat.
24. Hot Tube Gazebo Island Life
You have a front beach house.
Why do you not build a hot tub gazebo? It would be a nice spot to escape the afternoon heat. You can lounge around in the tub without worrying about gusty winds and rains.
Furthermore, the sand-colored curtains between dark-toned wood pillars adorn the space and increase privacy. They generate a peaceful mood too. What a beachside sanctuary!
I hope those hot tub gazebo ideas encourage you to make your private getaway. Additionally, you can either leave it enclosed or open. Finally, yet importantly, choose the hot tub gazebo design that meets your needs and speaks to you.