Having a barbecue party with family is a great idea to spend your weekend. Unfortunately, you just realized that you do not have any grills. Do not let it hinder you from having fun. Check out these creative ideas on how to grill without a grill.
1. How to Grill Bread without a Grill
What do you usually have for breakfast? Is it some bread? It would be tastier if you toasted it. Unfortunately, your toaster is broken, meaning you do not have it now.
But you can feel at ease because you can find lots of ideas of how to grill without a grill.
Grilling bread is as easy as pie. Get a heavy-bottomed pan and place it over medium-high heat. Add some butter to cook the bread. Pause for several minutes before flipping it.
Another way to grilling without a griller is by using a skillet. However, you will get dry-toasted bread, instead, which many people think is less tasty than its counterpart. Although, it depends on your preference.
2. Hot Skewer Method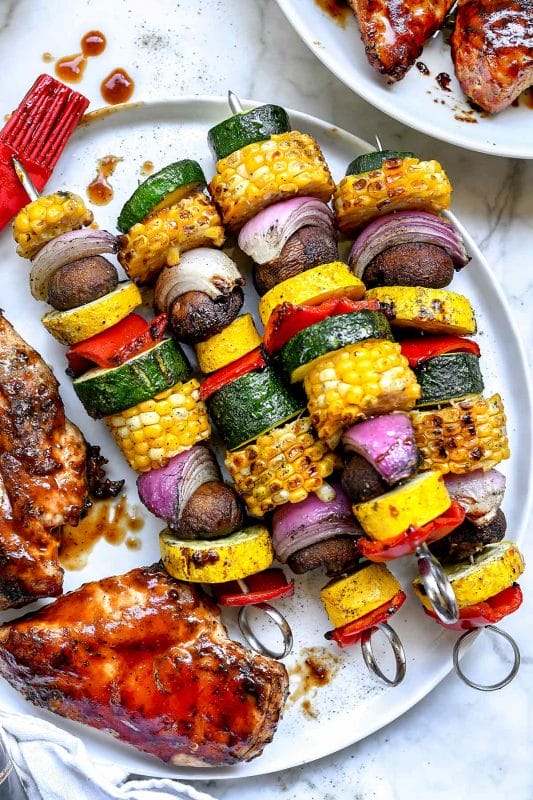 Sometimes, what matters is the grilled marks on the chicken, meat, and vegetables that can usually create if you use a grill. It does not mean you can get this look just because you do not have a griller, though.
You can try the hot skewer method. If you use this method, you will have to know how to grill on stove. It is not that hard, though. You just need to heat some metal skewers over a hot gas flame until they turn red.
While they are still hot, press them onto the meat, fish, or chicken. This way, you will create a few grill marks. If they are cooler, you can reheat them so that they will not stick to the food.
If you do not have a gas stove, you can use a culinary torch to heat the metal skewers. This is how to grill without a grill.
3. How to Grill without a Grill Pan
You can find many tips on grilling without a griller. One of which is by using a baking sheet. Here is the recipe.
Ingredients:
Chicken breasts. Cut into strips.
Salt
Pepper
Garlic powder
½ tablespoon olive oil
Tools:
Baking sheet
Aluminum foil
Steps:
Spray your baking sheet with oil.
Set your broiler to high.
Put the chicken strips on the baking sheet.
Spice the chicken with salt, pepper, and garlic powder. Rub the strips thoroughly.
Cook them for seven minutes. After that, flip them over and cook them for another seven minutes.
Check whether the chicken is ready to serve by removing one strip and cutting it in half.
Tip:
Make sure you cut the chicken evenly to ensure even cooking.
4. Oven Broiling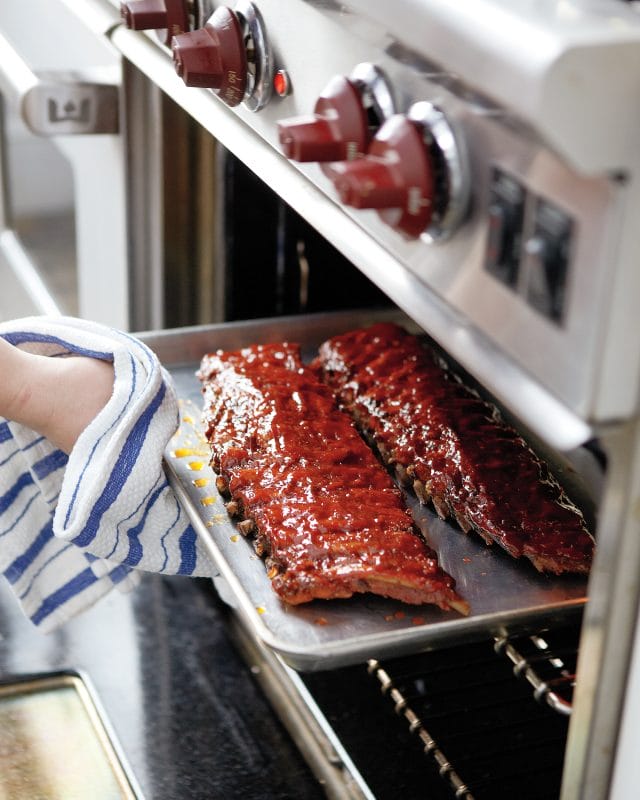 If you do not have a grill, you had better tap into your oven that lies dormant. The broiler can help you cook meat, chicken, and fish with the grilled sensation.
They will be crispy and nice on the surface but juicy and supple on the inside.
How to grill fish without a grill is easy. First, set the oven rack properly. It has to be at the highest position. After that, preheat it for a few minutes by turning on the grill function.
While you are preheating the oven, lightly spray a broiler pan or a cast iron grill pan. After that, place the meat, fish, or chicken on top of it.
Consider leaving the door open a crack. Therefore, the oven will not overheat, which will burn the food too fast. Do not forget to flip the food. If you plan to broil vegetables, make sure you check them frequently.
Tip:
How to grill without a grill can be messy. Therefore, you had better line your pan with foil so that you can clean it easily later.
5. Cast Iron Skillet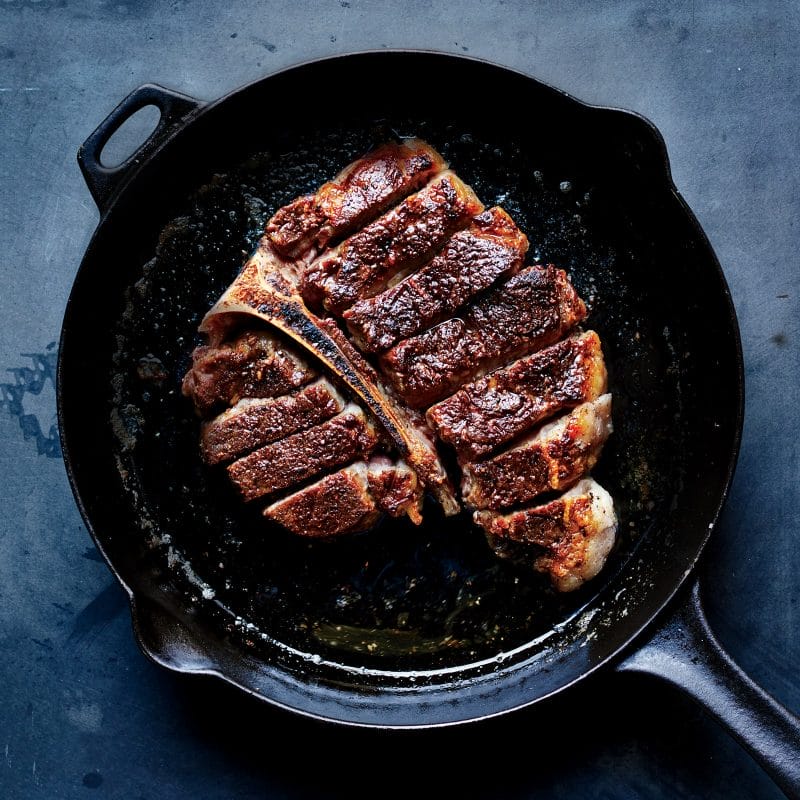 Grilling using a broiler sounds terrific. But, maybe some of you are wondering whether there is a way of how to grill without oven. Yes, of course, there is. It is by using a cast-iron skillet.
A cast-iron skillet is a flatter and rounder, allowing you to cook anything that you usually sear over a grill. It is also deeper and has a bigger diameter, making it extremely versatile.
Its versatility allows you to do many things. You can use it for browning, sautéing, or even handling well-done meats and summery side dishes.
Therefore, you can always use a cast-iron skillet, instead of a griller. Additionally, before setting down the food on top of it, your skillet has to be well-heated and well-seasoned.
Make sure you marinate or season your meats and chicken for a few hours before cooking it over the skillet. By doing this, you will enrich the flavor by letting the seasoning infuse.
When the meat is ready, spray a little oil in the pan. After that, make sure it is already hot before adding the food on top of it.
The good thing about a cast iron skillet is it can distribute heat to the entire pan, hence the well-cooked food. You just need to flip it once to get a beautiful char on both sides.
Besides, a cast iron skillet has a rounder and deeper vessel that allows you to retain the flavors. You will get both nice char and juicy texture while maintaining the spices.
Need an extra kick of flavors? You can try grilling the sauce over the skillet. If you do this, you will be able to enhance the viscosity and smokiness.
6. Try Indoor Smoker
Another tip on how to grill is by using an indoor smoker. The drawback of this method is you will not get the char like what you usually find in a charcoal griller.
However, you can still obtain the pervasive smoky flavor. It will do in a pinch, right?
Just remember to open the window. You can also turn on a fan. After that, lines a wok with heavy-duty foil. Next, get some small dry hardwood chips and spread them out on top.
Get another sheet of heavy-duty foil and top the chips with it. Put the rack above the foil. After that, cover the rack with foil. Remember to make some holes in the top.
Next, set a rigged smoker over your burner. Use high heat to preheat it. When you begin to notice that the smoke is rising at an even rate, arrange the meat on the rack. Then, use foil to cover the DIY smoker tightly.
Wait for 1 minute. After that, uncover and remove the meat from the smoker. Finally, cook it below a broiler or using a grill pan.
Since you can do it indoors and you do not need any special equipment, this method can be grill alternatives for apartments.
7. Use the Right Seasoning
The key point of how to grill without a grill is not always about the nice char that you will get. It is all about flavor, instead.
To enhance the taste of the meat and add the effect of a grilled and smoky flavor, you need to use the right seasonings.
When you want to cook meats, fish, and poultry, do not forget to marinate them for a few hours. If you do this, you will let the flavors soak in perfectly.
You can try the following seasonings to give your food a grilled flavor.
Smoky paprika
Onion powder
Garlic powder
Hickory smoked sea salt
Chopped chipotle chili peppers
Chili powder blended with cocoa powder
Cumin
So, how to grilling while enhancing the flavor? All you need to do is just mixing one of these spices with olive oil, honey or brown sugar, and fresh ground pepper.
Spread and rub onto the food that you are going to cook, cover, and store in the fridge for 6 hours. Finally, broil it in the oven or grilling it in a cast iron pan.
8. Use Your Crock-Pot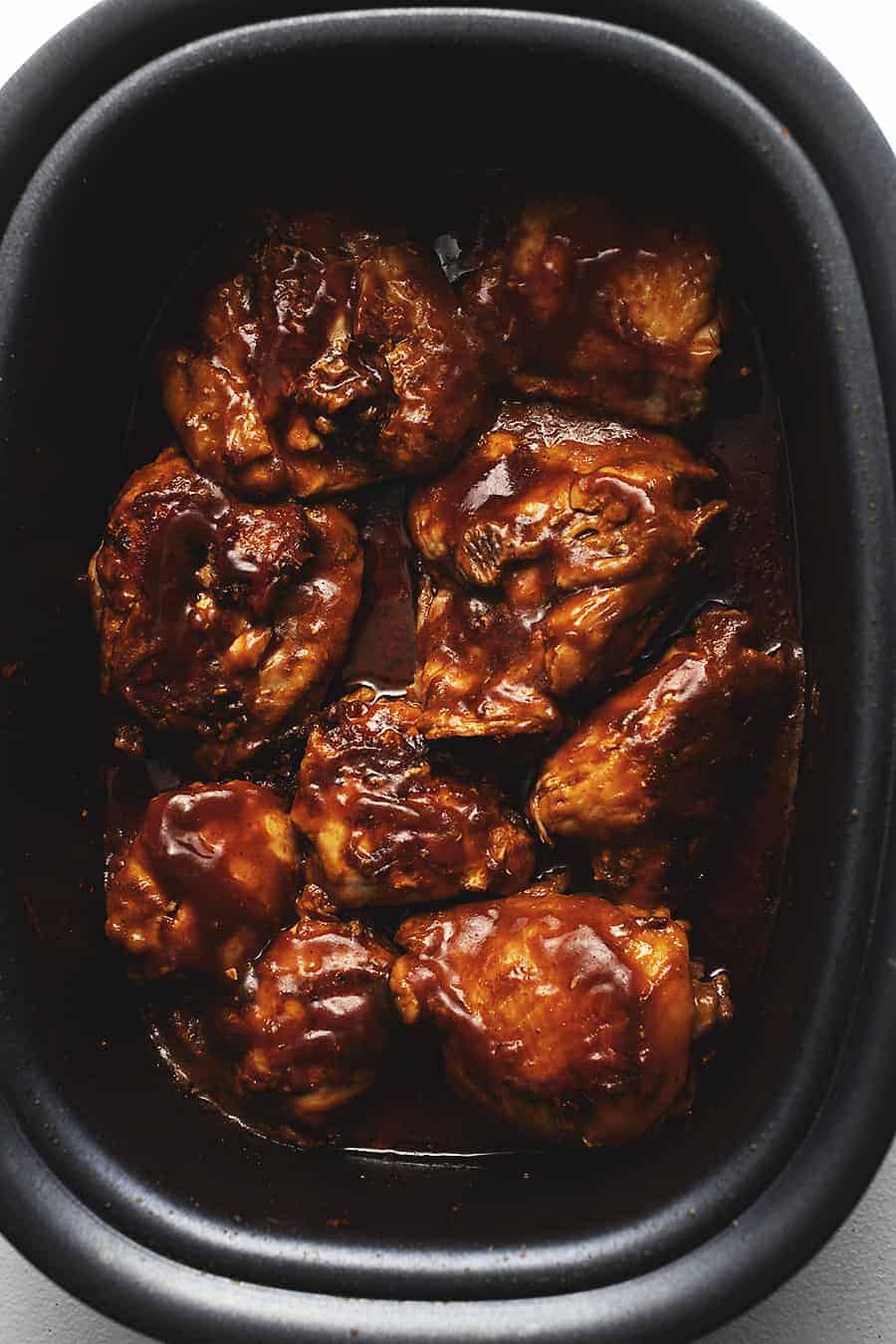 Do you have a crock-pot or a slow cooker at home? Do you know that it can create a smoky flavor? It is such a phenomenal way of how to grill without a grill.
Many homeowners use their oven to cook brisket. However, it will create too much fat, and eventually, smoke up the house.
If you want to know how grilling without a griller and without smoking up the house, you should use your crock-pot.
Simply put the brisket in it, then the slow cooker will do the rest. You can set the timer overnight or while you are at work.
9. Try Liquid Smoke
Another tip on how to grill is by using liquid smoke. Have you ever heard anything about it?
Liquid smoke is actually condensed smoke that is available in some flavors like mesquite and hickory. During the process, the producers filter and concentrate the liquid to enhance the smoky flavor.
To use liquid smoke, brush a bit of it onto the food that you are going to cook before and during the cooking process.
If you want to get a more subtle flavor, try mixing liquid smoke with balsamic vinegar before applying it to the food.
10. Invest in a Culinary Torch
A kitchen torch is extremely versatile. You can use it to melt cheese, make crème Brulee, and toast some bread. Now, you can take it to the next level by grilling chicken and vegetables.
It is easy because you just need to use the same technique as you usually do when melting cheese or making crème Brulee.
First, you have to cook the food. And then, you can use the torch to char both sides of the food. By using this equipment, you can get juicy steak, tasty chicken breasts, and blacken red peppers and corn in a jiffy.
11. Consider a Countertop Griller
If you are keen on eating grilled foods but you do not have any grills, you can invest in a countertop grill, instead.
You will find two types of these indoor grills. One of them allows you to cook only from the bottom, and thus you will have to flip the food.
The other type features a double contact grill so that you can cook the food from both sides. As a result, you can get juicy and tender poultry and meat.
12. How to Make Grilling Marks with Ridged Pan
The best thing about grilled foods is the grill marks. However, you can get that look with a charcoal griller. Here is a foolproof technique on how to grill while creating the marks.
You can create those beautiful marks by using a ridged pan. First, heat the pan without any oil with the cooked food into it.
Wait for about 2 minutes and carefully rotate the meat or chicken. As a result, you will see beautiful grilling marks. Flip the food over several times. That way, it will cook evenly.
13. DIY Soda Can BBQ
Are you looking for a simple and affordable way on how to grill without a grill? Try this DIY soda can barbecue.
To make this mini griller, you will need two pieces of coal and a soda can. You can use it to grill small pieces of meat and sausages.
14. Clay Pot Grill DIY
This is another brilliant way on how to grill. It is a clay pot griller that you can make yourself at home.
To make this DIY griller, you will need a good terracotta flowerpot, some sand for the insulation at the bottom, two saucers that prevent the sand from pouring out, and hot coals.
Those are some creative tips on how to grill without a grill. So, you are ready to have fun and enjoy some smoky food with chars on it.