String lights are a quick and easy way to add ambiance to your outdoor living space. They come in all shapes and sizes, so you can find one that fits your decorating needs.
The goal of this post is not to teach you how to hang your string lights, it's to give you inspiration and lots of ideas. You will know how to do it!
Open Space Center Area
In this photo you can see the use of string lights in a space with the central area. They help to create an enjoyable atmosphere and they look great.
Add String Lights to Decorate Fire Pit Area
String lights above the fire pit will create a warm, intimate mood when spending time with your family or friends.
I don't need to explain how to hang string lights in this area, the picture above is clear and simple.
Light Up Your Trees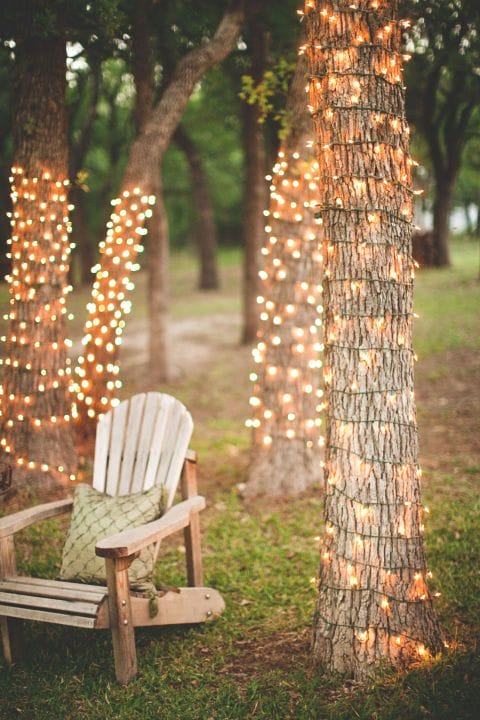 Put a cluster of trees in your backyard and twist around it with these white lights to create a perfect romantic spot. This will not only give you somewhere to relax on evenings but also be lovely from the inside of the house to see.
How To Hang Outdoor String Lights Without Trees
Basically, any object that can be used as a hook to hang string lights. They don't always have to be hung on trees. The only prerequisite is that they are not too oblique so that the weight of the collected lights does not cause them to fall. Some objects which do work well for the purpose are: walls, posts, canopies, pergolas and rather high fences.
Above A Porch
String lights are perfect for your porch, they're affordable and easy to set up. You can put them anywhere – draped on the ceiling or over a railing or even hanging from a wall.
Spruce Up Your Privacy Fence
Add a plush sofa, pillows, and tons of potted plants to transform your backyard into a comfortable living space. Add some lights, string them over an interesting back drop privacy fence.
Hang the String Light Under Pergola
A pergola is perfect for string lights because there is no hassle about hanging them, you can just hang wherever you want and get creative! Plus, it's way easier to change things up in the future too. The beauty of a pergola increases as it becomes more flexible.
String Lights for Outdoor Party
String lights are a favorite for many, as most recognize that hanging string lights make any outdoor or open space more welcoming & eye-catching, whether for formal or informal occasions.
How To Hang Outdoor String Lights On Balcony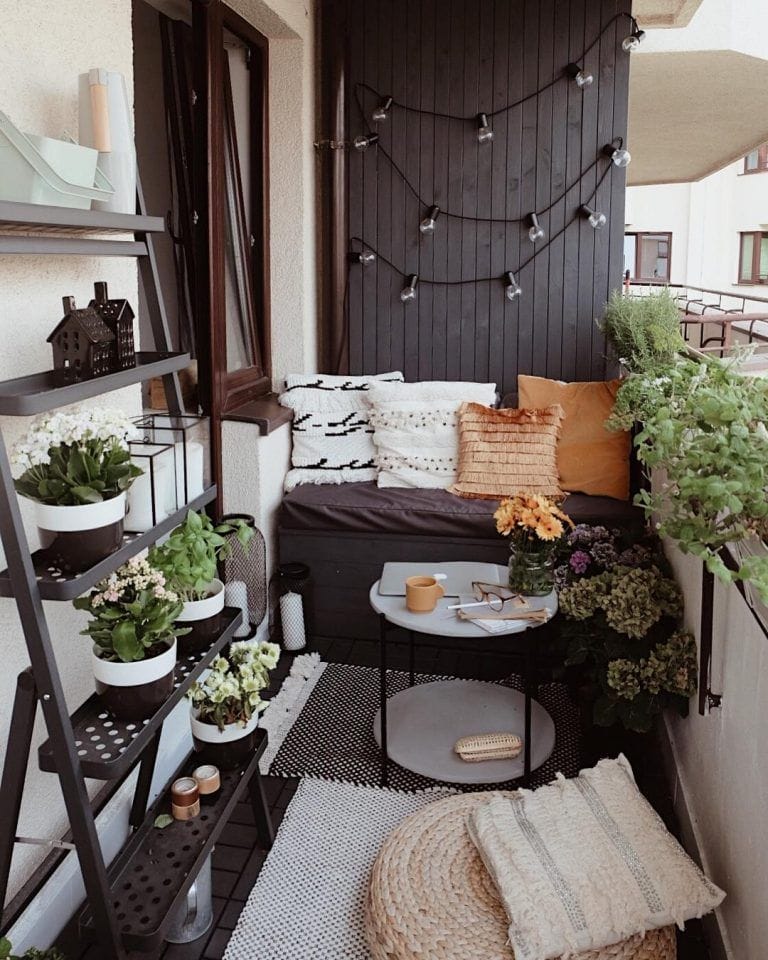 Boring balconies are easily made much more special by a little creativity. This could take the form of string lights or a simple door curtain, but even if you hang string lights randomly, it will look good and then be conducive to spending time outside. You could also think about the aesthetics and placement of your other furniture, so that they all work together nicely on the balcony.
The balcony in the picture above is adorned with string lights. As you can see, the lights are randomly placed and still look fine.
Make Your Back Patio Glow
String lights are a fun way to create an atmospheric environment. Let them make your back patio the ultimate place to relax anytime of day.
Brighten Up Your Dining Area With String Lights
String some lights or lanterns to create your perfect outdoor dining space; take dinner into the evening hours with an edgier ambiance.
Hanging String Lights to Lighten Up Your Living Space
String lights can be a great way to create intimate, romantic lighting for any living space. They provide an excellent way to light up a room and create the perfect ambiance. Plus, string lights are relatively inexpensive and easy to install.
Light Up the Background
String lights may not be the showiest decor, but you can make them a subtle but elegant part of your outdoor space by draping them across plants or a wall. If you pile them up in see-through buckets, they make for beautiful lanterns.
How To Hang String Lights Without Drilling
String lights are a cheap and easy way to make your backyard pop. Hang them from a tree over your house for a beautiful evening party, or string them along the fence to make sure people who walk by can see it, too.
Freestanding String Lights
Need something to attach your outdoor string lights to? Try cementing a planters in the ground of your patio and weighting it down with anchors.
Hang String Lights In The Trees
There's nothing more relaxing than a swinging hammock under string lights. This easy, laid-back porch is guaranteed to be your new favorite spot!
Here Are Few More Questions About How to Hang String Lights
This is a question that you can find almost anywhere on the internet. It might be useful to spend some time looking it up in order to answer it yourself or see how other people answered it.
However, in this section I will not give any picture ideas related to how to hang string lights.
1. Can You Hang Lights On Stucco Without Nails?
Even though you might have to use a little extra elbow grease, hanging outdoor lights on stucco should not be an issue.
I would caution you from using self-adhesive hooks on a stucco surface because the adhesive can seep through and damage the surface. When trying to avoid damaging your stucco exterior, the best kind of hooks to use are gutter hooks.
2. Can You Hang Outdoor Lights On Vinyl Siding?
Vinyl siding holds up better against adhesive, so you can use all of the options I've presented.
One of the main benefits of vinyl siding is that it comes in pieces, so if you do end up damaging one then all you have to do is replace it.
3. How High Should Patio String Lights Be?
You want to make sure that taller guests can get in and out without knocking themselves out on your clothesline! A good rule of thumb is 9-10 feet, but it's hard to give a specific height since everyone is different.