Bright skies and warm weather definitely remind everyone of backyard hangouts or beach days. If you want a fabulous al fresco fare, then scroll through these spectacular picnic breakfast ideas. They will undoubtedly please both grown-ups and children.
Apart from picnic ideas for meat lovers, this article includes vegan and vegetarian dishes. After preparing your meal, you can pack a nice basket and bring along a cozy blanket. Then, head to a lovely outdoor space to soak up some rays.
Bringing room-temperature food to a picnic is a brilliant idea. Moreover, you can opt for make-ahead meals to save your valuable time in the kitchen.
1. Sesame Cucumber Salad
If you aren't into regular lettuce-laden salads, give this breakfast meal a try. It consists of cucumbers, toasted sesame seeds, soy sauce, and ginger.
This summery sesame cucumber salad is both refreshing and crunchy. Furthermore, it definitely won't wilt on scorching afternoons.
2. Cashew Queso – Easy Picnic Breakfast Ideas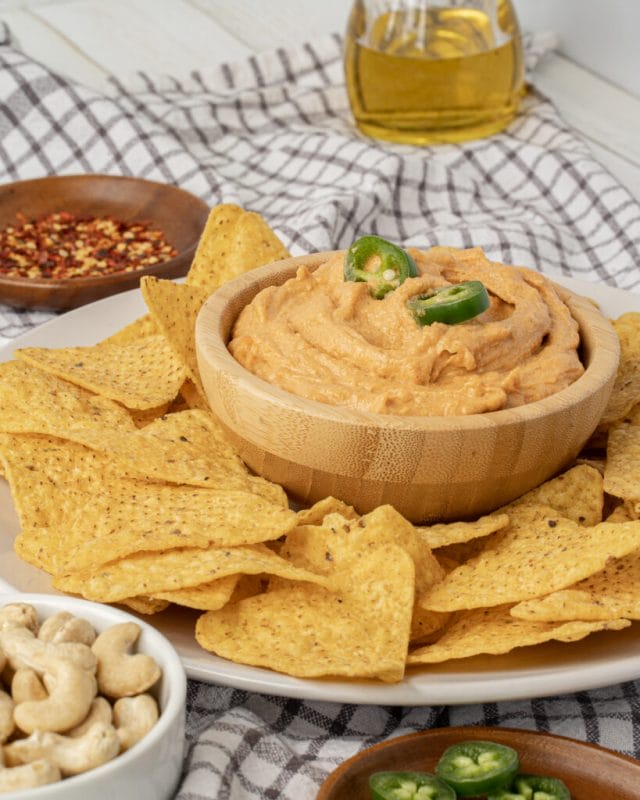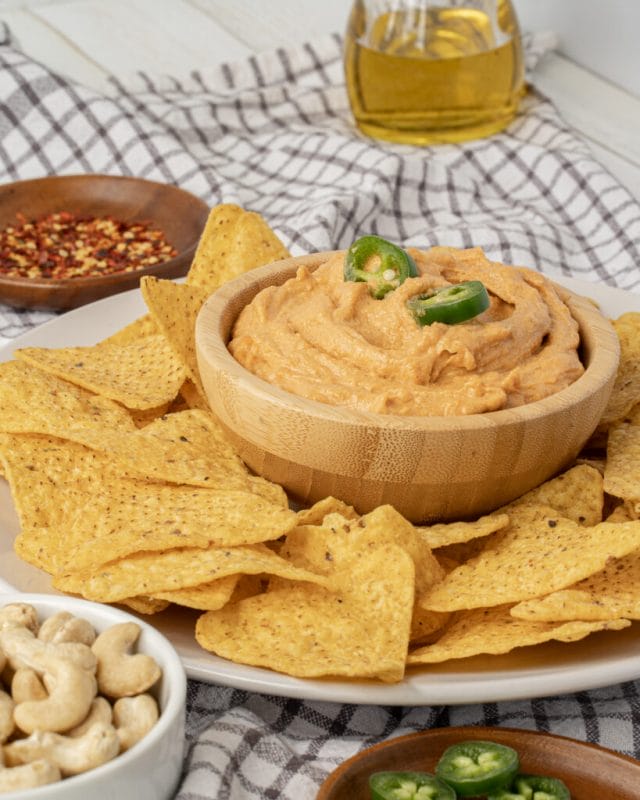 This vegan queso is not only cheesy but also addictive and easy to make. You'll only need raw cashews, almond milk, salt, olive oil, nutritional yeast, cornstarch, sun-dried tomato, and smoked paprika.
I recommend serving the vegan queso with corn chips. Since this dip is super creamy, you probably won't believe it's entirely dairy-free.
3. Avocado Tuna Salad Wraps
Upgrade your typical tuna salad sandwich with herbs, a squeeze of lemon, mixed greens, and fresh avocado chunks. Then, put them all on a wholewheat tortilla wrap.
Apart from being easy to assemble, avocado tuna salad wrap is one of the good things for picnics. Moreover, it brings the brunch game to another level.
4. Buffalo Chicken Dip
This gooey, creamy, and warm buffalo chicken dip is one of the best picnic breakfast ideas. It will surely please a crowd in no time.
Consider using shredded rotisserie chicken to make your life easier. This skillet dip also requires some cream cheese, mozzarella, and cheddar cheese besides buffalo sauce.
5. Zucchanoush
Zucchanoush is the healthier version of baba ganoush. Instead of eggplants, the recipe calls for small zucchinis. It also uses pepper, tahini, garlic, salt, and olive oil.
This picnic food truly celebrates the summer vegetable at its best. Furthermore, it's both wholesome and simple to make.
6. Tangy Charred Coleslaw
Searching for unique picnic breakfast ideas? If so, give charred coleslaw a try. This classic summer dish is amazingly delish.
The pickled and grilled cabbage goes well with walnuts and raisins. It offers a wonderful combination of smoky and tangy flavors, too.
7. Heirloom Tomato Panzanella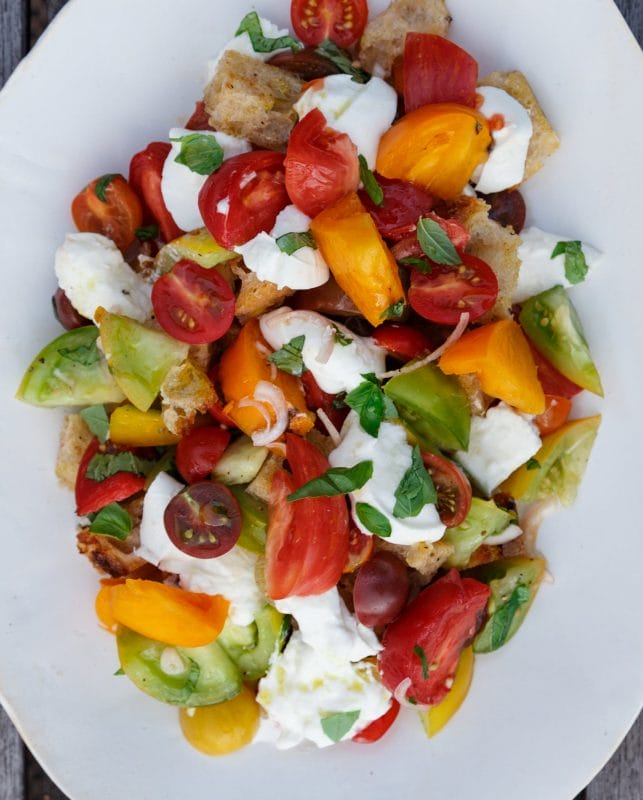 If you plan an unforgettable picnic, be assured to prepare the proper meals. This tomato Panzanella will make your date extra special.
Tomato Panzanella is one of the romantic picnic breakfast ideas. The sourdough perfectly soaks up all the amazing flavors: olive oil, vinegar, garlic, and heirloom tomatoes.
8. French-Style Potato Salad
This classic French potato salad is lighter and more elegant than its American counterpart, thanks to the vinaigrette dressing. It's ideal for vacation potlucks or cookouts.
You'll just need to toss warm potatoes in a perfectly tangy and herby mix of vinegar, grainy mustard, olive oil, and Dijon mustard. Then, add in fresh dill, shallots, and cornichons.
9. Veggie Niçoise Pita Pockets
If you're into easy-to-assemble picnic breakfast ideas, then try these delicious veggie niçoise pitas. They're ideal for any weeknight dinner or summer brunch.
This cold picnic food does not need any heating before serving. I recommend packing the pita pockets, hummus, and veggie filling separately to prevent the bread from becoming soggy.
10. Asparagus Ribbons with Lemon-Tahini Quinoa
The chickpea and quinoa salad are simple, but the asparagus ribbons make it more interesting. Additionally, the crunchy and hearty vegetable pairs excellently with creamy tahini dressing.
This meal will round out your picnic. Moreover, the lemon juice does not only lend it a citrusy kick but also evokes summer vibes.
11. Pesto Chicken Salad Croissant
Pesto chicken salad is surely one of the most mouthwatering picnic breakfast ideas. So, consider trying it on a buttery croissant. I guarantee you won't go back to the original.
Furthermore, this dish will refresh any Sunday picnic brunch. In addition, it provides an exquisite combination of pesto, plain yogurt, and lemon juice.
12. Roast Beef Baguette – Winter Breakfast Picnic Ideas
Who can say no to this hearty French-style sandwich? The tomato chutney, roast beef, and herbs give it tons of flavor. You even don't want any cheese.
In addition, this roast beef baguette certainly will offer you a nice winter picnic. Nothing is better than bite into it on cold days, then having a chit-chat with your loved ones.
13. Tuna White Bean Salad with Basil Vinaigrette
This tuna and white bean salad are healthful as well as full of vitamins. Moreover, it will jazz up your outdoor picnic spread instantly.
Furthermore, the basil vinaigrette is such an awesome herby dressing. Meanwhile, the veggies offer plenty of dietary fiber.
14. Orzo with Basil Pesto and Sun-Dried Tomatoes
Who doesn't love orzo with pesto and sun-dried tomatoes? Everyone can't get enough of this dish for certain.
This easy pasta salad is a little salty as well as slightly spicy. Not only is it ideal for picnics but also great for summer parties and potlucks.
15. Vegan Banh Mi Wrap
Looking for vegan brunch picnic ideas? If yes, try making a banh mi wrap yourself. It certainly doesn't have any shortage of flavor.
Moreover, this banh mi wrap features crisp veggies. Also, the peanut sauce and zesty pan-fried tofu surely make it more flavorful.
16. Salmon with Lentil Salad
Some people want to spend more time outdoors. If you're one of them, try this heart-healthy breakfast meal on your upcoming picnic.
The seared skinless salmon is delectable, thanks to thyme, lemon, as well as Dijon mustard. It magnificently goes with greens and lentils, too.
17. Tomato and Peach Salad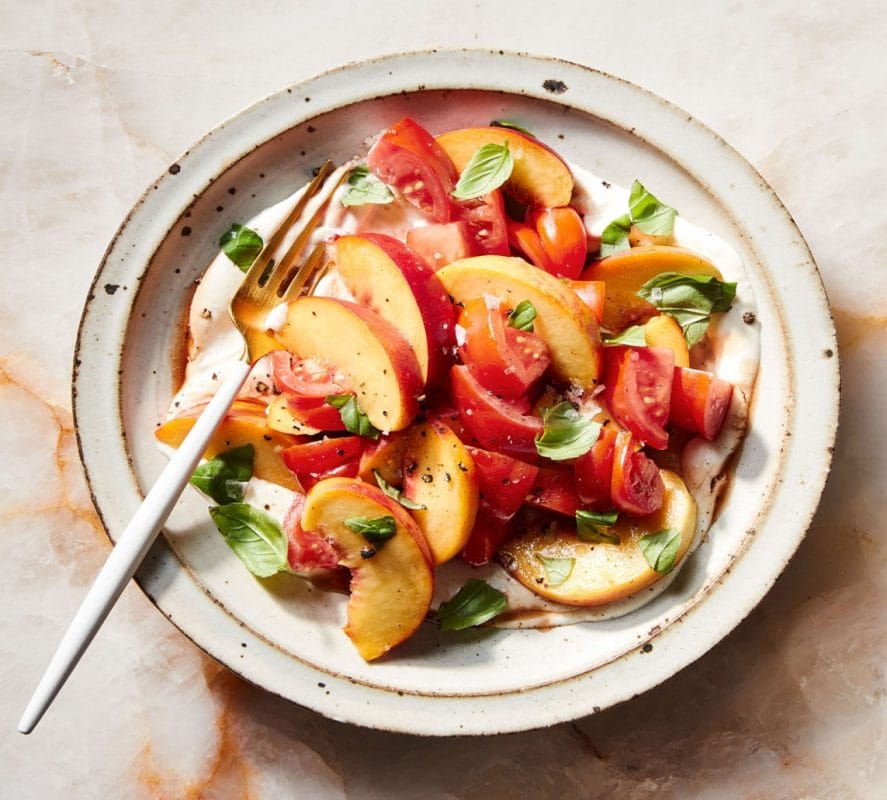 Nothing is more summery than this peach and tomato salad. Moreover, it's one of the amazing beach picnic breakfast ideas.
In addition, this salad can help you beat the heat. Furthermore, the fresh ricotta will bring out the savory side of peach excellently.
Finally, I hope those picnic breakfast ideas leave you feeling inspired. Be sure to serve up meals that won't lose flavors as they sit. To sum it up, remember to end your tranquil day with something sweet.