Some people raise bunnies for meat since they provide a sustainable meat source. Meanwhile, others keep them for fur and show. Furthermore, rabbits make great pets. Regardless of your purpose, you should read these awesome rabbit hutch ideas below.
A couple of rabbits can give you over 300 lbs of meat every year. That's quite nice because they only require a small space and need very little to feed. People could dwell in the suburban areas and raise them.
Before raising rabbits, you need to have a hutch first. Here, I've assembled 12 DIY rabbit hutch designs. Check these out!
1. Indoor Rabbit Hutch
If you don't plan on raising bunnies for meat, then this is one of the fabulous homemade indoor rabbit cage ideas to try. It allows those furry creatures to have a cozy home.
I love this indoor rabbit hutch. Not only does it boast a sturdy wooden structure but also looks beautiful. The doors certainly make cleaning the cage and removing the bunnies a lot easier.
This indoor rabbit cage isn't an eyesore at all. That means it will be a lovely addition to your interior. Moreover, the design lets you raise multiple rabbits.
Just in case you are not into multiple indoor rabbits, I have another nice option. Simply use it for the supply storage of your outdoor bunnies.
2. All-Wire Rabbit Hutch Ideas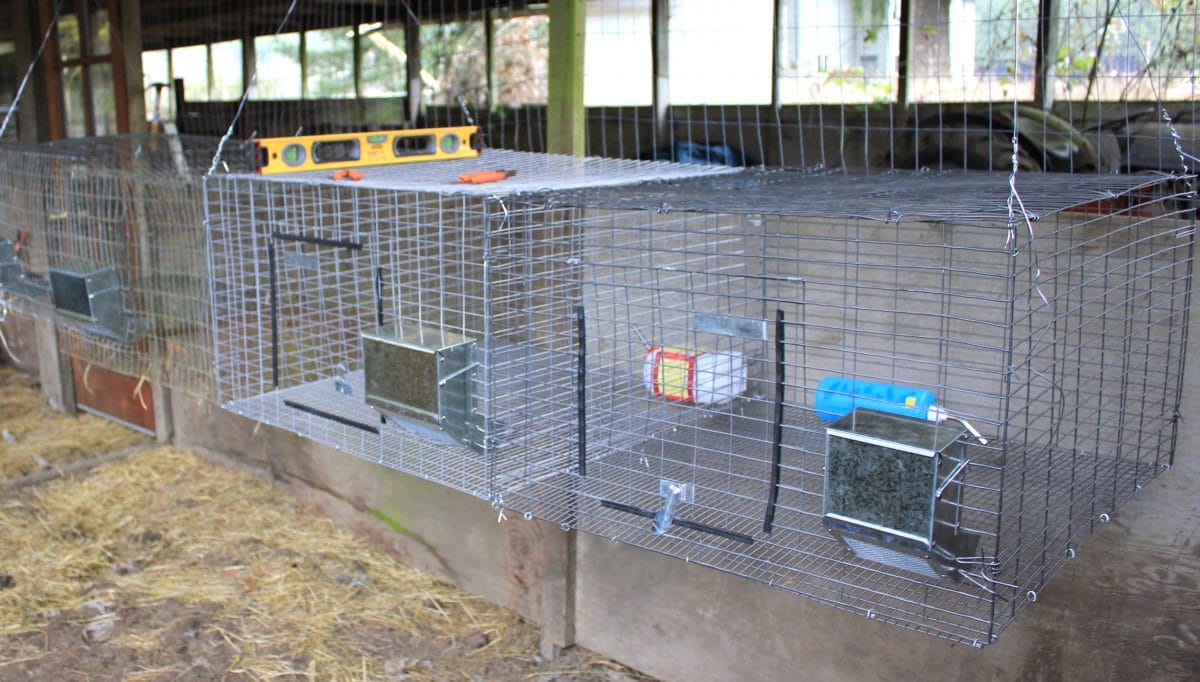 Unlike the previous DIY rabbit house, this bunny cage doesn't employ a wooden piece. You can make it entirely from solid wires.
This hanging all-wire rabbit cage is probably not as superb as you'd want. However, it offers great functionality and nice features.
You can clean this wire bunny cage with ease. Moreover, it's excellent at keeping your rabbits healthy and safe. The predators cannot chew through the solid wires easily, too.
3. PVC Rabbit House Ideas
Speaking of budget-friendly rabbit hutch ideas, give this PVC bunny house design a go. As you see, it accommodates a solid wire cage for rabbits well.
This rabbit hutch has a downside, though. Its structure is not that secure since it doesn't feature a bunny hole. Placing your bunnies in the great shade is undoubtedly important.
Keep in mind that bunnies can get hot quickly. You have to either let rabbits hang out in a cozy area or move them to a cooler location, especially on hot days.
4. A-Frame Rabbit House Design
If you plan to keep a few bunnies, then consider building this unique bunny hutch. It's suitable for those who want to raise their rabbits separately, too.
This rabbit hutch boasts wooden legs. They will protect your adorable bunnies. Furthermore, the unit features a rabbit hole and wire A-frame structure.
I particularly admire the big openings of this A-frame rabbit house. You can have access to your bunnies easily when necessary. Additionally, the hutch is not hard to maintain and clean.
5. Pallet Rabbit Hutch
Do you love pallets? If yes, consider making this bunny house yourself. It's one of the incredible rabbit hutch ideas. Pallets are very versatile and inexpensive. You can turn them into an exceptional hutch for your outdoor bunnies.
I suggest you use wooden pallets because of their strength. Since they are truly durable, the pallet rabbit hutch should be predator-proof.
6. Multi-Cage Rabbit Hutch Ideas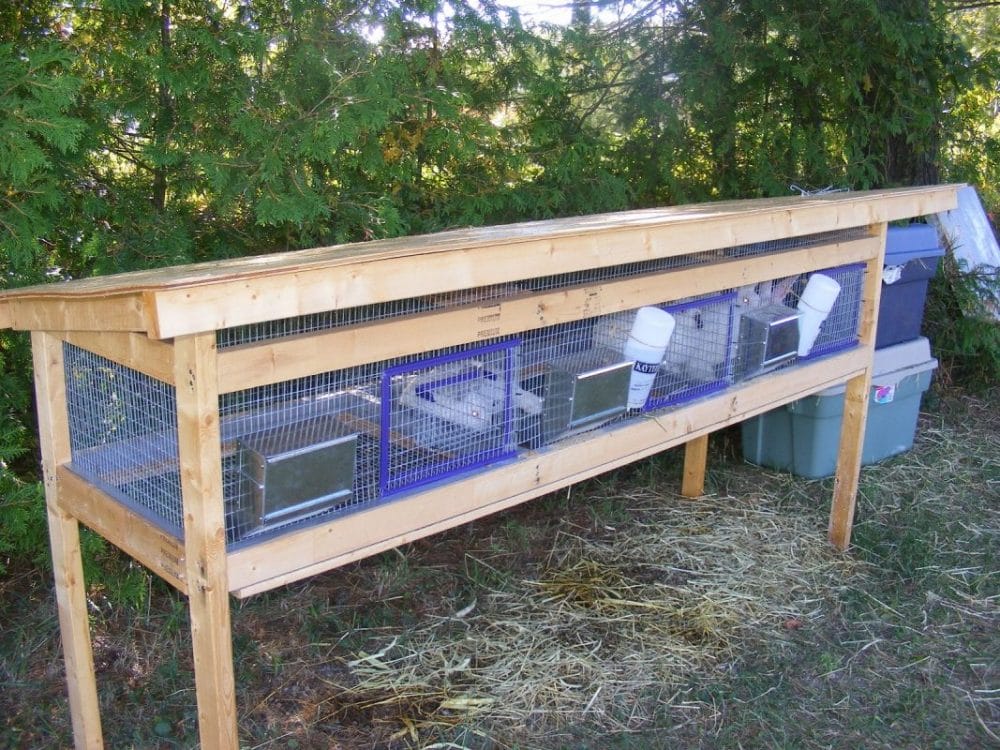 Instead of creating multiple single hutches for your rabbits, I recommend constructing this multi-cage bunny hutch.
It does not eat up plenty of space. Furthermore, the unit doesn't make watering and feeding a chore. Also, you don't need to walk around all the cages.
This multi-cage hutch keeps your rabbits together. Moreover, it makes cleaning, feeding, and watering more efficient.
You must pay attention to illness since the cages are closer together. Your rabbits may breed through the solid wires, too.
7. Two-Story Rabbit Hutch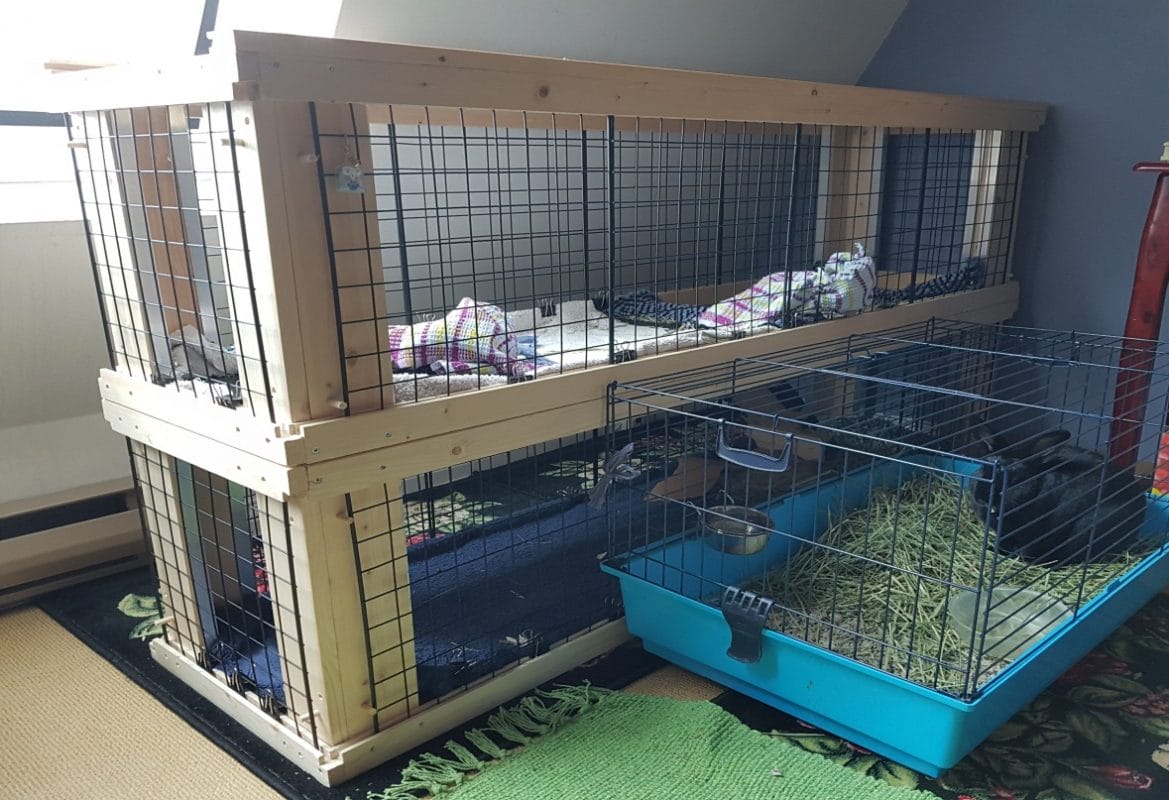 Looking for cool rabbit hutch ideas? This is another house for pet bunnies. If your rabbits have it, then they live their best life.
This two-story bunny hutch boasts living quarters of the rabbits upstairs. Meanwhile, their food is downstairs. Moreover, the unit has a large wire enclosure.
8. Genius Rabbit Hutch Ideas
This outdoor rabbit hutch can hold multiple bunnies excellently in separate areas. The wooden legs keep them off of the ground. It's such an awesome way to deter their predators, too.
You'll love this hutch since it keeps things efficient and condensed. Furthermore, the bunny house features an automatic poop collector. It lends your property a rustic charm, thanks to its stunning woodwork.
9. Dresser Rabbit Hutch
If you plan to raise bunnies indoors for whatever reason, then give this hutch a shot. Simply convert your old dresser into a cozy and secure rabbit house. Moreover, the total cost of this project is only $30.
This handmade rustic hutch can accommodate a few rabbits. Furthermore, it boasts a wooden ramp. There are also drawers on top to stash the necessary bunny supplies.
10. IKEA Rabbit Condo
You can build an impressive bunny hutch from anything, including the IKEA Kallax shelving unit. Make sure that it goes with your decor delightfully.
This hutch can house up to 3 bunnies. Furthermore, it will offer your bunnies all the necessary comforts. The wire enclosures let you see in. Meanwhile, your rabbits can see out.
11. Basic DIY Bunny Hutch Ideas
Here is a very basic, handmade rabbit hutch. It's essentially a bunny box. Since you place it indoors, your bunnies should be safe.
The white wire sides enable you to check in on the bunnies with ease. Moreover, there are spots to put the feeder and water bowl.
If you're strong in the carpentry area, then consider making this hutch yourself. The unit may not be fancy, but it's definitely functional.
12. Portable Rabbit Hutch Ideas
This unique bunny hutch reminds me of a pushcart. It can also house a few rabbits. Moreover, the unit is easy to move around, be it outdoors or indoors.
Apart from being mobile, this hutch is cost-effective. Additionally, it has a pretty large door. You can access your bunnies easily.
My rabbit hutch ideas prove hutches don't need to be involved nor extravagant. Remember, bunnies are simple animals that love a breezy spot, water, and food. Essentially, they just want a clean and secure house to stretch their legs.