While annuals may only last for a single season, they are a must-have for any garden.
In an endless parade of blooms or unusual foliage, they add dazzling splashes of color. Second, many annuals can tolerate shady places where other plants cannot thrive.
The top 15 annual plants that thrive in shade will be discussed in this article.
Top Annual Plants That Grow in Shade
1. Impatients
With the old-fashioned shade-lover annual impatiens, we're putting the finest first.
Even in full shade, this small plant will create a slew of flowers. It's also available in a variety of colors. Swirls and bicolor are two additional options you may choose from.
A long-time cottage garden favorite that thrives on neglect, the low-maintenance shade-loving annual is a good fit for most gardens. Downy mildew can, however, be found on little plants in certain parts of the country. You should not replant your impatiens in the same location for a few seasons if it develops the illness.
Impatiens grow to be up to two feet tall and wide, and they range in height from 10 to 20 inches.
2. Tuberous Begonia
Single or double flowers are available in the tuberous begonia. A miniature rose appears to be in every blossom.
In hanging baskets placed in the shade, these lovely flowers look magnificent.
White, orange, red, pink, and sunny yellow are just a few of the options.
If you have hard winters, you'll need to dig up the tubers to store over the winter months and then replant in the spring. The tuberous begonia will only survive in USDA zones 9 to 11.
3. Lobelia (Lobelia erinus)
The lobelia's dark blue/purple blooms brighten up shady areas with a burst of color. White and lighter lavender are also available.
They grow in a tight space. Each plant grows to be about 6 to 12 inches tall and expands no more than 24 inches.
Because the animals will not graze on the plants, this plant is a fantastic option in regions where deer are a issue. Lobelia also thrives without any special attention. To encourage additional flower production, you don't have to worry about deadheading the plants.
4. Browallia
Periwinkle blues come in a variety of hues, including violet, white, and brilliant periwinkle. The Browallia thrives in a mound-style environment and blooms all through the year without much attention.
Planted in a shady spot in the garden or placed in containers or baskets, the easy-to-care-for plants look great. The plants may grow to be 16 inches tall and 14 inches broad.
5. Woodland Tobacco (Nicotiana sylvestris)
The height of woodland tobacco can reach five feet. It has tubular white flowers clusters on its long flower stalks.
Since it definitely draws the little birds to the garden, if you adore hummingbirds, you'll fall in love with this happy plant.
The plants prefer moisture-retentive soil, but if they are established in sufficient moisture, they can survive minor drought.
You may plant the seedlings in other sections of the garden or give them out to family and friends because this lovely plant readily self-seeds.
6. Wishbone Flower (Torenia fournieri)
The classic snapdragon looks a lot like the wishbone flower. It's a cheerful choice for any container or hanging basket in a shady area because to its multi-colored design and fun trailers.
It can tolerate heat and is deer resistant. To encourage additional bloom production, there's no need to deadhead it.
The wishbone flower grows to be about 16 inches tall and 10 inches broad. There are several hybrid varieties to choose from.
7. Moneywort (Lysimachia congestiflora)
The moneywort looks a lot like the creeping jenny (Lysimachia nummularia, a perennial). Moneywort, a shade-loving annual, is closely related.
It has colorful variegated leaves and produces bold sunshine yellow flowers. In shady areas where it will spread outward, the low-growing plant makes a superb ground cover.
8. Bromeliad (Guzmania)
Bromeliads are popular houseplants, but they do best in partial shade in the garden. The common plant is sometimes known as the scarlet star. They really add punch to the garden's surroundings.
Purple, yellow, orange, and red are the hues of the plant's colorful brackets. For months, the vivid color show goes on.
Water the bromeliad into the cup at the base of the plant when watering it. You can, however, count on drip irrigation or rain for supplemental water. They're roughly one to two feet high and broad.
9. Shamrock (Oxalis hybrid)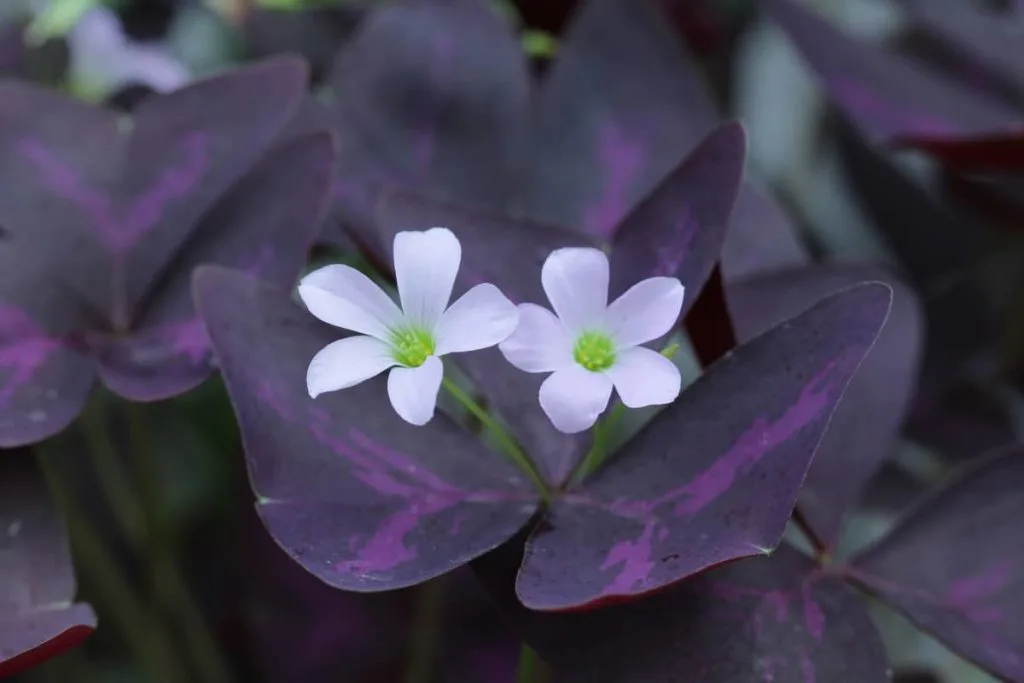 Why not start your garden off with a little Irish luck with the lovely shamrock. A cluster of foliage emerges from the ground. In a shady spot, it works as a fantastic ground cover. The little pink blooms stand out against the dark hued foliage.
This plant prefers wet soil (not waterlogged). During the winter months, certain individuals dig up the shamrock and relocate it indoors.
It normally grows to be around six to 16 inches tall and spreads to be roughly 12 inches.
10. Sweet Potato Vine (Ipomoea batatas)
Sweet potato vine is a trailing plant that thrives in the shade. Chartreuse, bronze, or black are the available color options for the vine. The heart-like form of each leaf is seen.
The vine may grow up to 10 inches tall and stretch out to two and a half feet long. It's ideal as a groundcover or you can grow it in shaded baskets.
11. Diamond Frost Euphorbia (Euphorbia 'Innepuphdia')
In shady areas or full sun, this little shade-loving annual will bloom continuously. It's exceedingly hardy and will thrive in most conditions. Your garden will definitely be brighter with the little white flowers. It can grow to be approximately 18 inches high and broad.
12. Molten Lava Oxalis (Oxalis vulcanicola)
The Molten Lava variety of Oxalis has dainty yellow blooms and chartreuse leaves, and some gardeners consider it an invasive weed. It thrives in both shady and bright environments.
This plant is prone to wilting in hot weather because it does not like it. It's about 12 inches broad and 10 inches high.
13. 'Velvet Elvis' Plectranthus
The leaves of the plectranthus are fuzzy and green on top, but violet on the underside. The flower spices are about 4 inches tall and have lavender blooms. The plant is roughly 28 inches tall and 31 inches broad.
14. Fuchsia
The fuchsia blooms dangling pink and purple blossoms, making it a shade lover. It grows to a height of 16 inches and a width of 14 inches. It is simple to grow in a hanging basket in the shade.
Hummingbirds are drawn to the flowers because they like it.
15. Coleus
On any list of annual plants that grow in the shade, the coleus always deserves a place. It's a foliage plant that produces a stunning spectrum of colors in low-light settings, so it's more of a foliage plant.
Coleus come in green, yellow, and dark burgundy. Variegated leaves are common on many of them. Plant the coleus in the garden or in containers, whichever you prefer. The plant grows two feet wide and is usually two feet tall.
A wonderful addition to any landscape are these top 15 annual plants that thrives in shade. There's no need for your garden to lack luster or thrive in shabby condition. To add visual appeal to the area, choose one ore more of these plants.