The right landscaping ideas for wet backyard can turn disadvantages to advantages. It is no
secret that landscaping in a wet spot or area is pretty difficult. It is safe to say that not
everyone can execute it properly.
Most people will find it challenging to turn their wet backyard into a charming, functional
outdoor space. However, the good news is that you have many options to transform your wet
backyard into a fascinating part of the landscape.
None can deny that most plants will not be able to endure having their root systems soaked
by water for a long time. Nevertheless, it does not mean that you cannot grow any plant at
this point.
Planting some types of trees make a good choice since they can diminish the amount of water
in your wet backyard. Moreover, they also offer a low-maintenance and long-term solution in
your landscape.
Other ideas are also available if you want to challenge yourself to beautify a wet location. To
help you get started, draw your attention to these following landscaping ideas for wet
backyard.
1. Exceptional River Birch Tree
While wet location and soggy soil typically limit your option of suitable plants and trees,
looking for the one that loves this circumstance would be helpful. One of the best trees for a
wet backyard is River Birch.
As the name suggests, this tree was formerly seen growing along river banks until it is chosen
by many homeowners to beautify their wet backyard. This tree is identified by its peeling,
textured bark that offers appealing visual interest.
More interestingly, this tree's diamond-shaped leaves will change their color from season to
season.
Starting with vibrant green, the leaves will turn to golden yellow in the autumn. In the
winter, the tree will reveal its bare branches with attention-grabbing bark.
2. Beautiful Quaking Aspen Tree
This is another great tree to be included in your wet backyard landscaping. Quaking Aspen
Tree is a European native that can grow fast in the backyard. Similar to River Birch tree,
Quaking Aspen's leaves will turn to reddish and yellow in the autumn.
Besides, this tree can also generate attractive catkins that stay on the tree. This is also a pretty
large deciduous tree that can be an eye-catching focal point in your wet backyard.
Keep in mind that Quaking Aspen can grow until 25 meters high when you are planning a
planting side for this tree. The good news is that Quaking Aspen is suitable in both full-sun
and partial-shade areas.
3. Landscaping Ideas for Wet Backyard with White Willow Tree
Salix genus including a white willow tree is indeed a perfect choice when landscaping wet
areas. This striking tree typically comes in narrow pointed leaves that seem silvery-white
from afar. However, you will find the leaves in bluish-green once being close by.
However, this tree is not for everyone since it tends to require a lot of space. A white willow
tree can reach over 25 meters in height. When it is completely mature, it can come with a
spread of well more than 10 meters.
Moreover, you need to make sure that the location to grow a white willow tree is well-lighted
by the sun as well.
4. Simple Stacking Stones
This is one of the easiest ways you can do to landscape a wet backyard. You just need to
gather a selection of large, flat stones and arrange them around your backyard as shown in
this picture. To add visual interest, consider filing the gap between the stones with grasses.
If you have enough materials, stack them to create a natural stone bench. This way, you don't
need to place outdoor furniture in this wet area.
5. California Native Plants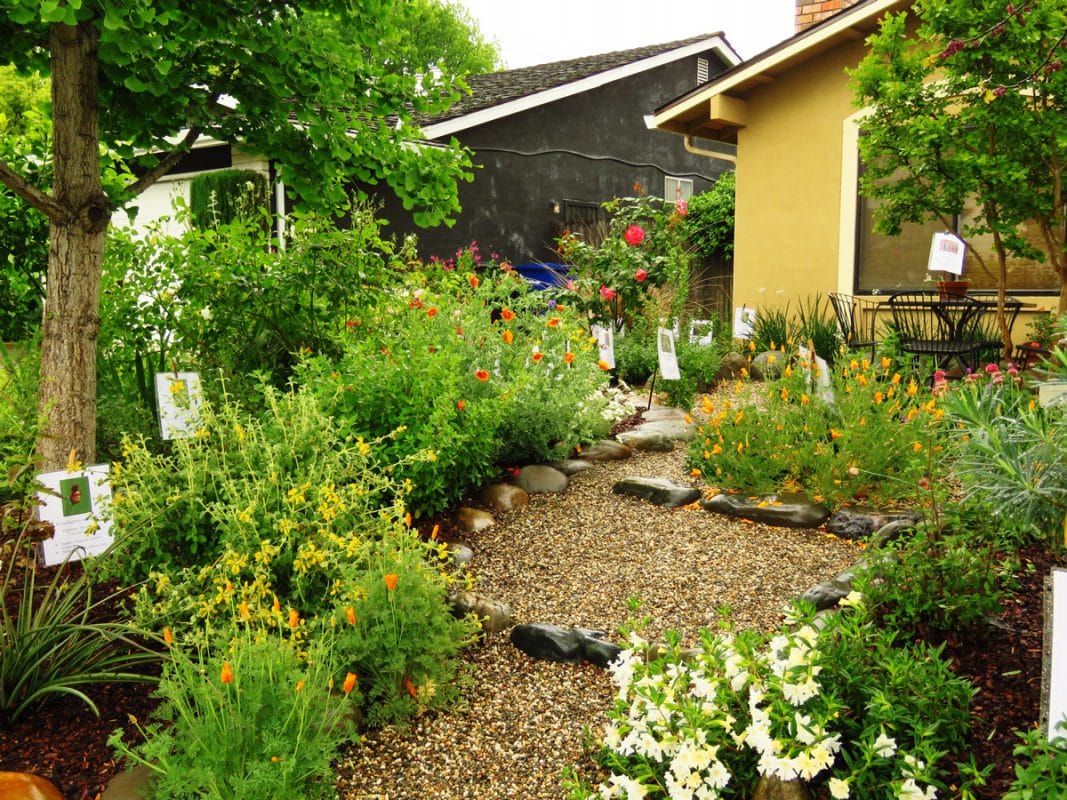 Incorporating native plants in your landscape allows you to makeover the wet backyard.
There are various shrubs you can take into account when it comes to landscaping a wet
location.
From red-twig dogwood to salmonberry, you have a lot of options to choose from. You can
also go for a variety of flowering shrubs like this idea. Include a medium tree in your wet
backyard to provide extra shades in the backyard.
6. Clethra, the Butterfly's Favorite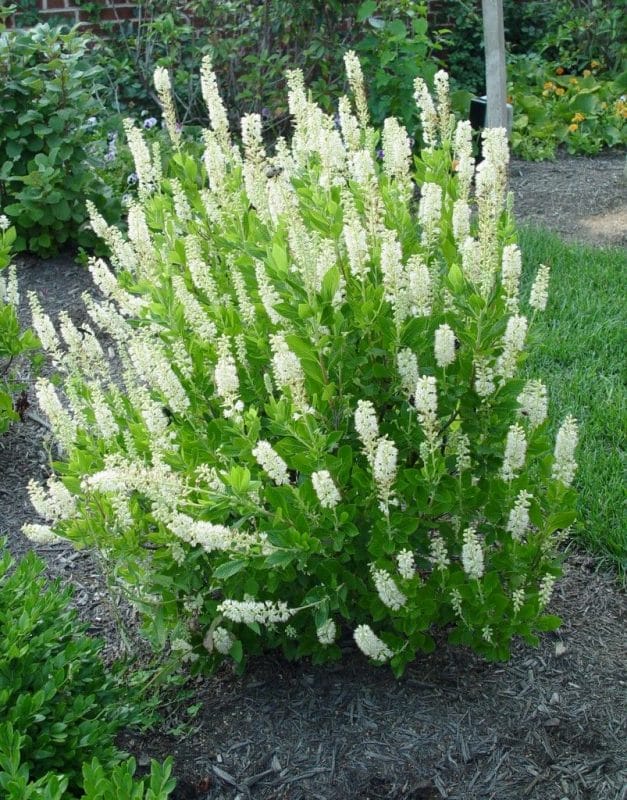 Do you want to invite beautiful butterflies into your backyard? If so, introducing clethra into
your landscape would be a nice approach. This native shrub has striking white blooms that
can make your backyard even more eye-catching.
More importantly, clethra is a perfect shrub for a wet backyard since it can tolerate water
very well.
This stunning shrub can grow well in moist to wet soils. Moreover, it can also
grow properly both in full-sun and shady locations.
7. Fascinating Blue Mist
You may need to take blue mist into account when landscaping in a wet backyard. The
vibrant color of Blue Mist's blooms can improve the attractiveness of your backyard.
This slow-growing deciduous shrub can grow very well even in an overly wet area. It
typically comes with white flowers in the spring that turn into frosty-blue in the summer.
Besides, Blue Mist can grow properly in partial to full sun.
8. Eye-Catching Hakuro Nishiki
If you want to introduce lovely pink colors in your wet backyard, consider planting Hakuro
Nishiki. This deciduous shrub comes with weeping pink branches that are wrapped in green
foliage.
This shrub grows properly in wet soils and makes a good complement in an Asian-inspired
backyard. You can combine it with other wet-tolerate shrubs and greeneries.
9. Standout Red Twig Dogwood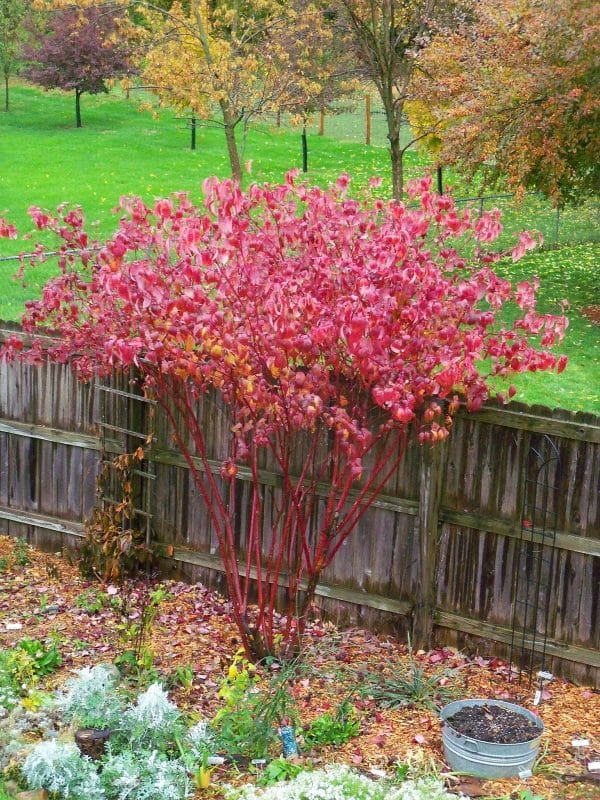 It is no secret that red twig dogwood can tolerate a wide range of poor soils, making it
flexible to be planted in soggy or clay soils. The bright red color of this deciduous shrub
makes it stands out in a wet backyard with enough greenery.
This shrub is especially remarkable in the winter when its flaming red stems contrast the drab
skies. If you want to add colors in a wet backyard but the flower is not your thing, a red twig
dogwood would be the right solution.
10. A Row of Fetterbush
Some species of Leucothoe fontanesiana or fetterbush can grow perfectly fine even in soggy
or completely wet areas. Thanks to its fine-looking trait, planting a row of fetterbush in your
landscape may add a touch of color and beauty.
Nana dwarf, scarlet, and rainbow drooping fetterbush are some of the best options when
landscaping in a wet location. You can also combine these fetterbush species with other
evergreens that can grow well in a wet backyard.
11. Elegant Smooth Hydrangeas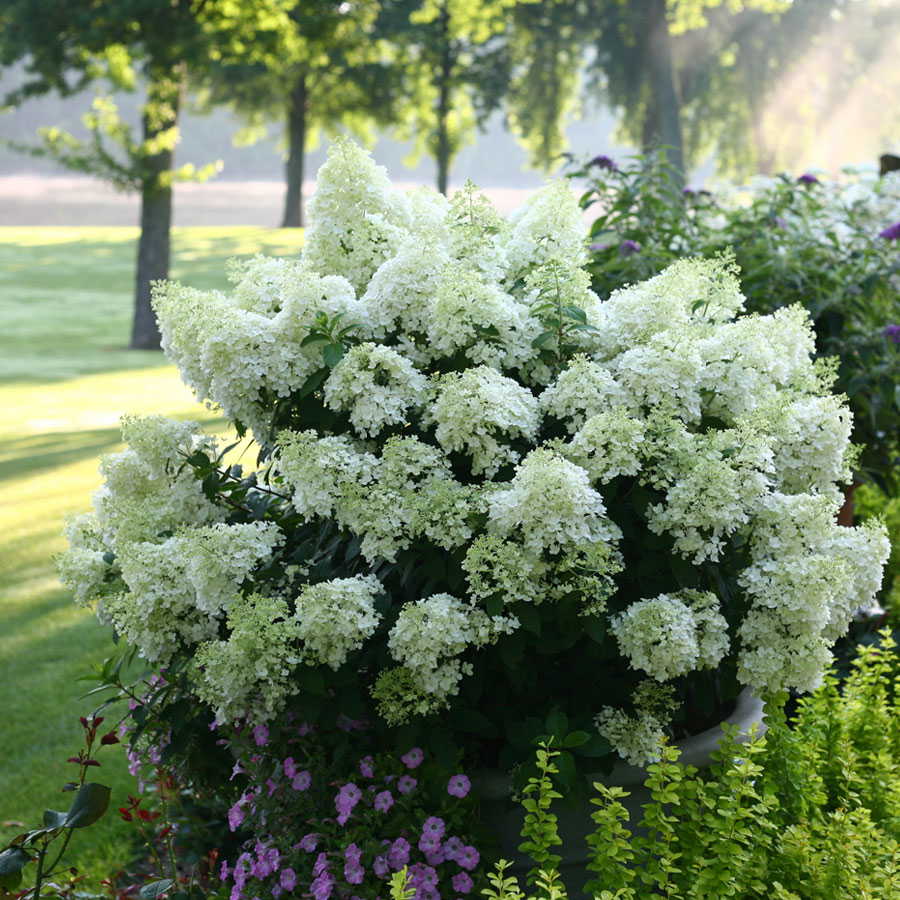 Who does not want to bring the elegant smooth hydrangeas into their backyard? Its white
blooms can complete both modern and traditional landscapes. The good news is that this
flowering shrub is capable to stand overly wet soils.
Typically found near the water, smooth hydrangeas can grow well in various conditions
including dry, shallow, clay, and even rocky soil. Its large white blooms can make butterflies
come to visit.
12. Landscaping Ideas for Wet Backyard with Flowering Shrubs
Adding a variety of flowering shrubs can also help you make a wet backyard look more
interesting. Luckily, some types of gorgeous flowering shrubs can stand growing in wet soil
or area close by the water.
You can randomly add flowering shrubs with different bloom colors in your wet backyard. If
you don't know what flowering shrubs to take for a wet condition, consider something like
buttonbush and ruby spice summersweet.
These two flowering shrubs not only have a striking appearance, but they also generate
fragrant blooms that attract butterflies.
13. Medium Common Alder
Common alder is a decorative tree that has small, bushy characteristics. One of the most eye-
catching features of this tree is its drooping yellow catkins. Considering its size, common
alder makes a good solution if you want to landscape a small space.
This robust tree is capable to adapt in a variety of conditions including wet and drought soils.
However, you may need to plant this tree in a sunny location so that it can grow properly.
14. Striking Swedish Aspen
Swedish aspen is a favorite tree to be added into various backyard landscaping plans. It is
often served as a striking hedge and line avenues. With heart-shaped leaves that turn colors
throughout autumn, this tree is indeed a good choice for any landscaping ideas.
For those of you who own a wet backyard, your chance to take advantage of Swedish aspen is
quite high since this tree can grow well in the setting. Nevertheless, if you want to let this tree
grow properly, consider putting it under the full sun.
Considering its expected height is around eight to 12 meters only, Swedish aspen can also be
planted in both large and small yards.
15. Calming Creek in the Backyard
In addition to planting a variety of vegetation that grows well in a soggy location, you can
simply opt for creating a creek in your wet backyard. This way, you will have an additional
calming feature as well in the backyard.
Use stones to build the creek for a natural picture. Then, plant some flowering shrubs around
the edge of the creek for extra visual appeal.
16. Tranquil Pond for a Wet Yard
Instead of a creek, you can turn your wet backyard into a pond. This water feature will give
your backyard such extra tranquil feeling while solving your soggy backyard problems.
From creating a simple pond as shown in this picture to a more complicated one, you can
make the most of your wet backyard with this idea. Besides, you still have a chance to
include a variety of vegetations into the backyard.
17. Natural Pond with Various Greeneries
If you want to have a more natural-looking pond, this picture should be an ideal reference.
With stone edges and a variety of greeneries included in the landscape, your backyard will
turn into a great spot to enjoy nature.
This landscape even comes with aquatic plants that make it a great place for fish to live. You
can put koi fish or the other ones that require low maintenance.
When it comes to landscaping ideas for wet backyard, you can find a selection of water-
tolerant perennials and bulbs like crinum, daylily, and sweet woodruff.
18. Relaxing Seating Area
Including a seating area is another thing you can do to make your backyard even more
relaxing. Consider adding some chairs and an outdoor table with an umbrella to complete the
space.
For the wet location, you can switch it into a natural pond with stone edges. Don't forget to
also take account of planting water-tolerant trees and shrubs to the landscape.
19. Multicolor Landscaping Stones
Another ideal approach to landscape a wet backyard is by incorporating multicolor stones.
This picture provides you a simple yet impactful reference to do so.
This backyard has a dry creek that tends to be soggy and wet. You can cover the creek with
darker stones while applying the lighter ones around it.
To complete your landscape, consider adding a few plants between the switching parts of the
stones. Then, you can also include a palm tree or a water-tolerant one for a nice complement.
20. Enchanting Yellow Flag Iris
In an area with lots of water, yellow flag iris will become the star. Its enchanting beauty will
make your backyard appears even more charming with this perennial.
You can let it grow around your wet backyard on its own or use it to landscape around the
tree. Even though it is often considered a problem in some states, yellow flag iris is still a
darling for those who want to add interesting perennial in their wet backyard.
Finally, you have already known several ideas for a landscape in a wet backyard. After
collecting this idea, you can choose your favorite and get started with the project.
However, you may need to remember that several factors are probably necessary to be taken
into account.
For instance, you may need to do a home soil testing first before starting to landscape the
area. After that, you can finally apply one of those landscaping ideas for wet backyard.