Most people view old rubber tires as junk. If you have some laying around the yard, don't get rid of them. Use these pieces to grow a productive and stunning garden. I've rounded up some terrific tire gardening ideas in this post.
Creating your tire garden is easy. Make sure to pay close attention to my tips and cautionary advice pieces below.
Advantages of Tire Gardening
Talking about tire gardening ideas, you may want to know the benefits it has to offer. Here are some of them.
Growing plants in tires don't need any construction. Simply grab a tire, then put it in the backyard. Lastly, fill it with dirt and plant.
You can grow plants in tires sooner than in other garden areas. The tire will protect them from the intense cold, heavy rainstorm, and frost.
With tire gardening, you can move the plants up by several weeks. However, I don't recommend growing cold-hardy veggies in tires during summertime since they'll get too warm.
Recycles Unused Materials
Disposing of old tires is so difficult. Also, removing them legally is very expensive. Furthermore, the costs of eliminating oversized tires certainly get higher. Using these items to grow your plants can be an eco-friendly solution.
Making old tires into garden pots is a brilliant idea. The elevated garden definitely needs less weeding than growing plants in the soil.
If your garden has wet soils, tire gardening is a nice solution. Apart from warming the soil up more quickly, it ensures better water drainage. This gardening system offers an ideal environment for tomatoes, potatoes, and carrots.
How to Start a Tire Garden
Before diving into my fantastic tire gardening ideas, I'll explain to you how to make a tire garden.
First, you must find and then cut the tires. The larger, the better. I suggest cutting the interior rims out of them using a saw.
Place the tires in a sunny spot. After that, fill them with some loose and fertile soil. Don't forget to add a bit of compost.
Grow and Harvest As Usual
The tire garden requires watering, fertilizing, and weeding. Harvesting plants in it will be the same as the raised bed system.
Considerations When Growing Plants in Tires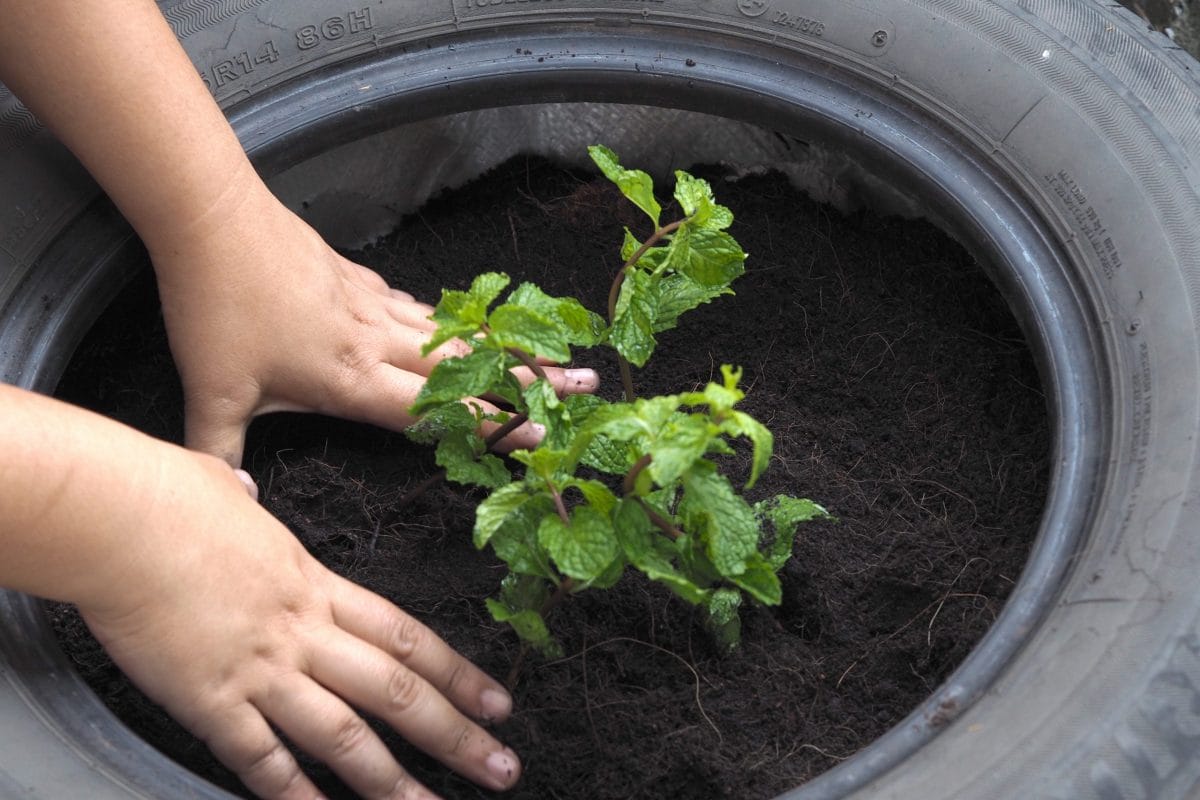 There are some crucial things you must concern when it comes to landscaping in rubber tires.
Black tires seem unattractive and bland. Apply a few coats of paint to spice them up.
A tire garden can be overly warm for cold-hardy crops, especially if you use black tires since they absorb heat faster.
Some people are afraid of growing veggies in a tire since they consider it unsafe. In fact, there's no statement from health officials yet.
Tires will break down on a 25-year basis. That means leaching is extremely slow. The risk from eating the veggies from a tire garden is probably less than consuming the non-organic produce.
List of 10 Amazing Tire Gardening Ideas
If you are into tire gardening, then have a look at my genius ideas below. I've had some creative ways on how to make tire planters.
1. Rainbow Tire Gardening Ideas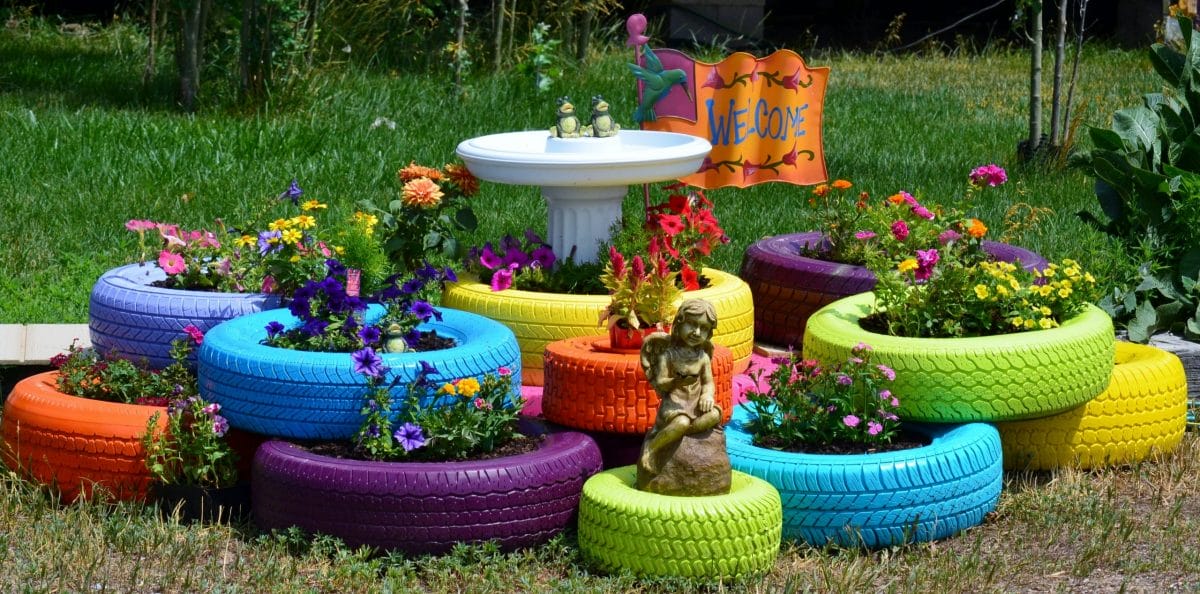 Undoubtedly, this is one of the outstanding tire gardening ideas. The tires were black and boring before. With spray paints, they become colorful decorations in the yard.
As you see, the tires come in diverse dimensions. Apart from holding beautiful flowers, they lend the garden splashes of color.
2. Sisal Rope Tire Planter
Convert your unused tire into a fabulous planter. It will certainly be a dramatic accessory to any garden yard or front porch.
This project needs a bit of patience. However, the result looks so impressive. The sisal rope covers the black tire delightfully. Meanwhile, blooming flowers enliven the space.
3. Wall-Mounted Tire Planter
The homeowner painted her tire planter orange. As you see, it blends in with the unpainted brick wall perfectly. The unit houses pretty flowers, too.
You should try this project out since it's easy to recreate. Moreover, the project is straightforward and doesn't require plenty of materials.
4. Hanging Tire Planters with a Coastal Rope
This dangling tire planter features a huge string. Despite its simplicity, it generates a nautical atmosphere. The stuff looks remarkable at any beach cabin or on the patio.
Consider painting the tire planter bright blue. The pink flowers contrast with it excellently. This project is both low-budget and beginner-friendly.
5. Inside-Out Tire Planter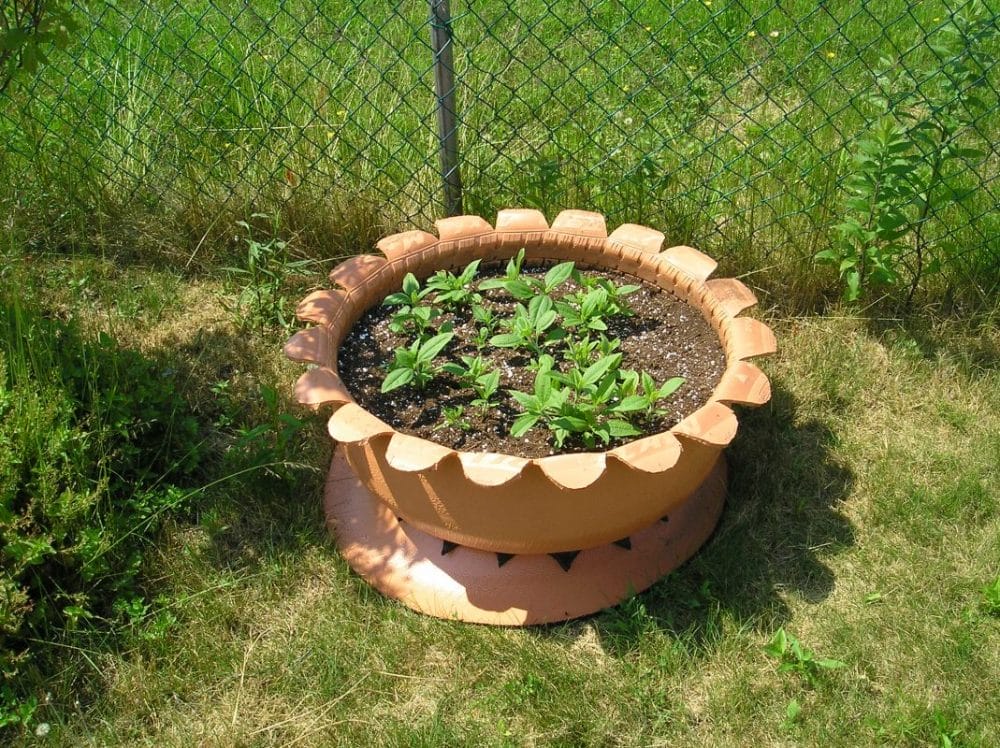 Don't you love this tire planter? I like the concept of setting it inside out. Instead of leaving the unit all-black, paint it pastel peach.
This tire planter is simple to make. It solely needs a brief period. The rest of the day, you can think about the types of plants to grow in the unit.
6. Frog-Inspired Tire Gardening Ideas
Do not throw your old car tires away. Transform them into friendly frog tire planters. They'll delightfully greet passing neighbors.
This tire planter project actually isn't challenging. However, it'll require time to paint the tires and add little extras.
7. Hanging Tire Gardening Ideas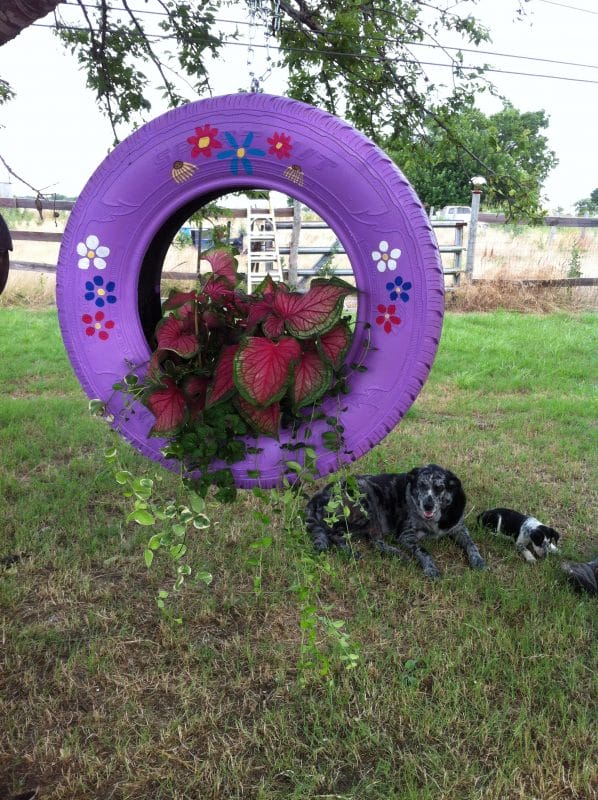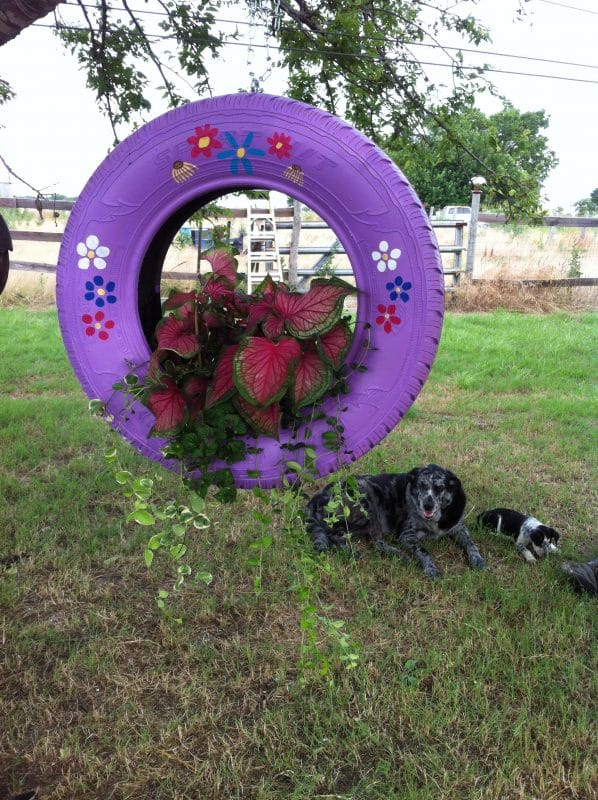 Whether you decide to paint the tire bright color or leave it black, this gardening idea surely deserves a chance.
This DIY project isn't too difficult. It just requires some measuring and drilling. You'll need a ladder to dangle the planter from a tree.
8. Minion Tire Planter for Potatoes
This minion bed enables you to grow potatoes. They will do well in it, thanks to its warm microclimate.
The project is very easy to recreate. As you see, the minion holds a watering can in a cute manner.
9. Parrot-Shaped Tire Planter
I can hardly believe that this hanging parrot tire planter is a DIY project. Moreover, it helps you avoid expensive tire recycling fees. Additionally, the unit brings bursts of color to the garden in no time.
10. Tiered Tire Garden
Don't know how to make tire flower pots? If so, try this tiered garden idea. Simply turn your worn tires into planters. I suggest you paint them colorfully. Here, they display stunning flowers and ornamental plants.
Growing crops in tires offer many benefits. It's a truly simple way to reduce the amount of work and maximize your yields. That's why I strongly recommend using those brilliant tire gardening ideas.