Some people have sweet memories of playing on fun swings growing up. If you're one of them, let's dig into these astonishing tire swing ideas. Apart from creating meaningful family moments, they will make your yard much better than the playground.
Undoubtedly, tire swings are a superb addition to any garden. The children can play on them, while adults use them as a calming seat. Moreover, they do not demand a large area. Just hang the swing from a support beam or a sturdy branch.
There are many excellent ways of customizing tire swings. Whether you love the traditional style or prefer something new, check these options out first.
1. DIY Tractor Tire Swing Ideas
This tire twister swing certainly looks like something that children would see at the local playground. If you have two kids, then construct it from old tractor tires yourself on the weekend.
With this double-level tire swing, your kids can play on the swings together. It's an effective way to avoid arguments and let them have more fun.
This DIY project may seem challenging. In fact, it is not too different from other tire swings. You just need to do everything twice. I guarantee your children's friends ask their parents to replicate it.
2. Alternative Tire Swing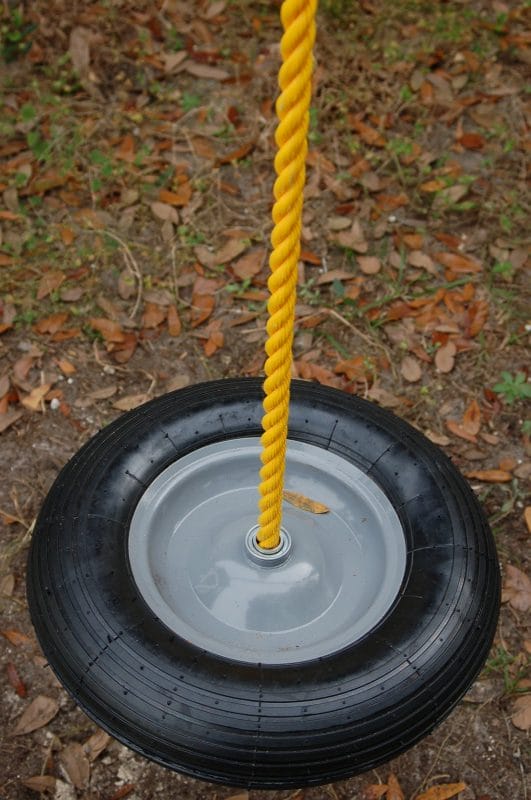 Looking for DIY tire swing ideas? If so, I highly recommend trying this option out. As you notice, it looks entirely distinct from other swings for backyards.
This is a further budget-friendly choice to a basic tire swing. Furthermore, it's a brilliant option for those who don't have large outdoor spaces.
In addition, this tire swing is simple to build. It doesn't require confusing tools or materials. Moreover, the unit reminds me a bit of something in the flying fox.
3. Painted Tire Swing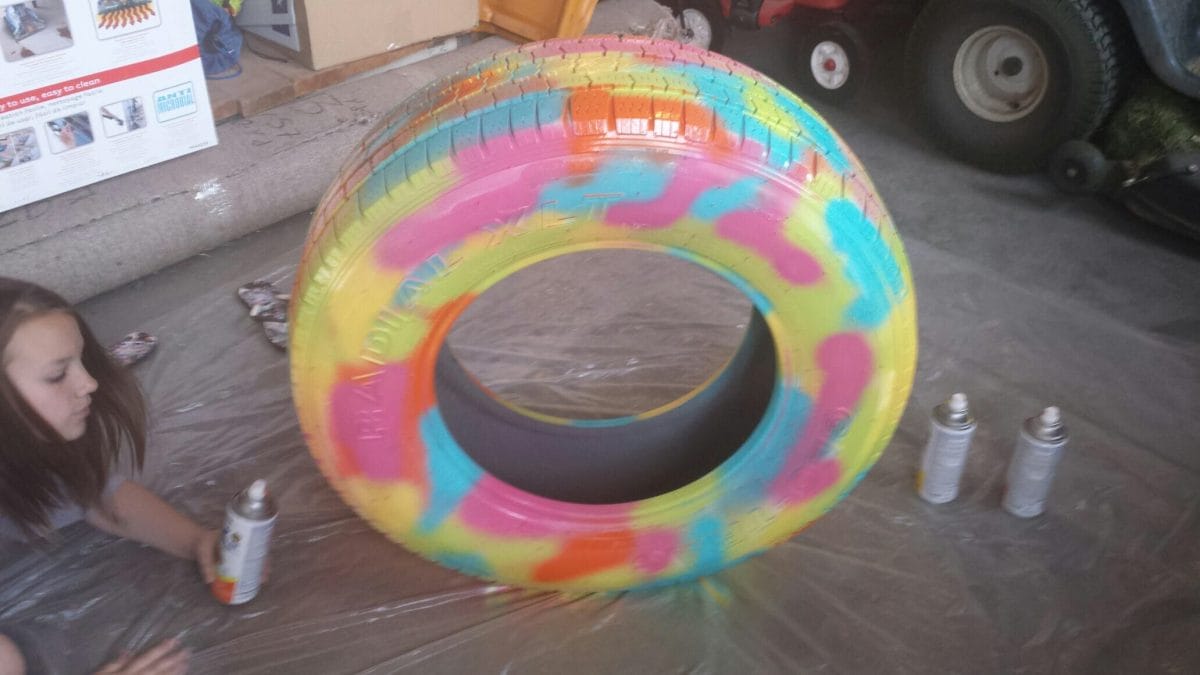 Certainly, this is one of the best tire swing ideas. Since kids typically like something colorful, they will surely love playing on it.
The painted tire swing catches the eye instantly. Moreover, the process of transforming something unused into fun stuff is appealing to both kids and grown-ups.
Your children will surely enjoy planning out what colors they want to add to their tire swing. The kids can also throw every color whatever their hearts desire.
Once your kids have finished painting the tire, they will be proud of their creation. Moreover, they'll show the new swing off to their friends.
4. Horse Tire Swing
Some adults wish they knew this remarkable horse tire swing when they were kids. I believe that your kids will beg for it.
Children of various ages certainly would love this homemade tire swing. Due to its incredible design, the unit will take a little longer to build than the basic one. However, the result must be impressive. The small kids would be forever grateful, too.
Consider going the extra mile. Simply use spray paints to spruce the horse tire swing up. I bet you could transform the unit into a colorful unicorn.
5. Nest-Style Tire Swing Ideas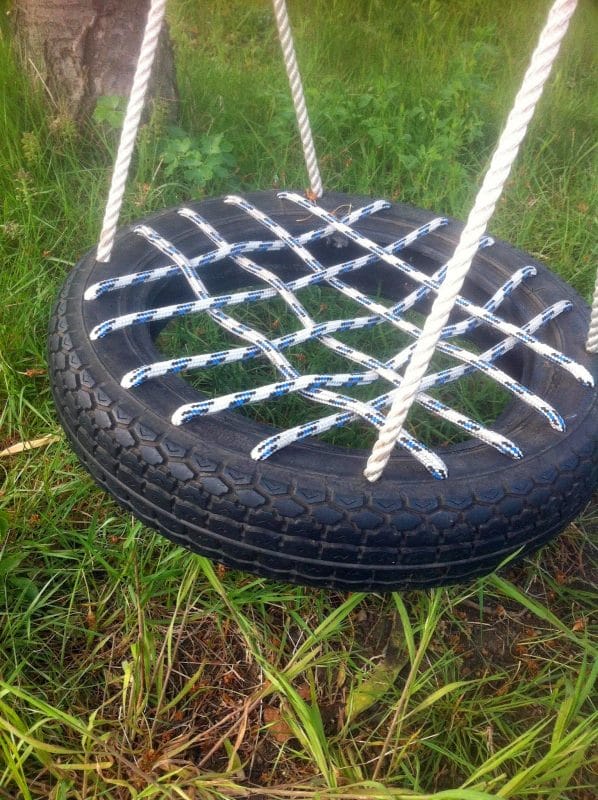 Younger children usually fall through the traditional tire swing's middle part. This unit is safe for them.
This nest-style tire swing ensures the safety of your kids. Moreover, it provides hours of fun for them.
Grown-ups can use this tire swing as a cozy swinging chair. Just imagine sitting on it with a great book on a clear summer holiday. What a pleasant experience!
6. Seat Tire Swing
This item is such a fabulous alternative to the regular tire swing. It lets you lie back comfortably. Make sure to adjust its size to perfectly fit your children. Also, consider making swings using tires of different sizes.
Actually, this seat tire swing is pretty easy to recreate. The only tricky part is cutting the tires. The thicker, the more difficult it will get.
Try constructing this stuff alongside a basic tire swing. This enables you to cover all your children's needs, from play to relaxation.
7. Single Rope Tire Swing
Looking for tire swing ideas with ropes? If so, give this technique a go. It's the simplest way to hang a swing that I've ever seen.
This one-rope vertical tire swing does not require puncturing nor screwing. You just need a strong tree branch and a bit of rope work.
If you don't have handyman skills, then try this simple tire swing idea. It's seriously risk-free. Spray paint the unit to enhance its appearance.
8. Animal-Inspired Tire Swing Ideas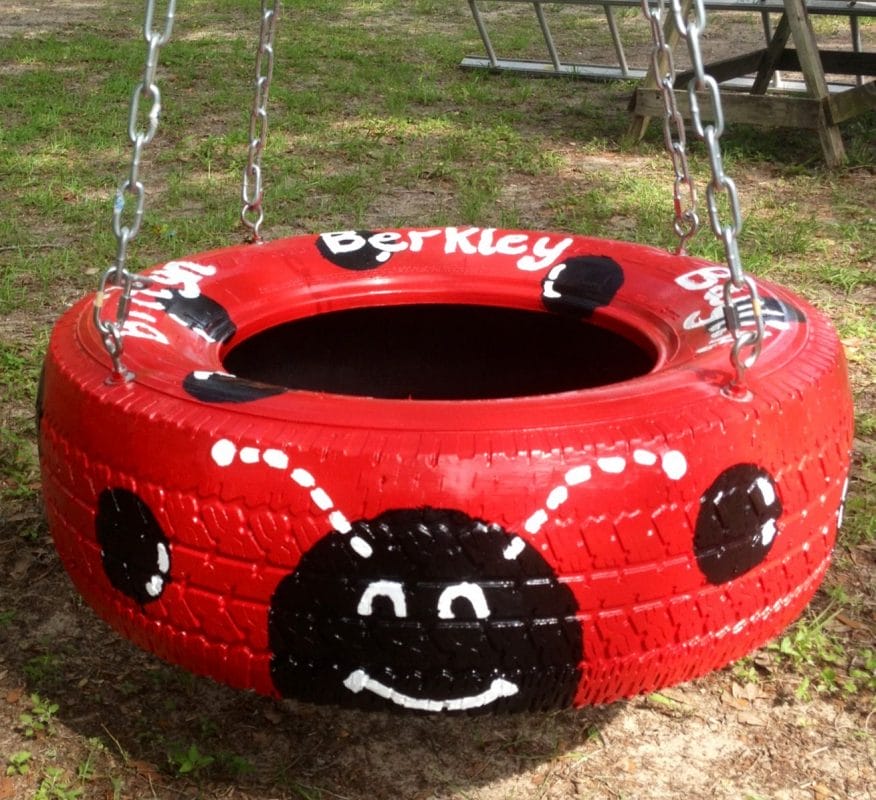 This option allows you and your kids to be creative. The ladybug tire swing is so adorable. Small children feel like they're flying through the air on the insect's back.
You can paint many different animals on the tire swing. The project is inexpensive. Imagine the happy faces of your kids when they see it.
9. Indoor Tire Swing
I love the idea of installing an indoor tire swing. Obviously, it's a marvelous addition to any small children's bedroom.
This tire swing is unique and also super stylish. Your kids must be excited to play on it for certain.
You can either go for a black tire swing or paint it white. Then, use a red rope to suspend it from the ceiling. It doesn't look out of place in this kids' room.
10. Chainless Tire Swing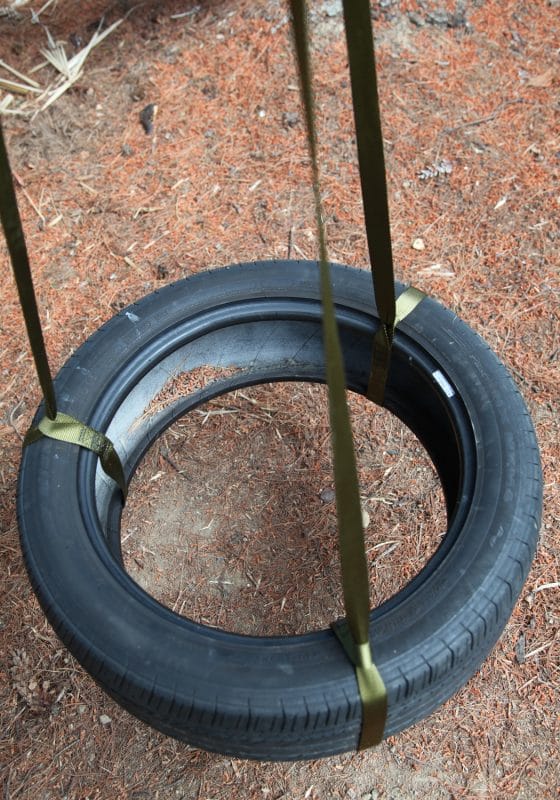 If you have a growing juvenile, then try this tire swing idea. As the image shows, the stuff doesn't feature chains. Children definitely would feel safer when playing on it.
Apart from looking safer, this tire swing is quite simple to make. You oughtn't to hassle with tricky screws or knots. Just hang it vertically or horizontally.
11. Horizontal Tire Swing Ideas
Most people hang the tire swings vertically, but you can suspend them from a tree horizontally. They're safer since your children can sit completely in them. With this swing, younger kids don't have to hold on tightly.
This DIY project needs a bit of work and elbow grease. However, the final result looks very sturdy and will last for many years. You can adjust the chain's length to fit the tree or support beam.
People surely can purchase store-bought swings. If you're currently short on funds, then implement my terrific tire swing ideas. Just build a support beam or find a sturdy branch to hang the unit.