Some people have yards with very limited growing spaces. Meanwhile, the others simply do not like the idea of building large gardens due to the maintenance. If you're in the same situation, then read on to dig into my mesmerizing tomato trellis ideas.
Here, I've put together different tomato trellis designs. Moreover, they'll help you grow tomatoes vertically. These trellises are surely functional and eye-catching. Let's check them out!
1. Bamboo Tomato Trellis Ideas
I love this tomato trellis. Furthermore, it is not only functional and sturdy but also potentially free.
If you have bamboo poles or know someone who cultivates bamboos, then give this trellis design a chance. Moreover, I recommend growing them since they're good to build with. Also, animals can feast on the shoots.
This tomato trellis has a basic box shape. To construct it, you need to install four bamboo shafts in the soil. After that, add two bamboo supports securely on each side. Lastly, tie on cross beams.
This unit allows for easy storage since you can untie it for the winter months. Undoubtedly, it's such a fantastic trellis.
2. Overhead Trellis for Tomatoes
This is one of the great tomato string trellis ideas. Moreover, it helps you train your tomatoes to grow vertically. Since the unit gives plants hanging support, it certainly maximizes production space.
The vertical trellis keeps the tomatoes off the ground. Apart from keeping them clean, it also lowers the chance of soil-borne disease. Furthermore, the unit allows you to harvest the fruit more easily.
This tomato trellis boasts some natural strings. Moreover, they enable the tomatoes to climb up. Alternatively, you can use green twine to support the plants.
3. Simple Metal Tomato Trellis Panel
Searching for outstanding tomato trellis ideas? If so, then try this spectacular design. For the project, you'll need metal posts and livestock paneling.
First, place the posts into the ground. After that, link the metal livestock paneling to them. This will let tomatoes and other climbing plants climb up nicely onto the paneling for support.
I love this idea since it looks sturdy. Furthermore, you can take it down with ease when not in use. Also, the unit gives your tomatoes enough room to run.
4. PVC Tomato Trellis Ideas
Undoubtedly, this tomato trellis is so sturdy. To make it, you'll have to purchase some small PVC pipes first.
Once you've had PVC pipes, then place some of them in the ground. Next, bend the rest of the pipes. Lastly, connect them to the straight ones to create arches. You can attach the tomato plants to these units.
This trellis offers a great amount of room for tomatoes to grow. It is both durable as well as affordable. Moreover, the unit has a rather simple design.
5. Folding Tomato Trellis Ideas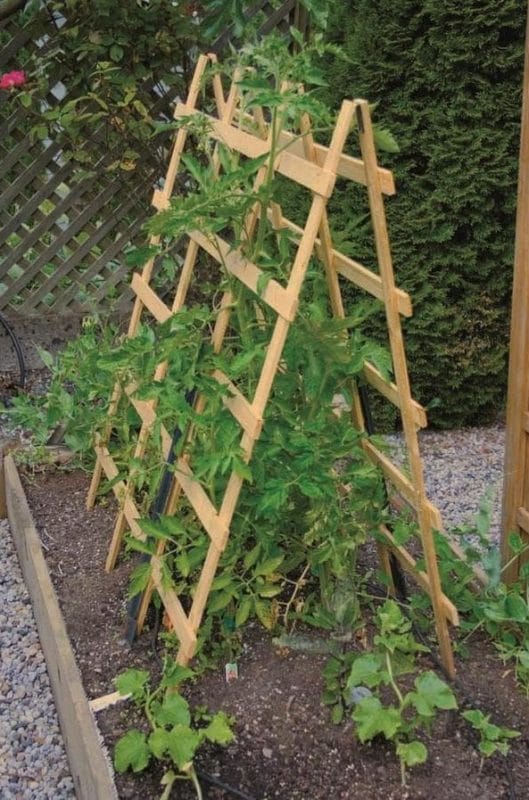 Looking for some of the best tomato trellis ideas? If so, try this design out. Moreover, instead of making the unit from thick wood, you can build it out of wooden slats. The project requires a staple gun and some hinges, too.
First of all, construct square frames. Then, run the slats vertically. After that, horizontally run them to make a checkered pattern.
The next thing to do is simply repeating the same steps for the trellis's other side. Lastly, connect two sides using hinges. I admire this tomato trellis since it's functional and creative. Furthermore, it puts well when idle.
6. Homemade Tomato Trellis with Conduit
It's time to focus on your vegetable garden. Moreover, you should create a DIY tomato trellis, so the backyard doesn't look messy anymore.
Making a homemade tomato trellis from the pieces of EMT conduit is certainly a brilliant idea. It's undoubtedly not only cost-effective but also can last for years.
First, push the conduit into the soil at a point. Then, attach it to the outside of the wooden raised bed using a 2-hole pipe strap.
After that, set up the second conduit pipe well, so it crisscrosses with the first one at the top. Then, hold them together using a worm clamp.
Next, install two conduit pieces on the other end using the same method. Lastly, place an EMT piece in the crossed pipes.
7. Raised Bed Trellis Combo
This is one of the magnificent tomato trellis ideas. Furthermore, it lends the backyard garden elegant simplicity.
You must construct 2 raised beds first. Then, add a wire mesh trellis that perfectly connects the two to build an archway.
This trellis lets you grow squashes and green beans besides tomatoes. These plants will offer a completely covered archway. Moreover, it lends the garden a whimsical feeling instantly.
8. Upcycled Bicycle Rim Tomato Trellis
This idea allows you to put old items to good use. Moreover, it is both cost-effective and easy to do. The unit helps your tomatoes stand straight and tall, too.
First of all, salvage a few old bicycle rims. Then, push a sturdy metal pole into the ground. After that, place the rims on the top and the bottom. You can use wires and hooks to secure them to the ground and pole.
The last thing to do is running the string from the top bicycle rim to the bottom one. Furthermore, it will train the tomatoes to delightfully grow upon it.
9. Teepee-Inspired Tomato Trellis
Undoubtedly, this is a terrific addition to the garden. Also, you can use the trellis to grow beans and cucumbers besides tomatoes.
First of all, measure the area for the trellis. Next, build 5 teepees from blonde wood slats. Finally, tie them at the top with wires or sturdy jute ropes.
This is one of the easy tomato trellis ideas. Since the project requires no hammering or drilling, you can construct it in just an hour.
10. Unfinished Wood Tomato Trellis
This tomato trellis is certainly sturdy since it uses some wooden slats. Moreover, it allows you to see beautiful dangling tomatoes during the summer months.
First, you must prepare a staple gun, wooden slats, nails, and metal hinges. Then, construct a square frame. Lastly, run the slats horizontally and vertically to make a lovely checkered pattern.
Those tomato trellis ideas are suitable for those who become apartment or urban homesteaders. Moreover, if you plan on cultivating a few tomatoes, don't hesitate to try them out. Regardless of your option, it will contribute to the healthy and big fruit.