Everyone certainly loves swinging on a bright summer day, be it in the backyard or at school. For kids and grown-ups alike, playing on cool swings can be a nice way to exercise while getting fresh air. Here, I'll present some impressive tree swing ideas.
There are swing sets at certain places such as IKEA, Walmart, and Home Depot. However, buying a tree swing set from any of them for your children to enjoy surely can be costly, especially if your budget is small.
If you have patience, time, and enough space in the backyard, why not make a tree swing yourself? I've gathered up 20 garden swings. They can add tons of fun to any outdoor space. Let's check them out!
1. Simple Tree Swing Design
This is one of the magnificent tree swing ideas. Moreover, it has a simple but cost-effective design.
Setting up the unit in your yard certainly can be a wonderful solution to providing lots of fun. Furthermore, the project will save you loads of money.
Apart from being simple, this tree swing looks very neat. It also offers an exciting and safe option for kids to playing outside.
First of all, measure the tree. Then, inspect the branches. Next, collect necessary supplies and tools such as a few durable wood pieces, a saw, sandpaper, and some sturdy rope.
Prepare a drill machine since it'll make the job much easier. For lovely results, use sandpaper to beautify your handmade tree swing.
2. Chair Tree Swing Ideas
You've noticed an old wooden chair lying around your yard. Why not turn it into an outstanding tree swing? Just make sure that the stuff is still secure and sturdy.
This wooden chair swing brings pops of color to the yard. Moreover, it allows small kids to have fun. The unit actually includes more colorful choices, so you and your kids can paint the rope and chair.
I recommend removing the legs of the chair to prevent unwanted hazards first. This chair tree swing is not only practical but also low-budget and super fun.
Best of all, the project lets you recycle wood and be friendly to the environment.
3. Handmade Oval Disc Tree Swing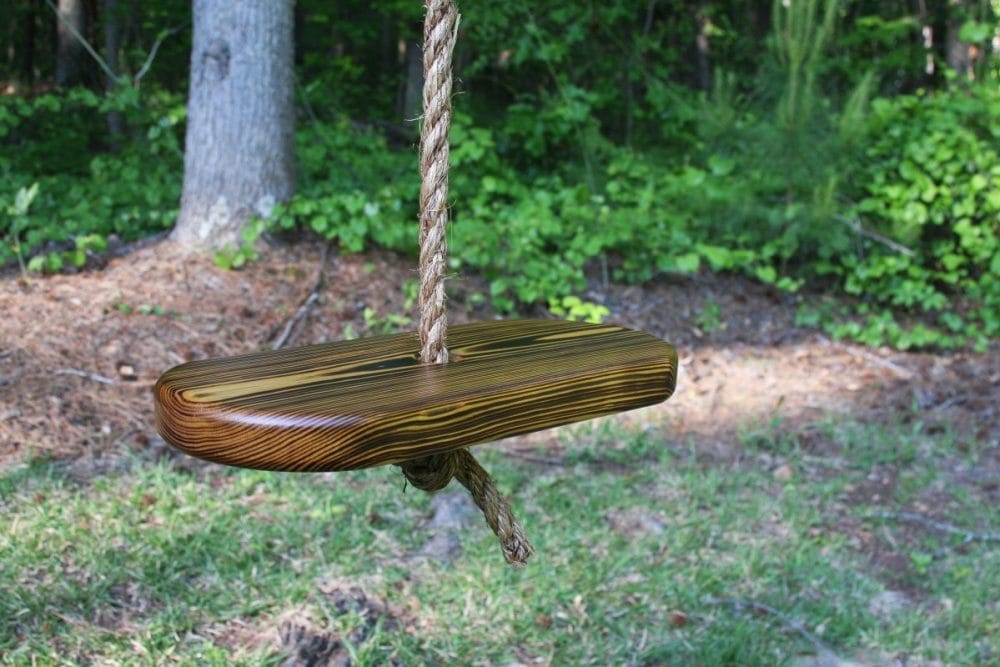 If you have nice woodworking skills, then give this DIY disc swing idea a chance. Disc tree swings are an awesome project for beginner DIYers since they hang from single ropes.
By trying out this idea, you don't have to deal with leveling problems. Here, the unit boasts a single rope with a charred wooden disc seat.
The only concern for this disc swing is that it would not resist the climate. You should put water infiltration into consideration. It's very important to make the item waterproof.
There are different versions of disc swings. Choose the design that you love most. In addition to providing good weather resistance, don't forget to hang it properly for maximum fun.
4. Classic Tire Tree Swing Ideas
Are you a simple person? If the answer is yes, this classic tire swing surely wins your heart. It is effortless to hang up. Moreover, the item offers truly an old-fashioned joy for small kids. They can both sit in and swing on it.
The classic tire swing is one of the most inexpensive swings on the market. Fortunately, you can make it yourself to save some cash.
This handmade tire swing can be an incredible artsy project to do with your little ones. It allows kids to paint it on. The unit also helps children express themselves in a fun and meaningful way.
To create this classic tree swing, you'll need a tire and some sturdy ropes. Once it's done, your kids can have a great swing while you relax your mind in the backyard.
5. Homemade Pallet 'Bed Swing'
Searching for bed tree swing ideas? If yes, I suggest you try this project out. Here, the DIY pallet swing employs a pretty basic design.
You can use either recycled wooden pallets or the ones lying around your garden. Additionally, this bed swing lets your kids sleep and go swinging at once.
This item will rock you to sleep. Furthermore, the whole project doesn't cost over $20 in supplies to build.
Before making this bed swing, invest in rope, cushions, measuring tape, screws, extra lumber, and recycled wooden pallets first. Use a vinyl zippered bedding coat to protect the things when it is idle.
6. Platform Tree Swing Ideas
I guarantee your kids will love playing on this comfy and bouncy swing. For a more cost-effective project, create it using nylon webbing. You'll also have to buy PVC pipes, adapters, and legs.
This square platform tree swing setup is definitely a traditional favorite. Not only is it manageable to execute, but also just requires an hour.
Moreover, the item can hold up to 3 kids at the same time. Be sure to watch them closely during playtime.
Undoubtedly, this is one of the excellent DIY tree swing ideas. The platform swing enables your beloved children to nap, relax, and have fun without even swinging.
Don't forget to double-check the swing's integrity and your work first. Then, allow your kids to play happily on it.
7. How to Make a Single Rope Tree Swing
Sometimes, the simpler, the better. If you follow this general rule, then this is one of the fantastic tree swing ideas to implement.
This rope tree swing looks humble. Despite its simpleness, the unit can give your little ones endless hours of fun when playing on it.
I highly recommend hanging single rope swings over a river or lake because they're not easy to hold onto. Moreover, your kids can launch themselves into the fresh body of water after swinging over it.
However, adding this swing to the yard is a great idea, too.
To make this single rope swing, find yourself a sturdy piece of rope first. Then, attach it to a large tree branch securely. Lastly, tie the rope to a small stick.
8. Horse Tire Swing
Looking for genius tree swing ideas? If so, you should make this rubber tire horse swing at home. I believe your kids will love it.
This horse tree swing lets your little men pretend to be cowboys. Girls definitely enjoy playing on it, too. You can create the item from scratch just using red ropes, rubber tires, bolts, a mallet, a few washers, and a drill saw.
Apart from being low-budget, the project only takes a few hours. With this tire horse swing, your kids can start the summer right.
9. Charming Tree Swing Ideas for Families
This carved wood swing is not only lovely but also simple and unique.
I must admit that the design of this DIY rope swing seat is both original and innovative. It enables you to use a different color and finish, too.
The slab tree swing only needs minimal supplies and tools. Moreover, the materials to make it are also quite cheap, rendering the unit budget-friendly. Just be sure to find a stable tree for hanging it from.
10. Handmade Skateboard Swing
When it comes to homemade tree swing ideas, the possibilities are endless. You can recycle and turn your old skateboard into a DIY skateboard swing. It will also serve as a remarkable conversational piece.
For supplies, you'll need wire clamps, stainless-steel carabiners, wooden dowels, heavy-duty rope, paddle bit, and sander. Don't forget to prepare a safety tape to secure the odd ends.
I recommend using a wooden skateboard. Remember that plexiglass, foam, and nylon are typically not as durable as wood.
11. Spider Net Tree Swing
Undoubtedly, this is one of mesmerizing tree swing ideas. The spider net swings are spectacularly sturdy. They can accommodate up to 4 small kids at once, thanks to their 400 pound-capacity.
With this spider net swing, no more children will fight over the single-seat tree swing. Once you've made the unit, hang it from a tree properly. Don't have plenty of time? Just purchase it at Home Depot or Amazon.
12. DIY Tie-Dyed Hammock
Talking about tree swing ideas, most people forget the traditional hammock. In fact, it is an iconic swing to help you relax in any outdoor space.
It may require some time before people get comfortable in a classic hammock. The stuff is a perfect place to take a nap, read a magazine, or kickback.
This tie-dyed hammock is both comfy and visually appealing. If you have a couple of sturdy trees, setting it up won't be a challenging task.
13. Wood Swing from Tree Logs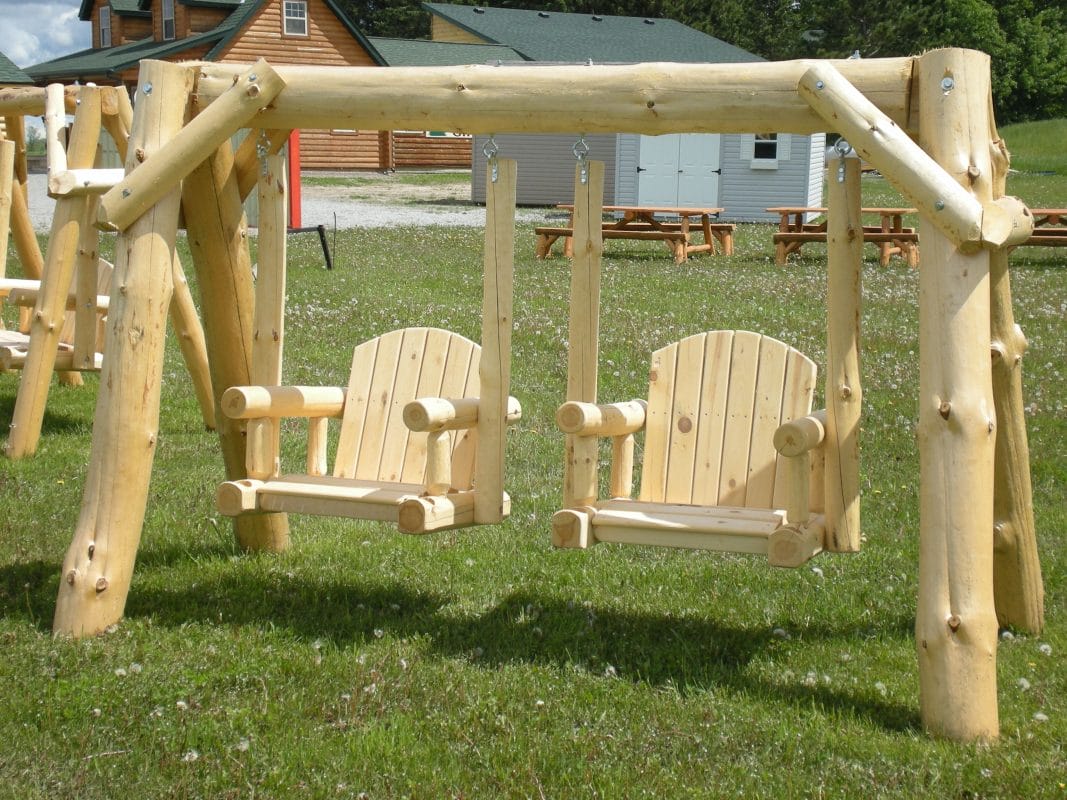 Speaking of literal tree swing ideas, this one certainly deserves a try. You can create it entirely out of untreated tree logs and smooth wood planks, aside from the metal chains as well as bolts.
As you can see, the tree swing is certainly a true jewel for any backyard. It lends the outdoor space a rustic charm, too. Furthermore, both you and your spouse will surely enjoy swinging back and forth on the chairs.
14. Classic Porch Swing
Porch swings are surely an incredible piece of the past. However, if there's no porch in your yard, then give this unit a go.
Hanging the porch swing from a big tree branch is a brilliant option. It allows your children to get the shade for keeping them cool on scorching summer days. Add a blanket, a mattress, and throw pillows to make it cozy.
This is one of the spectacular tree swing ideas. You can catch some rays while your kids play on the porch swing happily.
15. Wooden Airplane Tree Swing Ideas
Compared to a tire tree swing, this wooden airplane swing is definitely harder to make. However, the result will be surely worth the extra work.
You can even paint the wooden airplane swing in your little one's favorite color. Make sure to suspend it from a tree using sturdy ropes. I guarantee this piece will let any kid's imagination run free.
16. Military-Style Tree Swing Seat Ideas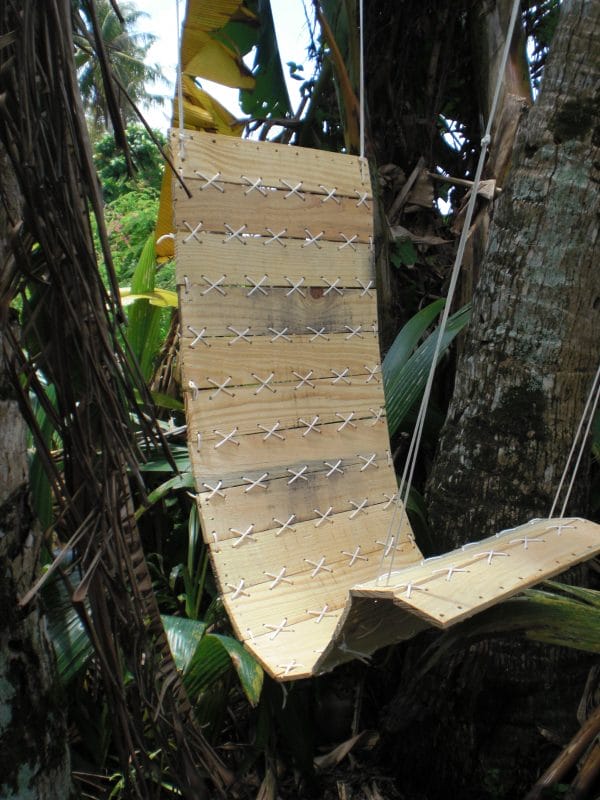 This paracord-laced pallet swing is a magnificent addition to any yard. It is not only inexpensive but also has a nice and sturdy design.
I guarantee you'll love this paracord laced pallet tree swing because it can bend and flex safely. The unit will provide enjoyment, too.
If you're a DIY tree swing fanatic, try making this hanging chair yourself. It offers great comfort and stability at once.
17. Tree Swing Ideas from Headboards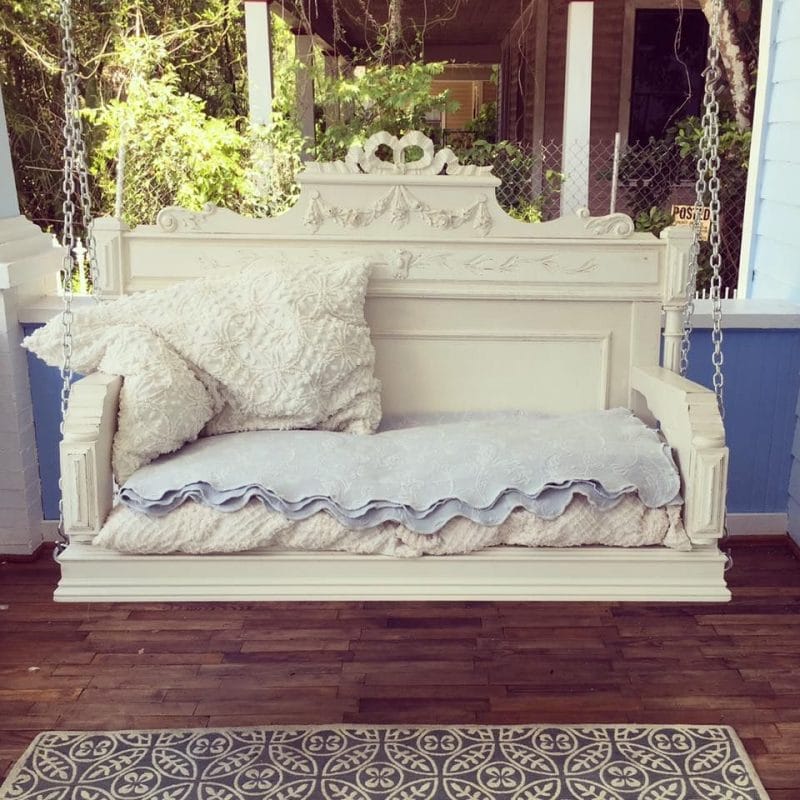 This handmade tree swing is too gorgeous to be true. You can create it with an old headboard and recycled wood. The item lends a peaceful ambiance to the porch.
To make this DIY headboard tree swing, you must prepare nails, metal chains, extra plywood, and a hammer. Top it off with some pillows and blankets, so your kids can get the rest they deserve.
18. Handmade Tractor Tire Swing
If you have multiple kids, consider making these tractor tire swings. They will surely spark your children's interest. Grown-ups also can have hours of fun swinging on them.
Since these garden swings use recycled tractor tires, they are both rustic and environmentally friendly. In addition to them, you'll need bolts and strong metal chains.
I suggest using tires of different sizes to make them much more intriguing.
19. Tree Swing Ideas for Toddlers
Whether you have babies or toddlers, this double wooden tree swing deserves a try. It has a back bar and a protective front to ensure their safety.
Undoubtedly, this toddler-safe tree swing is a fabulous addition to the home of a young family. It is lovely and dainty, exactly like your little one.
20. DIY Saucer Tree Swing
Saucer swings are similar to spider net swings. The difference only lies in the surfaces. They typically boast solid fabric bases.
What makes this homemade saucer swing special is its yellow Phifertex mesh seat. It does not only offer kids endless hours of enjoyment but also spruces up the yard.
Those tree swing ideas prove that it won't cost you much to have fun. They also will put your old household items to good use. It's time to craft a few exceptional outdoor swings yourself.