As a parent, you surely want to give your beloved kids rewarding and fun gifts. If that's the case, then consider building treehouses for them. Luck is yours because I'll be showing some magnificent treehouse ideas in this article.
The treehouse can offer lots of fun. It's also an incredible place for children to interact with one another and use their creative imagination.
Moreover, treehouses come in different styles, sizes, and shapes. Some even feature slides and climbing walls.
Giving your kids a treehouse is the right choice. It does not only let them play in their fantasy land but also encourages them to explore their surroundings.
Here, I've come up with 22 fabulous treehouses that the whole family can enjoy. This list will definitely make your online search easier. Just keep reading!
1. Hobbit Treehouse Ideas
This treehouse looks both fancy and incredible. It seems like the owner is a true fan of Lord of the Rings. If you're also a Ringer, give the design a go.
As you see, this hobbit treehouse boasts a very intricate design. Furthermore, it includes a cute round door and Elvish room signs. They will certainly drive any child wild.
Well, this is a wonderful example of a house-size treehouse. It has multiple cool windows, large rooms, and spectacular lookout points.
Even though the hobbit treehouse is pricey, if you can build it for your children, I'm sure they will be forever grateful for years to come.
2. Treehouse Ideas on Pinterest
I think your kids will love this obstacle course shack. It's an amazing combination of a treehouse and an outdoor playground.
The treehouse employs a modern rustic and ergonomic design. Additionally, it's complete with a balcony, escape ladders, and ropes. There's also an intriguing bridge.
Apart from its unique architecture, this treehouse blends in with the surrounding environment really well. It surely reminds everyone of a boot camp.
With this shack, your kids can have their backyard ropes course at any time. They will also be the talk of the neighborhood.
3. Treehouse Ideas for Backyard
This is one of the outstanding backyard treehouse ideas for kids. It features a cozy hammock below, a zip line, and a ladder. They enable children to have a blast playing with one another or chasing each other around.
Also, you can notice the wooden fence and full wrap-around deck. Thanks to them, your little ones can enjoy the stunning sights safely while remaining in sight.
The unfinished wood siding, floor, and ladder lend this backyard shack a rustic flair. Meanwhile, the black roof contrasts with them perfectly.
4. Two-Story Treehouse
Children will definitely adore this multi-level treehouse. It has multiple windows and glass doors to enjoy breathtaking views. The design is also visually appealing. I believe your kids love playing in it.
This two-story shack boasts a rustic interior featuring a dining area and living room on the first floor. You can also notice a large wrap-around deck.
Your kids can enjoy the marvelous view of the woods as they climb up the chic staircase. Moreover, this shack can accommodate several people.
The tree-log, modern design makes this treehouse special. It surely will become your children's two-story adventure playground.
5. Shack with A Lookout Tower
As you see, this treehouse employs a very simple design. Despite its small size, it's such a splendid hideaway for your small children.
Pops of yellow and blue spice up the treehouse. To balance them out, leave the wooden ladder and wrap-around deck unpainted.
This treehouse appears more interesting with the addition of a lookout tower. Furthermore, it's large enough for multiple small kids to play in.
6. Fun Mansion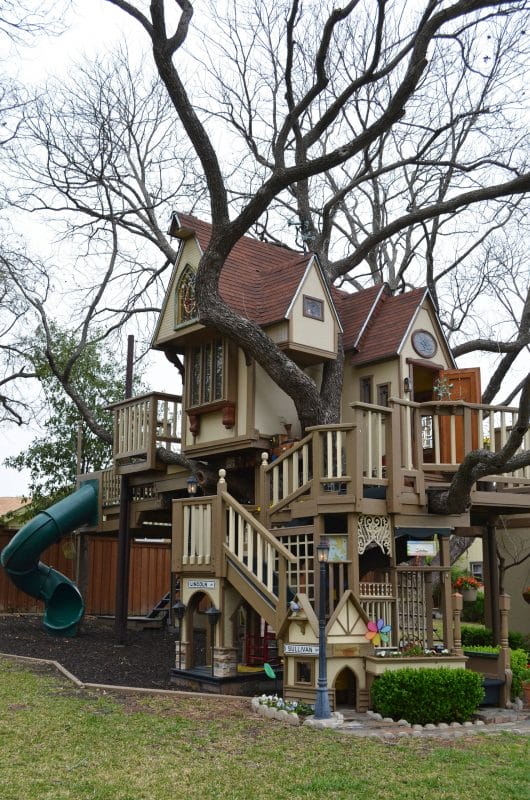 Searching for impressive treehouse ideas? If so, try this design out. It's more like a giant playground or tree mansion.
The sophisticated treehouse provides everything your children could've imagined. In addition, it boasts a super fun slide and multiple staircases. Well, this place is basically every kid's dream.
What makes this treehouse mansion even better is it blends in with the big tree and surrounding environment nicely.
If you have a pathway and a small garden, don't hesitate to build it in your yard. The treehouse will definitely complete the look.
7. Simple Treehouse Ideas
Looking for easy treehouse ideas? If yes, this tree fort is one of the best pictures of simple treehouses on the internet. That's why I suggest you build it for your adorable kids.
This wooden treehouse offers complete fun for the yard, children, and adults. It's a perfect way to spend leisure time teaching your kids some basic life skills.
Moreover, the place allows you and your family to bond over the cute childhood treehouse.
You can build this tree fort using basic power tools as well as materials. Since it boasts its supports, the tree limbs don't have to hold up the structure.
8. Fairytale Treehouse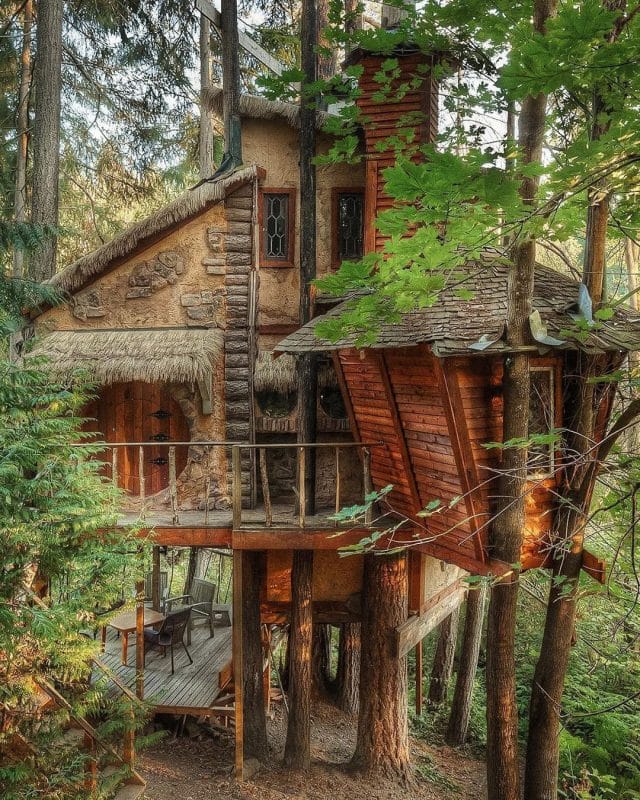 Undoubtedly, this luxurious treehouse is huge. In addition, it features an iconic wrap-around deck and a stable staircase. There's also a cozy sitting area underneath.
The foundation logs alone show you how tall and fantastic this fairytale treehouse is. Furthermore, the round door and small windows are notable. They effortlessly make it hard to rival for certain.
9. Cylindrical Tree Cabin on Stilts
This cylindrical treehouse is truly unique. It beautifully combines ergonomic style and environment. The unit will certainly let kids' imaginations run free.
Although it has a minimalistic design, it doesn't seem out of place. You and your kids can observe the surrounding nature and do stargazing at night.
Moreover, the slender tilts are such a superb touch. They make this cylinder treehouse an eye-catcher, too.
10. Girl Treehouse Ideas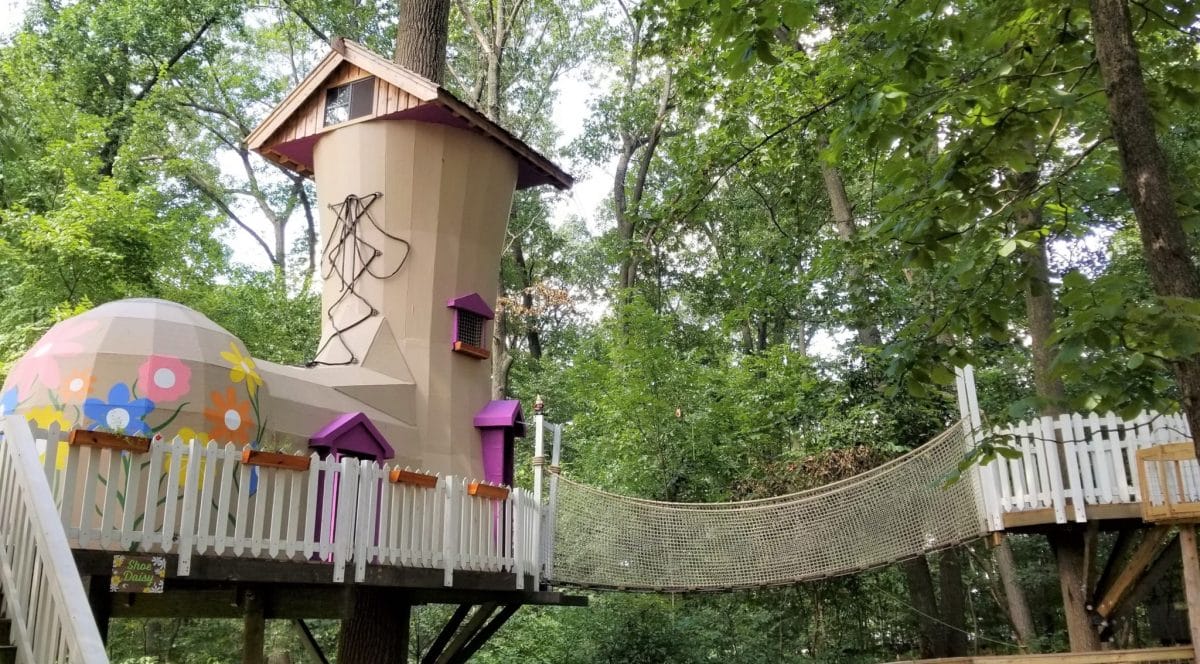 This cabin doubles as a playground. It's sure to win the hearts of your little girls and keep them happy. Furthermore, the building includes a long bridge, a stable staircase, a deck, and a white picket fence.
Thanks to its amazing features, it will keep your children busy all day. Without a doubt, this is one of the cool treehouse ideas.
There are also various lookout spots. In addition to that, the gorgeous flower mural instantly gives this treehouse cheerful and girly vibes.
11. Star Wars-Inspired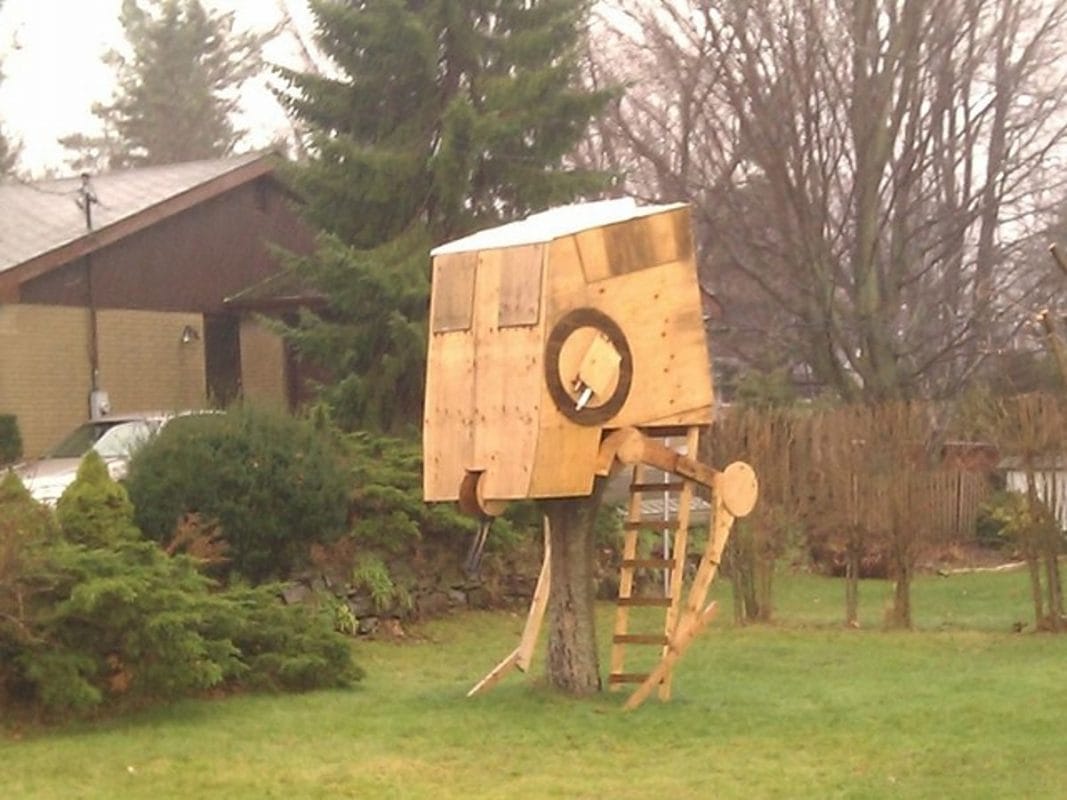 If your children love all things Star Wars, then this shack is definitely a must-have. You can make it out of unfinished solid wood.
As you see, this shack fits excellently around a tree. Moreover, it will serve as the ultimate All Terrain Scout Transport (AT-ST) for children's next adventures.
With this treehouse, your kids can pretend to be the pilot of AT-ST Walker. They can blast all the Ewoks in their yard. I highly recommend using a gray paint job to get some serious Star Wars vibes.
12. Treehouse Ideas for Adults
This tiny treehouse has a lovely cabin style to it. Moreover, the building features a wooden staircase for security. Additionally, there are guardrails to ensure your safety.
Just in case you're looking for treehouse interior ideas, take inspiration from this adult treehouse. It resembles an actual home in many ways. The bedroom includes metal wall lamps and open shelves.
The treehouse employs a deck and full windows. Also, it's an ideal place to watch the critters and enjoy the surrounding environment.
13. Stylish and Chic
Surely, this is one of the majestic DIY treehouse ideas. Children will absolutely adore it. The building itself is sure to provide years worth of memories and adventures.
Apart from the shiplap siding, the blue and white color scheme gives off a coastal ambiance. The black lanterns lend the treehouse a vintage feeling.
Small kids can enter the shack through the wooden ladder. The curved garden slide will definitely offer hours of enjoyment for them.
14. Relaxing Tree Cabin Ideas
This cabin is relatively hidden, but it truly looks impressive. The straight staircase allows you and your kids to enter the building easily.
Interestingly, the treehouse camouflages well into its natural setting. It even boasts two large hammocks underneath. That means it's a nice place for a young family. You and your kids can bond together while creating new memories.
15. Treehouse with a Climbing Wall
Don't you love this modern shack? Grownups and kids certainly can't say no to it. The rustic climbing wall allows your children to exercise and have fun at once.
Undoubtedly, the climbing wall is an environmentally friendly solution to your children's treehouse dreams. They also can climb up and down the ladders.
I believe kids will enjoy seeing the surrounding nature through multiple lookout points.
16. Birdhouse-Inspired
If you need a place to escape from the busy daily routine, give this life-size birdhouse a chance. It employs an awesome and modern design. Moreover, the treehouse is complete with a bridge and a deck.
This birdhouse-like treehouse is not only intriguing but also welcoming. Furthermore, it enables you to do some bird-watching.
The multiple windows let you view the surrounding environment. Despite its small size, this birdhouse/treehouse is certainly unmatched.
17. Treehouse with a Tire Swing
Obviously, this treehouse instantly steals my heart. It's spacious enough for you and your family. The kids can play hide-and-seek in the treehouse.
This neat treehouse includes a wrap-around deck and a wooden ladder. Moreover, the gray roof and wood siding let it amazingly blend in with the surrounding.
Unlike previous treehouses, this one has eight sides. Furthermore, the tire swing and pulley system instantly add more fun to the yard.
18. Creative Treehouse Ideas
If you want to give a memorable experience to your kids, give this idea a shot. Consider constructing a wooden treehouse high up off the ground.
This charming treehouse nestles in a tranquil setting. Moreover, it can sleep up to four people; two kids and two adults. That means it's an ideal hideaway for any young family.
The treehouse might seem compact. However, it actually features an inviting living area, a bathroom, and a kitchen. Furthermore, you'll also find a full-size bed with comfortable linens.
19. The Interior of Treehouse
After seeing the exteriors of treehouses, you might be curious to know what their interiors look like. Just steal the inspiration from the photo above. This is one of the great inside treehouse ideas.
The treehouse boasts a stunningly furnished living area. Since the room is homey, your kids can definitely take a rest after exploring the surrounding environment.
Inside the living area, you can spot an eye-catching rug and some throw pillows. The hanging chair and fluffy white rug create a relaxing atmosphere.
The lamps on the table and walls offer a touch of warmth. Meanwhile, the macrame wall hanging and mandala tapestry send out boho vibes.
20. Treehouse Ideas without a Tree
This treeless treehouse is relatively simple and small. It's basically an elevated backyard fort. Furthermore, the place is a perfect sanctuary for small kids.
If you have a compact backyard without trees, then building a freestanding treehouse is the right solution. It has an intentionally simple and rather generic design.
The building can become anything, be it a haunted house or pirate ship.
21. Modern Treehouse Ideas
I truly admire this sleek modern treehouse. Apart from looking stylish, it is spacious. The building is not only a great hideaway for kids but also grown-ups.
This modern treehouse has different unique features such sliding pole, staircase, and multiple amazing lookout points. It comes with a deck and a balcony, too.
Children will surely love this treehouse because it provides extra space to play. Meanwhile, parents admire it due to its trendy design.
22. Spherical Treehouse
If your budget isn't tight, then you should build this spherical treehouse. It will be a hidden getaway for your beloved children. The place itself has a relaxing ambiance.
This giant wooden orb allows you and your kids to float in the forest. Moreover, it combines adult luxury and childhood fantasy. The spiral staircase rounds out the treehouse nicely.
I hope you truly get inspired after reading those treehouse ideas. They offer maximum enjoyment for both adults and kids.
Before constructing any of them, be sure to consider your budget and needs. Are you ready for a family treetop retreat?