For the frozen months of winter, who thinks about garden plants?
Imagine designing gorgeous blossoming forms for the next draped of pure dazzling white snow.
Here, we'll share several tips on how to create the most magnificent blooming garden in the world, not just one.
Winter is a season of contemplation and relaxation for others. Others may flee to milder climes in order to escape winter's chilly grasp, despite the migratory draw.
We adore the sparkle on snow and the cold that is amplified by low light seeming to illuminate intricate, crystalized frost formations from within, despite the fact that many of us may grumble.
Glorious Forms Draped in Snow
There is absolute stillness. An insulating layer of powdered ice flakes brings with it a dreamy, muffled quiet. Enchanting bearers of glowing snow are plants that maintain their structure throughout the harshest seasons.
Strong ornamental grasses decked in snow have delicate arching sword-like leaves that may brighten up a dreary winter day. Evergreens with snow-bearing branches, such as the stoic upright conical forms of the hardiest evergreens, soothe the spirit.
Light Up the Long Dark Nights of Winter
Several plants, bushes, and trees welcome us to brighten up the long winter evenings more than just bearers of snowflakes.
Hanging lights on sturdy, well-branched trees and shrubs is a surefire way to help celebrate a cozy winter evening by creating winter light scapes. Lighting walkways or hedge borders at this time of year not only boosts safety on slick icy evening strolls, but also encourages a winter delight to the activity.
The value of these eye-catching living art pieces is extended by using spotlights or floodlamps, of course, to bring attention and focus to deserving specimen plants.
Unique Shapes, Bright Colors
In the winter garden, herbaceous perennials with fascinating seed heads that last long after the final leaves fall create wonderful focal points of interest.
The monochrome landscape is broken up by colorful bark on shrubs and trees. Similarly, amid the flowing white carpet's blankets are barks with distinctive markings, horizontal or vertical striations, or stunning smoothness.
Berries, Fruit, Seeds, and Nuts
Long, cold winter months are always welcomed with extra entertainment! Definitely, branches loaded with bright berries or dangling fruits provide visual appeal. Yet, other birds and creatures may benefit from them since they prefer to tough it out in the winter.
Providing winter interest while also providing a chance for some natural entertainment by providing food sources with attractive berries, fruit, seeds, and nuts.
The Ease of Evergreens
Winter is taken in stride by many evergreen trees and bushes. The snow is held in attractive ways by upright spruce, fir, and pine's strong conical shapes. When glacial frosting is applied to the slender branches of falso cypress and cedar, they become equally stunning.
Winter's freezing and shifting temperatures are ideal for evergreen shrubs like juniper and arborvitae. Blue star juniper and golden globe arborvitae, for example, are available in a variety of colors that add drama to the winter scene.
When drifts of frost are used to emphasize the formal architectures of exceptionally pruned, and shaped boxwood and yew, they may take on stunning effects.
Several plants, such as rhododendron, azalea, magnolia, and holly, retain their leaves throughout the season to magnificent effect in some northern locations.
Some quick tips to keep evergreens looking their best throughout the winter are:
In the autumn, water evergreen trees and plants.
To protect from water loss and shifting temperatures, mulch the roots of evergreen trees and shrubs.
Plant hardier cold-hardy plants away from strong winter breezes and full sun to help them survive.
Spotlight Stealing Winter Bloomers
In the dead of winter, fresh blooms? It is, indeed. In winter, late winter, or very early in the spring, a few interesting trees and shrubs bloom. Any frosty winter day or night may be saved by these unique plants!
16 Best Trees and Shrubs For Winter Interest
1. Wintersweet (Chimonanthus praecox)
In zones 7 to 9, this winter-blooming shrub grows 10 to 15 feet tall. Plant in full sun with some protection from cold weather. Hedges are a excellent selection.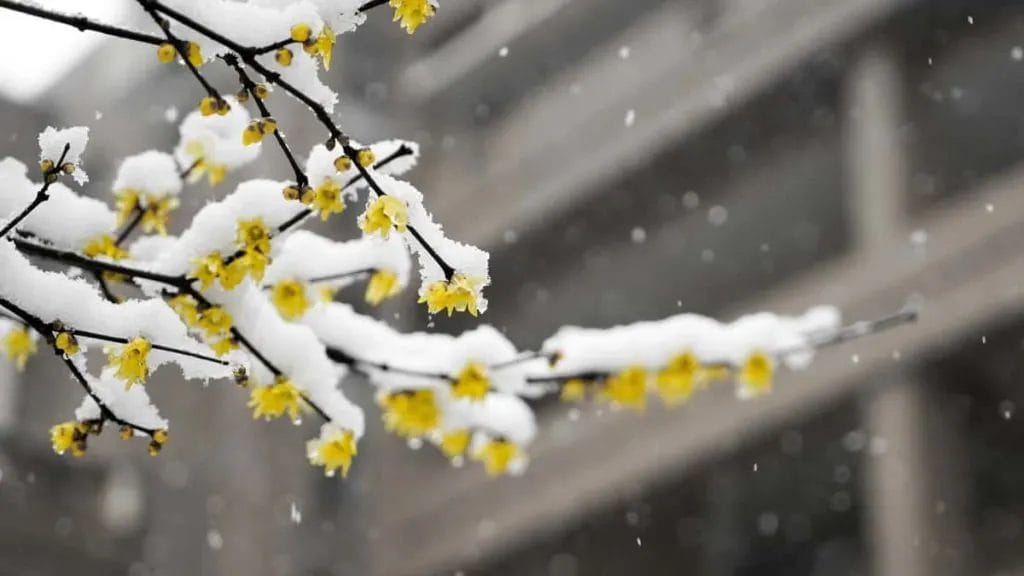 Winterwhilesweet has an unusual pendulous blossom that blooms from December to March. Yellow petals and purple centers make them look like stars. For lovely-scented winter displays, Wintersweet produces a stunning fresh cut bloom.
2. Highbush Cranberry (Viburnum trilobum)
In zones 2 through 7, this 15-foot North American native is hardy. Many winter bird species feed on the tart bright red berries. Travel-weary early arriving migratory birds can depend on the remaining berries.
Young branches are copper colored, while mature branches produce big clusters of brilliant red berries in the winter. This is a true four-season shrub. The little lacy white blooms clustered on the shrub are in full bloom by June. Late in the summer, the big vivid green maple-like palmate leaves turn scarlet, and they stay on the plant into late autumn.
3. Red Osier Dogwood (Cornus Sericea)
Red Osier Dogwood, which grows 4 to 20 feet tall and thrives in zones 2 to 7, is a popular winter shrub. Several cultivars have been created to brighten the vivid flame-colored branches of this North American native.
These stand out in front of the stoic white bark of paper birch trees, as well as against snow.
The waxy oblong leaves have pointed tips and create a beautiful background shrub that maintains a nice rounded open-branched shape. In the autumn, they turn vivid green to crimson. Throughout the summer months, spring produces off-white umbels with flat blossoms that develop into white berries.
4. Harry Lauder's Walking Stick (Corylus avellana 'Contorta')
This deciduous shrub's upright corkscrew branches can grow to be 8 to 10 feet tall. Harry Lauder's Walking Stick is a landscape conversation piece in zones 4 to 8.
Backlighting or illumination in such a manner that intricate shadows are cast on the twisted branches would be excellent specimen. Harry Lauder's Walking Stick, a member of the hazelnuts, has interesting spiral branches that compensate for the fact that it doesn't produce many nuts.
To heighten the surprise of this magnificent specimen shrub, the twisted branches develop pendulous showy catkins in late winter.
5. Winterberry (Ilex verticillata)
Winterberry, like many of us, requires a buddy to survive the long winter months. It grows 3 to 15 feet tall in zones 3 to 9. To put it another way, if you want to pollinate female plants, only plant a male cultivar in the area.
In the winter landscape, Hollies are a valuable broadleaf evergreen. The leaves of this holly are deciduous, and it loses them to display its bright Berry Feast during the winter day, which draws a diverse group of birds.
6. Firethorn (Pyracantha coccinea)
In hardiness zones 5 to 9, this semi-evergreen or evergreen grows up to 20 feet tall and 6 to 15 feet wide. The golden, orange, or red berries last all winter months are its greatest feature.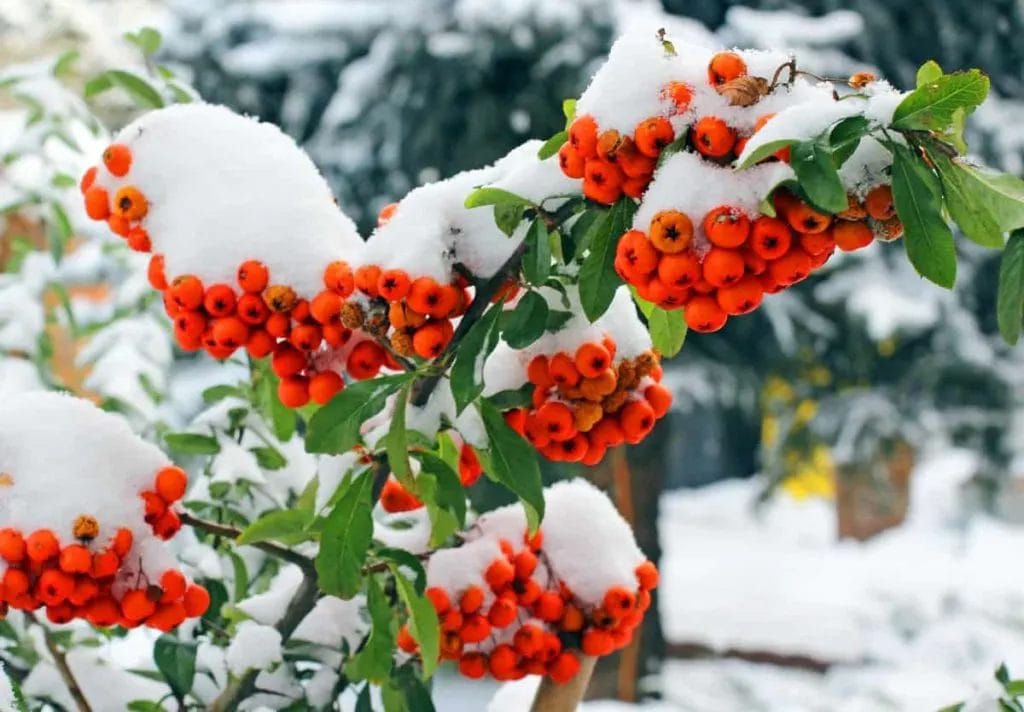 Firethorn is a low-maintenance shrub that can do a lot of things. It's a fantastic hedge or accent plant. Surprisingly, this plant may also be espaliered on a trellis or against a wall, giving you another fun lighting option.
7. Beautyberry (Callicarpa americana)
Beautyberry grows to be 3 to 6 feet tall and broad, and it is a favorite of birds and butterflies. Beautyberry is a North American native that thrives in zones 6 to 10 and is ideal for land rehabilitation and home decoration.
Winter is the most beautiful season for this plant, with glossy, brilliant purple berries in thick clusters at leaf axils along the graceful arching branches.
8. Hydrangea (Hydrangea sp.)
From 1-foot dwarf types to 20-foot monsters, hydrangeas come in a wide range of sizes and forms. Their spectacular landscape plants have a diversity and range that extends as low as hardiness zone 3.
Hydrangea blossoms are well-known for their enormous blooms, which change color as they age. The blooms may also stay on the plant throughout the winter months and make wonderful cut and dried flowers.
9. Witch Hazel (Hamamelis)
Witch hazel, a unique interest tree or shrub that grows 8 to 20 feet tall and up to 12 feet wide. Witch hazel is hardy in zones 3 to 9, depending on the cultivar.
Witch hazel cultivars bloom in early spring in select areas. In the winter months, as early as December, the naked branches of certain cultivars bloom for up to four or five weeks.
The long unfurling spider-like petals are yellow, orange, or red. Witch hazel is a excellent plant to put around an entrance or walkway to enjoy the fragrance since the blooms release a heavenly scent.
10. Tibetan Cherry (Prunus serrula)
In hardiness zones 5 and 6, this eye-catching little tree or shrub grows to be 20 to 30 feet tall. A lovely cherry with white spring blossoms and a fruit that attracts birds. The striking mahogany or copper-colored bark is its most prominent feature.
Bark peels in beautiful hues of red in a paper-like manner reminiscent to paper birch bark. Grow in clumps for amazing winter color, or use as a specimen.
11. Yellow Willow (Salix lutea)
In the winter landscape, a native willow stands out with its yellow branches from North America. It can withstand temperatures ranging from zone 2 to zone 9, and grows to be around 20 feet tall.
It's a fast growing tree that's commonly pollarded to control its growth. Throughout the winter months, this is also the most effective way to display the fresh yellow foliage.
12. Corkscrew Willow (Salix matsudana Tortuosa)
Corkscrew willow reaches heights of 20 to 50 feet and grows in hardiness zones 4 to 9. The enigmatic weeping willow is closely related to this huge kind of willow tree, but it is even more different with its curving twisted branch habit.
Against the grey skies of winter, the tall, fast-growing tree is stunning. Winter floral arrangements often include the curled branches.
13. Paper Bark Birch (Betula papyrifera)
The huge 45-to-100-foot white barked trees are hardy in zones 2 to 7 and are an iconic winter tree. Paper bark birch is a native of western North America that provides food and shelter to a multitude of wild animals and birds.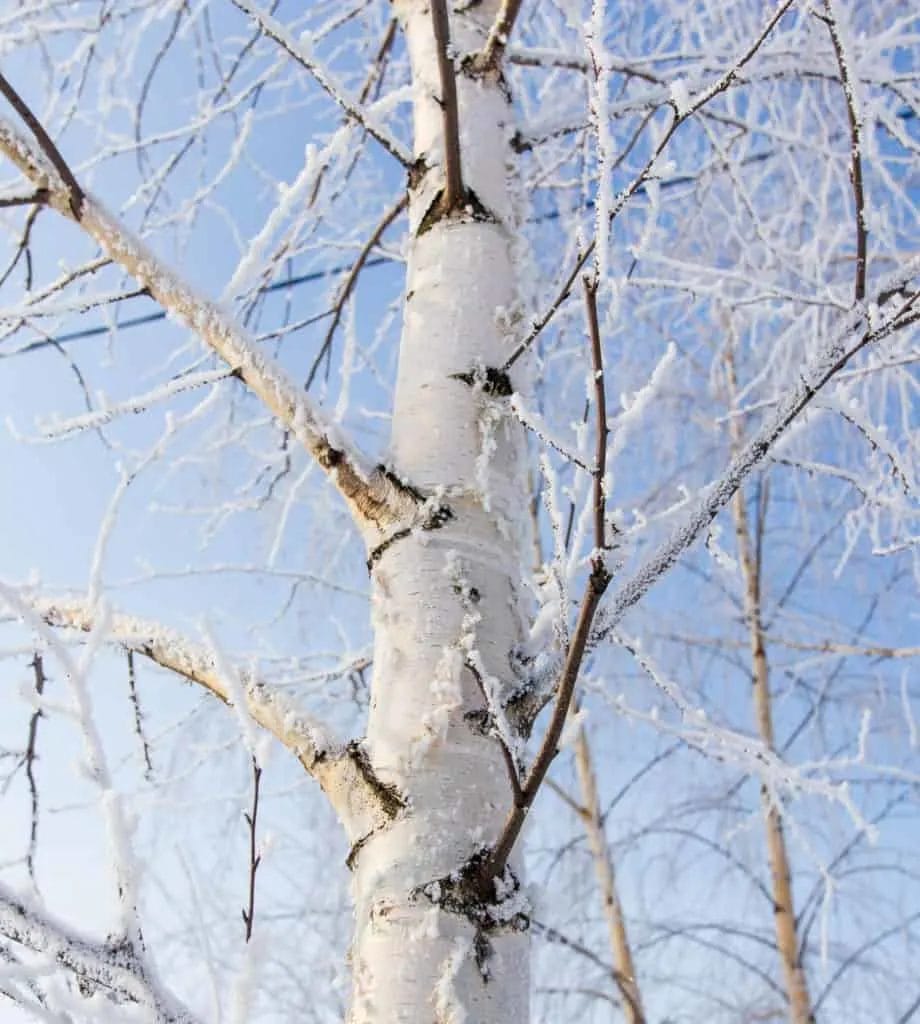 This tree is popular in the winter landscape because of its dark lenticels and peeling papery bark. They may develop in a single stem or in clusters.
They are stunning on their own, but they also make an excellent backdrop for winter interest shrubs. To contrast with the white papery bark, especially those with vividly colored branches like red osier dogwood.
14. Paperbark Maple (Acer griseum)
This tiny 15 to 30-foot-tall specimen tree is hardy in zones 4 to 8 and blooms profusely. The winter appeal of this tree lies in its cinnamon-colored peeling bark, together with lovely vividly copper-red autumn color.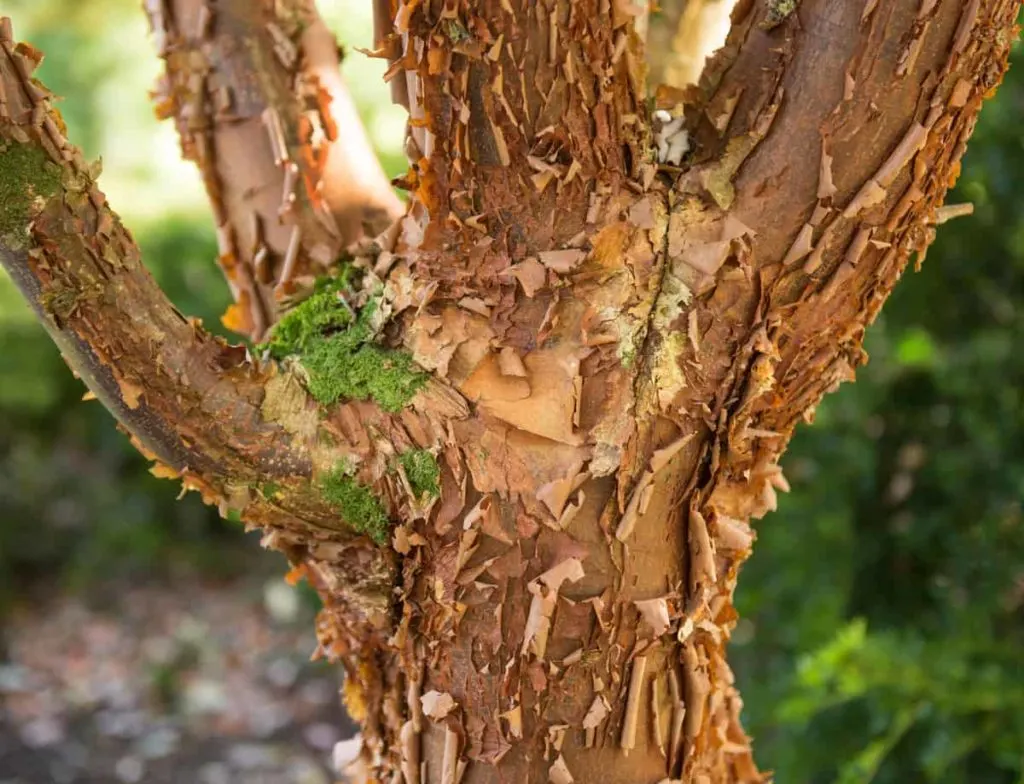 The origin of maple trees in central Asia may be well-known, but they are a well-known symbol in northern North America. The shedding bark of this species is particularly distinctive, as several maple trees and shrubs share a wealth of winter interest qualities.
15. Crabapple (Malus)
From tiny trees with just 12 to 15 feet in height, to huge trees over 30 feet tall, a wide variety of crabapples are available. In zones 3, 4, and 5, several cultivars are hardy, while others are hardy down to zone 2.
Crabapples may be the finest option for keeping many hours of happy winter bird watching entertainment for bird lovers. The list of crabapple varieties available is virtually limitless due to the constant introduction of new ones.
To guarantee cross pollination, grow at least two crabapples. Little-fruited cultivars are well-known for their fragrant spring blossoms, and they may be the best wild visiting bird food sources.
16. Showy Mountain Ash (Sorbus decora)
Showy mountain ash may reach 40 feet in height thanks to a wonderful showy street tree with enough space. Mountain ash trees can survive in zone 2a and are very hardy.
Flat, broad, off-white umbels with a powerful, almost pleasant fragrance are seen throughout the spring bloom. Large clusters of pendulous brilliant orange/red berries follow. Another great tree for wildlife observation.
4 Best Ornamental Grasses for Winter Interest
In the autumn, cleaning up the garden is both satisfying and purifying. It's nice and therapeutic to put everything to bed and protect delicate plants from the approaching harshness of winter.
Yes, reducing soil-borne illnesses by cleaning up withered plant debris. It also helps to control overwintering problem insects and larvae.
Yet, there is a treasure trove of winter beauty to be discovered by selectively leaving upright or arching stems, intriguing seed heads, and dried flowers!
1. Feather Reed Grass (Calamagrostis)
Hardy varieties, such as Karl Foerster, thrive in Zone 4 through 9. During the winter months, feather reed grass may keep its shape and appeal.
2. Bottlebrush Grass (Hystrix patula)
This 3-to-5-foot native grass with bottlebrush seed heads looks especially beautiful when dusted with snow. Between zones 4 and 9, they are hardy.
3. Switch Grass (Panicum virgatum)
Surrounded by blankets of snow, this upright 4-to-5-foot grass looks gorgeous. Zones 5 to 9 are Hardy, and it is native to the grasslands.
4. Blue Oat Grass (Helictotrichon sempervirens)
Blue oat grass grows up to 3 feet tall and is hardy in zones 4 to 8, making it a stunning underplanting for colorful barked shrubs.
Perennials for Winter Interest
There are probably far too many perennials to list! Many perennials feature at least one element to admire throughout the winter, from flat flower heads of yarrow to odd-looking globe seed heads of poppies.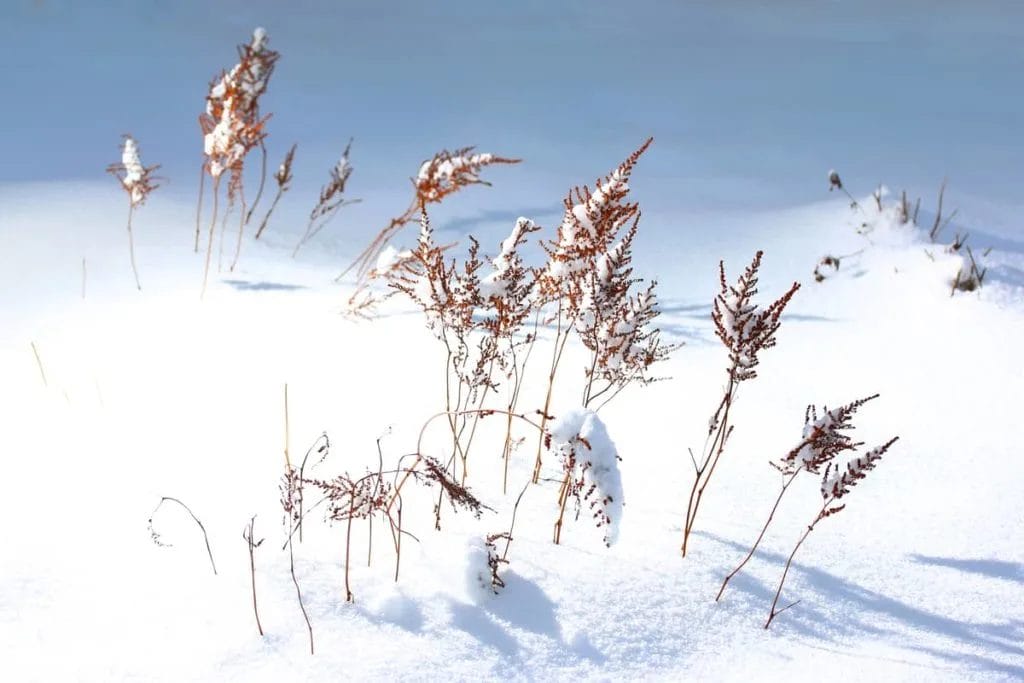 For migrating and winter hardy birds and animals, the seeds and dried blossoms might be a valuable food source. Winter may be a good time to leave some wild plants and weeds in place for a food source.
Sedum, echinacea, rudbeckia, echinops, sea holly, and astilbe are some great perennial choices for leaving during the autumn clean-up.
Final Thoughts
It may be difficult for some people to enjoy winter. There are remarkable ways to bring pleasure and beauty into the bleak winter months for the discerning observer. One way to make the most of this precious time of year is to carefully select plants and highlight their off-season splendor.