Have you ever been dreaming about a tropical paradise? Going tropical in backyard gardens evoke a lush and exotic look with flashes of vibrant colors. Tropical backyard ideas might have festive lights, small structures, and plants. 
Create an exhilarating tropical retreat outdoors will give the first impression to visitors. Homeowners can start choosing tropical-looking plants with bright colors and shapes. For instance, Cordylines, Hibiscus, Alstroemeria, Agapanthus, and Begonia are the best tropical plants.
Arrange well-positioned potted plants will be a breeze to obtain a pretty backyard garden. Opt for smaller plants before adding mid-level and taller ones. It aims to create a feel of forest floors.
This article contains refreshing tropical backyard ideas to guide you on which plants you can select. You can create a tropical ambiance by combining the right plants with exterior design tips.
1. Rainforest Plants in Garden Pathway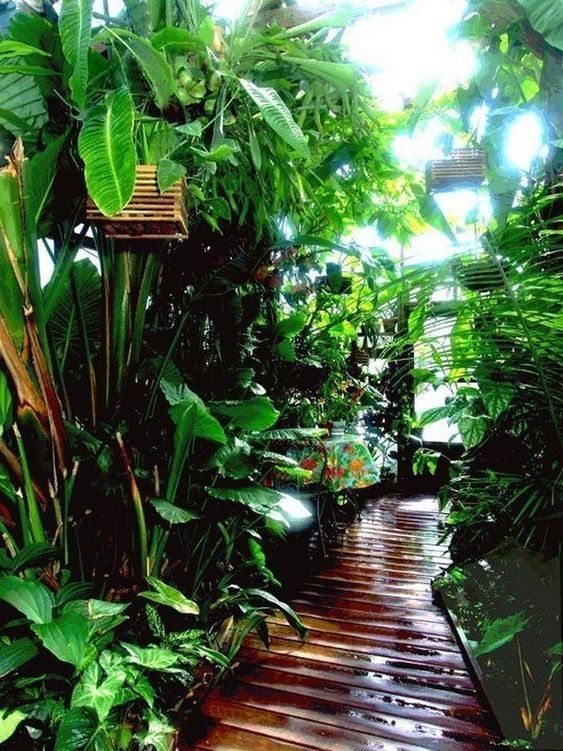 If you are limited to a backyard patio, you can design a tropical paradise along both sides of your entrance pathway. Let's see! There is a brown wood plank walkway between various rainforest plants. That pathway transforms into a charming tropical garden.
Think about what a rainforest looks like. Choose mid-level plants like Elephant Ear, Alocasia, and other tropical leafed plants. Combine those medium plants in taller-size such as Banana-like trees. Here, you can also see Ficus trees. They are smaller trees with large leaves. 
2. Gorgeous Blossoms of Heliconia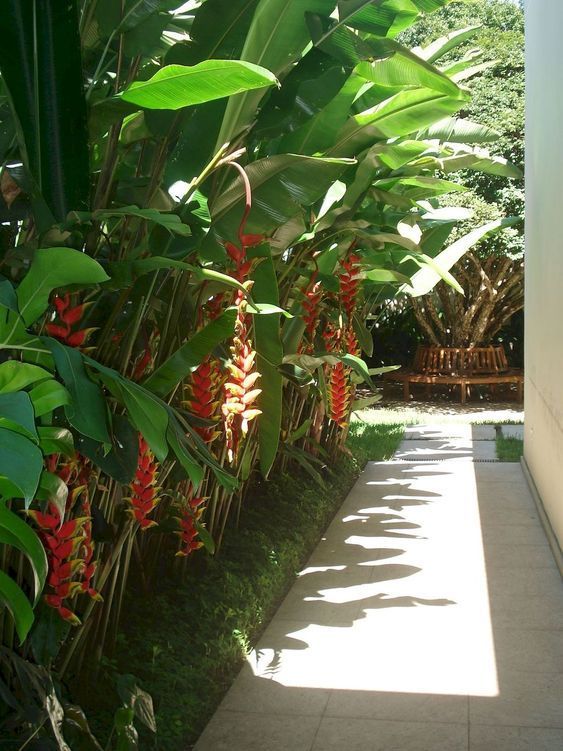 Heliconia is one of the must-have plants to create a tropical backyard garden. The foliage looks like a banana tree, but it has such "lobster claw" flowers. Its blossoms are popular among the group of tropical plants. 
In this garden, Heliconia gets quite tall even though it can be a dwarf plant. The pendulous heliconia flowers come in red and yellow colors. The bright hues pop up through this paver walkway.
3. Tropical Vertical Gardening
Vertical gardening is an innovative and space-efficient way to accentuate backyards or patios. High boundary walls and small gardens are great reasons for designing a vertical garden. Living walls are very popular since plants cover the entire surface.
Bromeliads are smaller plants that have very nice blossoms. Therefore, they can be vertical elements in the garden. These mounted Bromeliads can liven up the black dull wall. They also act as decorative details to the patio or deck.
The vertical garden pairs well with other medium potted banana trees. Small pots of Mother-in-law Tongue plants perfectly blend with the hanging planters. Those tropical plants are good for softening hard environments.
4. Palm Trees for Large Tropical Backyard Ideas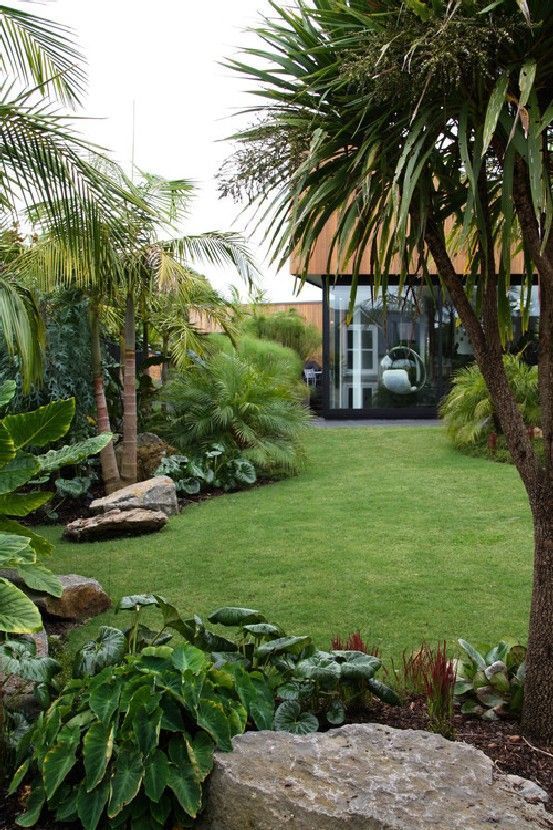 Every garden, especially large landscape needs vertical elements to add textures and balances. Palm trees with their simple upright form add perspective and volume to this large tropical garden. The palms have oversized leaves that will make lulling sounds in the wind.
Various types of tropical companion plants evoke different colors and leaf patterns to the grass backyard. Elephant ear plants and Alocasia also give different flairs. These dwarf plants offer exotic appearances and striking colors.
5. Beautiful Side Tropical Yard
Never ignore your narrow side yard since it still becomes a part of the house. Homeowners can choose appropriate plants and include walkways, sculpture, or gardens. Grow some tropical trees and design an attractive pathway that will make this space more than just a link from front to back.
Zamia with rough-surface leaves is the best addition to this side yard. Pair with large-leafed plants such as elephant ear and Alocasia. Ficus, a smaller tree but large-leafed, will give an extraordinary balance. In addition, ferns are ideal companion plants that fit for a narrow side yard.
6. Exotic Palm Trees Garden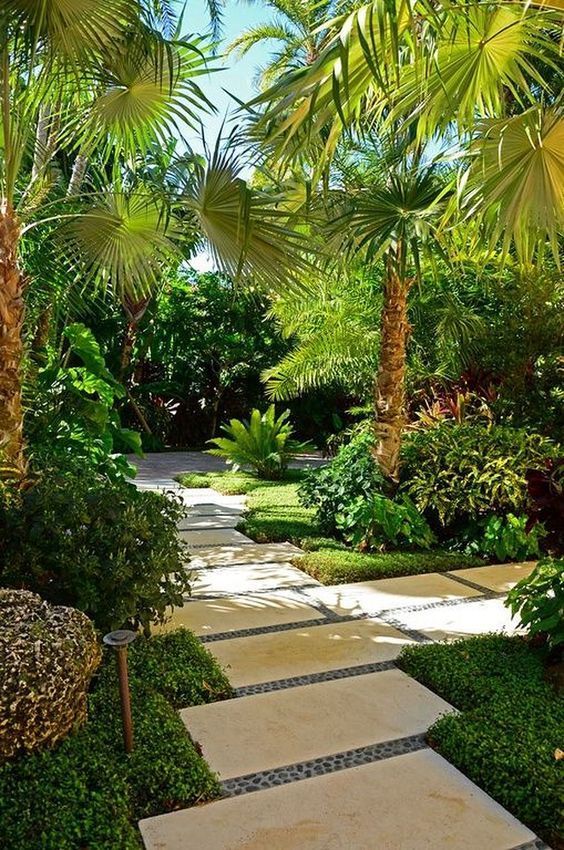 Palms are great additions to create a tropical backyard garden. They have textured trunks, curving shadow, and scented flowers that give a complete sensory experience. However, as backyard design elements, they often become overlooking.
Indeed, tropical garden is not complete yet without palms. Use them in fresh ways like this classic double row of palm trees. Add flagstone walkways between the palm garden beddings. You will also see those palms create a swaying yellow tone among grasses and shrubs.
7. Fresh Tropical Garden Landscape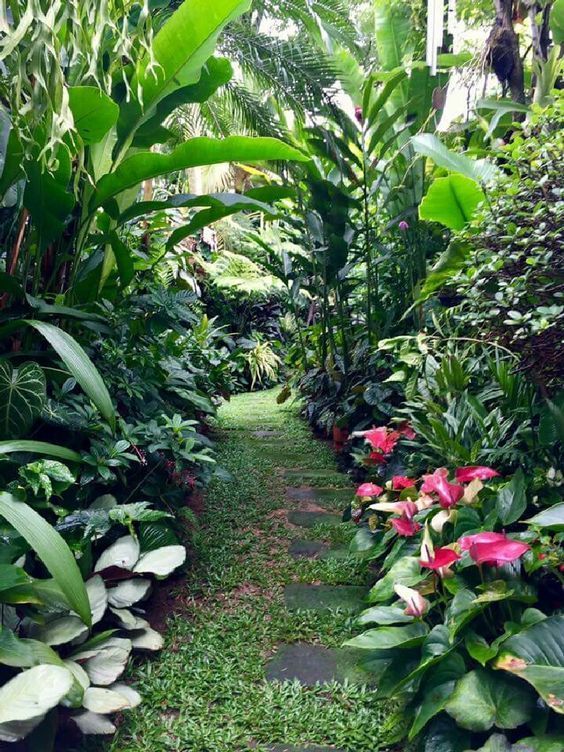 Tons of ornamental leafed plants create fresh garden edgings in a grass yard area. Rows of Alocasia blend with stepping stones to provide a meandering walkway through your little tropical jungle. The pathway can conserve water and retain heat for warmth-loving plants.
Many plants make great companions with Alocasia such as philodendrons and Anthurium. The bright pink Anthurium flowers are in bloom to evoke a fresh and charming look.
8. Huge Foliage Plants and Flowers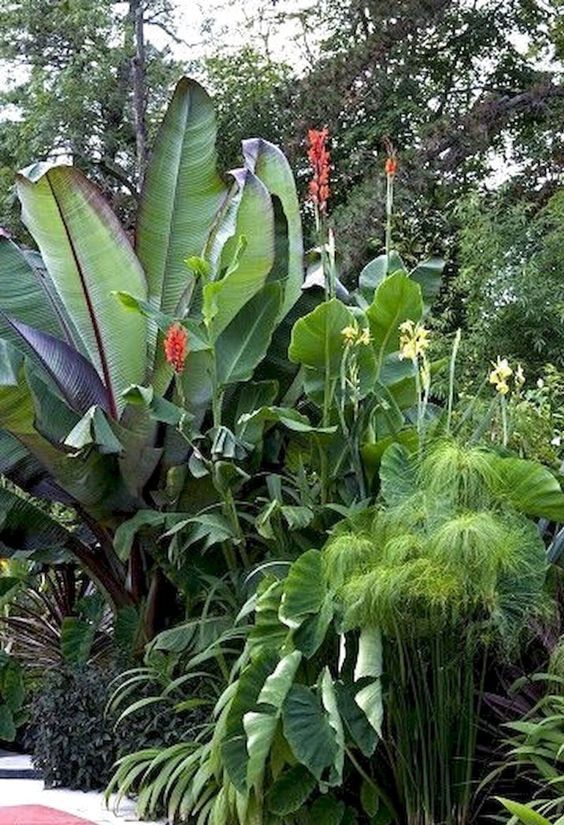 Rows of huge foliage trees enhance bold patterns in that tropical backyard garden. Red banana trees, elephant ear plants, small colorful Bromeliads, and Heliconia with gorgeous blossoms unite in a giant bouquet. They present an idea of juggling the forest in backyards.
Large leafed plants in this garden offer more fresh and natural atmosphere. The screw pine leaves are swirling around the trunk and giving an appealing look.
9. Pretty Large Leafed But Smaller Trees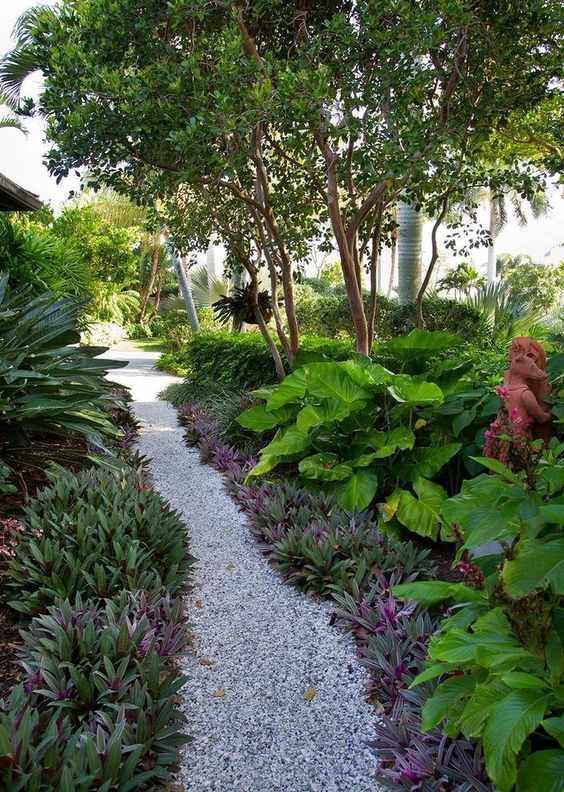 Succulents are small dwarf plants with wonderful blossoms. They locate right along the edge of a gravel pathway. Green and purple foliages add charming texture and color. The dragon trees can fit into the succulent borders. They also add vertical elements with other taller trees.
Medium level plants like Alocasia and Anthurium have large leaves. Those exotic leafed plants provide a different knack to this tropical backyard.
10. Tropical Plants for Garden Edging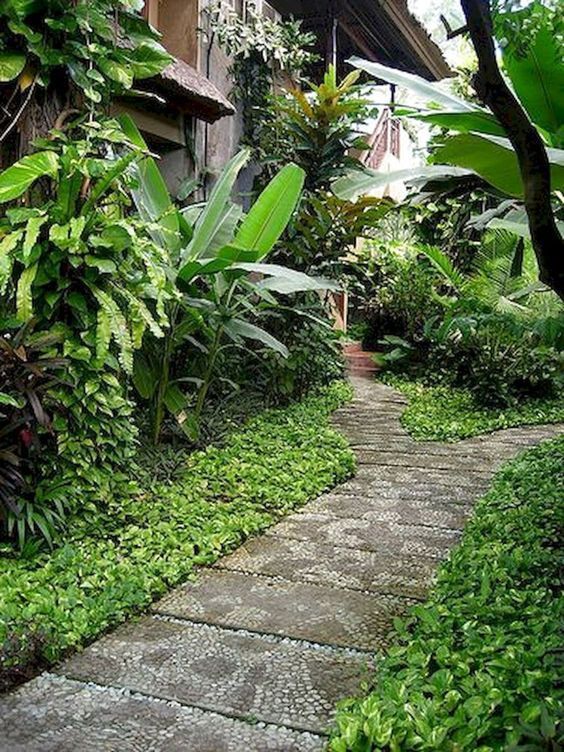 To create a sense of cohesion in narrow side yard, avoid overstuffing the edge with lots of different plants. They will make a confusing medley. That border is close to the wall, so ferns are perfect for greening up the soil.
The ferns as edging plants make ideal companion and easily fit between taller plants like palms and banana trees. Taller tree ferns grow in around the borders. They create a great vertical space that fits for narrow side yards.
11. Private Tropical Mini Garden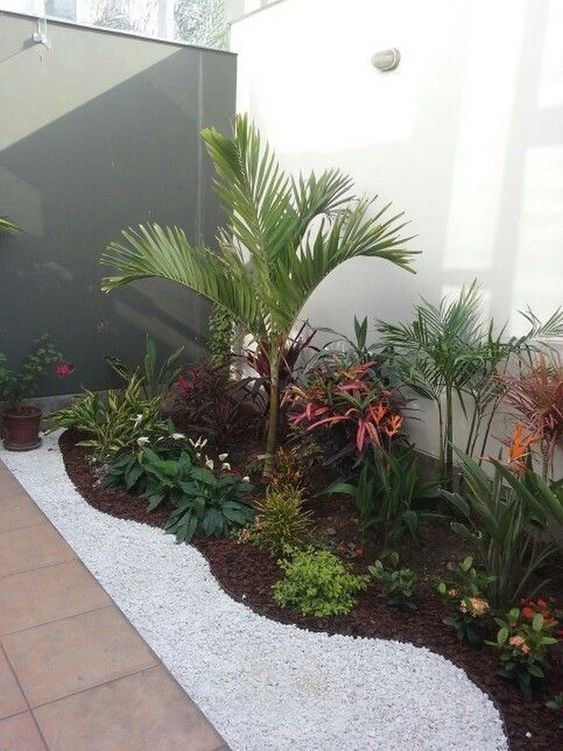 Mini gardens with various kinds of lush foliage will enhance a cool feel. Grow medium palm trees to create summer shade in sunny places. Shrubs, tree ferns, and ground covers fit for this private garden. Alpinia with lush green leaves is also good to create that cool retreat.
Create a garden border with white painted gravels. The curved pattern edging adds a unique texture to the ground base. Accentuate with potted roses will make this garden more beautiful.
12. Traveler Palm Garden with Wooden Decor
Let us see this Asian inspired tropical garden. There are perfect combinations between smaller-level flowers, medium plants, and taller trees. Dark brown woods become dominant natural elements to decorate the garden.
These wood plank walkways add bold textures to the gravel base area. They also match the wooden planter as a raised bed garden. The raised bed consists of a Traveler Palm tree, colorful Ti plants, and succulents.
Many succulents are right along the edge of this pathway. They enhance a real charm to this tropical garden. Besides, the striking wooden backdrop acts as an accent detail. Two decorative wooden mounted planters also enhance the look.
13. Tall Green Garden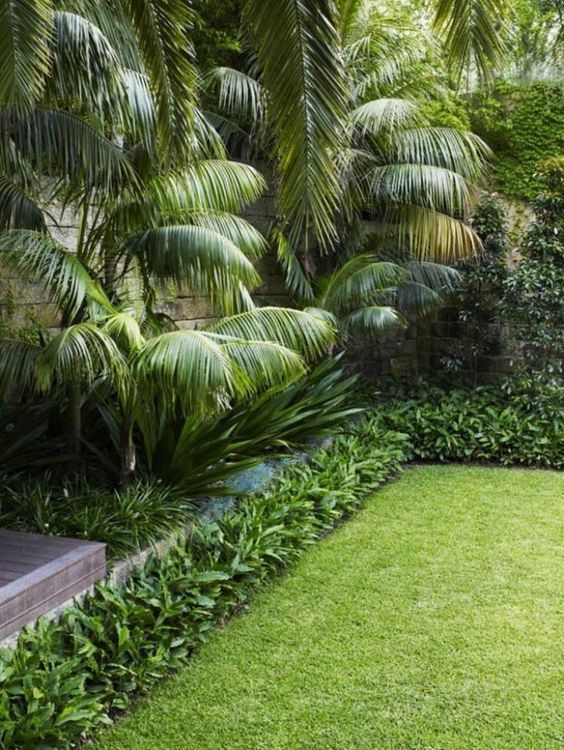 Dracena, as known as the corn plant, is easy to grow in the whole edges of this large grass yard. Its soft leaves and vertical stems create unique textures. In one part of the yard, Bush Lily grows in a colony. This evergreen plant gives a great color display when it blossoms in the spring.
Huge palm trees cover the entire wall to provide much better privacy. Other larger trees blend nicely with the palms to enhance vertical elements. They liven up the tedious walls and add attractiveness to this garden.
14. Small Tropical Landscaping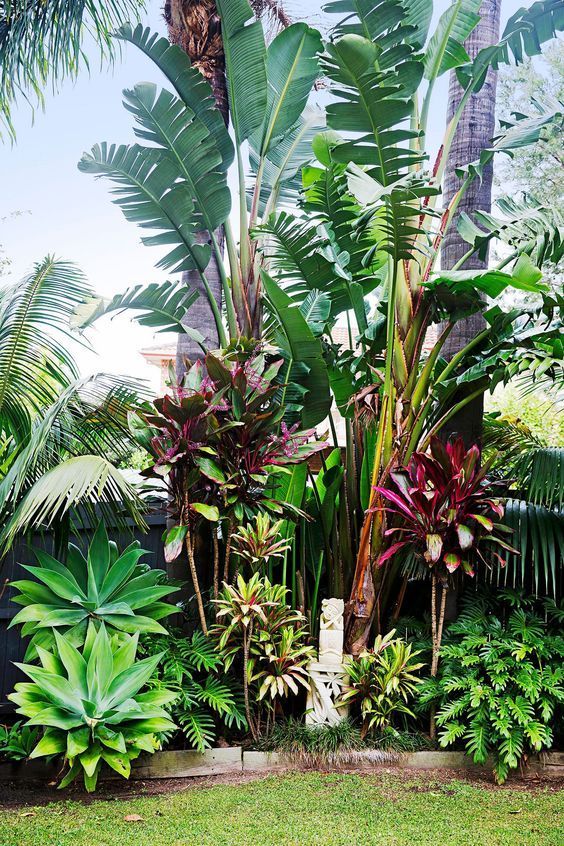 Have limited space in backyards does not mean that you cannot create an exotic tropical garden. A smart arrangement of plantations with some extra touches will achieve attractive spots in your landscape.
Build a raised bed garden along the wooden fence. Combine taller banana trees and palms with companion plants such as red Ti, Bromeliads, and compact Xanadu. Those provide great garden colors.
Lilyturf as an edging plant in this tropical garden is a ground cover to prevent erosion. This grass-like plant is very tough and drought-tolerant. Wooden borders will help to contain the growth spread of lilyturf because they are vigorous growers.
15. Awesome Indoor Tropical Garden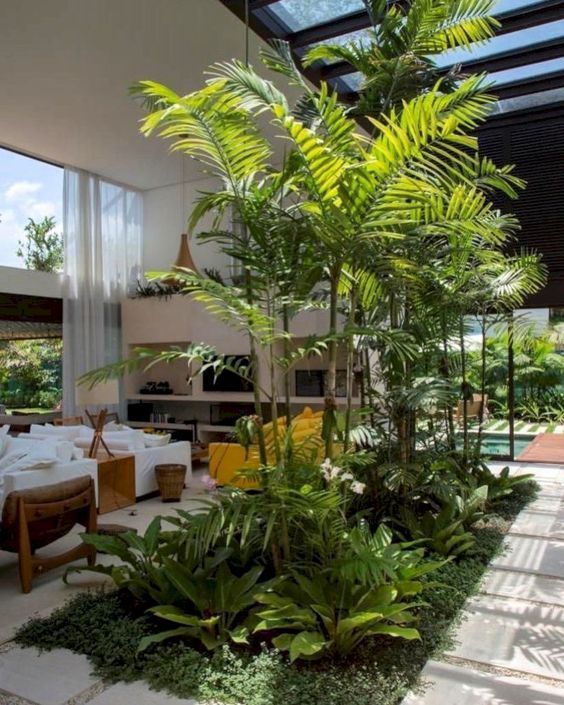 This picture shows that a tropical garden is adjacent to the living room. This kind of garden needs the right choice of indoor houseplants. Peach Lily, Chinese Evergreen, and Philodendron are smaller-level foliage for easy indoor plants.
Taller palm trees make a great vertical statement to the indoor areas. They mix into the garden bedding with Succulents and shrubs. The arrangement of palms and other foliage will give a wondrous effect.
16. Garden with Potted Leafed Plants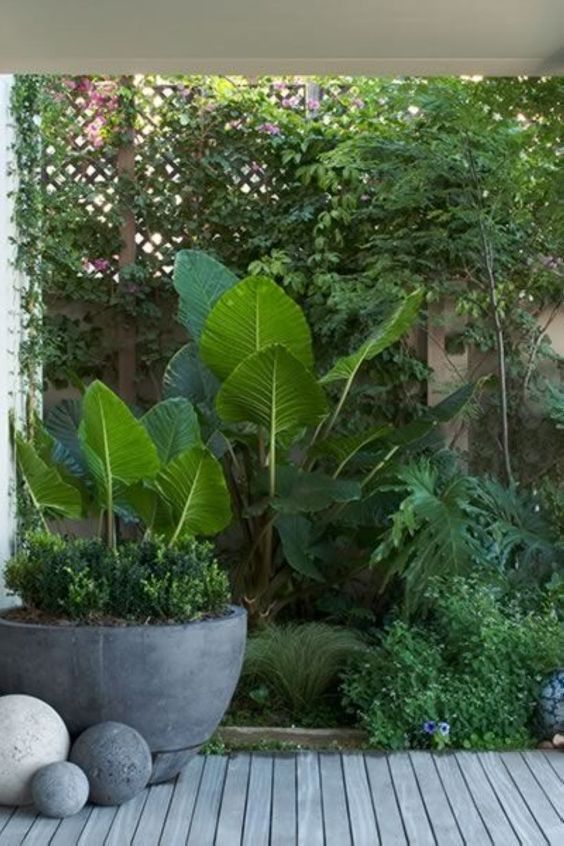 Tropical foliage plants that grow in trendy decorative pots are good for entertaining and relaxation. Philodendron grows well in this dark grey round stone pot. If you look for an-easy-to-care-for tropical plants, Philodendron is a great choice. 
Non-climber Philodendron with larger leaves grows in the garden base around lots of shrubs. While Philodendron vines grow along the walls and fences. They are the easiest vines that provide length and low-maintenance. 
17. Bamboo Backyard Garden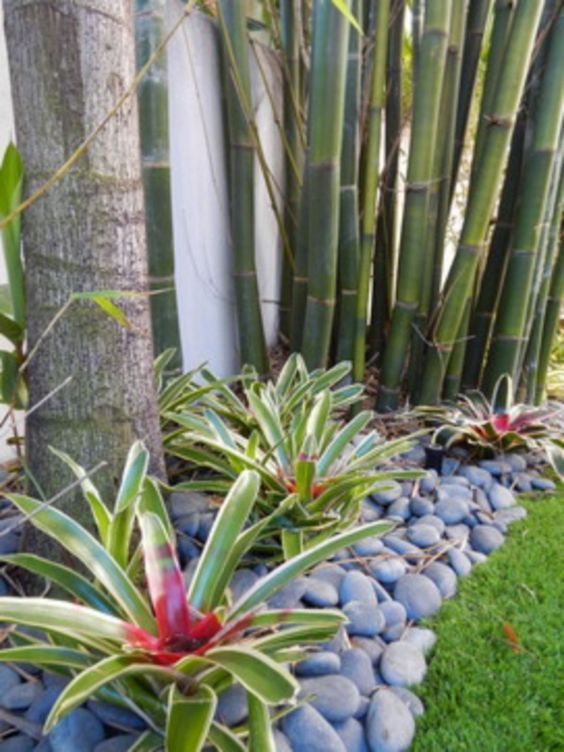 Proper plant species and accent details can set a tone for stunning ambiance. Defining a garden's edge with small stones is perfect for this bed. The tropical garden bed consists of Bromeliads, palms, and bamboo trees.
The larger Bromeliads grow into this stone garden floor. They give outstanding colors to the grass yard. While bamboo trees are easy-to-grow plants that become great borders to make a privacy space between neighbors.
Besides giving a taste of tropics, bamboo and palm trees become the backbone of tropical gardens. Bamboo gardens offer a relaxing place and soothing contrast to the environment.
18. Large Tropical Backyard with Traveler Palm Tree
Create a simple tropical garden with Traveler Palms will help to liven up the monotonous white wall. Just grow some trees along the wall and add some small tropical flowers on the garden floor. Bright colorful Pentas blend well with the Traveler Palms. 
There is nothing like purple, red, and white Pentas to bring butterflies flocking to this backyard. A simple trick to make you feel like in a tropical paradise is adding a few pieces of furniture. 
At the corner, there is a canopy seating area with wooden benches. Stepping stone pathway links the garden to that seating area. It is a perfect place for enjoyment and entertainment.
19. Colorful Great Garden with Bromeliads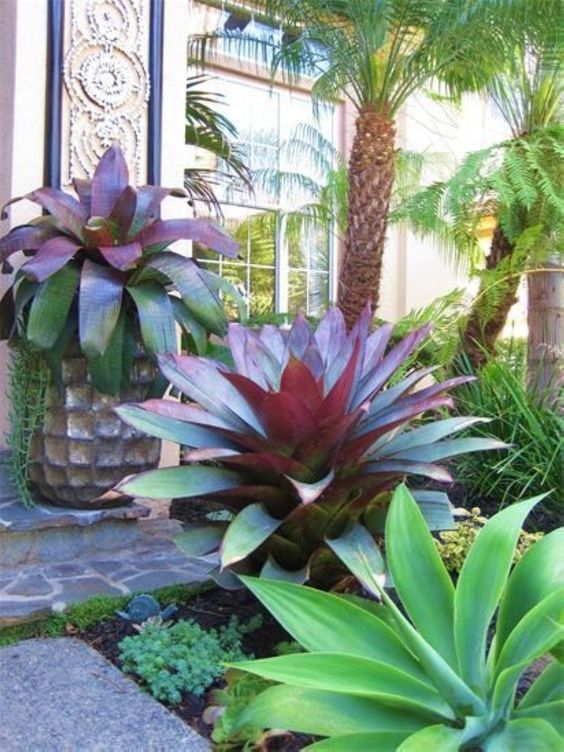 A well arranged of huge potted Bromeliads accentuate the backyard. Colorful blossoms of foliage give an attractive look. Smaller air plants and succulents cover the ground area. Both species also have wonderful blossoms.
To create a tropical feel, make shade areas from palm trees. The palms also act as a canopy of hardier trees that protect smaller plants.
20. Tall Garden Troughs and Festive Lights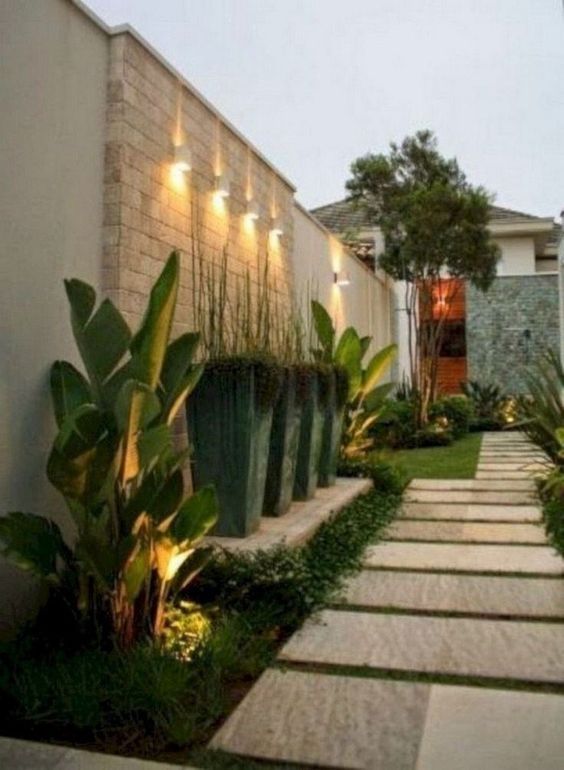 Tall troughs will increase the curb appealing of your backyard garden. The best tropical plants for these containers are Boxwood shrubs and Big Bluestem. Those plants can turn ordinary planters into artworks. They also give a focal point to those tall troughs.
Boxwood shrubs in tall planters add a funky look. The troughs enable you to mix Boxwood shrubs with big bluestem. To be more festive, grow some banana trees on the grass garden base.
Moreover, arrange those tall planters along the wall. Add paver backdrop to give different patterns and textures. If necessary, install solar lights to give a dramatic effect.
21. Beautiful Tropical Foliage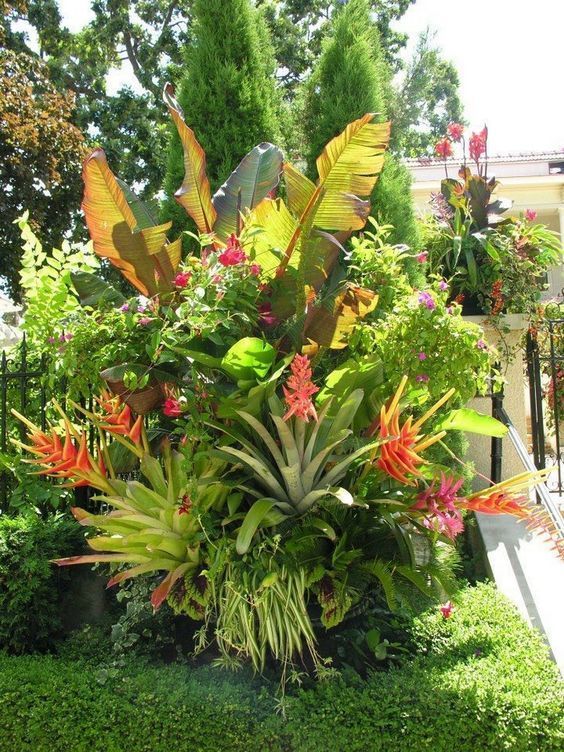 Bright colors of plants scattered throughout a tropical backyard garden. Grasses cover the ground and a huge bunch of flowering plants creates beautiful arrangements. Choose red banana trees as taller plants and paired with roses, lilyturf, and bromeliads.
A group of larger Bromeliads, as known as air plants, is quite accommodating to this garden since it gives great colors in a shady area. The stunning and colorful blossoms will grab visitors' attention while entering that tropical backyard.
We have compiled the most fascinating tropical backyard ideas to inspire you. Start filling your backyard with charm, color, texture, and personality. 
A large variety of tropical plants decorates the backyard garden beautifully. The important key is choosing the right tropical plants because they will be the main elements of your garden.