For those who love cooking, having fresh greens on hand is a must. However, some people are short on space. If you happen to be one of them, fear not, I have a low-budget and easy solution to your problem. Have a look at my splendid vertical herb garden ideas below.
Vertical gardens offer a lot of benefits. They save valuable space as well as enable people to grow their fragrant herbs. Moreover, they look super cool and make remarkable natural décorations. Even, you can build a garden with a self-watering system.
Here's a list of 17 fun and fabulous vertical gardens for herbs. They'll surely inspire your upcoming weekend project.
1. Vertical Herb Garden Pallet Project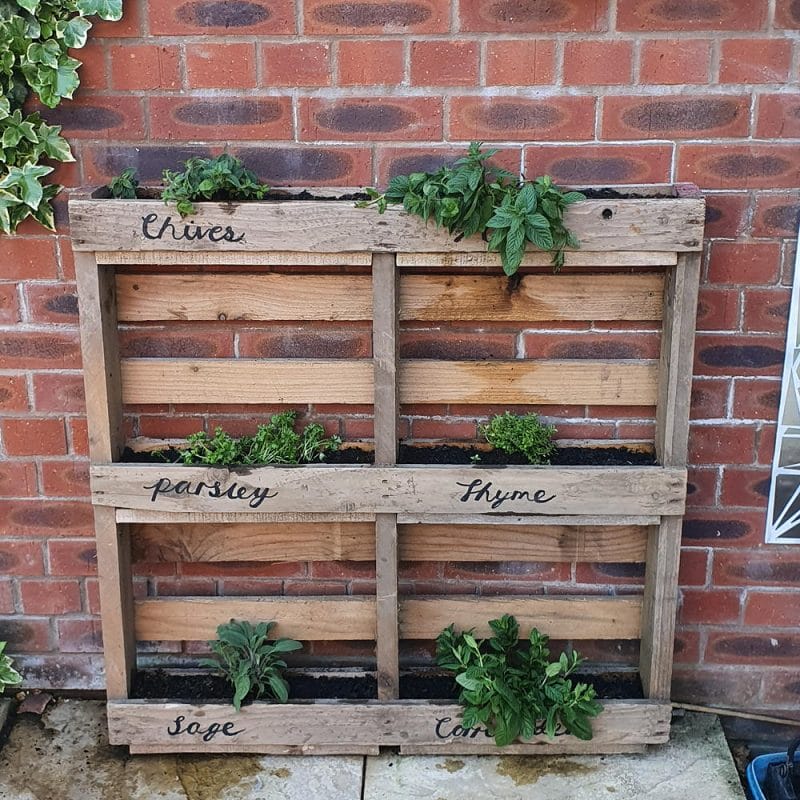 Give your outdoor space an update with this wood pallet herb garden. You'll only have to convert an unused pallet into a beautifully rustic planter.
This vertical pallet garden is both functional and also charming. Furthermore, it holds six planter boxes. After filling them with herbs, you can add nice prints.
2. Driftwood Herb Garden
There are various ways to transform old materials into planters. Obviously, this is one of the stylish vertical herb gardens. Also, it's very useful.
In addition, creating a lovely vertical herb garden indoors is a breeze. First of all, grab a few pieces of driftwood. Then, mount them on the kitchen wall. Next, hang painted tins from the driftwood using S-hooks.
3. Curtain Rod Vertical Garden for Herbs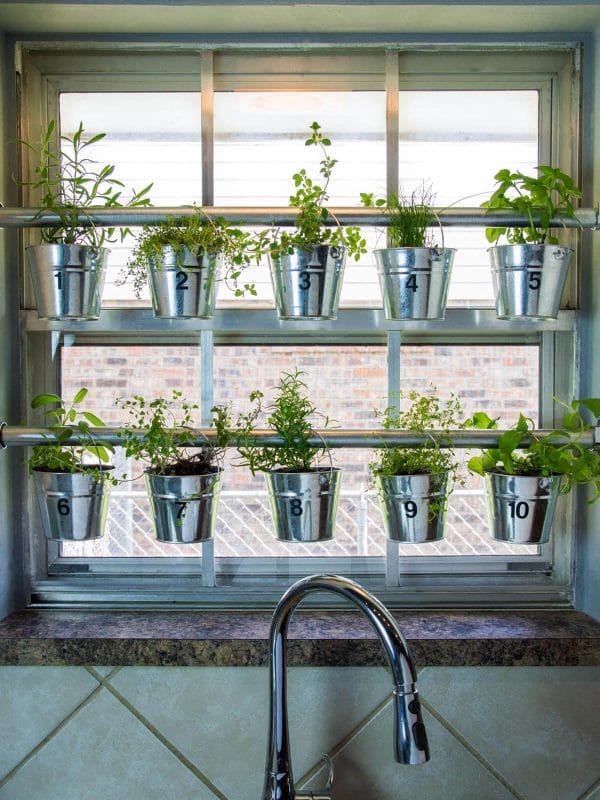 Who says curtain rods are only for curtains? They also can accommodate your small metallic planters excellently.
Certainly, this indoor vertical garden for herbs matches the sink faucet nicely. In addition to that, it provides optimal growing and great cooking.
4. Painted Plastic Bottles
Save your plastic bottles since I've found an awesome recycling project for them. It's one of the best vertical gardening systems, too.
This vertical garden features white-painted plastic bottles. They also blend into the kitchen delightfully. Certainly, the gravity-fed watering system allows you to use every water drop for the herbs.
5. Mason Jar Herb Garden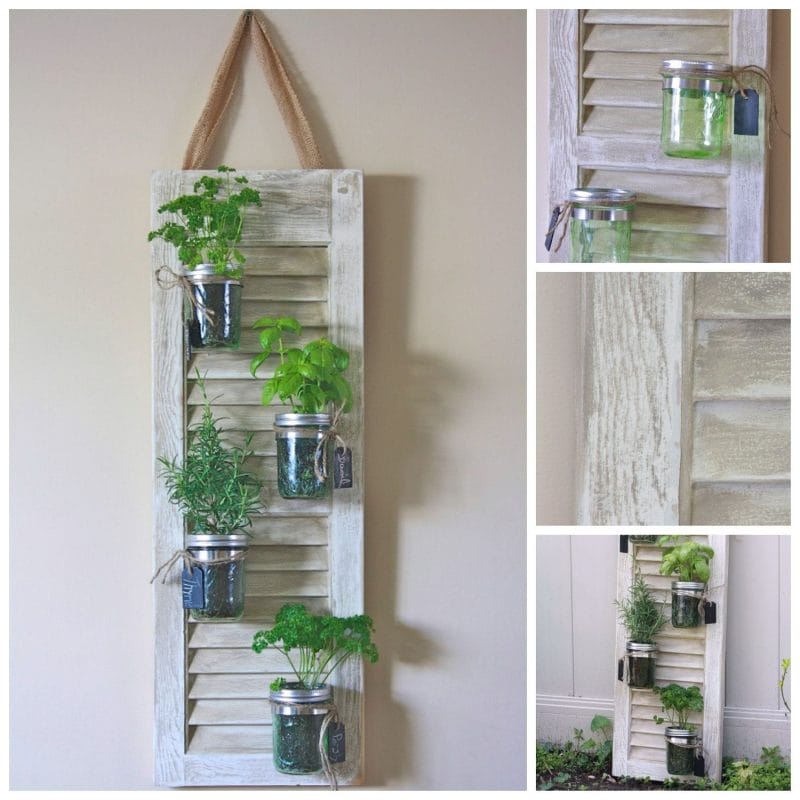 This herb garden is both subtle and small. Moreover, the white distressed shutter, burlap, and twine make green herbs shine.
To create this little herb garden, fill the glass mason jars with herbs first. Then, mount them nicely on an old shutter. Lastly, hang it on the wall with the help of the burlap.
6. Vertical Herb Stand
If you have superb woodworking skills then consider building this vertical herb garden stand from scratch. It will magnificently house your herbs.
This vertical herb stand also can accommodate three planter boxes. After planting the herbs in them, place the unit on the side of your house.
7. Handmade IKEA Living Wall
If you love IKEA hacks, then try making this DIY vertical garden for herbs and succulents. Not only is it cost-effective but also trendy and functional.
In addition, this project requires some wooden planks of the IKEA's Sultan bed frame. You'll need to turn them into a vertical garden. Then, hang the pots from it using metal hooks.
8. Ammunition Box Herb Garden
You can build a bountiful and beautiful herb garden out of metal chains and recycled ammunition cans. Moreover, it holds a lot of herbs in a limited growing space.
As a result, this vertical garden lends the outdoor space another dimension. Also, the green ammunition boxes blend with the herbs well.
9. Vertical Ladder Planter
If you currently live in a loft, then consider this amazing wooden ladder planter. Apart from looking stylish and charming, it's also useful.
Moreover, the wooden ladder houses several planter boxes. You can grow basil, thyme, mint, rosemary, and also many other herbs.
10. Terracotta Pot Herb Garden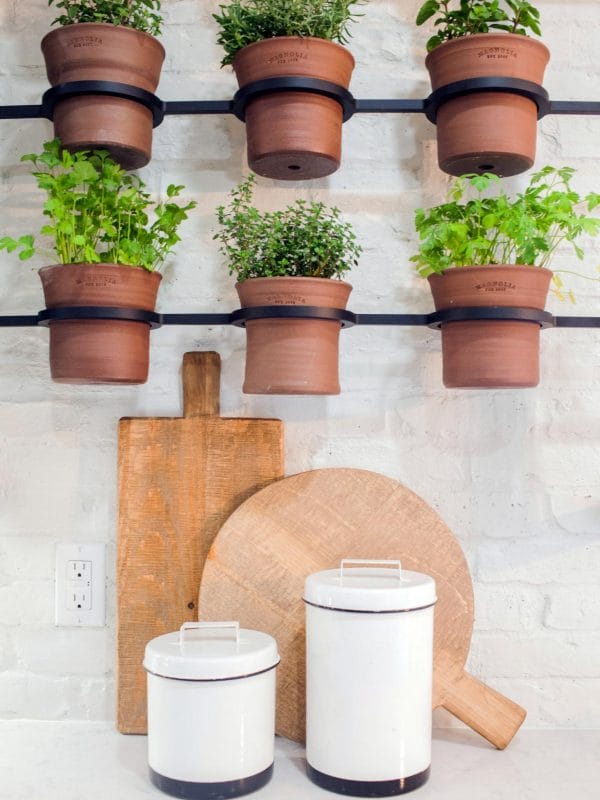 Searching for clever vertical herb garden ideas? If yes, I seriously recommend giving this design a shot. It enables you to pick fresh herbs at any time before adding them to your cooking.
Furthermore, this vertical garden boasts small terracotta pots and metal potholders. Also, the design lets you individually remove each herb. It makes watering and trimming much easier, too.
11. Indoor Herb Garden
Talking about vertical gardening, then you need to be creative. Instead of adding a metal caddy in your shower area, use it as a plant stand.
As you see, the white shower caddy holds pots of different sizes. Thanks to them, the green herbs steal the show instantly.
12. Shoe Organizer Planter
Normally, people store their shoes in this hanging pocket organizer. But actually, you can also grow different herbs using it.
First, fill the pockets with soil. Make sure to leave an inch between the soil and the pouch's top. Then, sow herb seeds. Lastly, hang the vertical herb garden planter on the wall.
13. Floating Herb Garden
These stainless-steel planter boxes make a minimalist vertical garden for herbs. It holds all the fresh herbs as well as veggies you could need in cooking.
In addition, sleek planter boxes generate an industrial modern vibe. Moreover, they hang on the gray wall beside the counter of the kitchen gracefully.
14. Wire Basket Herb Garden
If you plan on building an outdoor vertical garden, try this design. First, buy several mesh baskets at the local thrift shop. After picking them up, fill them with different lovely herbs such as purple basil, thyme, and rosemary.
You can hang the mesh baskets on the wall. Not only do they offer an industrial appeal but also produce vintage vibes.
15. Wall Boxes for Herbs
Are you a simple person? If so, construct an easy vertical garden with wooden planter boxes. Simply hang them securely on the wall.
These blonde wood wall boxes serve as rustic decor pieces. They look fantastic against the gray background. Moreover, the units don't eat up any floor space.
16. Rope and Pots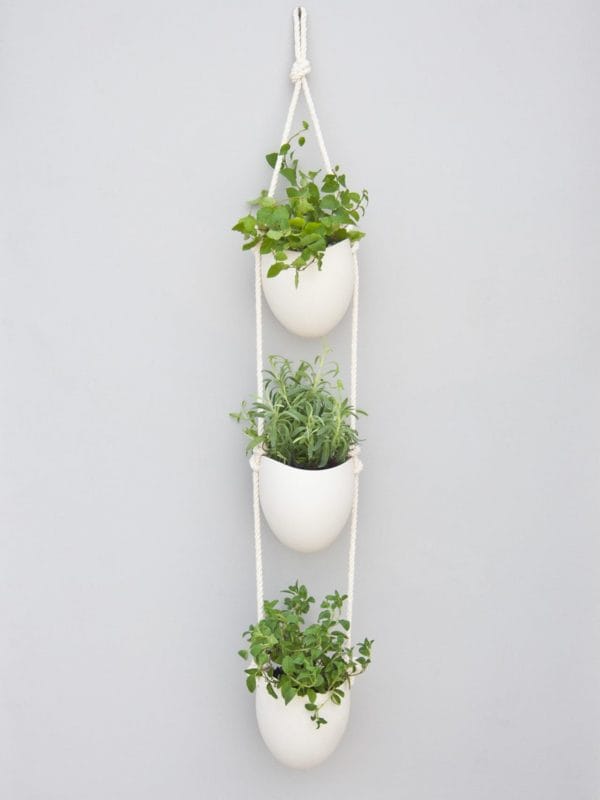 This is one of the outstanding vertical herb garden ideas. It just requires a few white pots and sturdy rope.
With this herb garden, you can grow herbs vertically. Apart from saving some space, it blends well into the kitchen's styling.
17. Herb Garden Wall
If you need a dividing wall in your garden, consider implementing this idea. Here, it serves as a cozy home for herbs. Furthermore, the unit consists of hanging wicker planter boxes, metal buckets, and a watering can.
I believe that those vertical herb garden ideas will wow your family members, guests, and roommates. They allow you to have aromatic herbs close to the kitchen. Building vertically helps save some extra space, too.