Wood pallets are one of the most overlooked materials. They have wonderful recycling and repurposing potentials, though. Moreover, these pieces aren't merely worthy of landfills. You can certainly make outstanding vertical pallet gardens out of them.
Without a doubt, vertical pallet planters are ideal for small spaces. You can add wheels or legs to them, too. Well, the possibilities are endless.
Pallet gardens will undoubtedly make any space look amazingly stunning. Without further ado, let's explore these unique garden ideas. They're sure to fire up your imaginations.
1. Vertical Pallet Gardens with Succulents
You can have access to free wood pallets, then why not turn them into a vertical garden? It will certainly keep your white patio wall from looking bland.
This patio, for example, features a floor-to-ceiling wood pallet garden. Moreover, it accommodates wood and terracotta pots of different sizes.
Speaking of the best plants for pallet gardens, you can't go wrong with low-maintenance succulents. Moreover, they will add a ton of character to the patio.
This wall-hung wooden pallet background is simple to construct. In addition, it lets the succulents shine.
2. Mini Vertical Pallet Garden
Don't you love this indoor pallet wall garden? Not only is it truly cost-effective but also attractive. Moreover, it will beautify the kitchen in no time.
The white wall enables the indoor pallet garden to steal the show. Meanwhile, the giant metallic spoon accompanies it really well.
First, grab some wood pallets and a staple gun. Then, use the landscape fabric to cover the pallet planter's backside. Next, fill the planter with different kinds of plants. Lastly, hang it on the wall using metal chains.
3. How to Make a Vertical Garden from Pallets for Herbs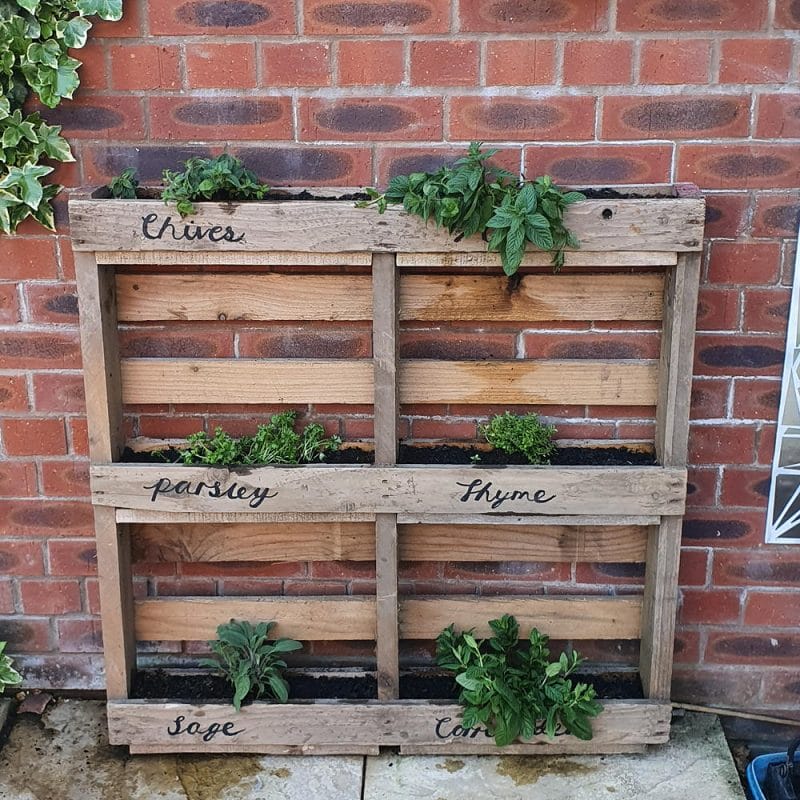 If you are a cooking aficionado, then consider creating vertical pallet gardens to grow your herbs. To make this planter, grab some no-cost pallets first.
After getting your hands on wood pallets, then make a frame with them. Next, create built-in pallet boxes. Lastly, add customized black prints to them.
Fill the planter boxes with some dirt and herb plants. Furthermore, the black prints prevent you from plucking the wrong herbs when in a hurry.
4. Vertical Pallet Flower Garden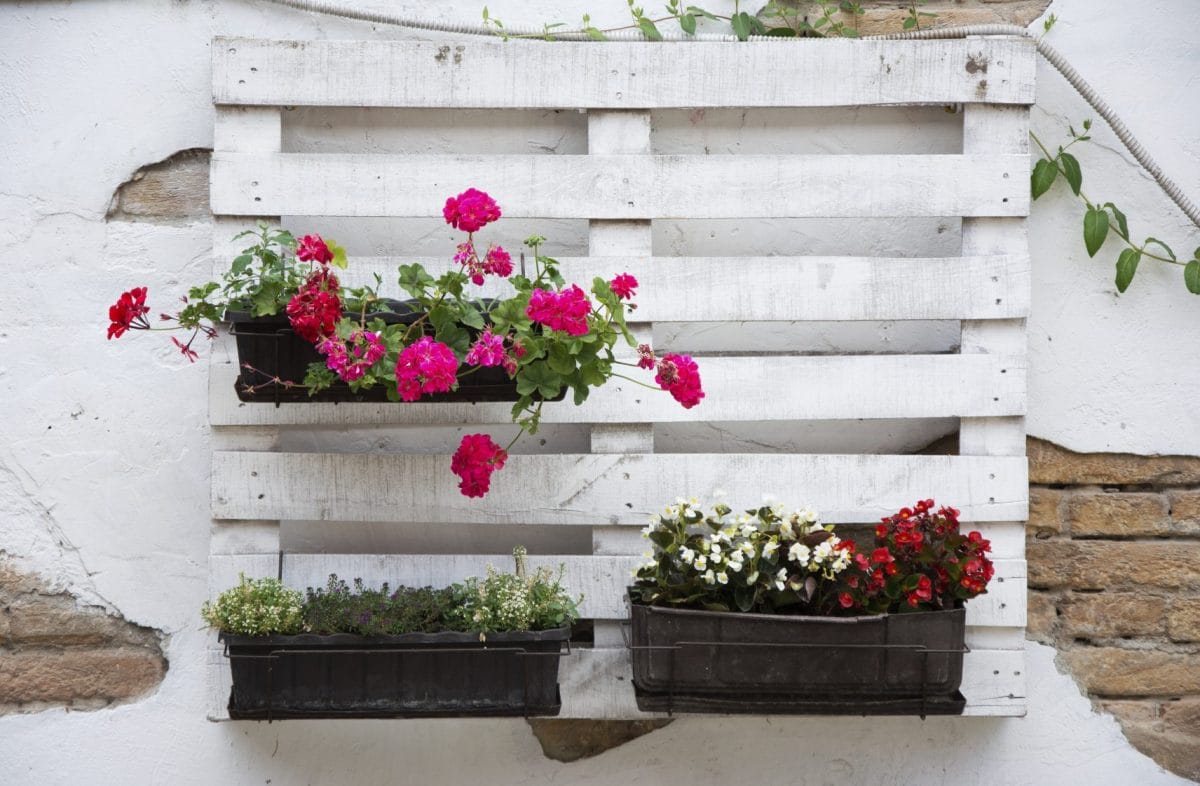 Without a doubt, this unit is one of the astonishing vertical pallet gardens. In addition, it looks spectacular on the balcony or patio.
The white vertical pallet garden blends in delightfully with the background. Moreover, the black containers are certainly a high contrast to it.
To create this pallet garden, you need to craft the frame first. Then, paint it white. After that, attach planters to the unit securely. Lastly, fill them up with some loose soil and flowers.
5. Rainbow Vertical Pallet Gardens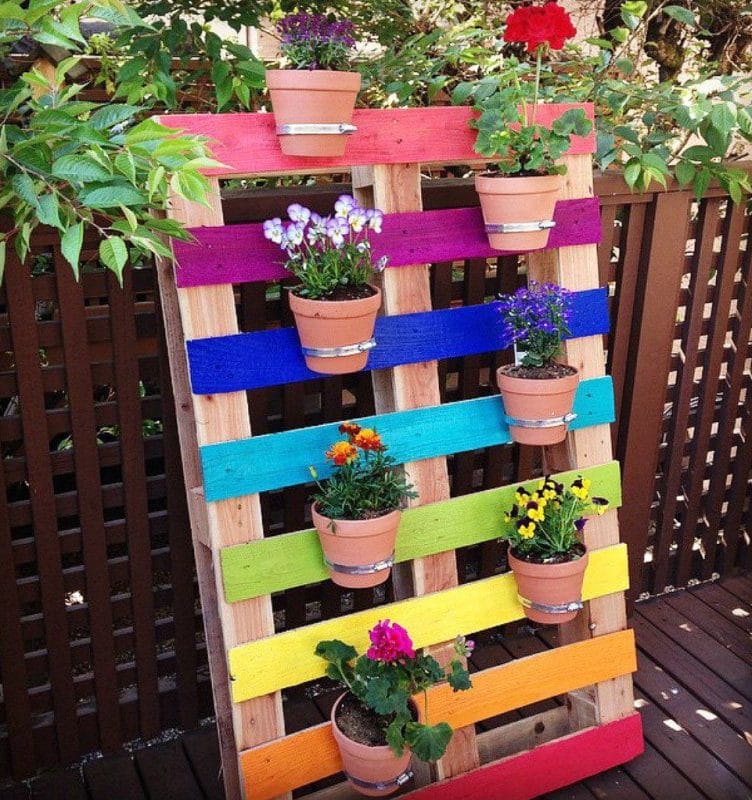 If you are not into basic wood pallet gardens, then give this fabulous option a chance. It will surely inspire your creativity.
First, make a nice frame. Then, leave the vertical pallets unpainted. Next, paint the horizontal ones in vibrant rainbow colors. Lastly, hang the terracotta pots to the unit with the help of the round metal hangers.
The blooming flowers in terracotta pots spice up the yard. Meanwhile, the rainbow wood pallets bring the outdoor space to life instantly. They make the vertical garden a centerpiece, too.
6. Vertical Pallet Vegetable Garden
For those who have limited backyards, having raised beds on the ground is impossible. If you face the same problem, then why not build a vertical vegetable garden?
First, gather some good wood pallets to make the frame. Then, use landscape fabrics as planters. Next, prop the pallet garden up against the wall. Lastly, add the loose soil into grow bags and place the seeds in them.
This vertical pallet garden enables you to grow gourmet greens. In addition, it will offer maximum yields.
The wooden pallet vegetable garden makes a huge garden decor statement. Furthermore, it'll work up fast.
7. Vertical Pallet Garden with Tin Cans
This is undoubtedly one of the magnificent vertical pallet gardens. In addition to that, it brings your home decor to an unbeatable level.
Not only does the pallet garden look fantastic but also saves some money. Moreover, the project requires spray paints, metal hooks, pallets, nails, and tin cans.
First of all, collect some old pallets. Then, sand them back. After that, use them to construct a frame.
Once you've made your frame, paint it black. Next, spray paint the formula tins silver. Then, attach them to it using hooks. Lastly, mount the pallet garden on the wall.
Here, the tin cans work as hanging planters. Moreover, they hold indoor ornamental plants nicely. In addition, the pieces contrast with the black background strikingly.
8. Vertical Pallet Garden with Feet
Talking about vertical pallet gardens, you should choose designs that are friendly for future readjustments. Furthermore, the more versatile the unit, the better it will be.
This freestanding wood pallet garden features adorable feet. You can create them out of scrap pallets, too.
The vertical garden stands on flat pallet feet perfectly. Moreover, it offers equally spaced built-in shelves or potting pockets.
This pallet garden allows you to grow vegetables and herbs vertically. Without a doubt, it also makes a dazzling backyard decor.
9. Modern Vertical Pallet Garden
If you want a stylish backyard patio, then consider trying this design. Apart from looking trendy, it's also one of the mesmerizing vertical pallet gardens.
This vertical garden project is budget-friendly because it requires unused wood pallets. Moreover, it lends lots of character to the patio.
Although the pallet garden is quite large, it doesn't eat up a lot of patio floor space. Furthermore, the unit securely holds 8 planter boxes that house both herbs and ornamental plants.
10. Tiered Vertical Pallet Gardens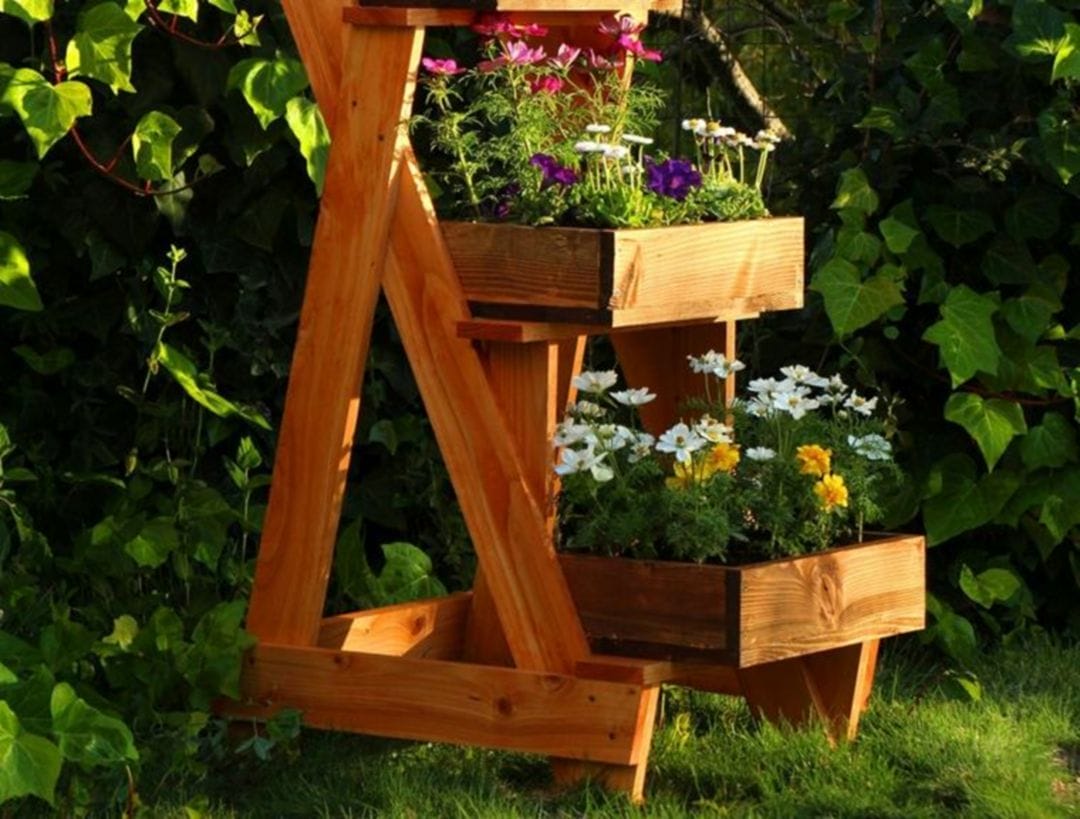 Do you have leftover pallets? If so, then build this astonishing tiered gardening box unit. Not only is it very low-cost but also super stunning.
This self-standing garden box unit will certainly never get out of trend. Furthermore, it's such a great step toward smart gardening. Also, you'll surely like to show it off.
In conclusion, people shouldn't consider pallets as junk. Furthermore, do not leave them simply unused. Just steal the inspiration from those vertical pallet gardens, so you can create a small yet stunning green space.