The backyard is not just a place where you can grow plants because it has turned into a haven for those who want to sit back and relax. Take this idea to the next level by implementing these 23 alluring modern backyard ideas.
1. Serene Modern Backyard Ideas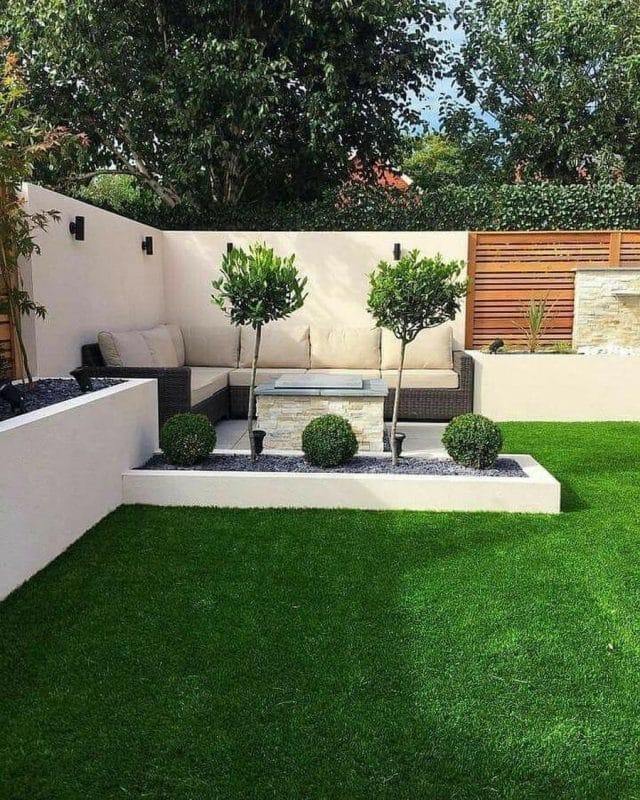 Minimalism is all you can see in this backyard. Off-white finish allows the serene ambiance to conquer the space. The clear-cut raised beds and cushions that come in the same color enhance the serenity of this backyard, making them flow into one being.
To create no-fuss landscaping, try using artificial turf rather than the real grass. Manicured shrubs line up with small trees to add pattern and texture to the backyard.
Illuminate the space efficiently by mounting some LED lights on the wall and put them in the raised beds.
2. Small Modern Backyard Ideas
Don't have sufficient space to hang out in the backyard? You do not need to worry, as modern backyard landscaping is flexible because you can implement it in any backyard despite the size.
This backyard is a place where you can enjoy catching up with friends or family around the fire pit. Cover the soil with gravel to reduce the time you spend to take care of the lawn.
Next to the seating area is a minimalist outdoor dining table with checkerboard flooring. You can make a barbeque party and enjoy a scrumptious meal there. The patio cover will protect you from the glaring sun or the rain.
3. Small Modern Backyard Ideas with Inground Pool
Having a private swimming pool in the backyard is everybody's dream. Therefore, you should incorporate an inground pool in your backyard.
This inground pool has proven that you can earn an elegant look despite the limited space. The concrete pool deck provides a seamless look that enhances modern flair.
The faux waterfall and faux-stone tiles accentuate the elegant look nicely. Some pool chairs with the same color available on the deck allow you to lounge on them while keeping an eye on your swimming kids.
4. Modern Backyard Ideas with Above-Ground Pool
This is a perfect hideaway for those who want to escape from the hectic workplace. This small backyard features a small hot tub, which can make you feel more relaxed. You can indulge yourself in the tub while enjoying the spectacular landscaping.
To make the deck look natural, you can use synthetic decking. Besides, it is also renowned for being weather and stain-resistant.
You can make fencing from wood planks to drive peeping Tom away. Try arranging them horizontally so that you can adjust the height easily for peace of mind.
Moreover, the color of the planks matches the deck immensely, making the backyard look united.
Instead of LED lights, this backyard uses string light bulbs to illuminate the space. Besides providing sufficient light, the light bulbs can also bring in the romantic ambiance to the backyard.
5. Modern Backyard Ideas with Fish Pond
Incorporating a fishpond into your backyard is a terrific idea. The swimming fish will jazz your backyard up instantly.
To create a modern flair, you need to design the pond meticulously. Clean-lined pond will be more preferable than a sophisticated one. Keep in mind that simplicity is all you need to create modern backyard landscaping.
Just because you are dying for a modern look, it does not mean you can limit your creativity. Fusing modern style with a tropical garden is worth trying.
All you need to do is just add some tropical plants like palm trees, banana trees, or other greenery with wide leaves around the pond.
6. Modern Backyard Ideas on the Cheap
Creating a modern backyard does not have to make you short on cash. The idea is to perk your backyard up, not to make you broke. Therefore, doing some DIY projects can be your safe bet.
The first thing you need to do is picking some no-fuss plants like Buxus, garden juniper, or hedge plant. These plants require low maintenance, which allows you to have a nest egg. Besides, you do not have much time to take care of your garden, do you?
You might need to consider making a privacy screen. If you have a limited budget, planks can make a perfect privacy screen. You can also grow bamboos or hedge plant for your privacy screen.
7. Low-Maintenance Modern Backyard Ideas
Modern landscape designers tend to focus on function and practicality. Therefore, they eliminate the green lawn from the list.
Modern landscape designers do understand that mowing the lawn is arduous. It takes lots of time and energy.
Therefore, they swap the green lawn for path and patio made of concrete, natural stone, pebbles, decomposed granite, and many others. By doing this, you will have more time to relax.
If you are eager to incorporate greenery into your backyard, make sure you choose drought-tolerant plants like Buxus or Artemisia.
8. Modern Backyard Ideas with Fire Pit
This small backyard features a wooden raised bed that serves double duty. Besides being a raised bed where you can grow your favorite plants, it also offers you ample space to sit down.
Instead of investing in some benches, try designing the raised bed in a U shape with a fire pit sitting in the middle. You can sit down on the raised bed while bantering with friends around the fire pit.
9. Rustic and Modern Backyard Ideas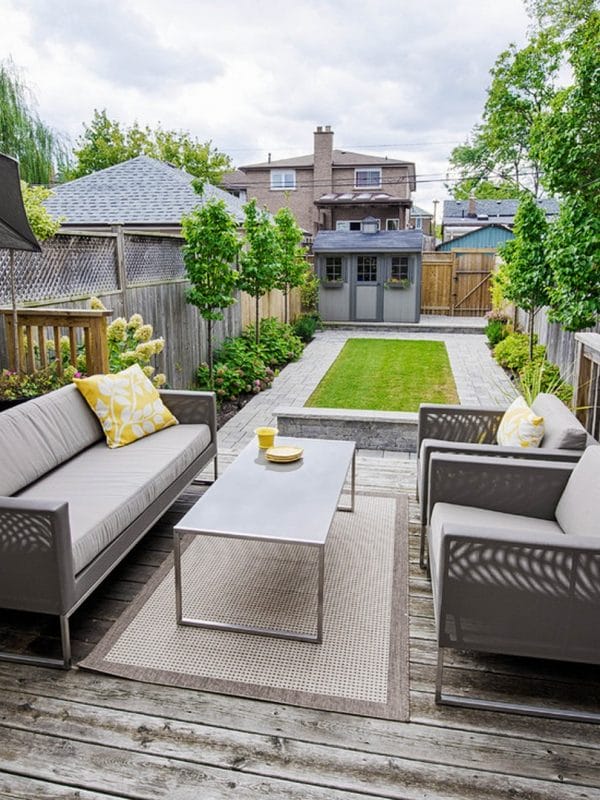 Being modern does not mean that you have to eradicate any other style. This is your backyard; if you think you need to incorporate another style to kick it up a notch, feel free to do so.
This backyard adds the charm of rustic look without overwhelming the modern style. Wooden planks have made the rustic style look more vivid, thanks to the weathered finish of deck. The planks come in the same color as the pavers that cover the soil.
This backyard uses artificial turf in the middle to spice up the space without being worried about the maintenance.
10. Modern Backyard Ideas with Waterfall
Water features are one of the elements that can perfect your backyard landscaping. They can make your backyard look luxurious immensely.
This backyard features a contemporary waterfall that enhances the modern style. Gray concrete and pavers cover everything up in this backyard. Instead of turf or any other plants, try decorating your backyard with polished rocks to make it easy to do regular maintenance.
Use LED lights to highlight certain elements by installing them only in some crucial spots, like the waterfall and the steps.
11. Tropical Modern Backyard Ideas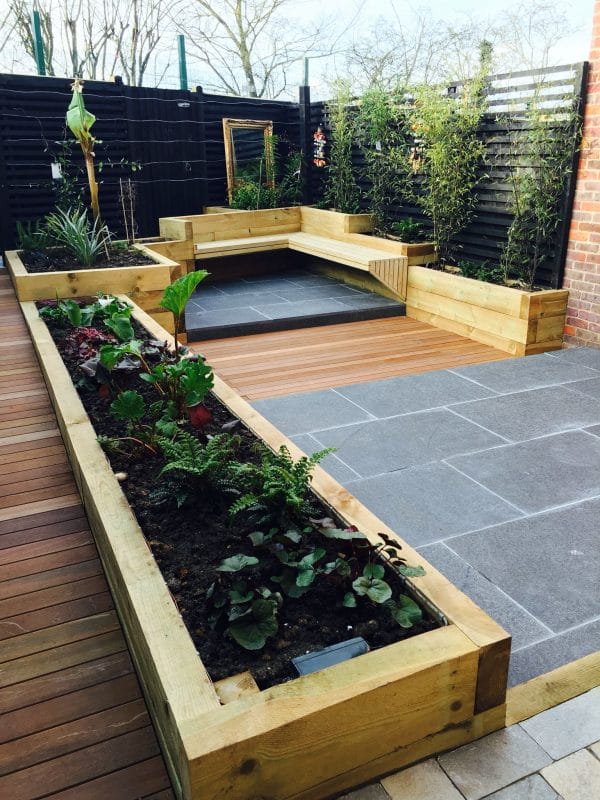 You do not need to go to Thailand or Bali to enjoy the beauty of tropical style. Bring the tropical style in your backyard, instead.
Is it even possible? Of course, it is!
You can enjoy the holiday vibes right in your backyard while keeping its modern look. You just need to maintain the clean-lined raised beds and cover them with wood rather than concrete.
To get the vibes, grow some tropical plants like rubber trees, Sansevieria cylindric, Chinese Evergreen, banana trees, and Peace Lily.
12. Asian-Inspired Modern Backyard Ideas
If you are into an Asian-inspired garden, this one is for you. The no-grass backyard is one of the most common elements to create a modern outdoor living space.
The three woven rattan chairs provide some comfortable space to sit on while adding a textural element. A leopard-patterned rug lies under the chairs to anchor the seating area while keeping your feet warm.
A tall tree with dangling leaves and twigs adds more drama to the backdrop. Right in the corner is a big sculpture that makes this backyard look more exotic.
13. Modern Backyard with Deck
Most modern backyards have a place to hang out like a patio or a deck.
To make a modern deck, think about function and practicality. Therefore, do not overwhelm your deck with various kinds of flowers. They might be beautiful, but they can lessen the modern style. Greenery is more preferable.
Lighting also plays an important role in creating the style. Try installing recessed LED lights in the steps or under the sofa to enhance contemporary style.
14. Do not Forget the Centerpiece
Every room needs a centerpiece, and so does a backyard. The most conspicuous thing in this backyard is the big tree standing in the middle. The homeowner deliberately let the tree stand there to create a unique backdrop.
Wood planks cover the soil around the tree, making the backyard look clean and neat. Horizontal fence and frosted glass act as a privacy screen that keeps the inquisitive neighbors at bay.
15. Intimate Modern Backyard
If you are looking for an intimate backyard that can accommodate large gatherings for
your veritable army, this one is for you.
This backyard provides a comfortable outdoor living room. A gray sectional sofa perches in the corner of the deck. A Corten steel wood-burning fire pit surrounded by four log stools will prolong an intimate conversation.
To beef the backyard up, try planting succulents and bamboo because they can get along well with rocks and pebbles.
16. Consider Synthetic Lawn
Some people are dying for a lush green manicured lawn for their backyard. However, the maintenance can be a nuisance. If that is the case, consider investing in a synthetic lawn.
A synthetic lawn will give you the landscaping that you have been dreaming of without the maintenance. In this backyard, square pavers embedded in the synthetic lawn can be a great duo.
A narrow planting bed that features Buxus, butterfly bush, and Spanish olive trees defines the pathway and leads to a corner built-in seating area.
17. Kid-Friendly Modern Backyard Ideas
Your backyard belongs to all of your family members, including your kids. Therefore, creating a haven for your kids in the backyard is such a great idea.
You can help them explore their imagination by building a bench that looks like a boat. Cover the soil under the boat with aquamarine or turquoise gravel to mimic the ocean. Finally, let your kids row the boat and tame the ocean.
18. A Mid-Century Modern Backyard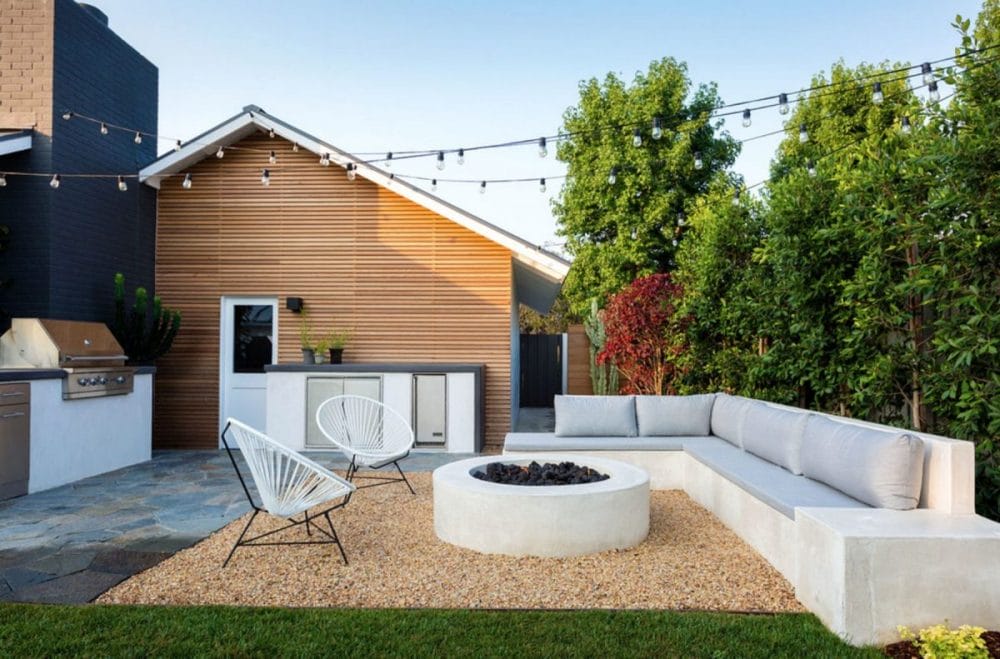 Many people are crazy about mid-century modern style. The simple, clean, and updated look has never failed to blow everyone's mind.
Neutral color palette adorns this backyard nicely. The white built-in sofa matches the fire pit and chairs nicely. Beige gravel defines the seating area.
The combination of square geometry and wide-open layout of the cooking and seating area embodies mid-century modern aesthetic.
19. Greenery Everywhere
Modern style is all about simplicity. You will not find a wide array of colors in a modern backyard. You will find some shades of green instead.
Greenery has always been a part of the modern backyard. Some ferns and bamboos accentuate the wall nicely. The greenery even fully covers one of the walls.
20. Geometric Style Backyard
Geometric shapes are one of the significant characteristics of a Mid-Century modern style. If you want your backyard look modern and classy, incorporate round or square areas in it.
This backyard features some round areas where artificial turf lies. Besides the green turf, you can also find gray, white, and maroon gravels that cover the soil.
21. Modern Style with Tropical Retreat
In this modern backyard, artificial turf is chosen to cover the soil as it does not need thorough maintenance. To beautify the backyard as well as preventing your feet from getting wet and dirty, embed square pavers in the turf.
Some tropical greenery like ferns and palm trees match the pavers perfectly. Add a rustic bench so that you can sit back and relax.
22. Multi-Level Backyard
This backyard features some concrete decks that lead you to the wooden deck where you can find two pool chairs to lounge on. Buxus and hedge plants grow behind the chairs, creating a dramatic backdrop.
23. A Perfect Place to Hang Out
This backyard features a wooden deck that functions as an outdoor living room. Woven chairs and ottoman add texture to the space. For an extra seat and comfort, add a patio swing chair.
Those are 23 modern backyard ideas that you can copy. So, which one does suit your style well?